Stone 09.09.09 Vertical Epic Ale
| Stone Brewing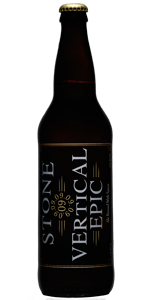 BEER INFO
Brewed by:
Stone Brewing
California
,
United States
stonebrewing.com
Style:
Belgian Strong Dark Ale
Alcohol by volume (ABV):
8.60%
Availability:
Limited (brewed once)
Notes / Commercial Description:
This is quite a complex and layered beer. Bold and smooth chocolate malt flavors combine with a Belgian yeast lending tropical fruit/banana flavors and hints of spiciness, all complemented by citrus notes from an addition of tangerine peel. Rich vanilla beans add a nice counter to the chocolate malt - actually enhancing the chocolatiness. The finish is smooth, with additional traces of vanilla and toasted characters from French Oak. The goal for this edition of the Stone Vertical Epic Ale series is to be reminiscent of artisanal chocolates accentuated with orange.
Added by superdedooperboy on 09-08-2009
This beer is retired; no longer brewed.
Reviews: 537 | Ratings: 867

4.75
/5
rDev
+17%
look: 4.5 | smell: 4.5 | taste: 5 | feel: 5 | overall: 4.5
Poured into a tulip glass at 50 degrees.
Appearance: A monster three finger head that is fairly persistent. The head is medium tan color that is foamy creamy, with a nice lacing on the glass. The color of the beer is a dark brown, near black. The clarity of the beer is opaque.
Nose: A very rich dense malt that is roasted, with caramel, biscuits, and chocolate. Other aromas are coffee, bread, phenols, alcohol, peppery, raisins, and dried cherries. The hop aroma is still prevalent after three years; furthermore, the hops is perfumey, woody, and citrus.
Taste: The malt in the beer is roasted, toasted, caramel, biscuit, and bread. Other flavors is dark chocolate, espresso, phenols, alcohol, black pepper, raisins. The hops is fruity esters, perfume, wood, citrus.
The mouth feel in the beer is coating, warming, chewy, carbonated, and slightly astringent.
Overall: The body of the beer is full and the finish is lasting. This beer is awesome, it has great flavors. I am glad that I crack the bottle.
1,013 characters
4.75
/5
rDev
+17%
look: 4.5 | smell: 4.5 | taste: 5 | feel: 5 | overall: 4.5
A: Nice dark brown, almost black with a bit of tan head.
S: Roasted malts and chocolate with a bit of sweetness.
T: Everything comes together nicely in this one. Starts with a bit of chocolate with just a bit of sweet citrus finish. Liquid goodness.
M: Feels a bit lighter than it looks and tastes.
D: Drinkability is probably a little too good for a 9.5 ABV, could definitely have more of these.
400 characters
4.76
/5
rDev
+17.2%
look: 5 | smell: 4 | taste: 5 | feel: 5 | overall: 5
The nines are very enticing - almost hypnotic. Like the Stone Demon Dude is getting into your head and ordering you to buy Stone beer...do it! Anyway, the Vertical Epic series of beers are released annually according to dates when all of the numbers are the same (i.e. 09/09/09, 08/08/08, etc...). Each beer is a different Belgian take on a beer style. There have been some Belgian Witbiers, Pale Ales, IPAs, stouts, etc... The 9/9/09 Vertical Epic is a Belgian style Porter...not two types of beer I would ever think about fusing together.
At first glance, the brew looks pitch black with a big tan head. Good retention on the head, which was nice. The complex aroma had elements of spice, orange and vanilla. So, definitely a suprise on the scent side. The flavor hits it out of the park. You get the spicy, robust kick that is combined with orange, coffee, tanginess and a hint of bitterness. It tastes like a flavorful porter had a love child with a good spicy Belgian beer. Expect an extremely smooth taste that goes down easy and leaves the aftertaste of the variety of flavors for a bit.
Would definitely pick this one up again, presuming I could find it.
This was a remarkably tasty beer - I've had it twice. Once at Papago Brewing in Scottsdale, where I got it on draft. 2nd time was in one of the bombers that I purchased. While the draft was superior, you can expect that in whatever form you get the Vertical Epic, it's good.
Oh, a note - Stone recommends that you cellar this beer until 12/12/12. Fat chance in my house. If you can hold off enjoying this beer for another 3 years, you're a better person than I.
Appearance - 5.0 - big tan head; dark; good retention
Smell - 4.0 - spicy; orange, vanilla
Taste - 5.0 - a unique blend of spicy, fruit, orange, hint of bitterness, definitely a belgian beer but stout like a porter. Weird combo but excellent
Feel - 5.0 - very smooth; goes down easy
Drinkability - 5.0 hells yea - good
1,954 characters
4.76
/5
rDev
+17.2%
look: 5 | smell: 4 | taste: 5 | feel: 5 | overall: 5
I'm writing this review in American in protest of the English only policy.
First off the style seems to be more like a porter not a belgian strong dark. The head is gorgeous. The lacing is so fine I would make a wedding dress out of it if it wouldn't leave me naked at the altar oh and if I wasn't a guy.
It pours a beautiful shade of dark brown with orange hues. The nose on this is slightly smoky with more dominant notes of chocolate, coffee, cloves, citrus and vanilla. The palate is is more chocolate with a less present coffee quality. As it warms it picks up more of the cloves and coriander that was in the nose finishing with a nice vanilla note.
This is without question the best vertical epic I've had and likely the the best Stone brew I've tasted to date.
771 characters
4.77
/5
rDev
+17.5%
look: 4.5 | smell: 5 | taste: 5 | feel: 4 | overall: 4.5
Poured from a growler 9.25.09 (finally got around to trying the VE with a few bottles saved away)
A-Brilliant dark mahogany, just shy of a stout revealing only the faintest of light to peirce it.
S-Layered and ellusive. Normaly my weakest sense (smell), however there are a number of different scent notes that arise but are difficult to pin down. A progression of bitter moving to mellower fruit tones and firm smoked accents, however not always ordered in that way. Seemingly complex and difficult to pin down.
T-Immidiate sensating on the back of your pallet with slight bitter fruit moving forward with a port-like savory flavor and finishing with a lingering smoked profile. The progression of flavor is unexpected but finishes back in a familiar way serving to solidify its identity rather than leaving you confused.
M-Starts warm but is a bit harsh mid way through. Slow and controlled disapation after swallowing eases the sensation back towards a more normal feeling.
D-Surprisingly fresh yet unrepettative. Many beers of this complexity are wearing out their welcome near the end of the first glass. Despite its stealthy assault on your palet that leaves you a bit confused for a moment, it is well rounded and coherent. Very impressive to pull of flavors of this kind.
This is a beer that is really not supposed to be served from a growler, but it has not disappointed. I have enjoyed it thus far and look forward to how it matures in the next few years.
1,471 characters

4.78
/5
rDev
+17.7%
look: 5 | smell: 4.5 | taste: 5 | feel: 5 | overall: 4.5
Pour from a bottle in to Vertical Epic Glass.
Appearance: Black, opaque. Lightly tan head. Good lacing.
Smell: chocolate, coffee, caramel. banana?
Taste: heavy chocolate feel after 4 months. First time I had it it had a banana flavor to it from the yeast but that fell out. Fresh and aged this is still a great porter. hints of vanilla, and tangerine. These diminish after short aging.
Mouthfeel: Thick, not quite as thick as nitroed-Guiness. Feels good on the tongue.
Drinkability: As extreme as this brew may seems I could drink it forever.
547 characters
4.8
/5
rDev
+18.2%
look: 4.5 | smell: 4.5 | taste: 5 | feel: 4.5 | overall: 5
a: poured from a 22oz bottle, the 090909 hits the glass as a deep chocolate mahogany, topped by a tasty tan head which recedes to leave modest lacing aroung the edges of the glass.
s: a spiced orange, yeasty chocolate aroma hits the nose immediately; a longer whiff reveals the malts and a bit of vanilla as well.
t: a vanilla, chocolate, yeast and malt all find their way onto the tongue in short order. the spiciness of the nose are present only as the most subtle undertone in the taste, nothing compared to what i would have expected given its prominence in the scent.
m: smooth, cool, and well balanced on the palate...
d: this is an entirely drinkable brew from Stone, the only downside is that it will be gone soon! i'm calling the store to get a case of this stuff tomorrow...we'll see if i can learn enough beer discipline so that i can hold onto at least one bottle until after 12/12/12.
salud!
911 characters

4.82
/5
rDev
+18.7%
look: 4.5 | smell: 5 | taste: 5 | feel: 4.5 | overall: 4.5
On tap at the World Bistro
Pours a midnight black with a nice creamy tan head that leaves some nice lacing.
Smell is Belgian yeast, chocolate and roasted malts
Taste is nice and complex, roasted malts, bitter chocolate, yeasty spice, vanilla and some orange peal.
Mouthfeel is smooth and rich
Very drinkable beer IMHO, I love the complexity. One of my favorite epics yet. 8.9 ABV is well hidden.
This one is worth going out of your way to get. Get it while you can.
472 characters

4.82
/5
rDev
+18.7%
look: 4.5 | smell: 5 | taste: 5 | feel: 4.5 | overall: 4.5
Poured into a tulip.
Very dark brown in color. Not quite black, but extremely close. One finger of off-white head, on purpose. Could have created more head but kept it to one finger in size on purpose.
Inviting aroma of fruits, molasses, deep roasted malts, and a little booze. Almost fruitcake like.
The flavor was even better. Similar to aroma but with the volume turned up. Raisin and molasses blend with a smooth blend off sweet chocolate and faint coffee. A little belgiany yeast is underneath serving up a bit of brown sugar. Notes of cherry and cola make a noticeable appearance and linger.
Fnishes long with a beautiful equal blend of flavors lasting long, after the sip. Full mouthfeel, very smooth.
This was a real treat. A belgiany fruit laced porter is how i would describe this. It's drinking great right now... Wish I had more bottles!
859 characters
4.9
/5
rDev
+20.7%
look: 5 | smell: 5 | taste: 5 | feel: 5 | overall: 4.5
Drinkin in Bordeaux glass. Large head, 1.5 inches. Moter oil appearance, tan bubbly head.
Smells wonderful, obvious coffee notes and hidden scents.
Initially mouthfeel is great, redonkulous 30 sec. plus finish. dark, roasted coffee notes with orange citrus peel undertones. Great, but young. I would recommend this now, but buy a case to cellar for a few years.
363 characters

4.9
/5
rDev
+20.7%
look: 5 | smell: 5 | taste: 5 | feel: 5 | overall: 4.5
from bottle to a weizen glass (what i had availailable)
Appearance is dark and (very) slight trace of ruby, dark tan quickly dissipating head nice lacing but also quickly dissipating.
Aroma has lovely orangey vanilla scent, with a slight chocolate undertone.
Taste is really something, strong vanilla flavor with a nice orange undertone, (maybe some cloves). roasty dark chocolate malt finish with a moderately yeasty body.
Mouthfeel is clean and smooth but a little heavy.
Drinkabilility is smooth though a little foamy and the finish lasts a long time.
I got this beer thinking it was going to be good, I saw lots of positive reviews (i hope they didn't affect my experience too much) but i was thoroughly impressed. Many wonderful flavors to taste and enjoy. like a lot of stone brews it definitely finishes BITTER, but really a great beer. i decided to cellar a bottle, and am looking forward to it down the line.
923 characters
5
/5
rDev
+23.2%
look: 5 | smell: 5 | taste: 5 | feel: 5 | overall: 5
A - Dark brown with thin dark tan head.
S - Dark fruit with a hint of sweetness.
T - Lots of chocolate with dark fruit. Not much hops. Hints of Belgian spices. Finish is reminiscent of coffee.
M - Smooth and robust.
D - I love this beer. It's definitely delicious and very drinkable. I'll open another in a few years to see how it ages.
340 characters
Stone 09.09.09 Vertical Epic Ale from Stone Brewing
4.06
out of
5
based on
867
ratings.