Stone 09.09.09 Vertical Epic Ale
| Stone Brewing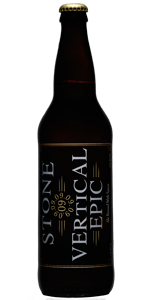 BEER INFO
Brewed by:
Stone Brewing
California
,
United States
stonebrewing.com
Style:
Belgian Strong Dark Ale
Alcohol by volume (ABV):
8.60%
Availability:
Limited (brewed once)
Notes / Commercial Description:
This is quite a complex and layered beer. Bold and smooth chocolate malt flavors combine with a Belgian yeast lending tropical fruit/banana flavors and hints of spiciness, all complemented by citrus notes from an addition of tangerine peel. Rich vanilla beans add a nice counter to the chocolate malt - actually enhancing the chocolatiness. The finish is smooth, with additional traces of vanilla and toasted characters from French Oak. The goal for this edition of the Stone Vertical Epic Ale series is to be reminiscent of artisanal chocolates accentuated with orange.
Added by superdedooperboy on 09-08-2009
This beer is retired; no longer brewed.
Reviews: 536 | Ratings: 865
4.2
/5
rDev
+3.4%
look: 4 | smell: 4 | taste: 4.5 | feel: 4 | overall: 4
22oz bottle poured into pint glass
A - very dark with tan head, looks like a stout
S - Coffee mainly, some hops and spices
T - Tastes like a great black and tan, a near perfect combo of hops and malts
M - medium body, carb was a little much for the first couple minutes then it smoothed out
D - High, hides the alcohol well
★
328 characters
4.28
/5
rDev
+5.4%
look: 5 | smell: 4.5 | taste: 4 | feel: 4 | overall: 4.5
Got it a little early from my store and got to drink it before the official release date.
Poured into a Belgian goblet style glass. Produced a head about a finger high which dissipated over a few minutes into a thin froth. Produced moderate lacing.
Aroma - Strong banana with slightly less strong hints of vanilla and roasted malt. Exotic fruits.
Taste - Classic stone hoppyness. roasty and sweet. Coffee and vanilla. Very enjoyable, but I feel as though there might be something lost in the hops. I wish the hops didnt cover up the vanilla so much.
Overall a very interesting and exciting beer.
★
601 characters
4.32
/5
rDev
+6.4%
look: 4 | smell: 4.5 | taste: 4.5 | feel: 4 | overall: 4
I had this beer on tap at Aces and Ales in Las Vegas.
Look: This beer pours very dark, it has a little chocolate colored head.
Smell: Smells of chocolate and malts.
Taste: A little bitterness on the tip of the tongue and a nice coat of chocolate and coffee on the back of the mouth.
Feel: This beer is kind of thick and coats the mouth.
★
344 characters
4.68
/5
rDev
+15.3%
look: 5 | smell: 4.5 | taste: 5 | feel: 5 | overall: 4
It was dark in the bar but I want to say the color of the beer was a dark cocoa with a dark tan creamy dense head on top. It was served to me in a wide mouth Chalice. Carbonation was low from the look but there was a full thick ring of lacing.
The smell was of dark coffee grounds and espresso at first followed by chocolate of the more bitter sweet kind. Smell finishes with roasted malts and subtle grassy or leafy hops.
The taste comes in opposite. First came a blend of chocolates (dark and heavy cream milk chocolate) then the roasted malts, strong coffee (the kind you want to wake up to) and a touch of bitter or slightly briny hops which hardly lingers, there just long enough that you are looking even more forward to that next hit of cocoa.
The mouthfeel is well balanced and extremely creamy. Carbonation is pretty mild but the beer isn't flat. With everything else your mouth is experiencing you don't really even notice it.
The beer is full bodied as any porter or dark belgian would be, coming out of the tap I could drink several easily.
Seeing as this beer is meant to be aged about 3 years I am definitely going to stash one away for later. I can see the potential for it getting even better.
★
1,214 characters
4.43
/5
rDev
+9.1%
look: 4.5 | smell: 4 | taste: 4.5 | feel: 5 | overall: 4.5
Purchased a few bottles from Stone Brewing Co. several hours ago. Served in a pint glass.
Appearance: Nice dark black with small head that dissipated fast. This beer pours thick.
Smell: The alcohol is definitely there, with a malty roasted aroma following it right away.
Taste: Strong chocolaty flavor, with some hints of citrus. The aftertaste is a bit acid and hoppy (bitter), and the chocolate flavor lingers around for some time.
Mouthfeel: Nice and soft, with a medium grade of carbonation.
Drinkability: Although this beer has an excellent taste, the alcohol is somewhat noticeable and this beer will hit you fast.
Overall, I am saving at least one bottle until 2012, but it's nonetheless a marvelous beer to enjoy at any point.
★
740 characters
3.88
/5
rDev
-4.4%
look: 4 | smell: 3.5 | taste: 4 | feel: 4 | overall: 4
Enjoyed a growler of this with my brother bought from The Charleston Beer Exchange (a must-visit) this past evening.
It pours dark brown with a smooth appearance and the head looks like a foamy edible dream come true.
The smell is nothing to shake a stick at for a porter, but it still has hints of roasted chocolate malts and a hint of alcohol. For a beer ranging in 8-9% ABV it is absolutely delicious and drinkable. For a porter, it warms the chest just the right amount leaving you crying with joy wanting more.
It goes down easy and a growler was no problem for my brother and I. Ranks in the top ten of best Porter's i've had and with its exclusive nature it is a must try if you can get your paws on it.
★
713 characters
4.32
/5
rDev
+6.4%
look: 4 | smell: 4.5 | taste: 4.5 | feel: 4 | overall: 4
The S.O. tried a few years back to homebrew a Chocolate Mandarin Stout, and this is what it SHOULD have been.
Very dark brown in appearance with an impressive head. The tangerine is very subtle and the vanilla accentuates the chocolate malt more than it adds it's own flavor.
Drinkability: While this was delicious, like many special beers, splitting the 22oz. bottle with a friend was plenty for me. I, however, could drink one everyday.
★
441 characters
3.95
/5
rDev
-2.7%
look: 4 | smell: 4 | taste: 4 | feel: 3.5 | overall: 4
My first review. Here goes:
Pours a dark chocolate/cola with a one finger tan head that dissipated in 10 seconds.
Nice aroma of deep roasted malt, dark chocolate, and baked beans (?)
The taste is dark malt and cacao that deepens to a fig/plum and finishes with a slightly bitter orange/vanilla/oak & alcohol which lingers for a long time.
This brew gets better as it warms up a bit with more pronounced banana & vanilla flavors coming forward.
Mouthfeel is a bit thin but pleasant and does not detract from the overall enjoyment of this beer. You can tell its a thoughtful and well crafted beer from the first sip to the last. I will definitely try and grab another bottle to cellar for a while.
★
700 characters
3.66
/5
rDev
-9.9%
look: 4.5 | smell: 3.5 | taste: 3.5 | feel: 4.5 | overall: 3.5
[A collaborative review with relenamor]
Appearance: Dark like a fine Dutch licorice, opaque as the antithesis of a polished window. The head: macchiato tan.
Smell: Sweet and toasty, i.e. campfire s'more, but only barely so, the sweet aromas were only discernible upon repeated nasal inhalations.
Taste: In chronological order: alcohol, belgian yeast, coffee. With a bitter hoppy finish. I must note the slight chocolate flavor, reminiscent of 80% cocoa Varlhona chocolate.
Mouth-feel: A shade syrupy, and lightly carbonated. As though my mother placed tiny frolicking angels on my sunday morning pancakes.
Drinkability: Exorbitantly alcoholic tasting for only an 8.6% beer. Prior to reading the bottle, I was stumbling about attempting to pounce upon with the nearest female. Later, as a friend read me the percentage, I felt a stone cold soberness fall upon me. I felt like a fool.
Overall, save your money for some Don Perignon and fresh caviar from the seas of Iran. If you prefer to expend your capital on fine ales, may I recommend Stone's Imperial Russian Stout.
★
1,074 characters
5
/5
rDev
+23.2%
look: 5 | smell: 5 | taste: 5 | feel: 5 | overall: 5
A - Dark brown with thin dark tan head.
S - Dark fruit with a hint of sweetness.
T - Lots of chocolate with dark fruit. Not much hops. Hints of Belgian spices. Finish is reminiscent of coffee.
M - Smooth and robust.
D - I love this beer. It's definitely delicious and very drinkable. I'll open another in a few years to see how it ages.
★
340 characters
4.26
/5
rDev
+4.9%
look: 4.5 | smell: 3.5 | taste: 4.5 | feel: 4.5 | overall: 4.5
Drank from a double deuce in a pint glass.
A-Nice dark brown/black; 1st pour was too cold and head didn't stand up. After that, nice thick dark tan head.
S- Not as aromatic as I thought it would be considering the taste. Very interesting smell(s), roasted malts, undefined sweetness, some alcohol, still pleasent.
T- This drank great, many different feelings and tastes from beginning to end; light chocolate, roasted malt, fig or prune, maybe black cherry, some honey or molasses, as it got further back, some bitterness from hops and malts, with a mild alcohol taste along the back sides of the tongue.
M- See above; real easy to drink, especially as it got warmer. Lightly carbonated, as not to make it harsh to drink. Finishes clean with a slight bittersweet ending that lingers. I definately could drink more, it asks you to, as it changes in complexity.
D- I really enjoyed this beer, and I drank the whole thing myself. It drinks better as it gets warmer. I have a feeling that this will hold up and deliver over the next few years. I hope I have enough to get me to 12/12/12.
★
1,088 characters
Stone 09.09.09 Vertical Epic Ale from Stone Brewing
4.06
out of
5
based on
865
ratings.