Stone 09.09.09 Vertical Epic Ale
| Stone Brewing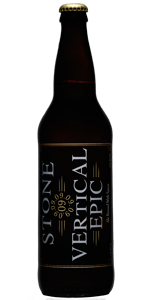 BEER INFO
Brewed by:
Stone Brewing
California
,
United States
stonebrewing.com
Style:
Belgian Strong Dark Ale
Alcohol by volume (ABV):
8.60%
Availability:
Limited (brewed once)
Notes / Commercial Description:
This is quite a complex and layered beer. Bold and smooth chocolate malt flavors combine with a Belgian yeast lending tropical fruit/banana flavors and hints of spiciness, all complemented by citrus notes from an addition of tangerine peel. Rich vanilla beans add a nice counter to the chocolate malt - actually enhancing the chocolatiness. The finish is smooth, with additional traces of vanilla and toasted characters from French Oak. The goal for this edition of the Stone Vertical Epic Ale series is to be reminiscent of artisanal chocolates accentuated with orange.
Added by superdedooperboy on 09-08-2009
This beer is retired; no longer brewed.
Reviews: 537 | Ratings: 867
4.75
/5
rDev
+17%
look: 4.5 | smell: 4.5 | taste: 5 | feel: 5 | overall: 4.5
A: Nice dark brown, almost black with a bit of tan head.
S: Roasted malts and chocolate with a bit of sweetness.
T: Everything comes together nicely in this one. Starts with a bit of chocolate with just a bit of sweet citrus finish. Liquid goodness.
M: Feels a bit lighter than it looks and tastes.
D: Drinkability is probably a little too good for a 9.5 ABV, could definitely have more of these.
400 characters
3.98
/5
rDev
-2%
look: 4.5 | smell: 4 | taste: 4 | feel: 3.5 | overall: 4
This beer poured an almost black very dark amber color and formed a huge foamy medium tan head. Very little light was getting through this one. The aroma was of malt, coffee, chocolate and Belgian spices and yeast. The flavor was of malt, chocolate, and a bit of coffee. The body was medium light with the sweetness of the malt in the finish. A nice beer, but probably needs some aging to bring out more of it.
410 characters
4.03
/5
rDev
-0.7%
look: 4.5 | smell: 4 | taste: 4 | feel: 4 | overall: 4
APPEARANCE:
Pours an opaque black color with a medium size light brown head. A little bit of lacing.
AROMA:
Moderate aroma of chocolate, coffee and roasted malt. As the beer warms I also smell alcohol, leather, vanilla, oak and spice (coriander, pepper).
FLAVOR:
Bittersweet chocolate and roasted malt. There is also an earthy hop like bitterness. There is a lingering spicy bitterness (rye, clove, pepper, coriander). As the beer warms you get more and more of the Belgian yeast flavors, I hardly noticed them at all in the beginning.
MOUTHFEEL:
Medium body with a slightly creamy texture. Soft carbonation that adds to the creamy texture. Finishes a bit dry.
DRINKABILITY:
This is much more drinkable than I expected. The Belgian flavors and alcohol are subdued. The only drawback in terms of drinkability is the long lasting bitterness.
NOTES: BBCSD-0908-Geoff
868 characters

4.08
/5
rDev
+0.5%
look: 4.5 | smell: 4 | taste: 4 | feel: 4.5 | overall: 4
No better day than 9.9.09 to enjoy this one.
Pours a really dark brown that is really close to black in the glass with a huge creamy tan head that sticks around for ages and leaves excellent lacing.
The aroma is sweet, roasted and hoppy all at once. I can definitely pick up the bananas from the Belgian yeast and the dark chocolate malt sweetness in the nose.
The taste is good to start but gets much better as it warms. There is the large roasted chocolate malt backbone which has the layers of sweet vanilla and brown sugar on top. The finish is the only thing that doesn't ring completely true for me as there is a slightly metallic bitterness that leaves an astringent aftertaste on the palate. There may be hints of the citrus in the finish but it's definitely not easy to pick up and the metallic bitterness fades a bit as it warms.
The mouthfeel is excellent, medium to full-bodied and extremely creamy with lots of carbonation and just fills the mouth up completely with flavor.
Another well-constructed beer from Stone that just misses being exceptional for me with the astringency being a little too bothersome in the finish. Outside of that, it's a wonderful blend of the Belgian yeast and toasted malts with an excellent mouthfeel.
1,249 characters
3.9
/5
rDev
-3.9%
look: 4 | smell: 4 | taste: 4 | feel: 4 | overall: 3.5
A- It's that time of year again so time to pick up the new VE. Pours like a heavily carbonated imperial stout, jet black and some dark tan head.
S- Roasted malt some belgian yeast with mild hints of smoke
T- Starts with the malt forward flavor of an imperial stout with hints of coriander and an aftertaste of smoke.
M/D - The mouthfeel is very rich coating the mouth and tongue. I would call this as drinkable as you get with any imperial stout or smoked porter. I really could have done without the smoke.
510 characters

4.33
/5
rDev
+6.7%
look: 4.5 | smell: 4 | taste: 4.5 | feel: 4 | overall: 4.5
A-Pours a deeply opaque black, not a glimmer of light gets through. A very fluffy mocha head with great retention and very good lacing.
S-Roasted malt and Belgian yeast. Unexpected for the style but not unexpected from Stone.
T-Wow! Consistent with the color, this is one incredibly roasty Belgian Strong Dark Ale. Lots of roasted malt and deep bittersweet chocolate mix nicely with an undeniable Belgian yeast strain. Also a black cherry note results in the finish from a combination of the Belgian and American elements.
M-Medium bodied and surprisingly light on the tongue given the flavor elements. Nicely carbonated.
D-A second straight winner for the VE series after the disappointment of .07.07.07. Less classically Belgian than the .08.08.08 but a fascinating American interpretation of the style.
Get some.
HV
825 characters

3.78
/5
rDev
-6.9%
look: 4.5 | smell: 4 | taste: 3.5 | feel: 3.5 | overall: 4
22oz bottle
Pours a pitch black color, thin slivers of red/brown glow around the edges and contours of the glass, zero light penetration below a monstrous and sticky brown head. Waves of mild alcohol and a bit of a fruity sweetness lay slightly above a solid and rich roasted chocolate malt aroma. Nice flavor, burnt and ashy chocolate malt, coffee bean bitterness and a very restrained orange/tangerine character which fizzles to a near citrus (lime?) tingle on the tongue. Im almost turned off initially after each sip by a very potent but brief coffee/cream bitter tangy flavor left on the palate. Oily and slick in the mouth, sticky sweet on the lips. Ample carbonation makes up for its lack of body, especially during the end of the quaff where the beer falls off rather quickly. The end result is a very drinkable porter that, in my opinion, is clashing at the moment, this one needs a little longer in the bottle to let all the goodness harmonize and meld together.
Cheers, the Vertical Epic series feels like a holiday that gets pushed back a month each year. I look forward to the next one.
1,102 characters
3.6
/5
rDev
-11.3%
look: 3.5 | smell: 3.5 | taste: 4 | feel: 3.5 | overall: 3
I guess it is pretty fitting to enjoy this beer today.
It a very dark brown that cannot be seen through with a big tan two finger thick head. The head is very lacing, taking plenty of time to simmer.
S: Chocolate vanilla, some wheat perhaps, roastiness, fruitiness. Many things going on at once.
T: The first sip was quite a surprise. While there are alot of different aromas, it wasn't all that intense. This however was a bit like a punch in the face with big bold flavors of coffee, chocolate, vanilla. There is a nice bittern roastiness in the back ground and some fruitiness to go along with it.
M: Pretty hot. This one was fun to try but needs some time to mature. The flavors are very intense at this point.
D: I wish I had someone to share this with.
Overall, I think this was a very young beer that clearly needs more time to mellow out.
854 characters
4.76
/5
rDev
+17.2%
look: 5 | smell: 4 | taste: 5 | feel: 5 | overall: 5
I'm writing this review in American in protest of the English only policy.
First off the style seems to be more like a porter not a belgian strong dark. The head is gorgeous. The lacing is so fine I would make a wedding dress out of it if it wouldn't leave me naked at the altar oh and if I wasn't a guy.
It pours a beautiful shade of dark brown with orange hues. The nose on this is slightly smoky with more dominant notes of chocolate, coffee, cloves, citrus and vanilla. The palate is is more chocolate with a less present coffee quality. As it warms it picks up more of the cloves and coriander that was in the nose finishing with a nice vanilla note.
This is without question the best vertical epic I've had and likely the the best Stone brew I've tasted to date.
771 characters
4.43
/5
rDev
+9.1%
look: 5 | smell: 4.5 | taste: 4.5 | feel: 4.5 | overall: 4
This is a beautiful beer to watch as it is poured. Huge tan head with a dramatic rush of carbonation rapidly churning and rising. Almost pitch black, with a tinge of reddish brown. Smells a bit like dark chocolate milk with some roastiness, and little alcohol.
Taste is very enjoyable. Coffee, vanilla, chocolate, and perhaps a bit of citrus on the back-end. A touch of bitter astringency on the finish as well. The roasty qualities linger on. Also getting some woodsy and charcoal elements throughout. Have to mention the hint of that familiar Belgian yeast bubblegum flavor. Alcohol is adequately hidden.
Mouthfeel is spot on. Coats the palate nicely. Very pleased with this brew and glad I got an extra to cellar(or drink). I'll probably end up getting a few more.
771 characters
4.28
/5
rDev
+5.4%
look: 5 | smell: 4.5 | taste: 4 | feel: 4 | overall: 4.5
Got it a little early from my store and got to drink it before the official release date.
Poured into a Belgian goblet style glass. Produced a head about a finger high which dissipated over a few minutes into a thin froth. Produced moderate lacing.
Aroma - Strong banana with slightly less strong hints of vanilla and roasted malt. Exotic fruits.
Taste - Classic stone hoppyness. roasty and sweet. Coffee and vanilla. Very enjoyable, but I feel as though there might be something lost in the hops. I wish the hops didnt cover up the vanilla so much.
Overall a very interesting and exciting beer.
601 characters
4.29
/5
rDev
+5.7%
look: 3.5 | smell: 4.5 | taste: 4.5 | feel: 4 | overall: 4
Spotted this on the shelf of one of my local beer haunts on Saturday, 09.05.09, indicating that either the beer was distributed too early or the staff stocked the shelf early; either way, it was available a full three days before the official release date of 09.08.09, four days before the date the beer is obviously supposed to be firstly consumed, 09.09.09. I didn't make a purchase that night, and there are no sales of alcohol on Sunday in Georgia; I picked up a bottle today, and it was far too tempting not to crack it open before its official release.
Poured from a 22 oz. bottle into a snifter glass.
Pours ink-black and virtually opaque; it takes a real effort of glass-adjusting and light bending to get the deep brown color to show through the edges. A very small head of light tan froth appears briefly, resting atop the brew in patches with a thin crown, and leaving behind some wisps of lace as it recedes.
Light notes of roast and chocolate appear in the nose, followed by a nice whiff of citrus peel and a little banana; perhaps a touch of mango as well. Vanilla notes follow, and are expected and welcome.
Body is lighter and more effervescent than expected, with a medium-full feel and a moderate level of carbonation. Initially full of roasty and bitter chocolate notes, with a rich show of vanilla and a dry astringency, likely attributable to the French oak aging. As things warm, yeast-derived characteristics show themselves, with a complex show of spices and a bit more dry astringency. Vanilla shows itself even more, not surprising with the use of both vanilla bean and wood aging; nicely complex and delectable, and, along with a bitterness most likely from the hops, providing a bone-dry finish that leaves one thirsting for another sip. Roasted malt and a bit of slightly sweet molasses linger in the finish.
Quite a complex beer, with a full spectrum of flavors and aromas that almost directly correspond with the ingredients used, making this a nicely crafted concoction, and a style that breaks any guidelines: hailed as a Belgian-style Imperial Porter by the head brewer, it's tough to pin down. It will be nice to see how this one ages, though this seemingly fresher-than-fresh example is nothing to balk at.
2,247 characters
Stone 09.09.09 Vertical Epic Ale from Stone Brewing
4.06
out of
5
based on
867
ratings.