Ken Schmidt / Maui / Stone Kona Coffee Macadamia Coconut Porter
| Stone Brewing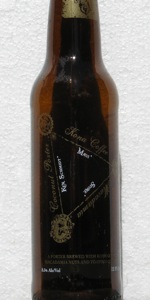 BEER INFO
Brewed by:
Stone Brewing
California
,
United States
stonebrewing.com
Style:
American Porter
Alcohol by volume (ABV):
8.50%
Availability:
Limited (brewed once)
Notes / Commercial Description:
No notes at this time.
Added by BeerAdvocate on 09-22-2009
This beer is retired; no longer brewed.
Reviews: 234 | Ratings: 329
3.73
/5
rDev
-9.2%
look: 4.5 | smell: 4 | taste: 3.5 | feel: 4 | overall: 3.5
Served in a tulip glass @ cellar temp
Appearance: Inky black with one finger head that dissipates quickly to a thin ring.
Aroma: Coffee big up front (could smell it seconds after cracking the top). Very slight acidic note, probably from deep roasted malts. Touch of nuttiness but tough to pick up coconut. Sweet alcohol notes evident.
Taste: Big roasted malt dominates, but coffee notes are right up front too. Acidity reminds me of ... tabasco?!? Some real complex flavor interactions going on here. Still not getting much coffee or coconut flavors. Hops are shoved out of the way on this one in terms of flavor, but some moderate bitterness.
Mouthfeel: actually pretty light on body for a robust porter of this strength.
Overall, it's a tasty brew, but could definitely benefit from the rounding out around the edges that a few years in the cellar should provide.
873 characters
4.2
/5
rDev
+2.2%
look: 4.5 | smell: 4.5 | taste: 4 | feel: 4.5 | overall: 4
poured from bottle in sam adams glass
pitch black in color, small amount of head which faded quickly, aroma of coffee and maybe a touch of coconut, first sips hit hard with the coffee that lingers in the mouth, iI poured a small amount into a three philosophers glass from Ommegang and in that glass I get less coffee and it almost tastes like chocolate, perhaps the nut coming through.
a special occasion beer but I'm not sure if it's worth the price, the Maui Brewing Co Coconut Porter is a better beer for the money in my opinion
534 characters
3.58
/5
rDev
-12.9%
look: 4 | smell: 3.5 | taste: 3.5 | feel: 4 | overall: 3.5
*poured from a 12 oz. bottle into a Sam Adams pint glass at approx. 55 degrees*
This brew poured the absolute darkest shade of brown. I can't quite say black because I could see a touch of light creeping through it from the bottom of the glass. It formed a frothy, two-finger tan head that took about two minutes to diminish into a thin film of bubbles. There was fair to moderate lacing.
Upon my first whiff, my nose was met with alcohol and chocolate. Successive samples produced more alcohol, chocolatey malts, a hint of coffee, and possibly a bit of hops. This brew smells extremely rich and boozey. Honestly, I'm a little turned off by the level of alcohol in the aroma, however, I am now exceedingly curious as to whether that will carry over into to taste. Lets find out...
My first impression is one of dissapointment. While the alcohol is actually hidden pretty well behind a wall of malts, theres just not that much going on. Don't get me wrong, this is a decent to good porter but it isn't anything to get excited about. I'm getting an abundance of roasted malts, a suprising (not necessarily for Stone though) amount of hops, and a touch of bitter coffee. The macadamia and toasted coconut are, for all intents and purposes, absent. They're there, but only as the most subtle of notes.
Mouthfeel on this one is actually pretty good. The carbonation wakes up and lingers when I swirl this beer in my glass and sip it.
Drinkability is ok. Its pretty rich and the ABV is a tad on the high side. Then theres the factor that I usually don't apply... Cost. This 12 oz. bottle was $7.99. Thats just too much. Curiosity got the better of me this time but I definitley will not be buying this one again. Honestly, I don't think I would buy it again at $7.99/bomber. Its a good porter but, like I stated earlier, nothing to get excited about.
1,850 characters
4.79
/5
rDev
+16.5%
look: 4 | smell: 5 | taste: 5 | feel: 4.5 | overall: 4.5
There are not many things that I would wait in line 30 minutes for, but the idea of a Kona coffee, macadamia, coconut porter was just too good to pass up. The brew did not disappoint and the 4 ounce taste at the StoneFest was just enough to wet my appetite and put me on edge waiting for the eventual bottle release. After a month of waiting, speculating and spreading the word, I finally got my bottles last night and was not disappointed!
Smells terrific, I get lots of macadamia on the nose with hints of reminiscent familiarity, Maui coconut porter, it's definitely in there. On the buds, it's Kona coffee up front for sure. As the beer warmed it evolved into a more complex meld of Hawaiian goodness. The macadamia and coconut work more as accents and are perfect compliments to the rich Kona coffee flavor. Full bodied and viscous with perfect carbonation and a small pleasantly stiff hop under bite, perfect in just about every way, you can taste the craftsmanship and artistry that went into this beer.
This is not only the best of the Stone Collaborations, but it is the first of the series that actually validates the mission of bringing brewers together to passionately redefine what beer can be.
1,209 characters
4.32
/5
rDev
+5.1%
look: 4 | smell: 4.5 | taste: 4.5 | feel: 4 | overall: 4
A - Poured along the side of a tulip glass with a very attractive two-finger head. The head is a beige/mocha color that eventually dies down to an espresso-like film that is quite inviting. Good retention & lacing throughout.
S - Lots of different smells going on during the first sniff. Coffee is most dominant but is accompanied nicely by a subtle, macadamia & coconut scent. There is a presence of roasted malts in the background that ties everything together nicely.
T - Immediate, sharp coffee taste that has almost an espresso-like bitterness to it. After the coffee, the macadamia comes in nicely as well as a hint of chocolate. The coconut comes in towards the end & during the aftertaste. Alcohol presence is minimal until the very end with the warming sensation.
M - Very crisp & carbonated at first but mellows out quickly to a flavorful, smooth, creamy liquid that rests nicely on the tongue. Full-bodied but not too thick/syrupy.
D - I could definitely drink a few more bottles of this. Makes me wonder what it's like on tap.
Overall, this beer is awesome. Even though it can be quite pricey, I definitely recommend this beer to all coffee & beer drinkers, and to anyone who wants to taste something unique!
1,225 characters
4.4
/5
rDev
+7.1%
look: 4 | smell: 4 | taste: 4.5 | feel: 4 | overall: 5
this is one of those beers i feel would probably be better now over later but we will see.
A- good sized head with a moderate pour for a darker beer. liquid seems on the thin side but i love imperial stouts.
S- such and odd smell with the coconut coming through at the end with the coffee and malts that you would expect being in the lead. theres a buttery taste in there that i think will have a bigger part in the future.
T- i wish stone would make more beers that are sweeter over being super hopped. i do the the smell is more complex than the taste. theres the coffee you would expect all over the place but i expected this to be sweeter after hearing all that went into it and this does effect the finish as it is a bit just a tiny bit dry at the end.
M- great mouth feel other the the very very slight dry finish but if you like an English porter you might not even notice.
D- if the price wasnt so steep you could drink many of these in a single day if the alcohol let you.
988 characters
4.73
/5
rDev
+15.1%
look: 4.5 | smell: 4 | taste: 5 | feel: 5 | overall: 5
Bottle purchased at K&L Wines in Redwood City, CA. Served in 12 oz wine glass at 57 degrees.
My first review, but I figured this beer was a great place to start.
Tied with FWXII for my favorite beer of 2009. Spoke with the STone guys at the SF Holiday Beer fest. I didn't realize Ken Schmidt was "just" a home brewer - great work sir! Also, they said only 30 cases were made, so thanks to the guys from K&L for giving me the second to last bottle!
A - No lacing, pours dark brown almost black, slight foam dissipates quickly
S - Caramel, coffee, little bit of nuttiness and chocolate and a hint of bourbon. Coconut appears and stronger coffee aroma as it warms up.
T - So good. Starts with chocolate sweetness and some coconut and expands with heavy roasted malts, nuts and coffee taking over. Flavors blend together perfectly. Sweetness from the coconut at the end. Lingering aftertaste I don't want to go away
M - Smooth, almost oily but not heavy, the mild carbonation complements nicely
D - Little bit of lingering alcohol complements the coconut aftertaste. I could knock back a few. Already bummed about not having a second one
Reminiscent of the Maui Porter but not nearly as complex. Less nuttiness or heavy roasted malts, but until I can track down another bottle, the Porter will have to do
1,307 characters
4.18
/5
rDev
+1.7%
look: 4.5 | smell: 4 | taste: 4.5 | feel: 3.5 | overall: 4
Poured from a 12oz bottle in to a New Belgium tulip.
Appearance - Dark black, no light making it through this one. Dark tan head that managed to hold on to the edges for most of the time.
Smell - Coffee is coming in strong upfront and also picked up some of the roasted coconut.
Taste - Slight sweetness coming through first with the roast coffee and coconut coming in behind it. Not picking up the macadamia at all really. Burnt/bitter feeling as it goes down.
Mouthfeel - Not as heavy as its appearance eludes to. Decent carbonation that does seems to represent the style well.
Drinkability - Good. I feel I could put a few of these back, but enjoyed taking my time with this one to see how the flavors develolped. Alcohol is not present at all.
Had been searching for this one for a couple weeks and was excited to pick up a couple from the local beer store this week. I thoroughly enjoy coffee beers and this is up there for me and compares well to some of the coffee stouts I've enjoyed in the past. As some previous reviewers have mentioned, I was hoping for more macadamia but nonetheless, another very solid collaboration brew courtesy of Stone, Maui and one talented homebrewer.
1,194 characters
4.27
/5
rDev
+3.9%
look: 3.5 | smell: 4 | taste: 4.5 | feel: 4 | overall: 4.5
First beer review evar!
I want to review this beer because I notice it goes extremely well with pasta alla carbonara, which my dad made and which was the only thing in the fridge when I wanted to drink this beer. The beer with the pasta is one of those "whoa" moments when a third taste is produced by the combo of the beer and the food. For me, that has only really been equaled by Sam Adams Double Bock with aged gruyère.
a: dark dark char brown; not much head; biggish bubbles
s: smells good; smooth dark coffee is most prominent, nuts are second
t: the macadamia seems to smooth out the bitterness of the hops and coffee. Coconut seems to contribute more to texture--I couldn't really taste it.
m: fine; I guess I was hoping for a little less carbonation
d: alcohol is not especially felt. the smoothness of the coffee component makes the beer exceptionally easy to drink.
I highly recommend concocting some carbonara to go with this beer. It was a phenomenal pairing.
980 characters
Ken Schmidt / Maui / Stone Kona Coffee Macadamia Coconut Porter from Stone Brewing
4.11
out of
5
based on
329
ratings.