4th Anniversary IPA
| Stone Brewing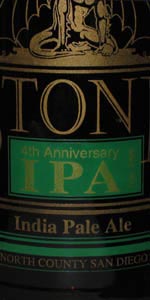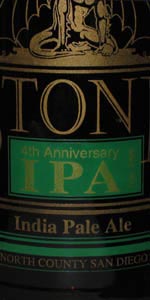 BEER INFO
Brewed by:
Stone Brewing
California
,
United States
stonebrewing.com
Style:
American Double / Imperial IPA
Alcohol by volume (ABV):
8.50%
Availability:
Limited (brewed once)
Notes / Commercial Description:
No notes at this time.
Added by BeerAdvocate on 11-05-2000
This beer is retired; no longer brewed.
HISTOGRAM
Ratings: 11 | Reviews: 8
4.25
/5
rDev
+3.7%
look: 4 | smell: 4 | taste: 4.5 | feel: 4.5 | overall: 4
Presentation: 1 pint, 6oz brown bottle. Bottled Sept. 2000. Painted label with a pretty kick-ass gargoyle adorning it.
Appearance: Rich amber with orange hues. The head is a very healthy, bubbly, creamy crown. A bit sticky and retains well too.
Smell: Imagine the most aromatic, pungent, herbal smelling hop aroma. Times that by 10, and you're still not close. This brew release such an intense hop aroma that you can feel it in your eyes. You cry.
Taste: Holy shite! Hops! Hop domination! First sip is chewy, very rich and very smooth. Hops are herbal-like, a bit of grapefruit rind, with a salty, citrus, semi-dry, sharp twang ... all of which carries through from begining to end. I can't stress enough that the overall sensation of this much hops on the palate is truly amazing. Puckering. Ever burp hops? You will. There's also a big malt sweetness that pulls through the huge hop profile, and it had to fight to get through. Nice to have as a balancer. You can also feel the alcohol course through your blood stream as it induces a feeling of cheer. The yeast strain used lends a hint of breadiness at the finish and loads of complex fruit flavours throughout.
Notes: For the 4th Anniversary they added even more hops (the 3rd was triple hops) making it 100+ IBU's! That's insane hops! They also upped the malt making it level out at 8.5% abv. I think this might be the hoppiest India Pale Ale that I've ever had the pleasure of tasting. Perhaps even the best IPA.
1,482 characters
More User Reviews:
4.15
/5
rDev
+1.2%
look: 3.75 | smell: 4.25 | taste: 4 | feel: 4.5 | overall: 4.25

4.7
/5
rDev
+14.6%
look: 5 | smell: 5 | taste: 4.5 | feel: 5 | overall: 4.5
A hazed orange brew with a rocky white head that stays quite well. Floral and citrus hop aromas are still massive after all of these years. Fruity undertones as well. Don't forget the malt though! There's nice, sweet malt backing up everything. Hops abound on the palate as well. Citrus, floral, and grapefruit rind are everywhere on the palate, with a decent backbone of malt sweetness. The hops make your mouth tingle just as they should. The aftertaste is grapefruit rind with a little leafy undertone. This and the 5th Anniversary are probably the hoppiest IPAs you'll find (if you still can). They tell me that the recipe for Ruination IPA was based on both this and the 5th, but I think they must have put more malt in or held back a little on the hops, because it's more balanced than this or the 5th. Not that a little "hops insanity" is bad, mind you. Not at all. Don't pass this one up if you have the chance to taste it. It might be your only chance.
961 characters
2.9
/5
rDev
-29.3%
look: 4 | smell: 4 | taste: 2 | feel: 3 | overall: 3
How abut a review of this beer from someone who is not a total hophead. If you honestly review this beer as an IPA it is way over the top on bitterness. If you don't compare it to any style you still have to say that it is totally out of balance. I like Lagunitas Maximus at 74 IBUs but it has enough malt to make it work. If you're a hophead this beer may make your reach orgasm, if not you may just find the bitterness stripping the enamel off of your teeth
471 characters
4.14
/5
rDev
+1%
look: 4 | smell: 4.25 | taste: 4.25 | feel: 3.75 | overall: 4

4.47
/5
rDev
+9%
look: 4 | smell: 4.5 | taste: 4.5 | feel: 4.5 | overall: 4.5
Bottle enjoyed at the 2008 Stone Winter Storm
Appearance is a cloudy orange hue, minimal head dissipates quickly, and no lacing of note
Smell is big piney hops, some slight citrus and honey sweetness, nice malt background
Taste is smooth chewy hops, followed by sugary sweetness and subtle pale malts, very slight oxidation and alcohol presence in the finish, the hops are amazingly solid and flavorful after 7 years
Mouthfeel is full-bodied, oily and thick texture, and ample carbonation
Drinkability is high, this is a very well-aged IPA/DIPA (8.5%) with a great hop profile that has stood up well over time, the alcohol is well-masked and the flavors are unique and refreshing, it was interesting to compare this to the 4th on tap which was sweeter and less hoppy, absolutely one of the top Stone beers of the day
821 characters
4.4
/5
rDev
+7.3%
look: 4 | smell: 4 | taste: 4.5 | feel: 4 | overall: 5
Presentation: Sampler at the Stone Brewing Company "Special Event" at the Stuffed Sandwich, San Gabriel, California, held on 24-26 July 2003. This was the Second of the Eight Stone Beers Samplers. Originally released in August 2000, and served on draft.
Appearance: Orange amber color, again it was infused with a rather hazy look. The Sampler was nestled between the 3rd and 5th Anniversary IPA, and its color was more in line with that of the 5th anniversary IPA, being darker than the 3rd which was more golden in nature. The sampler had a thin light cream colored head that formed a collar on the beer and had a broken oil-slick appearance on the surface.
Nose: The 4th had a bitter nose, it was also hoppy, but without the intense floral aspects that the 3rd Anniversary had. This was more of a pungent bitter nose mixed with grain malts, and the occasional whiff of aged musty hops.
Taste: Another great beer, an aged IPA that was nicely matured, lending a rounded bitterness to the beer that mixed with the malts in the middle of the beer. I suspect that after 3 years the malts had finally got chance to contribute their fair share to the taste. A very bitter, acrimoniously dry finish, that lingers around for a while. I simply cannot imagine how hoppy this monster must have been when "fresh".
Mouthfeel: This beer has a solid backbone and does not shy away from a confrontation with the tonsils. The malts lend body and feel, whilst the (by now) well aged hops give a definite astringent bitterness that cuts the tongue and puckers a little.
Drinkability: As with the 3rd Anniversary – I tried hard to treasure the sampler, but the 4th Anniversary IPA went just as quickly as the 3rd. This beer is just too damn good to drink out of pesky samplers. I managed another half of this beer later on in the night, which reaffirmed my belief that this is yet another seriously quaffable IPA from Stone.
Overall: A very mature and well developed 3 year old IPA, which had a nice balance of malts and "aged" hops, lending a strong bitterness to the back end. A very different IPA to the more 'floral' 3rd Anniversary offering. But one which I would still dearly love to try again, if I ever got the chance. A true IPA, in every sense of the word. Never mind a 6 month journey from Portsmouth, England to India; this sucker would probably last 6 years – well, maybe not on any Ship that I am in charge of!!
2,437 characters
3.52
/5
rDev
-14.1%
look: 3 | smell: 3.5 | taste: 4 | feel: 3 | overall: 3
Couple tasters at Stone Winter Storm, they were two dollars each for four ounces
Color was a golden orange with a murky appearance, 1/4 inch white somewhat creamy head that disappeared almost immediately, no retention and not one sign of lacing
Smell had a lot citrus up front with a grassy hop aroma as well, sweet malt scents with different kinds of fruit along the way
Taste was somehow full of hoppiness, piney hops right from the beginning with different citrus flavors, in particualr there was some oranges, lemons, and grapefruit, malt was sweet and you could definitely see the age in this part of the beer, could not figure out how this stayed pretty fresh for such a long period of time, as it warmed the pine stayed dominant but became a little harder to drink because it got sweeter along with it, nicely balanced for a beer from 2001, this seemed to be a big hit at the event
Body was medium size with a syrupy and sweet mouthfeel, carbonation was a little low in my opinion, could have used more to balance out the thick sweet feel especially when it warmed
Could have drank a full glass of this and then probably called it quits, heavy on the stomach because of its sweet texture, ABV is pretty high but some of that has probably mellowed out over the years
Amazed to see that the hops stuck around in this one for over seven years, the best aged double IPA I have ever tasted, it seems like most just turn into a sweet malt ball after a year or so but this one was definitely an exception, recommended to see how well a hopped beer preserved in the cellar, agree that the tap version was a little sweeter than the bottle, nice surprise
1,657 characters
4.35
/5
rDev
+6.1%
look: 4 | smell: 4 | taste: 4.5 | feel: 4.5 | overall: 4.5
On tap at Stone Winter Storm
A: Sort of a peach/lemon juice color, hazy and unfiltered. Head is nonexistent, only a small white ring remains.
S: OJ, grapefruit, strawberry, apple juice and lemon zest.
T: Marshmallow and graham cracker on the bottom layer. As this flavor lingers, citrus rises to the occasion. The citrus is the sweet kind opposed to a sour citrus, sort of like sugared candied orange. Grapefruit juice then lemon rind run the citrus flavors out. Finishes with honey and lemon.
M: Medium body, silky mouthfeel.
D: This was really enjoyable. It really transformed into a unique and wonderful beer.
627 characters
4.21
/5
rDev
+2.7%
look: 3 | smell: 4.5 | taste: 4 | feel: 4.5 | overall: 4.5
Got to try a bottle of this at stone for their winter storm. As a matter of fact, I got to try a bottle of every anniversary except 3rd that day.
The beer was a bit murky and orange, isn't what I'd expect from a DIPA but its not all bad. Atleast its original. Also, there was not a lot of foam and no lacing but I wouldn't describe it the same way as the last couple people did. I just poured it a little more vigorously into my glass and it did foam a little.
When I got around to smelling the beer I was blown away and immediately passed the glass around the table to let everyone else smell. For a beer thats 7 years old, the aroma is completely saturated with hop smell. Nice, piney northwestern hops. As the glass allowed the beer to breath for a minute some malt smells came out too, suggesting a bit of a DIPA quality. Not an overly complex smell but very nice.
The taste was similar but a little more mellow. Very smooth. There was even a good amount of bitterness. Not sure how they did this but it was still hoppy and wonderful. Not much to describe here other than it seems fresh.
The body was heavy and thick which was nice. The beer was too drinkable for its own good. Its not fair that they don't make this anymore.
1,236 characters
4th Anniversary IPA from Stone Brewing
Beer rating:
4.1
out of
5
with
11
ratings