Dismiss Notice
15th Anniversary Escondidian Imperial Black IPA
| Stone Brewing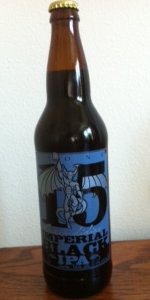 BEER INFO
Brewed by:
Stone Brewing
California
,
United States
|
website
Style:
American Black Ale
Alcohol by volume (ABV):
10.80%
Availability:
Limited (brewed once)
Notes / Commercial Description:
No notes at this time.
Added by HopHead84 on 08-16-2011
This beer is retired; no longer brewed.
Reviews: 714 | Ratings: 1,423
3.03
/5
rDev
-27.5%
look: 4.5 | smell: 4 | taste: 2 | feel: 4 | overall: 3
Pours thick and milky and black with a pellicle of a tan head. Lasts a really long time, with great lacing. Looks like Left Hand Milk Stout on nitrogen.
Very conflicting but alluring aroma. Bitter grapefruit and marmalade on a backdrop of cocoa and coffee.
This tastes like an over hopped imperial stout, nothing more. As in, something went wrong. Aggressive, medicinal, bitter. Roast + bitter hops = Meh. A little cloying too, but points for hiding the alcohol well.
Rich, full body; creamy.
Everything about this beer is good except the taste. This doesn't cross a line, push the envelope, break barriers, or redefine anything. It is just an unusual mix of ingredients that does not work very well.
★
704 characters
3.02
/5
rDev
-27.8%
look: 3 | smell: 3.5 | taste: 3 | feel: 3 | overall: 2.5
Pours near black, complety opaque. Thick and foamy mocha head. Boozy nose, vodka and coffee beans. Hops come through quite well.
Taste reminds me of an over hopped stout. Chocolatey flavors are surprisingly present. Juicy hops just plopped right down, offering some weird contrast. Sort of harsh all around. Fusel alcohol, roast, hoppy finish. Pretty much unpleasant.
★
368 characters
2.92
/5
rDev
-30.1%
look: 4 | smell: 2 | taste: 3 | feel: 4 | overall: 3
Served at Acre's stone tap takeover
Pours black with large tan head that laces up nicely and sticks around for a while.
Whew. I'm not sure what happened on the nose - smell is not to my liking. I get soy sauce and fermented broccoli. Blech. As I get used to it I can tell that it's a combination of piney hops mixed with roasty malts. The combo ends up pungent and not so tasty.
Tastes better than it smells. Very hoppy, with lots of roasty malts. Bitter and boozy with some of that unusual soy sauce flavor coming through.
Mouthfeel is quite nice - creamy and smooth. Medium bodied, and a bit sticky.
Overall, the nose just kills this one for me.
★
652 characters

2.87
/5
rDev
-31.3%
look: 4.5 | smell: 2.5 | taste: 2.5 | feel: 4 | overall: 3
This just arrived in Indiana today. It pours a nice midnight black in color with a one finger poofy beige colored head. It looks great. It smells of sweet and bitter dark roasted malts and caramelized onions. Uh oh, smells like a dark roasted Devil Dancer. I'm not a fan of that onion aroma at all. The taste is sweet, dark, bitter, has a very nice hoppy aspect but again it goes very heavy on the onions. I'm sure some love it, but it isn't for me. It's also very, very boozy. It has the near perfect body for the style and drinks more like a stout or imperial porter. I wanted to love this one, but it just wasn't up my alley.
★
628 characters

2.87
/5
rDev
-31.3%
look: 4.5 | smell: 2.5 | taste: 2.5 | feel: 4 | overall: 3
I was lucky to find this one…it was dumb of me to pass it up for so long! This will be my first time trying a Black IPA, and I'm glad that it's Stone. Hit it:
Brewed about three months ago ("August 2011").
A: Damn, this looks devilish. The body is a thick black, like a stout; what a full color. The head is awesome, a dense, foamy three fingers of excellence. It's a light tan cream that sticks around for a hell of a long time, with a strong showing of web-like lacing when it finally comes down. It even darkens to an oily dark brown when I swirl the glass. Impressive.
S: Wow, that's bold; and in a much different way, too. I don't know how to explain it…it's like a thick anise cream with coffee and a hint of garlic/onion. It gets worse the more whiffs I take, literally stomach-churning. I didn't mind their Belgo-Anise IRS, but this is different; it's a thicker, much more medicinal scent. There's a little bit of booze, chocolate syrup, and caramel on the end, and only a hint of herbal hops. Weird.
T: Hmmm, that's a yeastiness that I've had before; Great Divide's Yeti comes to mind. I'm getting a chalky chocolate yeast taste that I really don't like, which unfortunately lasts the entire palate. That distinct Stone hoppiness comes in piney and herbal, but it's not enough to distract me. There's a pepper, licorice, and herbal tea taste as well. The finish is vodka-like alcohol and light roasts. It's better than the nose, but not by much.
M: The feel is just like the head looked: smoothly foamy. Pretty fiery, too, which is a welcome surprise.
O: There's so much promise to this beer: the style, the brewery, the promised hoppiness. Unfortunately, it didn't turn out well. Though this beer was my least favorite from this brewery, I'm certainly hoping for another 15 years of Stone beer. Cheers!
★
1,867 characters

2.83
/5
rDev
-32.3%
look: 3.5 | smell: 3 | taste: 2.5 | feel: 3 | overall: 3
Aye carumba.
A- Looks like a stout.
S- Smells Like an IPA
T- Not a stout. Not an IPA. Its the inbred red headed step child. I'm really hoping for one of these black IPAs to blow me away but the flavors just clash. Roasted malts and citrus hops don't belong together.
M- Not bad.
O- One of the better black IPAs i've had, but I cant get into this.
★
352 characters
2.81
/5
rDev
-32.8%
look: 4 | smell: 3 | taste: 2.5 | feel: 3.5 | overall: 2.5
22 oz bottle poured into my DFH signature glass
Appearance: Dark, Black. Looks exactly like a stout. No light even around the edges of the glass. Two finger tan head, sticks to the sides of the glass nicely.
Smell: Not a strong smelling brew, really had to take a nice big whiff to get much. Some piny hops and something burnt. Odd combo.
Taste: Roasted malts, almost burnt taste mixed with pine needles. A Bitter and burnt taste coats the mouth, not pleasant. Alcohol isnt bad seeing that this is almost 11%. Something lightly sweet mid-taste.
Mouthfeel: Thick, almost creamy and sticky.
Overall: Stone I am disappointed! I dont know what to make of this. Trying to be and do too much at once? Would not buy this again, but not sorry that I tried it.
★
756 characters
2.63
/5
rDev
-37.1%
look: 3.5 | smell: 3 | taste: 2 | feel: 3 | overall: 3
I'm trying to be nice, but I wonder with a lot of these reviews how much of it is that everyone is a massive Stone fanboys rather than really being objective with the beer.
A - it's black, dark dark black. It looks like a stout, pours fairly thick with very little light brown head, under a finger that fizzled away quickly.
S - alcohol is by far the most predominant smell. A bit of chalk, stout-like roast. Almost no hop aroma.
T - Egh. It was overly boozy, and the taste reminded me of chalk, roast, and a very small amount of hops on the back end. It was dominated by the chalky flavor and the roast though. Not really sure what to think about it being a 'black IPA', I don't doubt it has a lot of hops but they're just completely overwhelmed.
M - it's thicker than I'd like an IPA to be, but in an 11%ish beer I'm not surprised. It was closer to a heavy porter than anything.
O - completely underwhelmed. I had some high hopes but got a boozy, overzealous beer that was more like a mediocre stout than any kind of Black IPA. Really this beer was a huge letdown.
★
1,071 characters
2.61
/5
rDev
-37.6%
look: 3.5 | smell: 2.5 | taste: 2.5 | feel: 3 | overall: 2.5
Got a bomber of this on my visit to California; I'll be visiting Stone in two days.
My father and I split this. First off, wow, that's thick. And it's certainly black. My first whiff had me reeling. It's extremely potent... hops flood my nasal passages. A pungent soy sauce flavor overwhelms me. It's very sweet.
The first sip is incredibly bitter. Sweet as well. The ABV of this beer doesn't hide, in my opinion, like some Double IPAs can do. I don't look forward to the next sip of this beer. And that's just it--this is a sipping beer. It's incredibly flavorful. It stops everything, and forces me to focus on how bitter and overwhelming the flavor is.
The aftertaste is the best part, and quite possibly the only thing I enjoy about this beer. There's an incredible coffee aftertaste reminding me of a coffee stout. I also detect chocolate and toffee undertones. Someone else here on BA noted figs as well, which I also subtly taste. But coffee and soy sauce are two huge flavors here, and I'm not the most fond of those. I'm much more of an IPA guy.
Compared to other black IPAs, this is something else entirely. It is so pungent, so powerful, so overwhelming, that I would probably never choose to drink this again. The flavor kills my palate more than a double IPA and I'm here wishing I had bought a bottle of something else. I love a lot of Stone's brews, but this sure isn't one of them.
★
1,401 characters

2.5
/5
rDev
-40.2%
look: 4 | smell: 4 | taste: 1.5 | feel: 2 | overall: 2.5
on-tap, reviewed from notes.
A- Brown... dark dark brown/black body and a sticky icky tan head.
S- Intense hops- I do a double-take after sniffing this one. Piny, a bit fruity, very pungent.
T- Too much. There's roasty malt and some coffee notes for a second, and they're completely obliterated from the zippy, minty, herbal, piny hops. Yes, that's a lot of descriptors. They're all there. Orange peel, pine resin, and mint leaves. The hops are pulling my tongue all over the place and don't give me a chance to sit back and explore the beer. After my tongue recovers from the assault, some ashy flavors peek through. Not doing the beer any favors.
M- Abrasively hoppy, too much, too confusing. Good carbonation, though.
O- Meh. SSR is a much better beer- this one is just disorganized and a tough nut to crack. I won't be revisiting this one, no chance no way.
★
868 characters

2.44
/5
rDev
-41.6%
look: 3.5 | smell: 2 | taste: 2.5 | feel: 3.5 | overall: 2
This is so sharply alcoholic. With the bitterness, it tastes like a Chinese medicinal wine. It also wins the prize for the weirdest, most unpleasant aroma for a non-spoiled beer. It's like a wet felt hat filled with the parsley silage from the back of the vegetable bin.
The stuff looks nice enough in the glass, though it's just black with a thin beige head. Not very drinkable overall. It just seems like some kind of hop joke. Mouthfeel is hard to tell. It makes my lips hurt.
Personally, I think they are toying with us. Or else it's a chemistry experiment from the Escondido High School science fair. At least Stone doesn't don't overcharge, so I sometimes lapse from better judgement to try one of their loopy brews. From the 22 oz bottle. Add a case of Olde English 800 for an excellent frat party. "Dude, see if you can keep this down!"
★
846 characters
2.22
/5
rDev
-46.9%
look: 4 | smell: 2 | taste: 2 | feel: 3 | overall: 2
Just a retarded idea imo to have a black ipa as your 15th anniversary brew. I bought this cause I found it for 6 bucks which isn't a bad deal on a brew of this "rarity" i guess.
It pours a nice color, a thick, inky blackish brown with a creamy tan head that leaves a thick coating of lacing.
It smells like a package of the tropical starburst mixed with tootsie rolls. Some might like it but i think it reeks of a poorly thought out recipe.
The flavor is really well, all over the place. There is some coffee notes, some indecipherable hop notes, odd sweetness, moderate bitterness.
This beer is just a mish mash of junk really. Re-do you recipe and actually think before you brew.
★
685 characters

2.22
/5
rDev
-46.9%
look: 4 | smell: 2 | taste: 2 | feel: 3 | overall: 2
Pitch black. 2 finger sticky, mud brown head. Lots of lacing.
Muddled blend of bitter hops, burnt cocoa, hazelnut and coffee. Not particularly inviting, an odd, unbalanced aroma that I found to be really off-putting.
Big hit of bittering hops forward, followed by dark roasty stout characteristics.
I really don't have much to say about this one. To me there's way too much going on, the hoppiness does not pair up well with the stout backbone, and it tastes like a mess. Stone always seems to want to take on huge hybrid beers, sometimes very successfully sometimes over-executed. This was honestly one of the worst beers I've had in a while.
Didn't finish the bottle.
I'm still scratching my head about this one; I thought I would've liked it.
★
751 characters
1.99
/5
rDev
-52.4%
look: 3.5 | smell: 2 | taste: 2 | feel: 2 | overall: 1.5
A: Pours a dark black, almost opaque color. A one finger tan head forms, and recedes to a ring. Nice lace is left behind.
S: Oh man, the aroma is pungent. Herbal and soapy hops, citrus, grassy hops. That all intermingles with burnt sugar, tar, molasses, ash, wood. Just unpleasant in the nose.
T: The same here, it is just off putting. At first the hops are strong. Herbal, grassy, soapy. Charred wood, ash, and rubber comes next. Burnt sugar with way to much residual sweetness. Molasses and soy sauce. A lingering bitterness lasts forever. Not to mention the alcohol. Over barring in every way.
M/D: A full body that is thick and viscous. Overly so with a sticky adhesive quality that I don't like. I think tar is a good descriptor. To much alcohol and to much of everything else. I could not finish a glass.
Wow, I thought Stone could not get any more crase and over barring. Just an unbalanced mess. I wish brewers would think before releasing beers like this. Though I guess everyone else seems to like it for some reason, and I don't get it? I would say avoid, but that looks like I am in the minority.
★
1,109 characters
15th Anniversary Escondidian Imperial Black IPA from Stone Brewing
93
out of
100
based on
714
ratings.