Old Guardian BELGO Barleywine - Bourbon Barrel Aged
| Stone Brewing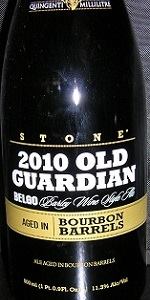 BEER INFO
Brewed by:
Stone Brewing
California
,
United States
stonebrewing.com
Style:
American Barleywine
Alcohol by volume (ABV):
11.50%
Availability:
Limited (brewed once)
Notes / Commercial Description:
No notes at this time.
Added by NickMunford on 10-07-2011
This beer is retired; no longer brewed.
Reviews: 7 | Ratings: 17

3.58
/5
rDev
+3.2%
look: 4 | smell: 3.5 | taste: 3.5 | feel: 4 | overall: 3.5
Pours amber/copper in color with a small off-white head. Similar lack of bourbon aroma that the regular version had; maybe just a little vanilla. A bit of malt, candy/sugar type sweetness, and a hint of fruit. Pretty boring aroma. The flavor is muddled with some bitterness, some sweetness, and very little bourbon or barrel character. Maybe a touch of tannic oak? Pretty meh effort.
383 characters

3.5
/5
rDev
+0.9%
look: 3.5 | smell: 3.5 | taste: 3.5 | feel: 3.5 | overall: 3.5
Shared by yourefragile, this was served alongside several other Stone brews. Thanks Michael.
The beer appears orange to copper in color with a thin white head that leaves sparse cling on the glass.
The aroma is fairly weak, offering subtle notes of oak, vanilla, booze, caramel.
The flavor is ok. I didn't dislike this beer as much as the other guys. Light oak, malt, candies, vanilla.
Medium bodied with fairly low carbonation. Lingering oak and sweet malt / candies.
A decent brew, but not one of the better offerings from Stone.
539 characters

2.69
/5
rDev
-22.5%
look: 4 | smell: 2.5 | taste: 2.5 | feel: 3.5 | overall: 2.5
Some generous but misguided soul shared this at Thorpe's DC area shindig last week. Thanks, I guess. Served in a tulip.
A - Sounds quite similar to the Red Wine edition - solid for a barrel-aged barleywine.
S - Smell is nearly identical, but with a hint of oaky vanilla and bourbon penetrating the dishwater and dirty phenolic yeast.
T - Again, strange astringency and unpleasant oak mingle with phenolic Belgian yeast and perhaps a glint of bourbon.
Cribbed the mouthfeel and general comments from the Red Wine review:
M - Medium-full body, reasonably well-hidden alcohol, and lower carbonation. Not particularly exciting, but significantly better than the other facets of the beer.
D - This was pretty terrible. The 'regular' barrel-aged Old Guardian variants I had on draft a few years ago had some significant and enjoyable barrel and spirit/wine presence, and even the initial draft version of the Belgo as passable. This is unfortunately just a train wreck of clashing and 'off' flavors.
999 characters

3.05
/5
rDev
-12.1%
look: 3 | smell: 3 | taste: 3 | feel: 3.5 | overall: 3
Not much different from the red wine version but that's what you'd expect since red wine is so similar to bourbon.
Beer is amber and mostly clear with a thin head, lacing, carbonation, everything looks OK.
Aroma is sweet with a mild oakiness and no bourbon.
Beer is sweet and has a dry finsih with a mild oakiness and no bourbon. Not a repeat.
These barleywines are a big disappointment and this is coming from a Stone fanboy. Get your shit together for real.
463 characters

4.15
/5
rDev
+19.6%
look: 4 | smell: 4 | taste: 4 | feel: 4.5 | overall: 4.5
From 03/30/12 notes. Big thanks to yourefragile for sharing this one. Poured into a tulip.
a - Pours a dark copper orange-brown color with one inch of off white head and low to moderate carbonation evident.
s - Smells of caramel malts, bourbon, oak, toasted malts, toffee, sugar, sweet dark fruits, raisins, and figs.
t - Tastes of caramel malts, oak, toasted malts, bourbon, sweet dark fruits, sugar, molasses. Less bourbon then the nose but nice.
m - Medium body and low carbonation. Smooth and not much heat at all. Really nice and very easy to drink for the ABV.
o - Overall a nice beer; I like this better then the normal OG, the Red Wine BELGO OG, and on pay with the BA Coconut Porter and Stonewall. Nice bourbon mixing with the normal OG flavors and easy to drink. Would love to have it again.
806 characters

3.18
/5
rDev
-8.4%
look: 4 | smell: 3.5 | taste: 3 | feel: 3 | overall: 3
Bottle thanks to yourefragile. Served in a Stone goblet.
Pours a moderate golden-copper color with a thin white head and some lacing on the way down. The nose starts off with a touch of bourbon and light vanilla, though not much of either is present. Some malt in the background providing some candy sweetness. Flavor has a hint of barrel character in a good way, then presents some undesirable tannins and a bit of booze. Medium body and slightly tannic. Nothing much too this one; a big letdown after the BA Coconut beer.
524 characters

3.76
/5
rDev
+8.4%
look: 4.5 | smell: 3.5 | taste: 3.5 | feel: 4.5 | overall: 4
They said there were ~600 bottles of this version.
A: Pours an exceptional amber color with little head.
S: It has a light aroma, lighter than I would expect from this. There's a slight hint of peat.
T: It has a smooth maltiness. Slight hoppy bitterness. And very light woody flavors. Can't really taste the bourbon.
M: Very smooth, lightly bitter, little carbonation. No boozy burn at all.
O: I'm not experienced at aging, but from what I understand, aging mellows out and blends big aggressive flavors. There are no big aggressive flavors that need mellowing or blending here. It's the 2010 OG, so it already has a year on it in the barrels. I'd recommend drinking it now. Overall, a great tasting beer. I want more!
733 characters
Old Guardian BELGO Barleywine - Bourbon Barrel Aged from Stone Brewing
3.47
out of
5
based on
17
ratings.