Evil Twin / Stillwater / Stone - "The Perfect Crime"
| Stone Brewing
BA SCORE
79
okay
187
Reviews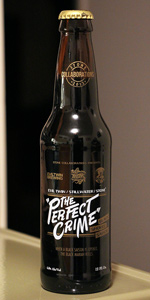 BEER INFO
Brewed by:
Stone Brewing
California
,
United States
stonebrewing.com
Style:
Saison / Farmhouse Ale
Alcohol by volume (ABV):
6.80%
Availability:
Limited (brewed once)
Notes / Commercial Description:
No notes at this time.
Added by chugalug06 on 11-13-2012
This beer is retired; no longer brewed.
Reviews: 187 | Ratings: 645

2.16
/5
rDev
-37.9%
look: 3 | smell: 2 | taste: 2 | feel: 3 | overall: 2
Poured from a 12oz bottle into a pint glass
A: Pours dark with light brown head
S: Smells kinda like asphalt. I couldn't smell any other attributes.
T: Petroleum taste with no desirable flavors that you would expect from smoke or dark roast.
M: The mouthfeel was fine. Plenty of carbonation and body.
O: If I made this at home, I would not serve it to anyone. It truly tastes like it was fermented in a bucket used to tar a roof. I can't imagine ordering a second serving. Bad. Luckily, BevMo has it for $3.19 so you can try it yourself and see for yourself.
★
563 characters
4
/5
rDev
+14.9%
look: 4 | smell: 4 | taste: 4 | feel: 4 | overall: 4
Poured from a 12oz bottle into a dfh snifter.
A: pours black, with some translucent dark browns around the edges when held to the light. Half a finger if tan head, dissapates quickly, leavs a little bit of lacing.
S: smells kinda like dark burnt toast, the smoke is no as ovwrwhelming as I anticipated, which is a plus in my book, a light bit of yeast funk starts to poke through the toasty/burnt grain aroma, bit a bad smelling beer.
T: I get toast and toasty and burnt grain character first, with a bit of smoke, also a suprise showing of hops, which I was not expecting, adds some piney and citrus notes to the mix, not annoverwhelming amount off hops, but they are certainly there.... I also get some spicy/funky yeast notes. Bready notes I feel mostly with a touch of clove. A lot going on flavor wise here, seems to work.
M: light, creamy and drinkable, with crisp carbonation, and a dry finish that leavs a slightly bitter aftertaste of burnt toast.
O: this is an interesting beer, I was very Leary of this one at first because I am not really a saison guy, and I am not a huge fan of smoked beers.... However, I thought the smoke was used very nicley here to compliment the burnt/toasty grain malt profile. The odd duck here, to me, seemed to be the hops, they caught me off gaurd. But not a bad beer at all. I feel like all the ingredients were used to try an attain a delicate balance, that was just about reached, and very well could be when the hops mellow out a bit... Maybe I'll try another in a few months.
★
1,527 characters

2.32
/5
rDev
-33.3%
look: 3.5 | smell: 1.5 | taste: 2.5 | feel: 2.5 | overall: 2.5
Not a big Stone fan, but I like Evil Twin and the price was right so I picked this one up. Most of these collaborations have been mundane; I don't know why I keep buying them. A Smoked Saison sounds pretty foul as well. But hey, every beer gets a chance. 12 fl oz brown glass bottle with standard pressure cap served into a New Belgium stem-goblet in me gaff in low altitude Los Feliz, Los Angeles, California. Reviewed live.
Served straight from the refrigerator and allowed to warm over the course of consumption. Side-poured with standard vigor as no carbonation issues are anticipated.
A: Pours a one finger khaki-tan colour head of good cream and thickness, and pretty decent retention (~2 minutes). Colour is a solid nontransparent opaque black. No yeast particles are visible. No bubble show.
Sm: Heavy rauchbier-esque smoke and bacon notes, with some acrid dark malts alongside cream. Not at all appealing. A mild strength aroma. I'm not looking forward to this.
T: Dark malt foundation with murky smoky lightly bacon-y notes on the climax. No real cream. Dreadfully simple. A bit too bitter. I get no brett notes or anything remotely saison-esque. Earthy but not fruity. Imbalanced and bland. Who knew such an experimental brew could be so non-committal? Drinks like a crappy rauchbier. Underwhelming.
Mf: Too dry and coarse in the late second and third acts. Unmotivated and unfocused. This is a mess. Smooth and wet up front, but also a bit sharp from overcarbonation. Thickness is okay. Presence on the palate is all over the place.
Dr: I'm all for experimentation, but they shouldn't have even brought this to the market. This is a mess of an effort and doesn't warrant purchase. Only the names of the breweries involved will sell this beer. If you want a nice brett-laden saison (even with hints of smoke, if for some reason that sounds like a good idea), look elsewhere. This reminds me of novice homebrewing.
D+
★
1,938 characters

2.42
/5
rDev
-30.5%
look: 3 | smell: 3.5 | taste: 2 | feel: 2 | overall: 2
Part of one my larger beer hauls. Hoping this purchase gets started off on the right foot!
LOOK: Dark-brown, nearly black body has a nice clarity with a ruby hue. Soft-tan head bubbles up to a half-finger before dissipating rather quickly. Some bubble cling to the edge of the glass thankfully. Rather bland-looking beer otherwise.
SMELL: Belgian yeast comes on strong before giving way to a smokier scent. Some hints of pepper and dark fruits with a rather thin malt undertone. I'm talking thin like Stephen-King novel thin.
TASTE/MOUTHFEEL: Really light, watery-feeling brew. The smoke is almost overwhelming and gives a strong sense of charcoal. Bitter aftertaste that I don't find at all pleasant. Reminds me of aspirin, which is definitely not what I'm looking for. Sharp carbonation. This improved a bit as it warmed, giving a combination of dark chocolate and pepper. One small kick of Belgian earthiness is the closest this beer ever comes to being a Saison. Really not my thing.
OVERALL/NOTES: This is probably the first Stone collaboration that genuinely disappointed me. I appreciate the experimental approach here, but really, I don't want to try it again. Bleh.
★
1,187 characters
3.58
/5
rDev
+2.9%
look: 4 | smell: 3.5 | taste: 3.5 | feel: 4 | overall: 3.5
12 oz. bottle,
A: Pours an ultra deep red to black, opaque, with a medium slightly off-white head. Very solid head retention, some sticky lace.
S: Smoke, dark malt, with a hint of soy sauce.
T: Dark chocolate and plum upfront, but then really gets into the saison aspect. While there's an undercurrent of smoke throughout, the back end of this beer is all saison. Tons of peppery spice, leather, almost a note of bee pollen. It's lacking that delicious factor, but it is quite an interesting, complex beer.
M: Drying finish, medium-bodied overall. Chalky, peppery long aftertaste with some finishing hops.
O: A strange beer to say the least, really a combo of an ABA and a saison with a splash of rauchbier thrown in there. Only $2.99 a bottle, so this is a fun beer to expand your palate, but really at the end of the day, it's nothing mind-blowing, enjoyable though.
★
873 characters

2.43
/5
rDev
-30.2%
look: 4.5 | smell: 4 | taste: 1.5 | feel: 2 | overall: 2
Pours a dark chestnut brown color that appears pitch black and opaque in the glass with a two finger light beige head that slowly settles into a thick, lasting cap. Streaks of soapy left behind.
Slightly smokey, roasted dark malt aroma with some peppery spice and funky Saison yeast notes. Hints of charcoal/campfire, smoked meat and ash along with dark chocolate, robust coffee and farmhouse funk. As it warms, the smoke gets a bit stronger, overpowering the Saison characteristics. There's also some earthy, piney hops lingering underneath that comes more to the forefront as the beer comes to room temperature.
Medium bodied with a really strange combination of smoked malt, earthy hops, peppery spice and funky yeast which results in an unpleasant, metallic/herbal/medicinal flavor that's hard to drink. Starts off with liquid smoke, burnt malt and charred malts but is quickly overtaken by resinous, piney hops. These two flavors really don't work well together and when you add the Saison/farmhouse elements, this turns into a mess of a beer. Very harsh and tough to choke down. I appreciate their experimentation but I hate the way this beer tastes.
★
1,160 characters
3.58
/5
rDev
+2.9%
look: 4 | smell: 3.5 | taste: 3.5 | feel: 3 | overall: 4
Well this should be interesting.
Nearly black but looks thin during the pour. No mistaking this for a stout. Head is tanned and thin, hard to pick carbonation level but looks low.
Definite Belgian/farmhouse influence in the aroma but it has something more. Smoke is very light and hard to pick. Easier to notice a slight roast component which is a different twist.
That roast/dark malt changes the taste completely compared to a standard saison. The whole nature of the beer is changed to a much smoother richer beer. Basically it goes from a summer to a winter beer. As such it takes a hit score wise but its far from a bad beer. The basic spicy yeast character is there but the addition of dark specialty malt takes away some of the light refreshing quality.
The mouthfeel has be knocked back as a saison, but overall this is quite nice and released at just the right time of year.
★
887 characters

3.53
/5
rDev
+1.4%
look: 4 | smell: 3.5 | taste: 3.5 | feel: 3.5 | overall: 3.5
A-Pours very black. Minimal light penetration. Head slowly loses gas and pops away to a thin tan seam of tight bubbles. There is consistent, thin lacing specks all along the glass.
S-It does smell like a Saison in its barest essence. The addition of dark, roasty malt and charred smoke is both bad and good. The yeast does come out in the nose but it has to fight away the other aspects of the beer. Yeast and spice followed by subtler notes of roast and chocolate. Smoke is not overbearing.
T-The flavor is a bit lighter and more vibrant than the nose. The smoke settles nicely above the yeast and spice. It finishes with modest amounts of bitter dark chocolate and coffee. They all seem to conflict at some points. But during some sips, it seems to mesh. Definitely some anise and clove.
M-Bubbly. A bit slick. Bitter. Light hint of booze. Decent drinkability.
O/D-A bit better than I thought it would be. It just doesn't sound like it was the best idea. But hey, they got my $4 so kudos to them. I recently had the Mint Chocolate Imperial Stout and that was infinitely better. This was...adequate.
★
1,104 characters
3.9
/5
rDev
+12.1%
look: 4 | smell: 4 | taste: 4 | feel: 4 | overall: 3.5
$3.49 a single is a fair price for this, although i think a saison is too delicate of a style (when done properly) to handle much smoke. and while this one didnt obliterate it, i like the yeast, not the malt, to be the star of my saison. this isnt offensive though. it pours a pretty thick black color, darker than any saison ive come across. fluffy off white head lasts forever. the nose is quite spicy, combined with the smoky malt it feels like fall to me. nice burn malt profile just a litte too big for the yeast though. quite drinkable, sturdy abv, and some nice peppery funk on the back end before the charcoal hits. a good fall seasonal type beer for sure, but not one ill buy again. its just a style that i think doesnt really work, altough this would be textbook if it did. like nothing else, a more than passable beer.
★
829 characters

3.81
/5
rDev
+9.5%
look: 5 | smell: 4 | taste: 3.5 | feel: 4.5 | overall: 3.5
A-black with a nice stable tan head
S-dark belgian spices, a certain mustiness, cooked vegetables. some spicy peppers. a lot going on here. medium strength. very odd.
T-comes in with a spicy and creamy taste of mellow belgian grains and cooked peppers. all very mild. the after-taste comes in with a deep smokey cocoa flavor. its not as complex as the nose lets on. overall a good flavor though.
M-chalky medium carbonation with a semi-dry finish
O-this is no saison, it doesn't even taste like the other dark saisons i've tried. it really tastes like an odd stout, more than anything else. its really just okay, whatever it is. i wouldn't go out of my way to get this again, or get it for anyone else.
★
706 characters

3.75
/5
rDev
+7.8%
look: 4 | smell: 4 | taste: 3.5 | feel: 4.5 | overall: 3.5
APPEARANCE: The Perfect Crime is a deep, dark reddish-brown. It looks like a lot like a Porter with it's light brown head that slips away within a minute or two of the pour. The lacing is thin, but gets good coverage.
SMELL: Oddly enough, mint is the first thing that stands out to me in the nose here. And no, I did not just finish up a glass of Mint Stout. The mint isn't the most dominant smell, but aside from your other typical Saison smells; citrus, earthy hops and a little grass, that is what seems to set this apart from other Saisons.
TASTE: Wow, this is a grassy beer. Funky too. Funky and grassy. Some roasted malty flavors dance around with orange and other citrus flavors and they become more apparent with some warmth. The citrus becomes more pronounced towards the back end as the finish tastes strongly like bitter grapefruit. The backbone, however, is still the grass.
MOUTHFEEL: Given the color, this is a relatively light-bodied beer. The carbonation is also strong, providing a cleansing feel and it is very dry. Quite nice in this department.
OVERALL: Obviously this is not your typical Saison, but many characteristics of a farmhouse ale come through, particularly the fruity funkiness. The twist here is with the roasted malt and the more intense grapefruity bitterness (and maybe the mint?) This is a nice change of pace from the run-of-the-mill Saison.
★
1,383 characters

3.47
/5
rDev
-0.3%
look: 4 | smell: 4.5 | taste: 3.5 | feel: 1.5 | overall: 3
Brew is deep, brown with lots of black hues. Head is a very light brown/straw color. Lacing is minor.
Smokey, chocolate, funk, peaches, cherry, woody, leather, and musk. Scent is very nice.
Carbonation is way too high...bitterness is also too high. I feel under the distracting mouthfeel are some good hop flavors blended well with smoked chocolate/caramel malt, but it's very hard to tell.
This brew is a near mess. The mouthfeel falls apart on this could be awesome brew. A very nice saison base that kinda of went haywire... Undecided if this one could be recommended.
★
581 characters
Evil Twin / Stillwater / Stone - "The Perfect Crime" from Stone Brewing
3.48
out of
5
based on
645
ratings.