Stone 11.11.11 Vertical Epic Ale (Red Wine Barrel Aged)
| Stone Brewing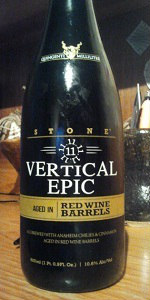 BEER INFO
Brewed by:
Stone Brewing
California
,
United States
stonebrewing.com
Style:
Chile Beer
Alcohol by volume (ABV):
10.00%
Availability:
Limited (brewed once)
Notes / Commercial Description:
Our Stone 11.11.11 Vertical Epic Ale proved to be an eccentric diversion from our previous lineup of innovative Belgian-inspired brews. And considering we're Stone, that's really saying something. This unprecedented beer was brewed with cinnamon stick and Anaheim green chiles, giving it an amazing flavor profile unlike anything that came before it. It certainly didn't need any enhancement, but we just don't know when to leave well enough alone (and we've demonstrated before that you can, indeed, improve upon perfection). So we decided to tinker with it a bit and laid a small portion to rest in wine barrels. Not wanting to limit our experiment to only red or white wine barrels, we chose both. Treat yourself to a bottle of each and compare. All in the name of science, of course...
Added by FosterJM on 12-18-2012
This beer is retired; no longer brewed.
Reviews: 11 | Ratings: 106

4.6
/5
rDev
+17.9%
look: 4.25 | smell: 4.75 | taste: 4.75 | feel: 4 | overall: 4.5
The nose is definitely from the wine barrels. Acidic, red grapes, booze, oak, vanilla, cinnamon, apple skins, brown sugar, caramel and just the slightest hint of chiles. The nose is very similar to a sour (specifically Russian River Supplication). The taste is odd, complex and intriguing. Cherries, grapes, chiles, red wine, oak, vanilla, caramel, cinnamon, apples, a hint of bitterness and some subtle booziness. Thats a strange list of flavors when I read it over again, haha. Its really fantastic. I'm glad I splurged on it ($26 for 500 ml).
545 characters

4.42
/5
rDev
+13.3%
look: 4.75 | smell: 4.5 | taste: 4.5 | feel: 4 | overall: 4.25
A - Beautiful looking beer. Clear, bold mahogany amber body. Nice head with moderate retention. Very nice lace.
S - First smell is a bold sour grape with a nice sweet middle. Aroma is more reminiscent of white wine rather than red. Notes of fresh peppers on the back end with white oak.
T- Wow. Soft oak and lightly sour backbone. Caramel, tannins, cinnamon, and ancho overtones.
M - Smooth, medium body.
O - Awesome balance and complexity.
444 characters
4.41
/5
rDev
+13.1%
look: 4.5 | smell: 4 | taste: 4.5 | feel: 4.75 | overall: 4.5
A: Deep amber color with a quickly dissipating ivory head.
S: Smells of apples as the primary aroma. There was some Belgian characteristics available as well.
T: Red wine is primary here. There was some apples, Belgian esters, and caramel in the background.
M: Great viscosity with good carbonation.
O: Great beer. Worth getting.
333 characters

4.3
/5
rDev
+10.3%
look: 4 | smell: 4 | taste: 4.5 | feel: 4 | overall: 4.5
Pours a deep amber to brown in color with a small off white head. In the aroma, quite oaky and notes of red wine. In the taste, dry red wine, oaky and a small alcohol presence. A smooth and medium bodied mouthfeel, with a small dry red wine oakiness in the aftertaste. Big oak, big red wine and small notes of spice, which complimented it quite well.
350 characters
4.09
/5
rDev
+4.9%
look: 3.5 | smell: 4.5 | taste: 4 | feel: 4 | overall: 4
Thanks to jmgrub for sharing this one at my tasting.
Pours a murky brown with a foamy khaki head that settles to a film on top of the beer. Foamy streaks of lace form around the glass on the drink down. Smell is of malt, brown sugar, cinnamon, and red wine. Taste is much the same with an alcohol kick and mild chile heat on the finish. This beer has a good level of carbonation with a crisp mouthfeel. Overall, this is a good beer with some interesting aromas and flavors.
475 characters

3.97
/5
rDev
+1.8%
look: 3.5 | smell: 4 | taste: 4 | feel: 4 | overall: 4
1662nd Review on BA
Bottle to Woodshop Snifter
500 ML C/C
Thanks to Steve for sharing during the VE party
Split with StarRaptor, Callmecoon & Smarcoly
App- A bit of a caramel brown with some amber and reds. A small head was there and the dropped down to a a small bit of bubbles on the top of the beer. A small bit of cling but not much.
Smell- So this is labeled as a Chili beer but the aromatics are clearly of the Belgian origin. More yeast with a small bit of banana and clove. The chili on this one is accentuated by the Red wine barrel. Much more spice vs. heat on this one.
Taste- It's a tasty beer. Much better than the base beer was. The heat of the chili has faded and become more integrated with the addition of the barrel. A bit of a cordial like flavor has now come on.
Mouth- This was a medium body with a medium carbonation level. The redsidual flavors are of a Belgian beer but just a tad bit of chili and more of the tannins come out.
Drink- The series is coming to a close and I feel that Stone is pushing the boundaries now. This was flavorful and subdued. I liked the base flavors and the layering. A good treatment of the barrel.
1,156 characters

3.87
/5
rDev
-0.8%
look: 4.25 | smell: 4 | taste: 3.75 | feel: 4 | overall: 3.75
Thanks merc
Dark rusty brown pour with a thin off-white head. The nose smells of wine barrel with a hint of the underlying chili ale. The taste is quite vinous with a great hint of heat from the chilies and orange rind in the back end. The mouthfeel is definitely wine barrel forward with a touch of sweet cinnamon and chilies in the aftertaste. This beer is definitely barrel aged with a great spicy finish. I would not trade for this beer in the future, but it's decently tasty.
480 characters

3.66
/5
rDev
-6.2%
look: 4.25 | smell: 3.75 | taste: 3.5 | feel: 3.5 | overall: 3.75
500ml bottle into tulip.
A: Pours a deep iced-tea brown with a fluffy dark tan head that faded into a thick fuzzy film and collar that left chunks of sticky lace down the glass.
S: Straight after the pour the vinous red wine barrel comes through more than expected and imparts almost berry-like notes to the nose. Once the head fades down a bit, the cinnamon and roasted chilies comes through and create a spicy, chipotle pepper scent. Notes of belgian yeast and raisin are mixed in there as well.
T: Lightly bitter woody notes of red wine barrel mixes well with the base chili, cinnamon, raisin, and Belgian yeast flavors. I get powdery notes of chocolate, grapes, and musty barrel in the finish, with hints of peppery spice, chili and cinnamon in the aftertaste. Chili is (obviously) way more subtle than the original was fresh, but there is a very faint tingly in my mouth after each swallow.
M: Medium-full body, slick, fairly sweet and slight astringent mouthfeel, with some drying oak and a few gritty tannins.
O: A decent beer, nothing crazy. Red wine barrel added an additional layer of complexity to the base beer, but I'm not I would call it an improvement. Different I guess, definitely not worse though. I'd drink this again but wouldn't seek it out.
1,270 characters
3.4
/5
rDev
-12.8%
look: 3.5 | smell: 3.5 | taste: 3.5 | feel: 3.5 | overall: 3
500 mL bottle poured into a snifter.
Appearance - Deep red, a little murky. Small khaki head. Thin collar.
Smell - Wine aroma and some acidity. Caramel malt. Hint of pepper.
Taste - Pepper right up front. Caramel malt. Some wine and a bit of funk.
Mouthfeel - High carbonation. The peppers are cut a bit. Medium bodied.
Overall - A lot going on, but not sure I really enjoy what's going on.
396 characters
3.27
/5
rDev
-16.2%
look: 4.5 | smell: 3 | taste: 3 | feel: 4.25 | overall: 3.25
Shared with BPK59, poured into a Kate the Great tulip.
A - Poured a nice clear ruby brown hue with a fluffy tan head that fades to leave nice lacing.
S - Aromas of red wine, some nice malty sweetness, chilis are hidden unfortunately.
T - Tastes of red wine, malty sweetness, and super faint chili. It's not bad, but where the Fuck is the chili?!
M - Mouthfeel is nice, lightly carbonated, not bad, alcohol hidden.
O - Overall I was, yet again, disappointed by a stone 500mL beer. Sigh.
490 characters

3.06
/5
rDev
-21.5%
look: 3 | smell: 3.25 | taste: 3 | feel: 3 | overall: 3
Almost gagged in disgust reading the pretentious description on this one. Ah, Stone - congratulations, you've succeeded in matching your desired market image. You are indeed a bunch of arrogant bastards - only there's no hint of cheeky self awareness in the actuality of the situation. Why then, did I buy this beer? Because I respect anyone who creates for a living and Every Beer Gets A Chance. 500ml brown glass bottle with hood and wire cap over a cork served into a conical Samuel Smith's pint glass in me gaff in low altitude Los Angeles, California. Acquired within the last couple months at a local SoCal beer store. Bottle conditioned. ABV is 10.6% according to my bottle. "Ale brewed with Anaheim Chilies & Cinnamon Aged in Red Wine Barrels."
Served cold, straight from the fridge. Allowed to warm over the course of consumption. Side-poured with standard vigor as no carbonation issues are anticipated.
No satisfying pop upon removal of the cork. Just a weak-ass "psh."
A: Pours a 3.5 finger beige-light khaki colour head of nice cream and thickness and quite good (9+ minute) retention for the high ABV. No real lacing as the head recedes. Overall, I'm rather impressed with the head. Body colour is a terribly ugly caramel-light brown colour; that's one of the worst body colours I've observed in the last year. Wow, that's unappealing. No yeast particles are visible because it's nontransparent and opaque. No bubble show. Dig the head, despise the body.
Sm: Surprisingly not terrible. Light tart sour character. Light hints of lacto. Cinnamon and earthy hops. White grapeskin; I'm actually confused - why are the dominant wine notes redolent of white wine rather than red wine? Caramel. Stale cereals/grains. I dig the light sour aromatics, but the rest is underwhelming. A mess of an aroma, but not necessarily a bad one. Deeply buried orange rind when I look for it. Not getting any chili peppers from the aroma. A mild strength aroma overall.
T: Hm. It's a mess - in classic Stone fashion. There's just no balance or even seemingly any attempt to balance the flavours. I get light sourness, which lacks flavour depth or interest. Murky caramel, earthy hops, and biscuit malt. Bland cinnamon. I'm not getting any chili pepper at all; however they handled the peppers, the execution is poor. Nutmeg spice. Some other unwelcome spices. I get some grapeskin, but it's mainly suggestive of white wine grapes, not red wine. I get no red wine notes at all, really. The red wine barrel aging was poorly handled. Lacks creamy character. I can't emphasize the lack of balance and cohesion enough; it feels like a mess of random flavours jumbled together, not a masterfully brewed and balanced beer. What did I expect from Stone? Built okay, I guess. Why is this classified as a chili beer?
Mf: Smooth and wet. Lightly acidic. Overcarbonated. Way too much body. Too thick. Bad presence on the palate. Doesn't feel at all tailored to the flavour profile, nor is it all that complementary. Lacks deliberation. I'm unimpressed. Thank God it's not watery.
Dr: Stone once again makes me question why I keep buying their beers. I want to like them as much as others seem to, but the quality just isn't there. And it's overpriced as hell, even in L.A. Why is this brewery so well regarded? This is a poorly executed barrel aged beer, and a missed opportunity - and if it's supposed to be a chili beer, it's crap - frankly. A mess of a beer in a gimmicky-as-hell series. This one should be skipped, especially at its ridiculous price point. Why did I buy this? What's wrong with me?
Low C+
3,603 characters
Stone 11.11.11 Vertical Epic Ale (Red Wine Barrel Aged) from Stone Brewing
3.9
out of
5
based on
106
ratings.