Double Crooked Tree IPA

Dark Horse Brewing Company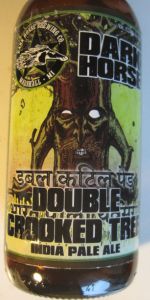 Write a Review
Beer Geek Stats:
| Print Shelf Talker
Style:

ABV:

12%

Score:

Avg:

4.17

| pDev: 10.31%

Reviews:

936

Ratings:

From:

Avail:

Spring

Wants

Gots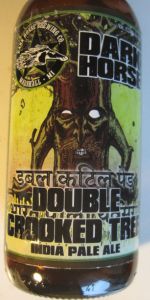 Notes: Have you read the description for the regular Crooked Tree yet? Well this beer is almost the same just double the flavor and alcohol. We actually took the Crooked Tree recipe and doubled all of the ingredients except the water, just the way a DOUBLE should be made. Big hops balanced with tons of malt give this beer a huge body. Although this beer is as cool as "The Fonz" when first purchased, it gets really mellow and smooth with some age. After a year or two stored in a cool dark place you'll notice the heavy caramel and malt flavors are trying to sneak past the hops. This beer is hugely delicious so it will need your undivided attention (the chores can wait....trust us).

98 IBUs
Reviews: 936 | Ratings: 2,879

4.37
/5
rDev
+4.8%
look: 4 | smell: 4.5 | taste: 4.5 | feel: 4.5 | overall: 4
2005 vintage 12 ounce bottle topped by green wax.
Hazy orange color. Low carbonation and faint wispy head. Nose of pineapple, mandarin oranges, and tropical fruit cocktail. Add some coconut and it would make a nice ambrosia salad. Flavor of rum-soaked dried apricots, English toffee, and prickly pine resins. Fairly chewy and viscous, the malt almost overwhelms the 98 IBUs. A triple IPA in the mold of a bigger Bigfoot. Mouthfeel of hot alcohol makes this definitely barleywinesque.
Cheers to trbeer for this rare treat to celebrate the first day of March Madness!
571 characters
4.3
/5
rDev
+3.1%
look: 4 | smell: 4 | taste: 4.5 | feel: 4 | overall: 4.5
These monstrous Michigan Double IPA's have me by the taste buds. First the Devil's Dancer, now this. I can't get enough. Bursting and vibrant hop pungency in the nose, with hints of grapefruit rinds, toffee and caramel. So rich and flavourful, with an incredible hop potency giving hints of resin and grapefruit, along with a touch of caramel.
346 characters
4.25
/5
rDev
+1.9%
look: 4.5 | smell: 4.5 | taste: 4 | feel: 5 | overall: 4
This is definitely one of the coolest labels I have seen on a beer. The green wax covering the cap looks great with it. Very dark amber colored body with a tall tan head that left a good amount of sticky lacing. Damn this has a potent aroma. As soon I a popped the cap it seems the room filled with the huge hops and malt bursting out of this. Big piney and grapefruit in the aroma with a bit of lemon. Also coming on strong was the big fruitiness this had. Some alcohol was present but nothing to show it was almost 14%. Taste was just as big with pine sap and oily hops galore. This is definitely a palette destroyer, but sometimes that's a good thing. Nice bitterness is balanced by a big malty backbone with plenty of sweetness and fruit notes. Alcohol is more noticeable in the flavor and at time all the flavors don't seem to mesh well. Ends with a tongue raking bitter hoppy bite. Pretty damn thick and sticky sweet. Very warming and plenty of body. Drinkability could be better but the way the taste doesn't seem cohesive at time hurts this. I would have loved to try this fresh to see what a beast it was then. Very similar overall to Devil Dancer but not quite as refined in my opinion but a great beer none the less.
1,230 characters
4.23
/5
rDev
+1.4%
look: 5 | smell: 4.5 | taste: 4 | feel: 4.5 | overall: 4
First thing first, the wax top is really cool to look at and the label on the bottle is awesome. But this beer was a bitch to open! My bottle opener kind of sucks so I really struggled. But it was well worth the struggle.
Pours a glowing copper/orange color. Very vibrant, illuminating with a bit of yeast or hops or something in there. I got a nice, large creamy head in this one. The head remarkably has held up well. I still have a little head atop the beer and I'm about halfway through. Oh, and the particles are finally settled to the bottom. Kick-ass appearance.
Aroma is a knockout. Damn, I could smell this from like 50 yards away. A little alcohol but very juicy and piney and syruppy. Just intense and complex.
Taste is really complex. Hops in full throttle at first but not really bitter. More like a pine resin taste at first. Then the malts come in with a sweet caramel, almost buttery flavor. Body is creamy and thick and holds the hops and malts together great. Then the hop assault finishes it off. High alpha acid bitterness kicks in along with a scotch like alcohol smoothness. My tongue is done. I might as well drink shit beer because I won't be able to taste anything else for two days. Great mix of flavor and bitterness in this beer.
This is a really cool, interesting, tasty beer. I think I need to take a break before finishing it off. But it's too good. It's almost up there with the top DIPA's, but not quite imho. Still, every B.A. needs to try this and see for themselves what Dark Horse can do.
1,538 characters
4.27
/5
rDev
+2.4%
look: 4 | smell: 4.5 | taste: 4.5 | feel: 3.5 | overall: 4
I should preface this review by saying that I am a jaded west coast hop junkie who has liberally indulged in the biggest hoppiest beers imaginable. Saying this, this beer kicked my ass all over the place.
Beer pours a cloudy dirty honey color with a thin head. There were noticable chunks in this beer. Hop chunks? Who knows, i spit them out.
The smell is deep and super sweet. Smells like grapefruity butterscotch drenched in alcohol. Strong as hell, but not even enough to prepare you for the taste.
I haven't been punched in the face for years, but if i remember correctly, it's something like this. More like a barleywine than a double IPA, let me explain. The hops are out of control. Balls to the walls hops. Super sweet and alcohol tasting, but hoppy. Backing this up is a massive malt profile. Toasty, caramel malts with an insane hop bitterness. Good lord, this is a big beer.
The mouthfeel gets marked down for the chunkies. Not yeasties, actual chunkies. Otherwise its drippy, thick and chewy.
For what it is, it goes down the pipe just fine.
My taste buds have been scarred. This is masochism. A hop assault. Amazing, it takes a lot to get my attention these days. Thanks sooo much to jennt76 for the killer beers!
1,247 characters

4.42
/5
rDev
+6%
look: 4.5 | smell: 5 | taste: 4.5 | feel: 4.5 | overall: 3.5
Big props to Gaisgeil for hooking me up w/ this brew...was lucky to find this one.
Pours a brilliant copper color w/ a half finger of beige head...lacing is thin yet has some decent cling.
Loads of aromas coming from my snifter...mostly butterscotch, a hint of alcohol (expected) and loads of juicy fruit hops...one of the best smelling IIPA's I've tried to date.
Taste is phenomenal...complexity similar to a barleywine w/ cherries, cotton candy and bitter hops coming in at the end.
Again, the alcohol is detected, but just giving this one a bit of a bite...mouthfeel is quite thick and the carbonation is enjoyable.
Can't say I'd be throwing back more than a couple of these...but, very well worth seeking out and enjoying once and a while.
748 characters

4.4
/5
rDev
+5.5%
look: 4.5 | smell: 4.5 | taste: 4 | feel: 4.5 | overall: 5
Murken copper with hop bits suspended within. Small delicate off-white smoothly lined cap sits on top. Lacing is spread like butter with thinly placed sheeting.
Aroma is raw and oily with a moderate orange marmalade glazing over caramel. Drenching pungent pine sap and lemony aerosol heat really come full circle as it sits
Taste is vibrant with tropical hop oils and laced heavily with a floral sweet bitterness and solid burning EtH heat. Solid orange oils, stark lemon peels, quenching grapefruit pith, and subportionate pine oil makes the entire forefront of this whopper. Slippery caramel helps keep an adequate balance mostly through until the finish where the tropical citrus hop tones, oily flavors, smooth bitterness, and brash heat completely take over the rest of the duration.
The 13.6% is evident through its heat in both smell and taste here, but it never quite makes a full-on experience or impediment as the flavors meld together quite well with moderate soothing capabilities, and, actually is undertoned for its girth. Feel is super clean and slippery up front. Surges on the back end incorporating a more fuller tone and body. Big rusty finish with heat and hop oils that totally makes this worth while. All that and more as it goes down way too fast. Super ass drinkable and smooth. A dangerously quaffable hop heated treat for sure.
Thanks to trbeer for the hook up!
1,400 characters
4.67
/5
rDev
+12%
look: 4 | smell: 4.5 | taste: 5 | feel: 4.5 | overall: 4.5
Poured from a 12oz w/ no dates. One of the coolest labels I've seen, and the green wax that covers the cap and drips down the neck is a nice touch.
Cloudy amber with a few bits of yeast here and there. I may have shook the bottle a little while cutting away enough wax to pop the top. The head was small, white and short lived, but that's expected given the abv of 13.6.
If I were blindfolded and had no idea what was in front of me, I would say this smells like DFH Olde School BW. Has that hoppy/grapefruit aroma. Very juicy and inviting. At the same time, my taste buds are bracing themselves as I salivate.
Malt jumps to the forefront and lots of it that lays down a nice foundation allowing for the hops to join in the dance as the two are perfectly paired. This shit is amazing! I was expecting something as full on and raw as a fresh bottle of Bigfoot, but what I got was a perfect example of a very strong yet balanced beer. The abv only registers as a nice warming in my belly, and a little "booze breath" upon exhaling after a swallow. I can't remember ever giving a 5 for taste, but this one earns it for sure.
The mouthfeel is on par with the other aspects of this fine brew...awesome. Again, I was expecting a rough ride, but this one goes down smooth. Just enough bite from the carbonation, no heat from the abv.
Normally I don't rate such a strong beer as very drinkable, but in light of this one's merits, she scores high here as well. I have to force myself to slow down and enjoy.
I've been impressed by the guys at Dark Horse by their range of stouts and how far they have pushed that style, but this just blows me away. Kinda hard to find, even in southern Michigan. If you find some get it. Get as much as you can.
1,754 characters

4.44
/5
rDev
+6.5%
look: 4 | smell: 5 | taste: 4.5 | feel: 4 | overall: 4
Pours a very deep and turbid copper color with some yeasties in suspended animation. Almost no head but for a faint ring of lace that manges to somehow leave tiny spots of alcoholic lace on the glass. Alcoholic esters visible on the side of the glass like a strong wine.
Aroma of a citrus fruit smoothie can berserk with a resiny glue and some pine tar and a hint of caramel screaming to be released from the cresendo of hop madness.
Flavors of citrus, both dark and light. Oranges, prunes, dates and even olives come to mind. Sweet estery alcohol and yeasty bread qualities in mid-mouth and a sharp biting resin and floral hop hit on the finish.
Mouthfeel is hyper sweet to start but is cut by the strong alcoholic pop and the even stronger but short bittering whip. Definitely palate coating but I would only call it medium-bodied. Great for style but almost finishes to dry due to sharp alcoholic aftertaste. A little age might cure this.
Drinkability is high even though IBU's and ABV are at the end of the upper scale. Agree with previous poster who kind of called a little sibling of Devil Dancer. Some balance of sweetness and aggresive hopping, just on a much lower scale. Another really well done beer from the folks in Marshall.
1,242 characters
4.4
/5
rDev
+5.5%
look: 4.5 | smell: 4.5 | taste: 4.5 | feel: 4.5 | overall: 4
That wax around the top sure looks nice, but man alive, its a bitch to get off. Once I finally got this bottle cracked open, I was treated to a nice sight. Double Crooked Tree pours a very deep, very murky amber-copper color with a slight head composed of very tightly knit bubbles. A little sediment is present too. Powerful aroma of pungent hops and caramel. Some floral qualities are more apparent as the beer warms slightly. Some sweet cinnamon and spice are also apparent. Powerful, spicy, slightly salty hops are first to the palate and never let go of their dominance. Some slight citrous notes also. The taste is farily well balanced for the 98 IBUs it boasts. Sweet malts are more present than you would think, as well as some caramel and a little toastiness. The 13.6% abv doesn't play any games, and is present throughout. The alcohol is most apparent in the finish, slightly burning as it goes down, and warming the body. Although the hops prickle a bit, they don't really sharpen the mouthfeel. For the most part, it is big and creamy. Not quite chewy, but definitely a full mouthfeel. I need to get a few more for the cellar to see what develops. A "must try" double IPA if you can get your hands on this one.
1,223 characters
4.84
/5
rDev
+16.1%
look: 4 | smell: 5 | taste: 5 | feel: 5 | overall: 4.5
Green "wax" dipped tops. A hand-signed letter from Trent and Aaron came with the case. Nice touch.
98 IBUs
How's the beer? Burnt reddish orange with a very slight topping of foam. It smells like the inside of a hop-filled barn. Lots of sticky red, cherry-toned resins and iron Koolade. Caramel, buttered bananas burned in brandy and brown sugar and piles and piles of sticky herb.
Intensely sweet, but better balanced than other monster sweet IPAs of legend (no names!) Jammy, red cinnamon candy flavors are draped with robes of woolly, Afghan oils. The apply, cherry fruits and sanguine hops extracts remind me more of Smuttynose's Big A IPA than of the regular Crooked Tree.
Very intense. Fans of this genre must not miss this.
737 characters
Double Crooked Tree IPA from Dark Horse Brewing Company
Beer rating:
93
out of
100
with
2879
ratings