Lambeak Wants Raspberry
| Dark Horse Brewing Company
BA SCORE
84
good
13
Reviews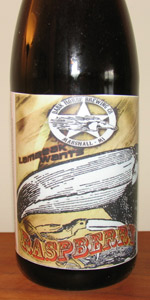 BEER INFO
Brewed by:
Dark Horse Brewing Company
Michigan
,
United States
darkhorsebrewery.com
Style:
Lambic - Fruit
Alcohol by volume (ABV):
4.00%
Availability:
Limited (brewed once)
Notes / Commercial Description:
No notes at this time.
Added by brew3crew on 03-19-2011
This beer is retired; no longer brewed.
Reviews: 13 | Ratings: 27
4.19
/5
rDev
+12.6%
look: 3.5 | smell: 4.5 | taste: 4 | feel: 4 | overall: 4.5
Thanks Eric from bringing this tasty treat!
Bottle explodes with q huge gush of foam. Pours with tons and tons of head. A murky orange after the head dissipates.. Smells very tart and funky. A real nice raspberry taste that's pretty subtle. I wish it stood out more but it's really tasty. Definitely chill this one down before you open it
339 characters

4.18
/5
rDev
+12.4%
look: 4 | smell: 3.5 | taste: 4.5 | feel: 4 | overall: 4.5
Had at jackie os with brad and Co. Was a real gusher so watch out!
A-hazy yellow with sediment
S-very yeasty with a hint of rasberry
t-very tart raspberry, lip puckering almost. Very sour. Like it alot
M-light bodied and very sweet
O-good brew over all. Would like to see what it is like with a couple years on it.
316 characters
4.14
/5
rDev
+11.3%
look: 3 | smell: 4 | taste: 4.5 | feel: 4 | overall: 4
Poured on tap at the HopCat in Grand Rapids, MI during their Grand Rapids beer week 2012! Thank you HopCat! Poured into tulip.
A: Amber with a reddish hue. No head at all, no lacing to speak of. Slight bit of light getting through, no more than your typical glass of cranberry juice.
N: Straight sour raspberry. You can get a hint of the tartness through the nose as it arrives sharp and to the point. Nice jammy notes coming through. Bit of cedar or oak coming through possibly, some wood, and hints of vanilla.
T: Big hit of pedio, with super tart raspberry, some more of that vanilla sweet vanilla sensation.
M: The lack of carbonation is just fine for this winner. Puckering mouthfeel, nice and dry, crisp.
D and O: Ohhh I could only have one or two of these, but they are really delicious. This is the second time I've been able to sample this beer and both have been on tap, once at DH itself and now HopCat. What a treat, I will definitely be seeking this out in the future. Fun, flavorful, well crafted.
1,019 characters
4
/5
rDev
+7.5%
look: 4 | smell: 4 | taste: 4 | feel: 4 | overall: 4
Thanks to bu11zeye for sharing this bottle. The beer pours a dark yellow color with a white head. The aroma is heavy on the raspberries with some wheat notes. I don't get much, if any, sourness in the aroma. In the flavor, I get some raspberries, sugar and some light tartness. There is also a little bit of funk in the aroma, but it is hidden behind the fruit notes. Medium mouthfeel and medium carbonation.
408 characters

3.97
/5
rDev
+6.7%
look: 3.5 | smell: 4 | taste: 4 | feel: 4 | overall: 4
A. Pours a hazy orange with a thin foamy head.
S. A pungent tartness with some lemon peel.
T. Tartness with only a slight touch of raspberry. Nice citrus notes.
M. Fairly thin body with a nice tart bite.
D. Very good even though it exploded on opening.
256 characters
3.97
/5
rDev
+6.7%
look: 3.5 | smell: 4 | taste: 4 | feel: 4 | overall: 4
Bottle pour sampled at mrbubbler's tasting courtesy of mrbubbler himself.
Pours a murky honey orange with a tan head that settles to a film on top of the beer. Small streaks of lace form around the glass on the drink down. Smell is of sour and tart raspberries and some funky aromas. Taste is pretty much the same with a nice tartness. This beer has a good level of carbonation with a crisp mouthfeel. Overall, this is a good sour that is much better than the peach version of this beer.
488 characters

3.82
/5
rDev
+2.7%
look: 3.5 | smell: 4 | taste: 4 | feel: 3.5 | overall: 3.5
A- Pours a slightly hazy red-tinged brown. No head or lacing to speak of.
S - Sour apple and raspberry up front with a tame but noticeable yeast presence.
T - Similar to smell, with sour apple up front, gradually yielding to raspberry. Nice amount of funk earthiness, balances the tartness pretty well.
M - Light crisp mouthfeel with some lingering tart and funk.
O -- a pretty good lambic,if not as complex as the best in the style. Tart but not overwhelmingly so. I would have this again.
494 characters
3.73
/5
rDev
+0.3%
look: 4 | smell: 3.5 | taste: 4 | feel: 3.5 | overall: 3.5
750mL bottle, purchased at the 4elf party in December and brought to a tasting at Jackie O's 3 months later. This beer was a HUGE gusher when uncapped, definitely remember to chill this before opening!
It pours a hazy golden color with a finger of foam, later pours becoming a little more translucent and dark. The aroma is less of a framboise than I anticipated, at least I remembered the raspberries being more pronounced on tap at the release. Tart smelling, grainy malts, and a higher than usual level of acetone (like its peachy sister).
It's got a nice sour bite but the acetone is a little strong. The grains are also pretty detectable in taste, not as much as at the release so maybe the beer is developing a bit. Well carbonated and peppery on the tongue (not in flavor), this is a decent stab at the lambic style. Hopefully later batches are even better.
867 characters

3.7
/5
rDev
-0.5%
look: 4 | smell: 4 | taste: 3.5 | feel: 4 | overall: 3.5
6/16/2011
Bottle opened by Carlos. Monstrous gusher all over my shorts and shoes. Off to a good start. Snifter. I'm wet with anticipation.
A: Hazy reddish orange with a substantial off white head.
S: Really powerful raspberry with a moderate vinegar. The raspberry is sweet and tart. Raspberry jam comes to mind when the beer warms. I get a subtle brown beer base beneath, though I don't know if the base beer is actually a brown ale. The fruit is excellent Oak and vanilla are apparent. As the beer warms acetone comes out. 
T: Big raspberry flavor with a moderate vinegar profile and a moderate acetic burn. Fruit is great. Faint vanilla with drying oak. Finishes with a upper moderate acetic acidity, acetone, and drying oak. Midpalate raspberry jam ephemeral sweetness. 
M: Medium body with upper moderate carbonation. Mouthfeel is sticky, dry, and lightly tannic.
Overall: A pretty good sour from Dark Horse. Definitely worth a try. I had a higher score for it before it opened up a bit and revealed more acetone. 
1,028 characters

3.57
/5
rDev
-4%
look: 3.5 | smell: 4 | taste: 3.5 | feel: 3 | overall: 3.5
Pours a little beige head. Color is a hazed ruby hued golden amber.
Aroma: Lots of raspberries and lemon acidity. Some cherry flavors. Oak. Sour and funky.
Taste: Way too much acidity here. Light cherry medicinal flavors. Lots of tart raspberries. Oak. Spice. Very sour and very funky.
Mouthfeel: Very sour and mouth puckering. Lighter bodied with a higher amount of carbonation. Ends dry.
Overall, a good smell, but the taste was too sour and acidic for me. Still, it was kind of enjoyable.
495 characters

3.56
/5
rDev
-4.3%
look: 4 | smell: 3 | taste: 3.5 | feel: 4 | overall: 4
Thanks for sending me this one, Derek.
Pours red in color with a big light pink head. Intense raspberry smell to this one. There is quite a bit of vinegar, too, however. Maybe a touch of acetone. The fruit aroma is very good, but it is diminished a bit by the flaws. Some lemon and grass in there as well. The flavor is similarly raspberry-heavy, which I suppose is the point. A nice bite of vinegar and lactic acid which give this an assertive tartness. Some acetone is still present on the palate, however.
509 characters

2.68
/5
rDev
-28%
look: 3 | smell: 2.5 | taste: 2.5 | feel: 3 | overall: 3
we've got a gusher. Pour is a murky reddish orange with an off white thin head. Nose is heavy on raspberry purée, aspirin, and acetic acid. Strange muddled malt behind. The flavor is more fruity, raspberry heavy, lots of sweetness. It's not as acetic as one would think from the nose but still a fair burn in back. Odd dark malts resinate in back with light aspirin mid to back palate. A little grain on the back of the tongue, fair carbonation and burn in back.
463 characters
2.68
/5
rDev
-28%
look: 1 | smell: 3 | taste: 3 | feel: 2 | overall: 2.5
Opened my bottle from the dec. release. What the? This is the biggest gusher I have seen. I have only a snifter left.
A: This looks like a light apple cider with all sorts of gunk in it.
S: Raspberry and sourness
T: Sour apples, raspberries and a hint of malt in there. There is a bitterness in the finish due to the seeds from the raspberries still present in the beer. I get a slight bready malt flavor as well. I don't think the flavors mingle well in this beer. Then there is the acetone.
M: Yea plenty of carbonation but you should filter all the crap in here if you can.
O: I love darkhorse but not this.
615 characters
Lambeak Wants Raspberry from Dark Horse Brewing Company
3.72
out of
5
based on
27
ratings.