Lambeak Wants Blood Orange
| Dark Horse Brewing Company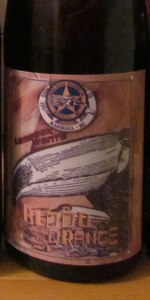 BEER INFO
Brewed by:
Dark Horse Brewing Company
Michigan
,
United States
darkhorsebrewery.com
Style:
Lambic - Fruit
Alcohol by volume (ABV):
not listed
Availability:
Limited (brewed once)
Notes / Commercial Description:
No notes at this time.
Added by Duff27 on 01-18-2013
This beer is retired; no longer brewed.
Reviews: 5 | Ratings: 26

3.53
/5
rDev
+99.4%
look: 3.25 | smell: 4 | taste: 3.25 | feel: 3.75 | overall: 3.5
A: Cloudy orange pour. Tiniest off-white head despite very aggressive pour. Leaves thin sheets of lacing behind. Decent head retention, oddly enough.
S: Extremely bright/sharp and stinging acetone-ish aroma. Big sweet and sour orange aroma, reminds me of sweet and sour chicken or orange chicken. Maybe even orange marmalade. Not very descriptive I know but it's unique and honestly quite intriguing.
T: Up front there is a brief hit of sweet orange but it turns sour quickly. Very quickly and very sour. Finish is bitter orange peel with just a touch of that sour orange still lingering. Lingering aftertaste is acetone-ish. Maybe rubbing alcohol would be a better descriptor. Quite acidic throughout.
M: Medium body, quite sour and drying.
O: I was expecting this one to be terrible but honestly it wasn't bad. Very sharp, stinging aroma and initial taste that takes a little getting used to. Other than that it's your typical sour lambic but with blood oranges which I've never had before. I don't even like sour beers in fact and I found this palatable. Having said that, it's certainly not GREAT, but I drank the whole thing.
1,137 characters
1.74
/5
rDev
-1.7%
look: 2.5 | smell: 1.5 | taste: 1.5 | feel: 2.25 | overall: 2
I am trying to think of good things to say about this beer but it's difficult. I love dark horse but this is straight up rubbing alcohol or nail polish remover. There is zero carbonation. It looks like an amber or brown ale. The only blood orange taste is the bitter white pulp. Stay away from the Lambeak Wants series.
319 characters

1.27
/5
rDev
-28.2%
look: 1.75 | smell: 1 | taste: 1.5 | feel: 1.25 | overall: 1
Smells like nail polish straightup. Smell alone is the red flag to pour.
Appearance may have rated higher but it was flat as can be.
Taste if holding nose while trying it has an Orange flavor but nothing else of worth.
Mouthfeel light but At this point its beyond mattering.
Overall seriously amazed Dark Horse could release such a nasty beer. Avoid At All costs!
Just for clarification this is the Lambeak Wants Blood Orange.
427 characters
1.21
/5
rDev
-31.6%
look: 1.5 | smell: 1 | taste: 1.25 | feel: 1.25 | overall: 1.25
Orange body. No head, no lacing.
Nail polish remover, all the way. Eww.
There are oranges in there somewhere but shit! Acetone.
No carbonation, thin mouthfeel.
Wow. Grossest beer I've ever had. Sorry Dark Horse. Avoid at all cost. Don't know what they were thinking releasing it. Cork sucked too!
308 characters

1.15
/5
rDev
-35%
look: 3 | smell: 1 | taste: 1 | feel: 1.25 | overall: 1
Big thanks to my friend Chris for hooking us up with a bottle of this stuff! Had a sour tasting/bottle share at the house last night and we threw this one in just for shits and giggles. It was a blast!
Review:
The beer literally smells and tastes like acetone. It is very difficult to swallow. Hell, it's difficult to even get it in the mouth, because of the strong odor of nail polish remover. Once in the mouth, it is pretty sour, true enough. But the flavors of rubbing alcohol and acetone are so strong, that it is nearly impossible to get down. At one point, I was able to hold my nose and swallow my 2.5 oz pour, but others in the room were not quite as successful. You may have heard about "drain pours." Well, one guy did a "drain toss" with this one. If you haven't witnessed this before, it is basically what happens when someone slings all the liquid out of his or her glass into the sink, when standing several feet away from the sink. Pretty awesome maneuver.
Anyway, good luck getting your hands on this rare bottle. There were only a few hundred made. It is definitely worth trying at least once. I can't imagine that Dark Horse wasn't joking when they released this. If they were, I can certainly appreciate their sense of humor. Cheers!
1,258 characters
Lambeak Wants Blood Orange from Dark Horse Brewing Company
1.77
out of
5
based on
26
ratings.