Brew Keeper 2Ch₂St (Double Chocolate Stout)
| The Brew Keeper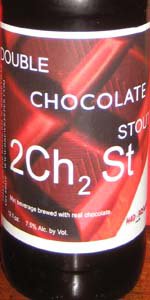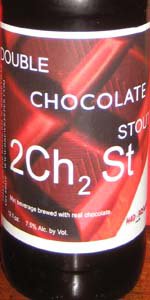 BEER INFO
Brewed by:
The Brew Keeper
Ohio
,
United States
Style:
Milk / Sweet Stout
Alcohol by volume (ABV):
7.50%
Availability:
Year-round
Notes / Commercial Description:
No notes at this time.
Added by Dogbrick on 10-17-2006
This beer is retired; no longer brewed.
HISTOGRAM
Ratings: 7 | Reviews: 6
Reviews by imaguitargod:
1.5
/5
rDev
-46%
look: 2 | smell: 2 | taste: 1.5 | feel: 1 | overall: 1
I was really excited that this brewery was bottling their beers because I had enjoyed them on tap when I visited them. I picked this one up and poured it into my glass, and it poured to an extremely small head which fizzed like a soft drink than dissipated within 20 seconds. No good can come of this.
This is odd, the mouth feel is like it's over carbonated but the look of it is under carbonated. For this style you want the mouth feel to be smooth, not millions of bubbles biting at your tongue.
The overall taste of the beer is watery and unbalanced which moves from too sweet to bitter and back again leaving you with a dry mouth feel that lingers on the palate. If I didn't pay $6.99 for this I would have poured it down the drain.
~Jonathan Passow
757 characters
More User Reviews:
3.45
/5
rDev
+24.1%
look: 3.5 | smell: 3.5 | taste: 3.5 | feel: 3 | overall: 3.5
Presentation: Poured from a brown bomber into a standard pint glass. Label has a chocolate bar as a background and minimal description. I like the chemical formula name: 2Ch2St. No freshness date.
Appearance: Pours with 3 1/2 fingers of medium tan head. This settles to a 1 finger layer of foam. No lacing whatsoever. The beer itself is black as night and completely opaque.
Smell: Bitter, unsweetened baker's chocolate with slightly sour tang in the finish.
Taste: Baker's chocolate with a hint of creamy oatmeal smoothness in the finish. Slight sourness.
Mouthfeel: A little higher than average carbonation for this style, but not excessively so. Body is okay.
Drinkabilty: This seems like the beginnings of a decent beer, but they help some stuff out. The body is a little thin and the flavor seems shallow and underdeveloped. Carbonation is high and the bubbles are too big, obviously force carbed.
907 characters
2.26
/5
rDev
-18.7%
look: 4 | smell: 3 | taste: 2 | feel: 1 | overall: 2
Bottle courtesy of Crizay.
Pours black but with an exceptionally small head off of a vigorous pour. Smell is roasty malt, milk chocolate and metal. Taste is somewhat chocolately malt with a touch of bitter/burnt roastiness, but not much going on. Medium to thin bodied and way too little carbonation. In fact it's nearly flat and feels lifeless and watery in the mouth, much like their porter. Stale coffee flavor more than chocolate in the finish.
449 characters
2.56
/5
rDev
-7.9%
look: 4 | smell: 3 | taste: 2.5 | feel: 2 | overall: 2
Presentation: Bomber into a pint glass.
A- Black/opaque. Pours with an ample, thick brown head, which fades slowly, leaving a thin cap. Ample lacing noted.
S- Weak smell. Some earthy notes. Chocolate notes are fleeting.
T- Starts with some vegetal flavors. Finishes with a mildly unpleasant/astringent burnt coffee taste. Essentially no chocolate notes to be found in this double chocolate stout that is brewed with chocolate malts and real chocolate...
M- Thin and watery.
D- Drinkable, but not good enough to make me WANT to drink....in actuality, this bottle ended up getting vanilla ice cream added 1/2 way through, and finished as a beer float...good in this form, but not so much by itself.
Future outlook: Not at all likely to buy again.
751 characters

3.83
/5
rDev
+37.8%
look: 4 | smell: 3.5 | taste: 4 | feel: 3.5 | overall: 4
Pours pitch black with a miniscule tan head and slick lacing. Very chocolatey aroma, with a bit of malt and coffee in the background. Medium-bodied and smooth with a smoked hickory character. Mocha flavor of chocolate and coffee keep from dipping too far into bacon-flavor territory though. The finish is sweet and creamy with a cocoa aftertaste. Pretty enjoyable, but the smokey aspect is on the border of being too much.
422 characters

2.88
/5
rDev
+3.6%
look: 4 | smell: 3.5 | taste: 2.5 | feel: 3 | overall: 2.5
12oz into tulip.
A- Brown, dark brown, mild amber/ruby highlights, tan head fizzes out quickly.
S- Damn sweet, cream and milk chocolate. Sweet, light, subdued.
T- A bit cola-like. Sweet, chocolate, medicinal (but slight), fizzy. A bit too sweet, but then again it is a sweet stout.
M- Fizzy. Carbonated to the T. Helps with the taste, but isn't enough. No sign of the ABV, though.
D- Eh... not my cup o' tea. Not a bad beer, but not really what I'm looking for in a stout. A decent beer, but I wouldn't seek this one out.
527 characters

Brew Keeper 2Ch₂St (Double Chocolate Stout) from The Brew Keeper
Beer rating:
2.78
out of
5
with
7
ratings