Mad Brewer West 12
| The Brew Keeper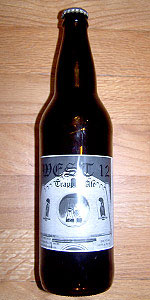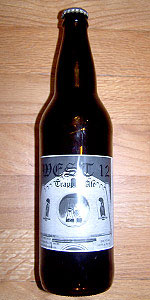 BEER INFO
Brewed by:
The Brew Keeper
Ohio
,
United States
Style:
Belgian Strong Dark Ale
Alcohol by volume (ABV):
10.60%
Availability:
Rotating
Notes / Commercial Description:
No notes at this time.
Added by Crosling on 08-26-2008
This beer is retired; no longer brewed.
HISTOGRAM
Ratings: 14 | Reviews: 12
Reviews by hoppymeal:

3.88
/5
rDev
+8.1%
look: 4 | smell: 3.5 | taste: 4 | feel: 4 | overall: 4
Pours burgundy to brown in color, slight haze, very faint dusting of foam recedes quickly. Aroma is a nice sweet caramel mixed with some sweet and tart cherries, plums, bready. Taste is a nice blend of cherries, bready yeastiness, dates, and figs, a hint of red wine and yeast in the finish. Mouthfeel is fairly medium in body, thinned out maltiness is met with a small tingle of spicy bitterness on the tongue and a dry finish. A very good and drinkable beer, the cherry like flavor hints at tartness keeping it refreshing and easy to drink. Not sure if this is a candidate for ageing, but it is quite good now. Thanks George for the opportunity.
647 characters
More User Reviews:
3.75
/5
rDev
+4.5%
look: 4 | smell: 4 | taste: 3.5 | feel: 3.5 | overall: 4
Poured from a 22oz bottle into a tulip glass. My sister in-law picked this up for me from Rozi's in Lakewood, OH. Thanks Coreyroz!
A: Dark reddish brown - almost black. Plenty of rich mahogany showing up on the edges against the light. Head is a nice two finger. It's a frothy light tan and becomes craggy as it dissipates. The drink retains a thin ring and some surface dusting throughout. There is a minor amount of small spotty lacing.
S: Smells good. Phenolic, sweet prunes and rum. Rum becomes stronger as the drink progresses.
T: Really interesting. Starts like a Trappist and ends with a very roasty and bready malt - almost porter-like. A little too thin perhaps. Needs more exploration... Sweet sherry at first and phenoly, a little fruity. It then moves into a rum and roasted malt. The aftertaste is a lingering tangy sweetness. It's not in the league of some of the authentic Belgian Strong Dark Ales I have tried but it is certainly a complex and enjoyable beer. The monks have 100's of years of practice, so my hat comes off for an American version that is a quality brew. As it opens up with warmth, the rum becomes more prominent. The aftertaste becomes a more pronounced sherry type blackcurrant tangy sweetness - it's pleasant.
M: I'd say it is on the light side of medium and feels too thin. Carbonation is medium and may be a bit too much.
D: I sipped quite happily on this. I have to say that I enjoyed it and would recommend giving it a try. Purists are going to put it up against the real thing of course and complain that it isn't authentic enough. That's OK. If you are making a Trappist, you are playing with the big monks! Great effort and again, I am happy to support Mad Brewer/Brew Keeper.
1,725 characters
3.08
/5
rDev
-14.2%
look: 3.5 | smell: 3 | taste: 3 | feel: 2.5 | overall: 3.5
Pours a choclatey brown with an obscene amount of head, took forever for the hread to die down. Great Initial taste, carmel and malt with a touch of belgian style spiciness. There is a little unpleasant yeasty aftertaste however. The beer is still over-carbonated and this effects the mouthfeel. It goes down easily enough, but I think it would be better if I let it sit out for a little while and go flat. Doesn't taste bozy at all which is amazing for double-digit alcohol content.
Bottom Line: this beer is way over-priced for an extra strength Dubbel. IMO get a bottle of Ommegang Abbey Ale, it's not as strong but far cheaper and tastes better.
651 characters
3
/5
rDev
-16.4%
look: 4 | smell: 4 | taste: 2.5 | feel: 3 | overall: 2.5
I took a bottle hoping against hope that it would be better with some storage - afiad not. The smell of fruitiness and yeast leads but to disapointment. It also looks good, unfiltered and all, with lots of bubbles, lace, viscosity. Burps and flat caskish body, the taste is not there.
284 characters
3.72
/5
rDev
+3.6%
look: 3.5 | smell: 4 | taste: 3.5 | feel: 3.5 | overall: 4
Bottle: Poured a deep cloudy burgundy color ale with an average size foamy head with OK retention and some lacing. Aroma consists of candi sugar with dry fruits such as figs and plums with notes of light fruity ester and warming alcohol ester. Taste is a generally good mix between some candi sugar withy dry fruits notes and some light warming notes of alcohol. Malt backbone is well balanced but maybe a tad too sweet for the style. Body is full with limited filtration and good carbonation and alcohol is a bit too present for my own taste. Well done considering it is not en easy style to brew and with some marquee names - a bit less sweetness and more hidden alcohol would have proven beneficial.
702 characters


4.21
/5
rDev
+17.3%
look: 5 | smell: 4 | taste: 4 | feel: 3.5 | overall: 5
Pours a mahogany reddish brown with a nice white head.
Aroma is dark fruits, cakes and pastry. It reminded me of rum raisin bread or a cinnamon bun.
Taste wasn't too boozy and was a very nice sweet dessert beer.
Finishes quietly and almost dry if not a touch sweet.
Overall I think this is a fantastic sweet beer that would go great with a dessert like tiramisou.
371 characters
4.37
/5
rDev
+21.7%
look: 4 | smell: 4.5 | taste: 4.5 | feel: 4.5 | overall: 4
22oz bottle at 56 degrees.
Pours dark mahogany with a ruby tinge and sparkling clarity when held to the light.
An inch-plus head of tan whipped froth settled slowly revealing a solid skim coat on the surface and some nice clingy lacework.
Aromatics lead off with Bannanas, fresh dough, nougat, and clovey phenols. Bubblegum, caramel, cocoa, and a slight alcohol bite follow through.
On the full side of medium bodied with an extremely creamy mouthfeel. Slightly chewy and tacky.
Fresh malt-drizzeled proofed dough, caramel, and cocoa-dusted nougat start the palate. Hints of dark rum, raisins, plums, and spicy yeast step forward.
Finishes with a building but smooth warmth, light residuals, spicy rum-soaked raisins, and proofing dark bread dough.
Great beer. Very complex and still highly drinkable without being too sweet in the finish. A remarkable ode to Westvleteren.
880 characters
2.8
/5
rDev
-22%
look: 1.5 | smell: 4 | taste: 2.5 | feel: 2.5 | overall: 2.5
Bought from Kenny Road Market in Columbus
A - Poured from bomber into a tulip glass and a stone pint glass. While the color is very good (dark with red tones) the bottle was so heavily carbonated that it created an enormous head right out of the bottle. It took at least 15 minutes to get the beer into glasses.
S - Lots of clove, Belgian yeast, and spice. A bit on the weak side, but the right smell.
T - While it's hard for me to give a Belgian strong dark a below "average" rating, this one has what seems like off flavors, with very little of the yeast I was expecting. Very little flavor.
M - Thin, and a hard carbonated bite to the beer.
D - While I suppose I could drink the entire bomber, I am glad I am sharing this one.
I may have to visit the brewpub next time I make it up to Cleveland. I really wanted for this to be a winner, but overall I wouldn't suggest it.
881 characters
4.5
/5
rDev
+25.3%
look: 4.5 | smell: 4.5 | taste: 4.5 | feel: 4.5 | overall: 4.5
It's a brightly colored, burgundy brew with a well lasting and thinly layered head of foam. Nose of rum soaked icing covered fruit cakes, raisins and dried cherries. Flavor has a lot of depth and is very impressive. Notes of cherries, caramel, nuts, toffee and raisins. Full flavored from the start till the finish, which lasts well. Nice mouth feel. Really authentic. Wow, shockingly good beer and possible one of the best American Belgian Strong Darks out there.
464 characters
2.99
/5
rDev
-16.7%
look: 4.5 | smell: 3 | taste: 3 | feel: 3 | overall: 2.5
22oz bottle purchased in Columbus for $6.99. This beer's best attribute is its appearance, dark brown-orange color with a thick creamy fine-celled foam (Guinness-style head). The aroma is yeasty in a way that reminds me of my first homebrewed dubbel (and that's not a good sign). It's got some fruity stuff going on but really this smells like a "Trappist" yeast pack. The taste is likewise similar to my early efforts, kind of 1-dimensional. I didn't like this, I really hoped for more. I do like the label though, a picture of the St Sixtus front gate.
554 characters
1.85
/5
rDev
-48.5%
look: 3.5 | smell: 3.5 | taste: 1 | feel: 2 | overall: 1
The pour is surprisingly authentic. It's a bit to clear and thin looking, but it has a nice authentic head and a dark amber color reminiscent of Westvleteren 12. A good start.
Here there are more departures from the target. The aroma is very sweet with raisins, but with a distinct sourness comprised of tart apples and cherries. Not bad in its own right, but less like Westy 12.
The flavor starts ok - with a sweetness for the first half second. Just before you start to try to pick out nuances in that initial sweetness, the flavor twists and turns into sourness and something rank. The finish is just terrible and causes visibly displeased faces and grimaces. Ugh. I forced myself to give this one the minimum 3 sips before drain pouring.
A thin, thin mouthfeel.
Drain-pour. Enough said.
Ugh. After finishing, I saw clearly printed on the label "Trappist Ale". This is prosecutable and based on the way this (mis)-represents the designation, perhaps should be.
968 characters
4.1
/5
rDev
+14.2%
look: 4 | smell: 4 | taste: 4 | feel: 4 | overall: 4.5
Poured clear reddish brown color with an averaqge creamy off-white head that was mostly lasting with good lacing. Heavy complex tart fuirt, bubble gum and alcohol aroma. Medium to full body with a sticky smooth texture. Medium to heavy balanced flavor with a medium to heavy bittersweet and small alcohol burn finish of moderate to long duration. This is a standout beer.
371 characters
Mad Brewer West 12 from The Brew Keeper
Beer rating:
3.59
out of
5
with
14
ratings