Red Rock
| Hite Brewery Company LTD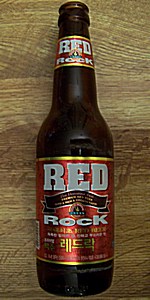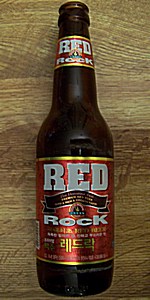 BEER INFO
Brewed by:
Hite Brewery Company LTD
Korea (South)
hite.com
Style:
American Amber / Red Lager
Alcohol by volume (ABV):
5.00%
Availability:
Year-round
Notes / Commercial Description:
No notes at this time.
Added by BadRockBeer on 05-18-2007
HISTOGRAM
Ratings: 9 | Reviews: 4
Reviews by PhillipJFry:
2.93
/5
rDev
+15.8%
look: 3 | smell: 2.5 | taste: 3 | feel: 3.5 | overall: 3
Without doubt the best of Hite's offerings (not saying much) this is the only widely available beer on tap that I can stomach, as well as a source for much needed hops in a Korean market that is so averse to them. Drink it when you want something on tap but don't feel like shelling out ₩8,000+ for a Guinness.
A - Light amber color and a head that disappears to quickly to merit saying anything else about it.
S - Substantially in line with what you will find from any other macro.
T - Though it is very lightly hopped compared to almost anything coming out of the States or the UK, it has more hops than any other domestic Korean beer. As sad as that is, hops are hard to come by here, so anything is at a premium.
M - surprisingly light, you'll be finished with your pint before you know it.
T - Not a terrible beer, but not great either. It is mainly elevated by its lack of domestic competition.
914 characters
More User Reviews:

2.39
/5
rDev
-5.5%
look: 3.5 | smell: 2 | taste: 2.5 | feel: 1 | overall: 3
Note: This beer has sentimental values for me,.
Appearance: It's got a cinamon reddish hue. Not much head though.
Aroma: Hint of hops but not much. Malty scent is pretty dominant.
Taste: Fairly hoppy for a Korean beer and bitter to an extent. It's still mostly watery. The hoppiness is neither citrusy or piny. Just bitter.
Mouthfeel: Harsh. I'd compare it to 7Up.
Aftertaste: Bitterness that doesn't fade too quickly, which is nice.
440 characters

3.03
/5
rDev
+19.8%
look: 3.5 | smell: 3 | taste: 3 | feel: 3 | overall: 3
This 12 oz brown crown top bottle was imported from south Korea by a dear homebrewing friend. The Bottle is bi-lingual ans states that it is non-pasteurized premium red beer with a rich and smooth taste.
This beer pours a golden yellow to light amber in color, brilliant clarity with a nice snow white head that faded quickly
The aroma is that of a typical macro lager. A little pils malt in the nose maybe a little DMS.
This beer is pretty smooth but not so much rich. Very similar to our American macros. The taste of rice is fairly predominate in this beer as well is the pils malt. Very lightly hopped but well balanced.
Light in body, heavy carbonation.
All in all this isn't a bad beer, I don't think it fits in the red lager category as the bottle suggests but maybe more of a euro lager.
810 characters


2.7
/5
rDev
+6.7%
look: 3 | smell: 3 | taste: 2 | feel: 2 | overall: 4
So I've been in Korea for three months, and I'm a huge beer advocate. I've never done a review because what's the point of talking about how awesome offerings from Ommegang, DFH, Founders, Victory, Rogue, etc. are, if I have nothing new to say? Well I thought I could give a real perspective on Korean beer, because it is that bad, yes. I miss microbrews like I miss my family, but beer can still be cherished and enjoyed and recognized as an excellent tool for social interaction and doing ridiculous stuff when you probably shouldn't.
So this past Saturday I had all-you-can-drink Red Rocks in a standard pint glass at a newly-opened bar in Masan.
A- it pours reasonably reddish for a Korean "red lager." "Amber-reddish hue" is the proper phrase I suppose. Much more appetizing than the standard thin yellowness you can expect from the adjunct lagers.
S- a bit of hops actually comes through, but the wateriness drowns it out a little too quickly. Still; hops! It's a revelation in SoKor.
T- Once again those hops sneak their way through before being drowned out. The more you drink of it (and I believe I ended in double-digits), the more it becomes every other Hite.
M- Watery-fizzyness. It's like chucking back seltzer.
D- As I said, if you are consumed in conversation and other such social events, you barely realize you are drinking. I would prefer to drink a gallon of Imperial stout to my dome, but this is what I have. Yes, it is quite drinkable I would have to say.
So, Korean beer sucks. I miss American micros ridiculously. Yet those of us in Korea must understand that this beer will still get us fired-up, and partying, and doing the things we love to do when we aren't sober. More to come. Keep making that water taste a little more like beer, Korea.
1,775 characters


2.21
/5
rDev
-12.6%
look: 3 | smell: 2 | taste: 2.25 | feel: 2 | overall: 2.25
Red Rock from Hite Brewery Company LTD
Beer rating:
2.53
out of
5
with
9
ratings