Octoberfest
| Barrel House Brewing Company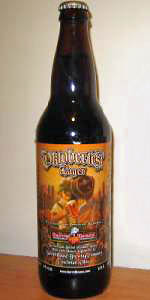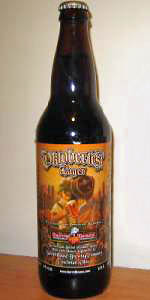 BEER INFO
Brewed by:
Barrel House Brewing Company
Ohio
,
United States
barrelhouse.com
Style:
Märzen / Oktoberfest
Alcohol by volume (ABV):
4.20%
Availability:
Fall
Notes / Commercial Description:
No notes at this time.
Added by brewdlyhooked13 on 09-21-2003
This beer is retired; no longer brewed.
HISTOGRAM
Ratings: 6 | Reviews: 6
None found.
More User Reviews:
3.43
/5
rDev
-2%
look: 4 | smell: 3.5 | taste: 3.5 | feel: 3.5 | overall: 3
This was a nice looking Marzen that was a little light on flavor. The appearance was a deep copper colored red with good head and carbonation. The smelly was light and malty with a little sweetness. Taste was a little less than expected. Almost too mild to be an Oktoberfest, the taste wasn't bad, just light. Mouthfeel was a little on the thin side as well. Drinkability was alright, but I would personally opt for other oktoberfests, as fall is just too short to drink mediocre beer.
485 characters

3.4
/5
rDev
-2.9%
look: 3.5 | smell: 3.5 | taste: 3.5 | feel: 3.5 | overall: 3
Appearance - pours an attractive caramel amber with a fluffy two fingers of cream colored foam. Hangs around a short bit and disappears, holding at an impartial cover. A few wispy lace strands are left around the shaker.
Aroma - a caramel, slightly buttery toffee nose. Definitely malt-sided.
Taste - sweet, malty, grain, again a slight bit of buttery flavor, maybe even butterscotch. The swallow lets in a dry, somewhat assertive bitterness. Not much flavor to it but it definitely swings the balance of the beer to the hoppier side. It's a little unusual at first but given some time to adapt it becomes a better fit. I still think I'd like a little less bite, but it'll drink. The finish is dry, buttery, just a touch of roast at the end.
Mouthfeel - medium body and weight, a touch thin for the style IMO. A crisp beer though, lively enough to avoid the heavy feeling.
Drinkability - I like a mellow, less hoppy OFest. This one covers the bases properly though, and if you like your OFests with a little more bite, try this one.
1,036 characters

3.07
/5
rDev
-12.3%
look: 3.5 | smell: 4 | taste: 3 | feel: 2 | overall: 2.5
Nice copper color with a slightly off white head that shows good carbonation but is also quite frothy.
The aromas on this O-fest are sweet butterscotch all the way. Even hints of red cherries. Sweet caramel malt with the slightest floral hop.
Thin very one sided mouthfeel. The taste basically mimicks the aromas but isn't nearly as approchable. This O-fest shows no complexity or balance, it's just a straightforward sweet water bomb.
Definitely better O-fests are to be had.
485 characters
3.55
/5
rDev
+1.4%
look: 3.5 | smell: 3.5 | taste: 3.5 | feel: 4 | overall: 3.5
A red amber body topped by a very slight ivory head, this is a beer that is just not ready for primetime. The good looking body has almost no lacing effect and, surprisingly, the taste is just not what one would expect from a good Marzen brew. It isn't that it lacks strength, for it does not. But is has little of the sweetness of malt one would expect and it does not seem to be from hop balancing, but rather of malt weakness. A rather disappointing brew at the Octoberfest Zinzinnati.
488 characters
3.7
/5
rDev
+5.7%
look: 3.5 | smell: 3.5 | taste: 4 | feel: 3.5 | overall: 3.5
Done back to back with Flying Dog Dogtoberfest
Eye: First of all this one pours weak in terms of head formation and retention, however, there are many factors to put in here. It could've been that my growler was dirty or oily, could be the glass. Anyway, the head isn't a head, barely even an algae covering the beer, infact its got holes in it where one can see the top of the beer. poor, thin and sickly looking lacing covers the sides of the glass in spotty patterns from where the head first formed then quickly fell. Color is beautiful though. Crystal clear copper with red, yellow, and orange tints to it.
Nose: Overall pretty weak aroma, this is one you'll have to chase to get anything from it. I get toasty and roasty aromas mainly. Also some deeper caramel notes once you get inside the brew. There is a faint sweetness that reminds me of diacetyl, though I don't think that it is diacetyl because were it diacetyl I think it would be stronger, more prominent...just a deep sweetness instead. The aroma isn't as strong as I'd like, nor as deep, but it will suffice.
Tongue: At first very roasted and grainy, then some sweet malt character and caramel followed by a return to the roasty and grainy flavor. The graininess and the toasty raw barley flavors give this one an earthy flavor that I really enjoy. I'm not going to say that this is how I think an Oktoberfest should taste, but I really do like the flavor of this beer. This beer is packed with malt, but does not have an overwhelmingly sweet flavor, rather it has an earthy, grainy, nutty (definitely nutty), and warm taste. Great interpretation of the style this is one that I'll definitely pick up again.
Mouthfeel and Drinkability: Lighter on the palate than expected, with lower levels of carbonation as well. Semi-dry finish on this beer which compliments the nutty and roasty flavors in this beer. Overall this is a nice Oktoberfest, but not something that I'm going to go crazy over. It is a well done beer, with a very nice and enjoyable interpretation of the style.
2,048 characters

3.85
/5
rDev
+10%
look: 3.5 | smell: 3.5 | taste: 4 | feel: 4 | overall: 4
On draught at Mecklenburg Gardens. Pours a rish dark amber color with a thin off-white head. Little to no lacing evident. The aroma is a fair amount of hops in tandem with a malty aspect. Medium bodied, and the flavor veers between the malt and hops, with a sweet caramel undertone. The finish is a little hoppy as well. Very easy drinking and complemented my bratwurst nicely.
377 characters
Octoberfest from Barrel House Brewing Company
Beer rating:
3.5
out of
5
with
6
ratings