Leather Jacket Lager
| Fish Rock Brewery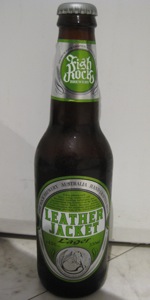 BEER INFO
Brewed by:
Fish Rock Brewery
Australia
fishrockbrewery.com.au
Style:
German Pilsener
Alcohol by volume (ABV):
4.50%
Availability:
Year-round
Notes / Commercial Description:
No notes at this time.
Added by Weizenmensch on 02-26-2007
Ratings: 6 | Reviews: 6
Reviews by Kulrak:

3.88
/5
rDev
+8.7%
look: 4 | smell: 3.5 | taste: 4 | feel: 4 | overall: 4
Pours a golden straw color with a decent amount of head that sticks around for a while and laces the glass. Smells faintly floral and a little spicy. The taste is malty sweet at first, and hoppy and floral at the end, very nice. Mouthfeel is thick but with enough fizz at the end to cleanse the palate. Overall, it's a very drinkable beer, and I'll be looking for it again.
373 characters
More User Reviews:
4.13
/5
rDev
+15.7%
look: 4.5 | smell: 4 | taste: 4 | feel: 4 | overall: 4.5
Leather Jacket Lager, a beer I've recognised as worthy in the past. Found it wasn't on BA, so feel free to disagree with my classification as a German Pilsener. The bottle defines it as a Pilsner, and it's clearly not a Czech Pilsener, so I decided it wasn't a Czech or European Lager, and of the German Lagers Pilsener was best. I respect the brewery for creating a good beer, and I assume that it was indeed a beer (lager) and not an ale posing as one.
App: Very nice - lacing is seductive and as clear as rings on a tree as to how long it's been since I've had a sip. Fluffy, pretty and sticky lacing. Colour is pale gold. Head retention is moderate - sits half a centimetre from the beer proper.
Smell: I rate it well because we don't get (fresh) beers like this in Australia too often. Grassy and yeasty. I don't know much about the yeast but it stings the nostrils a bit and the beer has a dense head. In any case I like it and I'll drink this beer again.
Taste: Hops aren't as garish as they could have been. I was sort of expecting a grassy hop explosion, but it was a bit laid-back. This beer is also mildly fruity - peach more than anything. A little bit creamy as well. Definitely a good beer but it could still be improved.
Mouthfeel: Smooth, creamy - more swallowable than you'd expect of this style. I like it. I don't know anyone who'd disapprove, aside from those who'd disapprove of the beer based on the label and the fact that it wasn't on tap. I like it though.
Drinkability: I have drunk this before and I'll drink it again. A hot night in Canberra or a rainy, cool night like it is now... in Canberra is the perfect opportunity to enjoy this attractive, good-tastin' brew.
1,709 characters
2.43
/5
rDev
-31.9%
look: 2.5 | smell: 2 | taste: 2.5 | feel: 3 | overall: 2.5
I had this once before at Mittagong and enjoyed it but this recent one was pretty ordinary. It looks Ok for a pilsner with a fine head and clear straw colour but there was only a faint aroma of something fruity. The flavour was lacklustre to say the least. Definitely some Saaz but I agree with other reviews in that it's hollow. Too little malt on the mid-palate and just nothing to make it interesting. It appears less unbalanced than it should because the hoppiness was pretty thin as well. It makes no statement about itself and why you'd buy this over a 'real' Pilsner I don't know.
587 characters
3.6
/5
rDev
+0.8%
look: 4 | smell: 4 | taste: 3.5 | feel: 3 | overall: 3.5
Pours an attractive honey gold. Good white head and bubbles.
Aromas of malt powder, fresh grain, and floral hops.
Flavour is not as well constructed as the nose, but emphasises a German lager style. Not as crisp as a true Pilsener, but the Saaz certainly puts it in the neighbourhood.
Mouthfeel a bit unbalanced.... seems to be a bit of palate hollowness, with a finish that is bitter and cloying. Not sure if I could make it a session beer.
Nice drink nonetheless... went well with a Chinese mixed entree.
511 characters
3.95
/5
rDev
+10.6%
look: 4 | smell: 4 | taste: 4 | feel: 3.5 | overall: 4
This beer pours a golden straw colour with beautiful carbonation which leaves a little head with hardly any lacing around the glass,on smelling this beer you can just smell grassy,spicy hops and on tasting this beer i definately find it to be more of a pilsner than a lager you can just taste the beautiful,spicy,grassy saaz hops,a truly wonderful easy drinking session beer.
375 characters
3.41
/5
rDev
-4.5%
look: 4 | smell: 3 | taste: 3.5 | feel: 3.5 | overall: 3.5
A pleasant enough Pils that doesnt quite excite.
The Saaz hops are obvious and dominat the beer and this is where it lets me down a bit .
It is one dimeniional and needs a malt boost to add some character and complexity
Its a refreshing beer but nothing more or less
267 characters
Leather Jacket Lager from Fish Rock Brewery
3.57
out of
5
based on
6
ratings.