Green Dog Grill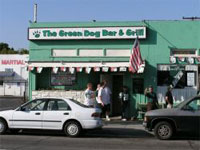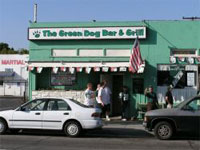 Bar, Eatery
1115 E. Wardlow Rd.
Long Beach
,
California
, 90810
United States
(562) 492-6630 |
map
greendoggrill.com
Notes:
Reviews by LongBeachHopHead:
LongBeachHopHead from California
3.98
/5
rDev
+6.7%
vibe: 4 | quality: 3.5 | service: 4.5 | selection: 4 | food: 4
Green Dog Grill
A big bright green building with white trim. This place was a steakhouse lounge from the 50's, bar in the front and a fireplace in the back with a couple of coutches and a coffee table. The other side has a pool table and bar tables with stools and another fireplace! This place use to be steak, congnac and cigars! The beer selection is a mix of good craft brew and the usual BMC. Just recently they've had, AleSmith IPA, Evil Dead Red and X along with Pizza Port's Wipe Out and Coronado IPA. There are only a couple of rotating taps and some good bottle selections. Racer 5, Stone AB, Pale, VE'06 and 10th in 3L bottles!, Lagunitas IPA and Lindeman's Framboise. Focus is on big hops. Its located on Wardlow off the 405 at Orange. The owner is a huge NY Jets fan so there is green Jets memorabilia everywhere.
Atmosphere had a jukebox playing, scantily clad bartenders in green plain skirts and mostly guys sitting at the bar, quaffing brew.
Serivce was great; didn't need to ask twice.
Selection is work in progress, the owner is just starting to introduce the craft brews into BMC.
Food is a small pub grub menu. Great wings...sandwiches, soups, burgers and dogs.
Value is great. Wen't there at happy hour, 4-7 weekday and it was $3 for a pint of AleSmith IPA and wings were $6.
Great place to hang out, have a few pints and it won't send you home broke. Unless you take an 8 hour lunch break.
Oct 08, 2006
More User Reviews:
TheLongBeachBum from California
3.68
/5
rDev
-1.3%
vibe: 3.5 | quality: 3.5 | service: 4 | selection: 3.5 | food: 4
Having been here many, many times over the last 6 months, mostly for regular Thursday Night meets with the LongBeachHopHeads, and having witnessed the craft beer selection expand to a point where it could be added to BeerFly, it seems fitting to add a BeerFly.
Horrid looking but easily spotted pastel lime green exterior has the words 'Green Dog Bar and Grille' set against a white background high up and to the left. The entrance is just below this, set into the middle of the frontage, and to the right of this a large glass window is full of neon signs and offers a good view inside. There is parking in the back, access to which is gained down an alley to the right hand side. Street parking is also usually easy to find, side streets can offer respite if not.
Has a double door arrangement, set and 60 degrees to each other, the outer door is usually open. You enter such that you will find the bar to your left and in front of you. The inside is like two rectangular rooms set side by side. The room on the left has the bar running down the left hand wall for about half the depth of the room. At the back on the left there is a large fireplace, several comfy chairs and a coffee table, this is a cool place to hang out if it is available. The room to the right hand side is more open and airy thanks to better lighting and the large main window that fronts it. A brace of looked after Pool Tables fill the front of this whilst at the back here there is (yet) another fireplace and a handful of high tables and stools. The right hand room is bedecked with lots of NY Jets memorabilia and is a meeting place for said fans on Mondays. In between the left and right rooms and waist high wall which has a bar surface on it; and this too has stools lining it. Access between the left and right hand side rooms is at the front of the bar where the waist high breakfast style bar breaks, here there is also an ATM machine and a CD Jukebox.
Décor is mixed, this is a neighborhood bar with a lot of bric-a-brac including neon signs, NY Jest memorabilia, fake ID's, T-Shirts, brewery ads and other pictures and posters.
The beer range here, is very much work in progress, originally a bar totally dedicated to the BMC macro brigade, it has shown a tenacious dedication to expanding into micro brews. The Stone Brewery has helped immensely here. One bank of four taps still serves BMC products, whilst the bank of five taps to its right usually contains Widmer Hefe and a mix of rotating guest beers. I have had Stone Pale Ale, Stone IPA, Alesmith IPA, Alesmith Evil Dead Red, Alesmith X, Pizza Port Wipeout IPA and Sharkbite Red. To back this up there is a limited but healthy selection of bottled beers, a few of the big hitting 12's from Avery, many 22ounces variants from Stone, Alesmith, Bear Republic and Pizza Port plus the 750ml from Lost Abbey. The selection is likely to change, and hopefully even expand, over time, but the commitment is here and it is real. One thing doesn't change is the great prices in here; the beer is keenly priced, as indeed is the fare.
Food is your basic bar grub, but its well made and served late, and all at a reasonable prices. Burgers, Soups, Hot Dogs, Sandwiches, Salads and the ubiquitous Hot Wings. The Burgers are great but this last visit they also Rib Eye Streak which was enjoyed by several of the LongBeachHopHeads and got the thumbs up.
Service is always attentive and with a smile; Green Dog is well known for its lovely bar staff and I have never had anything but great service in here.
I have to confess to only ever having been here on a Thursday Nights with the LongBeachHopHeads, but I have noticed on a few occasions that the bar has been full of Bikers, but I can honestly say to never having had, seen or heard of any bad experiences here. So don't let that put you off.
An up and coming Beer Bar, and another bar that is working hard to introduce some craft beer choice into the Long Beach area, it is worth a visit to support this effort alone. But beyond that I have found it to be a friendly place and a rather cool hang out. A recent Beer Tasting held here by the LongBeachHopHeads was a great success. Check out www.longbeachhopheads.com for the next gathering here if you want to hang out with some local beer drinkers as well as a handful of local BeerAdvocates too.
Keep an eye on this one, and pop by and lend some support. It's only a 3 minute drive from the Orange exit, or a 5 minute drive from the Cherry exit on the 405 Freeway.
Last Visit: Thursday 4th January, 2007.
Jan 08, 2007
RidiculedDisplay from California
3.53
/5
rDev
-5.4%
vibe: 1.5 | quality: 3.5 | service: 4 | selection: 4
Stopped by after reading about the place on the forums as well as the review below. A place with AleSmith IPA on tap is hard to find, and considering my parents live within 3 miles of this place, it was hard not to give it a try.
I walked in on a cool Friday evening. I suppose coming in on a Friday was "my bad," since as I was walking in there was a cop car that was, as they apparently were talking to the trashy looking bar wenches, there had probably been some sort of bar fight or something just prior to my coming in. This was partially confirmed by four scruffy looking guys with Bud Lights in hand stopping their conversation and giving me a stare as I entered. Overall, not a very welcoming experience. To add to the dislikable ambience, there was loud Metallica and Guns 'N Roses being played, plus a bar full of aged bikers who, I could tell, were just waiting for me to look at them funny. Sheesh.
It was extremely bizarre, then, to see Port Brewing Sharkbite Red, AleSmith IPA, and Stone Pale Ale on tap here. Nobody was drinking said beers, after a quick glance around. They did have Stone Pale Ale coasters as well. Since I was so unimpressed with the atmosphere, I had an AleSmith IPA, which, of course, was delicious, but, again, it was hard to enjoy the nuances of such a great beer when you have Axl Rose sonically gallavanting all over your beer appreciation time.
Anyway, it's worth a drop-in, but only for the AS IPA or the Port Sharkbite. I would imagine earlier in the day is less hectic. I will say that, for a Friday night, it was not very crowded, so other times should be fairly pleasant.
Dec 30, 2006
Green Dog Grill in Long Beach, CA
Place rating:
3.73
out of
5
with
3
ratings