Frog Hop Fresh Hopped Pale Ale
| Great Northern Brewing Co. / Black Star Draught House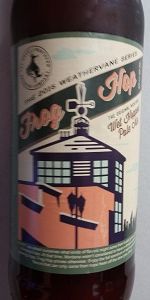 BEER INFO
Brewed by:
Great Northern Brewing Co. / Black Star Draught House
Montana
,
United States
greatnorthernbrewing.com
Style:
American Pale Ale (APA)
Alcohol by volume (ABV):
5.00%
Availability:
Fall
Notes / Commercial Description:
Brewed with fresh hops locally hand-picked at Purple Frog gardens within 24 hours of the brew. Intense citrusy cascade hops and green grassy notes dominate the flavor and aroma. A single batch is brewed in September when the hops are ready to harvest.
Added by Jason on 10-26-2010
Reviews: 6 | Ratings: 14
3.73
/5
rDev
+8.7%
look: 4 | smell: 3.5 | taste: 3.5 | feel: 4.5 | overall: 4
22oz brown bomber.
Hazed pale golden brew, white lacing dresses the glass. Light biscuity doughy malt nose has a fresh cut grass edge from the fresh hops. Smooth with a lighter body. Modest hop bitterness though the flavor ranges from lemon zest to fresh cut grass to a uniform leaf flavor that stays with the palate. Good malt base, yeast has a showing as well. Fruity, grassy and nutty semi-dry finish.
Clearly expected a bit more hop presence here, but this is a good example of a fresh hopped ale yielding towards balance rather than dominance.
★
554 characters
More User Reviews:

3.2
/5
rDev
-6.7%
look: 4.25 | smell: 3 | taste: 3 | feel: 3.75 | overall: 3.25

3.67
/5
rDev
+7%
look: 3 | smell: 3.5 | taste: 4 | feel: 3.5 | overall: 3.5
Appearance: Pours a clear golden color with a huge, fluffy white head.
Smell: Grainy aroma with hints of citrus, pine and grass.
Taste: Similar to the nose there is a nice graininess with hints of citrus and pine. Nice slight hoppy bitterness.
Mouthfeel: Medium body with medium carbonation.
Overall: A very well balanced fresh hopped pale ale. Very easy to drink. A perfect beer to introduce to someone who is new to the wonderful world of hops as it is slight in its bitterness and well balanced.
★
502 characters

2.98
/5
rDev
-13.1%
look: 3.5 | smell: 3 | taste: 3 | feel: 2.5 | overall: 3
Another score from my trip to Montana.
A - Pours a slightly hazy golden colour, finger of bright white head with some retention and random sporadic lacing.
S - Not the hop scent I was hoping for, more of a grassy pilsener scent, bready biscuit malts with a touch of caramel on the finish.
T - Underperformed in this catergory... The hops are faint at best, and the flavour is more reminiscent of a euro lager than an APA. Grassy hops and biscuit malts dominate the flavour, and a bitter sourdough bread lingers on the tongue.
M - Medium bodied but finishes a little too dry for my liking.
D - Overall, rather disappointing. I realize that this may have been past its prime and the hops may have lost their peak flavour, but this is a very weak APA. I would not recommend this to any hop head, though it is easily drinkable if you're into euro lagers.
★
855 characters
2.99
/5
rDev
-12.8%
look: 4 | smell: 2.5 | taste: 3 | feel: 3.5 | overall: 3
Light orange, fine head formation, some lacing.
Faint aroma for a pale ale, but especially so for a fresh hopped ale! What's there is as much malt as hops. Hops are fruity.
It has a nice flavor and it's fairly subtle. Hops still aren't as juicy/wet as I'd expect for style. But that aside, I do enjoy its easy drinking clean profile and finish. Hops present a bubble gum-like flavor but they finish more herbal. No complaints for body and carbonation.
Overall it's just a bit too light to keep my attention, and the fresh hop quality was really lacking. What's there does taste good, so drinkability is fine.
★
615 characters

3.94
/5
rDev
+14.9%
look: 5 | smell: 3.5 | taste: 4 | feel: 4 | overall: 4
Very crisp light yellow pilsner color. Bright and nicely fluid foamy head. Decent lacing. Great clarity
Faded grapefruit and apricot. Grassy. Clear and crisp. Very light, I would like a bit more aroma
Very light and palatable. Very easy drinker. Nice smooth blend of flavors. Dryness is present without being overwhelming. Carbonation is slightly prickly. Sweetness is much more dry.
A very bright and fresh IPA, lots going on here in a very subtle way. Highly recommended @ $6/22oz. This should be a seek and destroy.
★
522 characters

3.25
/5
rDev
-5.2%
look: 3.75 | smell: 3 | taste: 3.25 | feel: 3.5 | overall: 3.25
Poured from bomber into a pint glass
Appearance – The beer pours a lightly hazed golden orange color with a one finger head of thick white foam. The head fades very slowly over time to leave a ton of streaky lace on the sides of the glass.
Smell – The aroma of the brew is rather strong of a bready smell mixed with a good showing of some grain and a bit of a grassy smell. Along with these aromas comes some hay and a touch of lemon, but even so, overall the hop is rather light.
Taste – The taste begins with a rather cracker like taste with a bit of a more bready flavor mixed within. As the taste moves on, the bready fades, leaving the more crisp cracker taste to be the malt base of the brew. While very light upfront, some hop develops in the middle of the taste and more toward the end. The hop is mostly of a grapefruit and earthy flavor, but contains some light grassy notes as well. A bit of sweetness of an orange and tropical fruit nature develop at the very end, leaving on with a rather crisp and lightly hopped taste to linger on the tongue.
Mouthfeel – The body of the brew was rather thin and light with a carbonation level that was on the medium side. For the lighter hop and more crisp flavors of the brew the feel was rather nice and created an easy drinking brew.
Overall – An alright brew overall, but in many respects, it is just a standard pale ale. It is nothing worth the added price that you will likely pay for the bomber of this. Fun to try, but nothing all that fantastic.
★
1,528 characters


3.5
/5
rDev
+2%
look: 3.5 | smell: 3.5 | taste: 3.5 | feel: 3.5 | overall: 3.5
Frog Hop Fresh Hopped Pale Ale from Great Northern Brewing Co. / Black Star Draught House
3.43
out of
5
based on
14
ratings.