Good Medicine Strong Red Ale
| Great Northern Brewing Co. / Black Star Draught House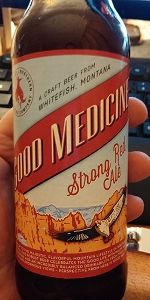 BEER INFO
Brewed by:
Great Northern Brewing Co. / Black Star Draught House
Montana
,
United States
greatnorthernbrewing.com
Style:
American Amber / Red Ale
Alcohol by volume (ABV):
7.50%
Availability:
Year-round
Notes / Commercial Description:
No notes at this time.
Added by Florida9 on 08-30-2012
Reviews: 12 | Ratings: 42

4.3
/5
rDev
+8.9%
look: 4 | smell: 4 | taste: 4.5 | feel: 4.5 | overall: 4.25
This is my go to when I can't get an IPA. This is a truly excellent beer, easy to drink, and you find it when you can't find others. I've had it at Applebee's in Helena (always on tap), at The Great Northern hotel, Helena and the old Fusion bar restaurant. It's not my first choice as I love NW IPA's, and experimenting, but will always go to this if no new or decent IPA presents itself and at some point I could end up with this as my overall favorite MT beer.
465 characters

4.06
/5
rDev
+2.8%
look: 4.25 | smell: 3.75 | taste: 3.75 | feel: 5 | overall: 4.5
This beer is the antithesis of fat tire. Same theory and similar flavor notes in regards to that biscuit malt bomb and some rye zipping about. Obviously alcoholic. Rustic and unapologetic about it.
197 characters
5
/5
rDev
+26.6%
look: 5 | smell: 5 | taste: 5 | feel: 5 | overall: 5
This is an excellent beer! When I found it in the grocery store, after a tough day at work, I thought, "Ahhh, Good Medicine, that is what I need right now!" - Wow, I was not disappointed! It has an odd rusty, yet rejuvenating taste to it. Don't listen to all that bullshit about plums, bread, peach tones, pine, lacing, blah blah blah! This is just an odd beer, and can only be described as its namesake, "Good Medicine!"
421 characters
4.1
/5
rDev
+3.8%
look: 4.25 | smell: 4.25 | taste: 4 | feel: 3.75 | overall: 4.25
For an Unfiltered beer, it is only a bit hazy. The amber colour is attractive, the foam does a good job of hanging around.
The smell is grainy, malty, hoppy, with a distinct note of fruit. .cherry says I.
Malty taste to start with a light cherry tartness, mild hop bitterness, bready notes and finishes with biscuit.
Good Medicine is a treat to drink; not being overly hopped is the key I reckon.
402 characters
3.92
/5
rDev
-0.8%
look: 4 | smell: 3.75 | taste: 4 | feel: 3.75 | overall: 4
12 ounce bottle poured into a tulip glass
A: Pours a amber, brown red color with a white head, no head retention, slight lacing, looks hazy, low carbonation.
A: Smells tart, like raspberries, not much else on the nose, no alcohol, picking some of the malts.
T: Raisins, plum, fig, lots of malt, bread, biscuits, yeast, taste almost like a light quad, dark, sweet fruit flavors, some spice, pretty tasty.
M: Medium bodied, dry finish, could use some more carbonation.
O: Taste like a light quad, dark sweet fruits, malt, yeast, could use some more hops to balance out the malts. Definitely unexpected flavors going on in this beer.
635 characters

3.94
/5
rDev
-0.3%
look: 3.75 | smell: 3.5 | taste: 4.25 | feel: 3.75 | overall: 4
Deep, clear but fine-hazed, cuprescent shade of amber. Tan head of medium retention and fine lacing. Bread aroma in bottle, caramel in glass. Fruity/tart esters. Altogether, raisin-like on the nose. Incredibly well-balanced! Bit syrupy-sweet up front, lasting through until finish ranging from watered down spirits to molasses. Bready, toasty backbone in the middle soon accompanied by winter spices, mild black pepper, and very herbal and slightly resiny/piney/rindy hop finish, though hardly bitter. Mouthfeel is also nothing to sneeze at. Medium body, watery, and medium carbonation, slightly on the prickly side but quickly turning to gulpable suds. A little on the wet side going down, but that's always nice with the sweeter and boozier flavors. Alcohol in retro-olfaction and fair amount of warmth. Way too drinkable for what it is, but mind you, that's not a complaint!
Note: This may be a "Strong Ale" but my bottle calls it a "Strong Red Ale". And it does remind me more of an Imperial Red than it does the few Strongs I've had. Also, currently 7.5% ABV, not 8%, but really; who's counting?
1,101 characters

3.68
/5
rDev
-6.8%
look: 3.5 | smell: 3.5 | taste: 3.75 | feel: 3.75 | overall: 3.75
Poured from bottle into a pint glass
Appearance – The beer pours a dark brick color with a one finger head of white foam. The head has a decent level of retention, fading to leave a lighter level of foamy lace on the sides of the glass.
Smell – The aroma of the beer is strongest of a bready and grainy smell mixed with a good showing of a boozy aroma. Along with these smells comes some lighter notes of a sweeter nature with some caramel and dark fruit aromas mixed within. With a little bit of a woody and earthy hop there as well, the aroma is overall quite warming.
Taste – The taste begins with a bready and somewhat sweeter taste of cherry, plum and caramel. While lighter upfront, the boozy and woody tastes grow stronger as the taste advances with the boozy being initially of a more vodka like nature, but later taking a more whisky like flavor in the end. With even more sweetness developing in the taste along with a little bit of a grassy and grainy taste coming at the very end, one is left with a rather boozy (for a 7.5 % beer that is) and moderately sweeter taste to linger on the tongue.
Mouthfeel – The body of the beer is on the thicker and chewier side with a carbonation level that is on the lower side. For the big boozy and somewhat sweeter flavors of the brew the thick body made for a sorta cough syrup (in a good way) feel for the brew, which heavily coated the tongue in all the rich and warming flavors.
Overall – Much boozier and sweet then I was expecting, but not offensive. A rather nice warmer of a brew.
1,561 characters
3.94
/5
rDev
-0.3%
look: 4 | smell: 3.75 | taste: 4 | feel: 4 | overall: 4
Good medicine indeed! I enjoyed this beer on tap at the Great Northern. It pours nicely, with a bit of clingy tan head. The flavour was, to me, medicinal. It had plenty of caramel malt, faint hopping, and a herbal note that I couldn't quite pin down. The high alcohol content is discreetly masked in the bounty of tastes that hit you.
334 characters

4.32
/5
rDev
+9.4%
look: 4.25 | smell: 4 | taste: 4.5 | feel: 4 | overall: 4.5
Poured from a longneck into a shaker. The label states that the beer is a "strong red ale", with no claim of royalty. A semi-aggressive pour produces a billowing 1.5 inch head that proves quite sticky. The head is a pale tan color and very creamy looking. The beer is a deep yellowish brown with a tinge of red, and highly carbonated. A very nice looking beer.
Very light malt and hops on the nose. The flavor is pretty laid back for a strong ale, but quite flavorful. Notes of caramel malt flavors and earthy and slightly herbal hops mesh quite well. A little bit of fruity tang lingers in the finish, along with some mild nutty bitterness. The alcohol is well-hidden except for the slight bit of fruity tang at the end. The mouthfeel is creamy.
This is a very smooth and easy drinking beer- and could be dangerous, considering the ABV. Not a hop bomb at all. One of the best American strong ales that I've tried, because it lets the malt shine through.
Update note of June 2015: The label now states an ABV of 7.5 percent. I came back to this one not remembering I had reviewed it before. I bought a six pack of this at Hennesey Market for a little over 10 bucks, which I consider a bargain. Kudos also to the M&M bar (before it closed) and the Acoma bar (a class joint) for providing this beer on draught. Good good stuff (and quite dangerous).
1,367 characters

3.58
/5
rDev
-9.4%
look: 3.5 | smell: 3 | taste: 3.75 | feel: 4 | overall: 3.75
Brought home in a growler from the brewery, poured moderately into a pint glass. An inch of dark tan head matches the deep red of the brew and leaves a sticky lacing. Not too strong on the nose, save some bourbon and woodsy notes. Flavor is malty on the front side, but blends with hop bitterness nicely in the middle, and is almost savory. Finish is slightly boozy; there's that 8+% ABV! Mouthfeel wins it for me: kinda creamy but not rich enough to constitute a meal-type beer. Overall, a local weekend crowd pleaser due to the high yet palatable ABV.
554 characters
4.08
/5
rDev
+3.3%
look: 3.75 | smell: 3.75 | taste: 4.25 | feel: 4.5 | overall: 4
Poured into a pint glass at the great northern brewery. Designated as an Imperial ale but I know for a fact that it weighs in at 8% which somewhat challanges its Imperial denotation. More of a strong red ale or American strong. Off the bat its a copper brown, extremely thick and cloudy(must be a new batch). Thin creamy pale head, little bubbles. Aromas of sweet caramel malt, bready rye and light herbal hops. Barely noticeable. Rye malt, toasted sweet malt, caramel and dark fruit. Hop bitterness is present but doesn't override it. Yummmy. Mouthfeel is exceptional, this elemant is where it nabs peeps. Medium to heavy carbonation complements large malt character while the hops creep in for an off-dry finish. Quality crowd-pleasing brew that I know the locals are fond of. Thx
782 characters

3.77
/5
rDev
-4.6%
look: 3.5 | smell: 4 | taste: 3.5 | feel: 4 | overall: 4
This one is listed as an "Imperial Ale". Upon further questioning the bartender was incapable of explaining exactly what that is. I'm listIng this as an American Strong, though it could pass for an IPA. If anyone finds out anymore about this beer, please update.
Deep clear copper in color. Served with aminal bit of off white hwas that reduces to just a thin surface coating. No lacing. Aroma of sweet caramel malts, citrus and a little pine. Flavor is similar, though on the lighter side with light caramel malts dominating over the piney hops. Medium bodied. Mild to moderate bitterness. Medium carbonation.
Overall a decent beer. Was told this is the strongest beer they brew (which is pretty weak), but it is what it is. Still a pretty good beer, easily drinkable,, but far from a great one.
802 characters
Good Medicine Strong Red Ale from Great Northern Brewing Co. / Black Star Draught House
3.95
out of
5
based on
42
ratings.