Collier's Liquor Store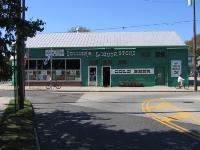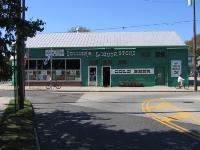 PLACE INFO
Type:
Store
202 Jackson St
Cape May
,
New Jersey
, 08204-1441
United States
(609) 884-8488 |
map
colliersliquor.com
Notes:
No notes at this time.
Added by BitterBrian on 10-05-2006
PLACE STATS
Reviews:

10

Ratings:

pDev:

8%
HISTOGRAM
View: Place Reviews
Ratings: 12 | Reviews: 10
Reviews by corby112:

2.84
/5
rDev
-18.9%
vibe: 3 | quality: 2.5 | service: 3 | selection: 3
A medium sized liquor store in the middle of Cape May. One of the only place in town that I know of to pick up bottles of anything decent.
This place is pretty much a basic liquor store with a surprising selection of craft six and four packs. I wasn't expecting anything at all but they have a lot of PA and NJ locals as well as a bunch of DFH including World Wide Stout. The selection isn't very impressive butthe fact that they had anything decet at all was shocking.
I wouldn't go out of my way to visit this place but it's a good place to stop if you're in a pinch while at the shore.
591 characters
More User Reviews:

3.66
/5
rDev
+4.6%
vibe: 4.75 | quality: 3.5 | service: 3.25 | selection: 3.75

3.76
/5
rDev
+7.4%
vibe: 3 | quality: 4.5 | service: 3 | selection: 4
Cape May is a beach/tourist town and I have been coming here my whole life. I don't have high expectations and never have. I stopped in to see what they had and I was pleasantly surprised. Is the selection large? no. Is the selection vast by style ? no. Is there a ton of surprises ? YES. Being only 80 miles north of here I am surprised that some selections at my fave super awesome beer store escape to here. There are bombers from brewers I thought I saw the whole line from... but was wrong (like Southern Tier), and where this locale is you get some more MD/DE varieties of breweries you know but don't get all the flavors.
Look, this place has to service the local area .. deal with it. BUT I will challenge you to not find a gem there. This is a resort town, not foo foo ville, there is some good beer to be had.
830 characters

3.3
/5
rDev
-5.7%
vibe: 3 | quality: 3.5 | service: 3 | selection: 3.5

3.29
/5
rDev
-6%
vibe: 3 | quality: 3.25 | service: 3.5 | selection: 3.25
while my family waited in line to get some hot dogs for an hour I stopped at a couple liquer stores for beer.
Colliers had two selection from Carton, boat and 077xx. Both of these beers were excellent.
Boat works perfectly on the beach.
Other then Carton, selection is basic supermarket.
287 characters

3.37
/5
rDev
-3.7%
vibe: 3 | quality: 3.5 | service: 3 | selection: 3.75
The wife and I were about to catch the ferry to Delaware and decided to explore Cape May. Gorgeous sunset, but the town itself is too cheesy and touristy.
Parking right next to this store was nice, though! It doesn't look like much from the outside, but there are a lot of goodies to be found inside. More wine and spirits than beer, but the brews are high-quality, and they have a ton of interesting bombers of stuff I can't get up north in NYC like New Holland and Terrapin.
Six or seven varieties of Founders six-packs, five of Flying Fish and Weyerbacher, six different Dogfish packs (plus pretty much the whole line of bombers)... also some goodies from Hoppin Frog.
Prices are acceptable all around and there is no service to speak of- even the lady at the checkout was not terribly nice. But this is a good stop for craft brews in Cape May, no doubt.
863 characters
3.56
/5
rDev
+1.7%
vibe: 3.5 | quality: 3.25 | service: 4 | selection: 3.5
Checked out this store, which seemed to sell itself as a fairly large venue hoping to find some interesting brews.
For the most part it really didn't offer much different selection than other areas, and I was hoping to maybe find some various NJ micros besides Flying Fish here. It's unfortunate that the Cape May brewery doesn't bottle anything cause this would be a perfect place to grab some of their stuff if you are in town, but you have to go to the brewery, or perhaps there's a restaurant/bar that might have some of their stuff on tap.
Selection is a little small, and not that varied. Some of the stock is also real old it doesn't look like there is a lot of product turn over here. There were some real old Port Brewing bottles here from March of this year on the shelf.
It doesn't take long to parade the store, so if you want to quickly stop by and you have nothing else to do you can check it out, but there was really nothing special about this place.
969 characters

3.5
/5
rDev 0%
vibe: 3.5 | quality: 3.5 | service: 3.5 | selection: 3.5
Stopped in here earlier today to check out the local selection. More of a liquor store than bottle shop, about a 85-15 ratio toward wine / liquor. A little cramped once you get inside with all of the beer in the back isle. Service was decent, I was asked if I needed help twice. Quality is pretty good, I checked a few bottles and nearly all were fresh. Selection was surprisingly good, albeit a little small, for a liquor store of this size. I saw a few bottles of Firestone §ucaba, a few bottles of B. Nektar, a bunch of DFH and plenty of six and four packs. Prices were good and comparable to some of the other places in the area. Overall, a decent little store with a good selection and prices that is right downtown. Not the best in the area, that's Joe Canal's in Rio, but more than serviceable for where it is located.
826 characters

3.8
/5
rDev
+8.6%
vibe: 3.5 | quality: 4 | service: 4 | selection: 3.5
I was visiting Cape May for the day and happened to stumble across Collier's so I decided to stop in.
As soon as you walk in you are greeted with a lot of wine, but the beer is tucked away across the back wall. Most of the selection is in coolers. I didn't find the selection overwhelming, but there was an okay selection. Epic Brewing (4 or 5 different brews), Stone (Highway 78), Rogue, Victory, Sam Adams, Dogfish Head. As I said, a decent selection seeing as Epic was new to me.
The service was decent. I was approached once and asked for help and I was greeted nicely as I walked to the register.
All-in-all an okay stop when in the area, seeing as this was about the only store I saw. I liked seeing Epic available and they have a lot cold if you wanted to drink it quickly.
786 characters
3.9
/5
rDev
+11.4%
Stopped in while spending the weekend in Cape May. This place is certainly an oasis in a beer desert. I always check dates when in a store for the first time, and I couldn't find an old bottle anywhere. They definitely get high marks for quality.
The selection was very good for the area. Plenty of Dogfish Head, Troegs, Victory, Sierra Nevada, etc. Not just one or two offerings either, they had quite a lineup of offerings from each brewery available. The import selection wasn't the best, just a few better known varities.
The people at the counter seemed friendly enough, but nobody approached me for help while I browsed. They had some RB scores posted, I appreciate the effort there. BA scores would have been better of course.
I'm from PA, so I thought the prices were fantastic! $5 for Sierra Nevada 24ozs for instance. I'm glad I stopped in for a few things to bring home with me, definitely recommended.
918 characters

3.7
/5
rDev
+5.7%
This place is pretty cool, since it's right in the heart of town and in an area with not much of a beer presence. It's a very old, large green building that stands alone right outside the "mall". Walking in, it looks mainly like a wine store, and for the most part that's what it prides itself on. But the back row is all refrigerated beer, and not just BMC. There's plenty of micro brews here, as well as a few foreign ones you don't normally see everywhere.
I was happy to glean a mix-12 pack of Victory, as well as the Sam Adams Brewmasters pack, for reasonable prices. They also have a very large selection of Dogfish Head (which is located right across the river) and other smaller micro brews. Unfortunately their selection is 90% cold. So if you want to travel with it (like I did) it limits selection.
They also had a very big sale on glassware. It wasn't beer glassware, but they had things like snifters, cognacs, and oversized wine glasses for a mere $1-$3. What a bargain! So, if you're in the Cape May area, be sure to check it out.
1,053 characters
3.35
/5
rDev
-4.3%
I didn't expect Cape May NJ to have any decent beer stores as southern NJ is synonomous with swill. So on our way down we stopped in at Monster Beverage in Glassboro and that was a great experience in itself.
We were walking around the outdoor mall area on day and my wife kept getting lost in the gift boutiques, so I decided to check out the Beer/Liquor store immeidiately behind the mall area.
This green store has been a landmark in Cape May for some time. It's very easy to find for anyone entering town or walking the streets. I have been to the Cape many times and have even lived here prior to my BA days. So all I ever noticed before was the Sam Adams and High Life.
But MY how things do change! Except for a display of DFH Punkin, all beers were in the coolers in 6packs. There must've been 30 to 40 different breweries represented; All of Victory's current offerings, Left Hand, Long Trail, Stone, Hacker Pshorr. . . too many to name. You could tell somebody took pride in their selection and also kept up with the seasonal offerings.
As said, I was just "touring" their inventory, so I had to give an average score for service. Overall, I was impressed with the selection. Highly commended as a six pack oasis in the BMC desert that is Southern NJ.
If you're in Cape May, this is the place for take-out.
1,330 characters
Collier's Liquor Store in Cape May, NJ
Place rating:
3.5
out of
5
with
12
ratings