Grand Ridge Mirboo Madness
| Grand Ridge Brewing Co.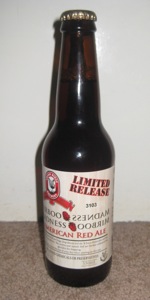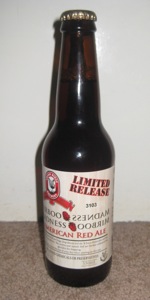 BEER INFO
Brewed by:
Grand Ridge Brewing Co.
Australia
grand-ridge.com.au
Style:
American Amber / Red Ale
Alcohol by volume (ABV):
6.00%
Availability:
Limited (brewed once)
Notes / Commercial Description:
No notes at this time.
Added by CrazyDavros on 01-28-2011
This beer is retired; no longer brewed.
HISTOGRAM
Ratings: 12 | Reviews: 10
Reviews by CrazyDavros:
3.8
/5
rDev
+6.4%
look: 4 | smell: 4 | taste: 3.5 | feel: 4 | overall: 4
Pours ruby-tinged dark amber with a lasting head and lacing.
Nose shows rich caramel, toasty, nutty and light roasted malt by the truckload. Very nice! Underneath is some faint hops, but you can't really call it American, just a subtle hint of resin. Still, really delightful.
Flavours include more of the same dark malt followed by a sharp bitterness. Seems to be lacking a bit in the mid-palate.
Nice creamy body and moderate carbonation.
440 characters
More User Reviews:
3.7
/5
rDev
+3.6%
look: 4 | smell: 4 | taste: 3.5 | feel: 4 | overall: 3.5
Hazy bronze with a one-finger slightly yellowed tight head. Moderate lace as it falls.
Quite malty and winey. Muscatels, brandy snap and toffee. Floral and mild tropical hops are around, but hard to grasp long enough to identify. Perhaps the hops have faded? Not what I was expecting, but pleasant enough.
Bready, toffee malts dominate, however moderately bitter piney notes make their presence felt much more assertively than the aroma indicates. Less complex than the aroma but still nice.
Quite smooth, light to medium bitterness and carbonation but depite this, a surprising richness on the mid and back palate.
I ummmed and aahed over the merits of this while drinking but overall it's a nicely balanced and approachable beer, with a bit less hop character than I'd expect from the style.
798 characters


3.28
/5
rDev
-8.1%
look: 4 | smell: 3.5 | taste: 3 | feel: 3 | overall: 3.5
Pours a hearty ruby colour with nice off-white head - slight pinkish tinge from it probably due to refraction. Lacing is extremely nice, sticky trails around the edge, whispy cloud on top. Very nice.
Smell is very, very sweet. Mega-malt bomb with dried fruit - sultanas, dates and raisins. Rich, lightly toasty caramel abounds - could use more hopping to add zing; it just smells sweet and a bit heavy. But nice.
Taste has similar characters but less of them, really not as potent as the smell made out. Slightly watered-down English toffee malt upfront that doesn't really go anywhere. Richer, quite toasty grain notes re-emerge late-mid together with a fairly sour grist kind of character, slightly wet and dank. Feels surprisingly empty, and doesn't have a huge texture.
This appeared like a tasty beer but it was very much let down on the palate. Needs more body and hops to carry the flavour.
900 characters
3.36
/5
rDev
-5.9%
look: 4 | smell: 3 | taste: 3.5 | feel: 3 | overall: 3.5
One of my favourite styles of beers is American Red Ale. Let's see if the lowly, and seemingly once better Grand Ridge can do it justice with this one-off release.
Pours a decent reddish amber colour with an initially frothy if disintegrating head of off-white. This almost immediately transforms itself into film on the top and a little patching lacing, meaning it's a little underwhelming overall. Body looks pleasantly heavy. Not a bad look. It's certainly an acceptable look for the style.
Nose is quite boozy, surprisingly, with some rather pungent fusel characters coming off right from the get go. This mingles with a strong, malty character, not unlike a strong doppelbock or astringent barleywine. It's an aroma I associate with beers like Samichlaus—not something supposedly high on the hops, and only weighing in at 6% ABV.
Taste is a little better, as there's some clean bitterness, and not a lot of heat. Rather, there's a washed out mid-palate of light grain with a direct but rather generic bitterness through the centre. It's light enough, and it does something like the American Red Ales I know and love, but it's like a shadowy example; one that doesn't really know how it's meant to taste.
Not bad all up, but not an amazing brew either, and certainly not something I'd serve to someone to give them an example of a wonderful style.
1,358 characters
3.69
/5
rDev
+3.4%
look: 3.75 | smell: 3.5 | taste: 3.75 | feel: 3.75 | overall: 3.75
3.65
/5
rDev
+2.2%
look: 4 | smell: 4 | taste: 3.5 | feel: 3.5 | overall: 3.5
A-Pours a hazy red amber hue which leaves a two finger creamy head and moderate lacing.
S-Sweet caramel malts,piney hops and boiled candy with the malts being more on the nose due to a little bit of ageing i think.
T-It definately starts off sweet with tastes of caramel and toffee and is finished nice and bitter with grapefruit and piney citrusy hops.
M-Light to medium bodied and very sessionable.
O-Even tho this was aged for a little it still tastes very nice and i could drink more than the one of cheers.
515 characters
3.88
/5
rDev
+8.7%
look: 4 | smell: 3.5 | taste: 4 | feel: 4 | overall: 4
GR's best release in years. Labelled as an American Red Ale and it's thoroughly modern with clean lifted new world hops. Very good hop presence right throughout and a creamy toffee finish. Amazing that GR has produced so-so beer for so long and then this comes along.
271 characters
3.8
/5
rDev
+6.4%
look: 4 | smell: 4 | taste: 3.5 | feel: 4 | overall: 4
Poured into a pint glass.
A- Pours a mid amber with a hint of red. about an inch of bubly white head that subsides to a nice film. looks pretty good.
S- some nice malts upfront, caramel and toffee. a little nutty and touch of hop in there at the end. but cant really put my finger on anything in particular, just a general hopiness. smells pretty good.
T- straight up, theres the caramel and toffee malts, a touch of something almost roasty but its very faint. finishes a hoppy bitter, a touch grassy, but it seems more bittering than anything else. pretty nice again.
M- mouthfilling and with pretty good body. carbonation is pretty spot on, prickly without being overwhelming. the bitterness seems to last for some time, tickling the back of the mouth. feels good.
O- i really liked this one. could easily sit on a six pack. although on the mouth it seemed a little less complex than it was on the nose. but other than that, very nice, and i hope to see some more limited release stuff on this level from grand ridge in future.
1,037 characters
3
/5
rDev
-16%
look: 3 | smell: 3 | taste: 3 | feel: 3 | overall: 3
Reviewed beer from notes:
appearance: dark copper orange with 1 finger off white head
smell: malts, slight hop aroma
taste: caramel, malts, hops
mouthfeel: mild carbonation, medium body,
overall: Definitely not my favorite beer of this style. Has a big dry bitter finish which makes it hard to drink. glad to try it but don't recommend it.
cheers,
The CPJ
361 characters
3.75
/5
rDev
+5%
look: 4 | smell: 4 | taste: 3.5 | feel: 3.5 | overall: 4
A - Pours a slightly hazy light copper colour with a 3cm off white head that hangs around for a fair while.
S - Some piney and light grapefruit hop notes followed by some light caramel malt character.
T - The hops are there in the taste but are overtaken by dry bread and more caramel malt flavours.
M - Medium bodied, fairly low carbonation with a noticeable bitterness.
O - Unlike my last Grand Ridge beer reviewed here this beer shows that they CAN make very tasty beer when they WANT too. They should concentrate of beers like this instead of the lager/light crap. Well done on this tasty American Amber Ale.
612 characters
3.47
/5
rDev
-2.8%
look: 3 | smell: 3.5 | taste: 3.5 | feel: 3.5 | overall: 3.5
Dark amber colour with a fair bit of haze. Small, creamy, off-white head.
Citrus aroma with some creamy, caramel notes. Quite pleasant.
Mango and passionfruit come through in the hop notes with a creamy malt profile backed up by a touch of nuttiness. Quite nice.
Medium body with moderate carbonation. A touch astringent but it's still decent.
A nice, easy drinking American Red. Not overpowering in any way.
412 characters
Grand Ridge Mirboo Madness from Grand Ridge Brewing Co.
Beer rating:
3.57
out of
5
with
12
ratings