Hammer 'n' Tongs Draught
| J. Boag & Son Brewing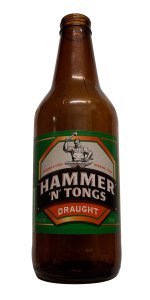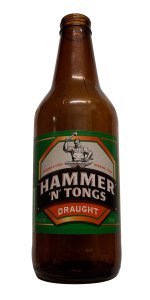 BEER INFO
Brewed by:
J. Boag & Son Brewing
Australia
boags.com.au
Style:
American Adjunct Lager
Alcohol by volume (ABV):
4.00%
Availability:
Year-round
Notes / Commercial Description:
No notes at this time.
Added by jarmby1711 on 06-25-2007
HISTOGRAM
Ratings: 13 | Reviews: 11
Reviews by dansmcd:

More User Reviews:
4.59
/5
rDev
+43.4%
look: 3 | smell: 4 | taste: 5 | feel: 4.5 | overall: 5
This is a very good draught beer, at 4% is just right,also it is a cheap price beer,in Australia a slab of 24 bottles only costs AU$24.
When I poured it into a 7oz glass, it came up with a perfect head on the beer,also the amber colour of this beer is just right, this beer has a 100% taste for a draught beer.
310 characters

2.74
/5
rDev
-14.4%
look: 3.5 | smell: 2 | taste: 3 | feel: 2.5 | overall: 3
Pours a pale straw color with about 1cm of creamy white head that clings to and laces the glass. Smells sightly yeast, but there's not much else there. The taste is clean, no real sweetness, but there's some undetermined hop flavor and a little bitterness there. Mostly though, it's just clean. Finishes dry. Mouthfeel is heavy and a little scraping on the tongue. Overall, it's drinkable, nothing special. Pretty much standard aussie macro, but much cheaper than the standard aussie macro, so it's not too bad.
511 characters
3.04
/5
rDev
-5%
look: 4 | smell: 2.5 | taste: 3 | feel: 3 | overall: 3.5
A: Golden, very very with a capital V carbonated (looks a great lager, extremely alive). Good 2 finger head, with quite good head retention. Great lacing
S: Aussie Lager smell about it - hints of sulphur/acid, some malts...but not much.
T: Is very clean, not much of anything...little malts, little hops, little fruity citrus, little bitter but put them all together & get little of anything!!! Hint of Aussie Macros in Aftertaste about it: eeewww!
M: For such a carbonated looking beer I thought this would dance around a little bit more, quite smooth considering. Light to medium mouthfeel!
D: Good thirsty drinkability, & if there was a choice of this & the mainstream Aussie Lagers I reckon I would choose this, so thats a bonus.
733 characters
2.88
/5
rDev
-10%
look: 3 | smell: 2.5 | taste: 3 | feel: 3 | overall: 3
A: Pours a clear golden color with a decent head that fades to bits of lacing.
S: Fairly mild aroma of grain with a bit of malt sweetness and just a trace of citrus
T: Taste of some malt sweetness and grain. Mild bitterness and a clean finish.
F: Light body, fairly crisp, quite smooth and a bit refreshing.
O: Decent lager that is non-offensive. Good session beer. Goes down easy on a hot day.
398 characters
5
/5
rDev
+56.3%
look: 5 | smell: 5 | taste: 5 | feel: 5 | overall: 5
H&T - maybe the best beer ever brewed by human beings.
When I had my first H&T in February, I didn't know what to expect. 30 cans of beers for only 34AUD sounded very cheap, actually too cheap to be good. But from the first sip straight out of the ice-cold can I felt like I'm in heaven. This was not a casual beer, it was not a product. No, it was an experience.
I'm usually not a brand loyal lad, but I couldn't drink beer from another brand anymore. So I decided to become a secret H&T promoter, friends would actually call me H&T boy. I told everyone to buy a case of H&T's and no one could resist the beautiful red cans that match the color of my heart.
Today, I'm happy, maybe even proud to be part of the H&T journey. I would highly recommend everyone to buy a case of H&T and let the experience sink in their body.
Cheers
837 characters

2.71
/5
rDev
-15.3%
look: 3.5 | smell: 2.5 | taste: 2.5 | feel: 2 | overall: 3.5
Pours a clear, pale amber with furious bubbling at first. Head produced is white, moderate size but dissipating to a thin bubbly film. Some decent lace and slow, gentle bead are the other features. Not too bad.
Smells fairly bland, but a sense of real grain - if adjuncty. Corn is the noticeable one, with some pearl barley notes and a hint of honey - just a side-effect though, there's no actual honey in there. Mild diacetyl on the back and little else. It's really just mild; bland but not offensive.
Taste hits you with that adjuncty sweetness on the assault - sweet corn, rice and barley before it's even past lips. Takes on a very bland, bitter mid-palate which has more resemblance to soda water than any genuine hopping, then a slight chemical/earthy hop note late; very soft and thankfully the palate ends cleanly, but not in a nice, crisp "Ah, what a nice cleansing of the maltiness by hops" kind of way, but rather in a "I've been flavour, you've been a wonderful audience, goodbye forever and good luck" way.
Feel is flat, untextured, un-nuanced. To its credit it's not too thin, but do I care?
Again, it's hard to hate on a beer that has glimpses of taste and doesn't make me want to gag, but it's even harder to like it and enjoy its company. It is what it is; more's the pity.
1,295 characters
2.73
/5
rDev
-14.7%
look: 3.5 | smell: 3 | taste: 2.5 | feel: 2 | overall: 3
Picked up from my local Liquorland, as I hadn't seen it before. I don't hold out high hopes, but thought it was worth a try.
Pours a very clear deep and rather dark golden colour. I mean, you'd still call it "yellow", but it's darker than a lot of pale lagers. Head is fully-formed, but only a single finger of coarse-bubbled foam, that dissipates with crackling until it's just a collar around the edge of the glass. Decent, intricate lacing. Lots of carbonation. Does look a bit standard, but has some pleasant characteristics to it.
Nose is oddly mixed between rank musty grain and manky roasty grain. Certainly something of the toasted notes, which comes across a little like the aroma of urinal cake. There's not a lot to it, in fact you could get away with calling it aromaless, but the bit that is there is just slightly off-kilter.
Pretty plain on the palate. If you imagine all the characters exaggerated, you may get a bit of light peach on the front, with a acetone finish and a big gritty husk and soil character to clean up. But all of this goes on behind its bland and almost watery veneer. Feel is sharp with carbonation, and a gum-smacking acidity that only affects the feel, and not the flavour.
Yep, it's not a great beer. It's not appalling, though, and it doesn't have any really offensive characters (indeed, although it's very bland, it almost hints at some pleasant lager notes). Not something I'd choose to drink often, but I'd choose it over more generic macros.
1,491 characters
2.69
/5
rDev
-15.9%
look: 2.5 | smell: 1 | taste: 3.5 | feel: 3 | overall: 3
For the price point ($30 for 30 cans) this is a nice session lager that easy to drink after a day of yard work or the like. Must be cold though, or that 'adjucty' taste is all you get. Yes, much better tasting beers out there, but this doesn't pretend to be anything it's not. Worth giving a go.
295 characters
2.97
/5
rDev
-7.2%
look: 2 | smell: 3 | taste: 3 | feel: 3.25 | overall: 3

3.04
/5
rDev
-5%
look: 2.5 | smell: 2.75 | taste: 3 | feel: 3.25 | overall: 3.5
Format: a standard brown 375mL bottle with an okay macro label. I was interested to discover that this is produced by James Boag & Sons Brewing, since the bottle tells me it is Australian Beer Connoisseurs in Melbourne. Assumedly produced under licence on the mainland.
Appearance: pours a light amber in colour with very little visible carbonation. A thick cap of white head right from the start, even with a generous pour.
Aroma: light macro lager aroma of adjuncts and reasonable grain. Not brilliant, but quite inoffensive.
Taste: follows the aroma fairly closely - sweet cereal grains with adjuncts. Decent and very refreshing.
Aftertaste: some bitterness comes through to round out the flavours next to the adjuncts and grains.
Mouth feel: light in body without being watery with a higher carbonation. Made specifically for hot weather, it would seem.
Overall: this beer does exactly what it was intended to be. It is not the best beer in the world, nor even the best macro lager. It is reasonable to taste and very refreshing. The main reason my overall rating is higher than the rest is due to the price - this is the cheapest beer I have ever seen in Australia at $33 for 24 x 375mL bottles or $30 for 30 x 375mL cans. I think they've pretty much got it right and picked their market well. It helps that it is a far better beer than some more expensive beers, such as the wretched Carlton Cold I just drank.
1,422 characters
3.75
/5
rDev
+17.2%
look: 3.75 | smell: 3.75 | taste: 3.75 | feel: 3.75 | overall: 3.75
i first tried this beer 3 years ago. it was alright back then I'd rate it back then a 2.75 out of 5 even for look, smell, taste, feel and overall. Now its good. They have improved this beer hugely, this beer is a nice easy to drink draught beer. And $35 for a 30 block of cans is a bargain for a great improved beer it seems the brewers of this beer want to keep improving it and maintain an affordable price for this beer, for blokes like me on a tight budget that want good value for money. Overall i give it a 3.75 out of 5. Drink this beer ice cold and pour into a beer glass and you got yourself a great beer for a cheap price, can't go wrong. Even says on the carton "now with more hops, our crusade for beer never stops"
727 characters
3.2
/5
rDev 0%
look: 3 | smell: 3 | taste: 3.5 | feel: 3 | overall: 3
The label syas this is brewed by Freeman and Sons but my understanding , with room for debate , is that it is contract brewed by Boags for liquor outlets .
it sells for $25 a slab , so expectations were not high.
I drank it out of the stubby so its appearance is unknown really.
The smell and taste are quite malty , bordering on a Euro Pale Lager.It lacks any metallic taste of many macros and overall is a reasonable quaffer.
It has plenty of effervescence and finishes a little sweetly and doesnt have a great deal of bitterness.
Overall a good value quaffer, not designed to test the senses but more enjoyable than lots of the big macros
646 characters
Hammer 'n' Tongs Draught from J. Boag & Son Brewing
Beer rating:
3.2
out of
5
with
13
ratings