Dismiss Notice
Barking Duck
| Matilda Bay Brewing Co.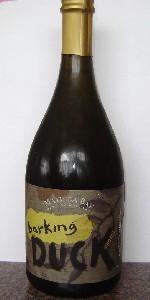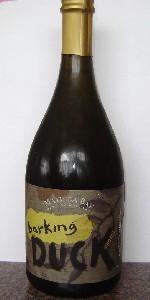 BEER INFO
Brewed by:
Matilda Bay Brewing Co.
Australia
matildabay.com.au
Style:
Saison / Farmhouse Ale
Alcohol by volume (ABV):
5.50%
Availability:
Rotating
Notes / Commercial Description:
No notes at this time.
Added by jamie2dope on 05-08-2006
This beer is retired; no longer brewed.
HISTOGRAM
Ratings: 11 | Reviews: 10
Reviews by jamie2dope:
4.25
/5
rDev
+18.1%
look: 4 | smell: 4 | taste: 4.5 | feel: 4.5 | overall: 4
Had this one last night in downtown Melbourne on tap. When I asked the bartender what kind of beer it was, he simply replied, "A revelation!" Figured I'de better give it a go then. Poured a very cloudy murky golden color, with a perfect looking white 1 inch heading. Smell was very peppery, with herbs and even a slight fruit aroma coming through. When I first sipped the brew, I was struck straight away with its immense usage of spices. I also picked up on some banana flavors and even bit of orange coriander...at the time I figured it was a Witbier. When I gave one of my buddies a sip, he picked up on some cinnamon flavors, which to my surprise, were bursting through on this beer. Mouthfeel was medium bodied, sharp and lightly carbonated, overall just right for my liking. This was a beer that I could have sat down with all night, savoring each sip as if it were the last. If you see it anywhere, I strongly suggest you try it. Cheers.
944 characters
More User Reviews:
3.76
/5
rDev
+4.4%
look: 3 | smell: 4.5 | taste: 3.5 | feel: 4 | overall: 3.5
*EDIT: I decided to say that this is one of the most interesting beers I've reviewed in ages, and I really enjoyed reviewing it, even though it's not exactly my dream beer. Barking Duck has a lot to it, so try it. Also, it goes really well with cracked pepper water crackers and Camembert, like bieres de garde do.*
My first Saison too afaik. If this beer is characteristic of the style, then it's sort of like a biere de garde only with less alcohol and heaps of tart spice added. It's great to have this as a change, but I don't know if I'd drink it all the time...
App: Large head forms but dissipates fairly quickly over a pale gold body which looks nice in my Tripel Karmeliet glass. Lacing isn't very evident but the glass was wet. Carbonation is constant but bubbles form too slowly to support the head. Acceptable, but unimpressive.
Smell: Very complex, but lemon zest is the first noticeable characteristic. I fear my nose might be too out of practice to identify all the other notes. Some kind of aromatic oil is noticeable, similar to ti-tree oil but not nearly as vulgar. Pine-like? Orange and coriander both appear at the same time. Damn... maybe I served this too cold. Hops are there, but I have no idea what types they've used. As it opens up, orange dominates. Aromas are extremely complex and intriguing.
Taste: Also very complex. First of all, it's mouth-puckeringly tart and astringent. Flavours flow by, and leave you with a medicinal aftertaste on the palate - rather vinegary. Tastes a bit like it's been left out to turn to vinegar, but it's probably the cassia bark. Predominant flavours are those of a tart white wine. I've let it warm up a bit, and I'm enjoying it less because it tastes more and more like a glass of Riesling. Although the flavours are complex, I'm not a huge fan of the taste as it warms up. It would be great on a hot summer's day, served at about six degrees, but warmer than that and it starts to taste a bit off. All the unpleasant characteristics linger on the palate - the tongue just tastes an interesting, bitter ale.
This beer explodes in the mouth. The flavours are very potent and delivered like a knockout uppercut. It's also quite drinkable, since I've nearly polished off a 750mL bottle all to myself, but there's no way I'd crack another one in the same night.
Barking Duck tastes very Belgian, for an Aussie beer - but I don't know if it's really my thing. It would make a great talking point, and I regret drinking this alone... but at least I had my fill of it! I'll probably pick up another one to have with friends, since I assume it's limited edition. I have a lot more respect for Matilda Bay now after their decision to put out a clear-bottle Redback, to compete with Corona, Extra Dry, and other bland yellow bourgeois-looking yuppie lagers. This beer is the real deal, try it and see if you like it.
2,888 characters

4.02
/5
rDev
+11.7%
look: 3.5 | smell: 4 | taste: 4 | feel: 4.5 | overall: 4
impressive looking 750ml bottle. seriously, this is close to the best packaging ive seen for a beer. has a blurb about the beer on the label which even suggests food pairings. nice touch.
best before 1/08. 5.5%abv
first pour is fairly clear pale yellow. low carbonation. formed a small white head which quickly faded to a pretty sad looking lace.
about three more glasses worth in the bottle so we'll see how subsequent pours go with head retention.
spicy, almost wine like aroma. very interesting. strong yeast with a small dose of funk. and im not a big fan of funk. this has just about enough for me to notice without getting overpowering. just about what i expect a "farmhouse" to smell like.
refreshing and slightly drying. a bit winey with a strong yeast presence. some sweetness keeps things easy to drink. carbonation seems a bit higher in the mouth, makes it all seem like its dancing on the tongue.
tough to mark this by style being my first, but it is a quality, enjoyable beer. overall though, its certainly something worth trying.
1,060 characters
3.42
/5
rDev
-5%
look: 3 | smell: 3.5 | taste: 3.5 | feel: 4 | overall: 3
This is a strange beer. Firstly, I don't like it to drink but it's really interesting and I don't know exactly why I don't like it. I don't think it's bad it's just that I don't like it. I drank this out of a Weizen glass for no other reason than it was there. I got the temperature about right, around 10 degrees, and got on with it. There was a good head of very fine foam that lasted a long time and left some lacing. The colour was a bit off-putting as it looked like urine. The smell was quite intense but I couldn't identify anything in it. Lemond rind I think Mello said and it's in there for sure. I have no idea what Cassia bark is like but it could be the big spicy clove-like note. It's tart but pretty hollow on the palate. There's no mid-palate malt or anything else for that matter which is why I don't like it. I guess its the style. My wife has an amazing palate and nose and she gave up trying to pin-point these flavours but said it was like a sour fizz-wizz. It's also a bit like a dispirin in water. I'm glad this thing is out there becasue it's far from boring, I just don't like it. Can I be any more ambivalent than that?
1,144 characters
4.32
/5
rDev
+20%
look: 4 | smell: 4.5 | taste: 4.5 | feel: 4 | overall: 4
After some searching, managed to stumble across this in Northwood Cellars.
Nice champagne bottle style, crown sealed.
A: Pale gold / lemony orange. Hazy. Big white rocky head, some bubbles.
S: Fleshy yeast at first, then a smorgasbord of aromas. Citrus peel, lime juice, star anise, pineapple, musky perfume. Then after some time in glass, fresh, green hops.
T: Fruit & spice. Slight tartness - lemon sherbet. Wit-like in tang, spice, & flavour. Lingering herbaceous aftertaste. Subtle ginger ale note, and a slight medicinal herbal note, probably the cassia bark.
M: Medium body, full mouthfeel. Nice acid tang, a roof-of-the-mouth astringency from the spices, medium bitterness closing it off.
D: Very, very drinkable. Like a Wit with some additional spice notes. Refreshing, interesting, and in 750mL bottle, doesn't vanish as quick as others....
867 characters
3.43
/5
rDev
-4.7%
look: 4 | smell: 3.5 | taste: 3.5 | feel: 3.5 | overall: 3
Appearance - Gold, small head in goblet, high carbonation.
Smell - Sweet and fruity, not particularly strong.
Taste - Quite sweet and acidic. More complex and enjoyable when the yeast sediment from the bottle is added.
Mouthfeel - Low carbonation, average texture.
Drinkability - A bit challenging, due to the sourness.
Overall - Quite different from saisons I have had previously. This is a little too sour for my taste.
426 characters
3.7
/5
rDev
+2.8%
look: 4 | smell: 4 | taste: 3.5 | feel: 3 | overall: 4
Appearance - Light, frothy head that disappates fairly quickly. Very pale, lemony colour and slightly cloudy.
Smell - Yeasty and citrusy, dominated by unripened pinapples. Inviting, fresh smell vaguely reminiscent of a flemish sour ale.
Taste - Unexpectedly sour punch for a first impression. Dry, refreshing lemon/lime zest. Difficult to describe - more reminiscent of a Belgian wit than a sour ale upon drinking.
Mouthfeel - Fairly fizzy, nothing special. Quite watery, with slightly oily texture.
Drinkability - Easy to drink because it's light and refreshing, but would be much better suited to a hot summer's day. Not as great during the winter (when sampling), so the drinkability score reflects a more ideal drinking atmosphere. All in all, great attempt from an Aussie brewery at a unique style... keep 'em coming Matilda Bay.
847 characters
2.94
/5
rDev
-18.3%
look: 4 | smell: 2.5 | taste: 3 | feel: 3 | overall: 3
Went in very blind on this one as I didn't know the beer was styled as a saison at the time. Very wit in apperance; light lemon gold, thin / nothing happening head. Citrus and lemon noise, faint, with some underlying spice. Very very similar to taste. More lemon and spice, and the lemon is very overt for the style. Nice balance on the finish with medium strength spices.
374 characters
3.8
/5
rDev
+5.6%
look: 3.5 | smell: 3.5 | taste: 4 | feel: 3.5 | overall: 4
A - Poured from the 750ml bottle quite a hazy dark lemon yellow into a tulip glass with a couple of centimetres of frothy white head that falls away quite quickly.
S - A cirtic, lemon sourness up front, some subtle spice and earthy notes in the back ground.
T - Again citric lemon notes but with a stronger earthy flavour coming through (is that the casia bark they mention on the label?). Wheat malt is also coming through quite strongly.
M - Quite light bodied with a crisp carbonation.
D - A decent, drinkable & interesting beer from Matilda Bay.
549 characters
3.48
/5
rDev
-3.3%
look: 4 | smell: 3.5 | taste: 3.5 | feel: 4 | overall: 3
Appearance - 4.0
Does not look like a duck, or for that matter a dog, moreso a hazy golden glass of beer with a thin white head.
Smell - 3.5
Wow, seriously funky aromas of lemon rind, a lavender-like floral whiff, sour lemon juice and a little ginger. So complex, but it doesn't make me excited to taste it.
Taste - 3.5
Cassia bark has possibly imparted a little too much character. I've got to say, though, I do like this. Tart and refreshing, wheaty, lemony, lavender, ginger, acidic and very complex.
Mouthfeel - 4.0
Spot-on for the style, crisp and lively, almost creamy smooth. Gets flat with warmth.
Drinkability - 3.0
I'd try this again, although most uninitiated would steer away from something this challenging. To full-on to session with.
OVERALL - 3.6
There must be few beers in the world under 6% with this much character and flavour. The main exception would be the great Belgian lambics, but I think this is up with them for character. Possibly deserves a higher score, but it is not as drinkable as Saison Dupont and the best saisons.
1,054 characters
Barking Duck from Matilda Bay Brewing Co.
Beer rating:
3.6
out of
5
with
11
ratings