Dogbolter
| Matilda Bay Brewing Co.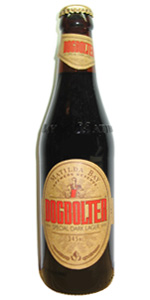 BEER INFO
Brewed by:
Matilda Bay Brewing Co.
Australia
matildabay.com.au
Style:
Munich Dunkel Lager
Alcohol by volume (ABV):
5.20%
Availability:
Year-round
Notes / Commercial Description:
Dogbolter is a Munich-style dark lager. Central to this style is a rich malt character reflected in the make-up of the grist. We carefully selected six different malts including Pale, Crystal, Wheat, Chocolate Malt and Chocolate Wheat to deliver a rich caramel, chocolate and toffee flavour. Chocolate malts also give Dogbolter its dark ruby colour.
25 IBU
Added by BeerAdvocate on 05-28-2002
Ratings: 34 | Reviews: 26
3.33
/5
rDev
-9.5%
look: 3.5 | smell: 3 | taste: 3.5 | feel: 3 | overall: 3.5
Dark brown in colour with red tinges when held up to light. A few centimetres of head that falls away to a thin whisp pretty quickly. Lacing left down the glass.
Some chocolate and dark fruit on the nose at first with some smokiness in the background.
Wow. The smokey flavours come through in the taste. Almost too much so, almost like a rauch. Malts flavours are there too.
Medium mouthfeel, moderate carbonation.
Pretty complex beer that is quite tasty. A bit too smokey to be a session beer as that would get over bearing but still good for drinking every now and then.
576 characters
3.87
/5
rDev
+5.2%
look: 3.5 | smell: 4 | taste: 4 | feel: 3 | overall: 4
Appearance: Very dark brown with ruby/mahogony highlights against the light. Average head on hard pour subduing to a nice sticky lace.
Smell: Malty sweetness, with hints of sweet toffee and cocoa. Smell isn't very strong, so it's not giving too much away. Candied dark fruits lightly present, growing stronger as beer warms. Very enticing... now to actually taste.
Taste: The first thought that comes to mind is: excellent taste. This is quite a complex beer with a few dimensions to try and pin down. Strangely reminiscent of some belgian abbey ales. Raisins, roasted wood. Distinct malty backbone with caramel and toffee coming through ever stronger with each sip, with a hop presence cowering weakly in the shadows. Amazing and complex brew from start to aftertaste.
Mouthfeel: Certainly a barrage of bubbles to deal with, but nothing unpleasant. Fairly dry finish.
Drinkability: Very drinkable brew, no doubt in part to its average alcohol content. This is one that I could settle on for a few pints at the pub with friends and I don't think my pallette would ever numb to its complexity. Great beer Matilda Bay... keep up the great work.
1,146 characters
3.97
/5
rDev
+7.9%
look: 3.5 | smell: 4 | taste: 4 | feel: 4 | overall: 4
345ml brown bottle. 5.2%abv. best before 05/07
dark day outside which gives it a darker brown appearance, but holding to light does show some redder highlights. head formed about two cm, but settled quickly to a bit of lace. low carbonation.
sweet, slightly bready malt aroma. some chocolate manages to join the party. most of what comes through is pretty well weighted towards the sweet side of things. not much hop presence in the aroma, but that fits the style.
seems a pretty safe way to go about things as it lacks any strong characteristics. somewhat like i remember youngs double chocolate stout. not bad, just safe.
malty and smooth are all you need to know. some chocolate overtones with a cleansing finish. sweet, but not cloying or too heavy. full mouth feel. again, little hop presence.
i had pretty high expectations for this, and maybe it did fall just a little short. still very nice, but not as complex as i was hoping.
949 characters
4
/5
rDev
+8.7%
look: 4 | smell: 4 | taste: 4 | feel: 4 | overall: 4
5 October 2006, Best Before Jan 07
Black colour with a red mahogany hue. Medium sized tan coloured head left a good cap and some lacing. Aroma of chocolatey and toffee malt, sweet caramel and some leafy hop. Smokey, chocolatey, chewy caramel and roasted malt flavour with a slight sweetness. Medium bodied and mouth filling. A caramelley, malty dark lager.
359 characters

3.46
/5
rDev
-6%
look: 3.5 | smell: 2.5 | taste: 4 | feel: 3.5 | overall: 3.5
Dark chocolatey colour, very good head - unusual for a dark beer, at least one brewed outside Belgium. Quite nice-looking.
Very sour aroma, unripe cherries is the major element here. Slight darkish ale smell (coffee sort of thing) too.
Taste - wow, that's actually very interesting. This palatte is a bit of a journey. It starts off sour and light-ish and finishes rich and chocolatey, but not too bitter or too strong. It's complex enough to be respected and yet light enough to drink. All I can really say is it raises the standard of Matilda Bay beers a little. Not too bad.
583 characters
4.92
/5
rDev
+33.7%
look: 4.5 | smell: 5 | taste: 5 | feel: 4.5 | overall: 5
I was lucky enough to have a few pints of this just recently and was amazed at what a fantastic brew it was. Heavy and creamy, smells absolutely divine. The smell reminds me of Cottee's chocolate sauce for ice-cream, and tastes similar too. Very strong chocolate notes, and a little bit of subtle coffee floating about. Top notch beer.
335 characters

3
/5
rDev
-18.5%
look: 3 | smell: 3 | taste: 3 | feel: 3 | overall: 3
i begrudgingly rate this a 3 as its still an ok beer the old dogbolter, but since CUB got their grubby mitts on it, its nothing like the classic of old. where as now its pretty much a dark ale, it used to be a classic old ale in the tradition of some of the U.K's best.
pours the color of brown coal, and has a full beady head thats a lightish brown in hue. smell of burnt malts, some dried fruits, chocolate and some hoppiness poking its head in. good roasted flavor, chocolately, traces of raisins, treacle and some zesty tones. firm hop bitterness that hangs for some time and finishes quite dryly. a fair bit of bubble action happening there, its surprisingly clean. alas, lacks body, and thats where it used to be great. its also nowhere near as flavorsome and complex as it once was.
still as good an example as youll get of the style here in aus, my mind can only wander back and be reminded of not just when this was one of australias best, but the worlds (and im not kidding). thanks again must go to my favorite brewery, CUB, for doing what they do best.
1,072 characters
3.85
/5
rDev
+4.6%
look: 3.5 | smell: 3.5 | taste: 4 | feel: 4 | overall: 4
Deep brown bordering on black in colour. Nice off cream coloured head, low carbonation.
Rich and deep aromas of toffee, burnt coffee and slight greeness from the hops.
The flavours on the palate are broad and enjoyable. Alcohol-soaked dark cherries, choc, coffee, maple syrup and other dried red fruits in what is slightly bitter, slighty dry and really tasty!
Super beer from a brewer I have little knowledge of besides Redback. Here in Melbourne I have hardly seen this about, but I will track down some more!
520 characters
3.58
/5
rDev
-2.7%
look: 4 | smell: 3.5 | taste: 3.5 | feel: 4 | overall: 3.5
A very handy little dark lager, nice roasty coffee malt flavours, with a decently bitter finish, very good beer, if only more aussie brewers made good dark lagers like this.
173 characters
Dogbolter from Matilda Bay Brewing Co.
3.68
out of
5
based on
34
ratings.