Dismiss Notice
Long Shot
| Matilda Bay Brewing Co.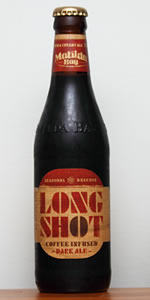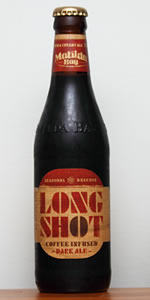 BEER INFO
Brewed by:
Matilda Bay Brewing Co.
Australia
matildabay.com.au
Style:
English Porter
Alcohol by volume (ABV):
6.00%
Availability:
Limited (brewed once)
Notes / Commercial Description:
No notes at this time.
Added by ADZA on 07-07-2010
This beer is retired; no longer brewed.
HISTOGRAM
Ratings: 9 | Reviews: 8
Reviews by maddux91:
3.7
/5
rDev
-2.6%
look: 3.5 | smell: 3.5 | taste: 4 | feel: 3.5 | overall: 3.5
Had this from a bottle poured into a wine glass, was at a friend's house and being a uni student, he had about 2 clean glasses.
A - Very nice dark caramel colour, the most impressive part of this beer.
S - From the look of this beer, I was expecting a very strong coffee aroma. I could smell coffee, but it wasn't as strong as expected, notes of chocolate picked up also.
T - Pretty nice. Chocolate, coffee are two dominant flavours. Strange taste of something like breakfast cereal, like basic oats.
M - Alright, nice and velvety, alcohol not too dominant but certainly present.
D - Coffee flavours are good every once in a while for a beer, think that one a night is enough for me.
A valiant attempt from Matilda Bay.
726 characters
More User Reviews:

3.73
/5
rDev
-1.8%
look: 4 | smell: 3.5 | taste: 4 | feel: 3.5 | overall: 3.5
As a coffee beer I think this pretty much nails the concept.It looks great - opaque blackness with some ruby edges and a solid two finger head and good lacing. The nose is not "reminiscent" of coffee, it IS coffee. Again in the mouth is that fresh coffee flavour. It actually tastes of coffee beans which for me was a tad too much. They added a kind astringent bitterness rather than a pleasant bitterness. There are some other slight hints of chocolate and cocoa but it's all about the coffee. Would be great with food or dessert, obviously a tiramisu would be great. If you like coffee and you like dark beer, there's not much to dislike. Definitely the best offering from Matilda Bay for quite some time.
707 characters
3.9
/5
rDev
+2.6%
look: 4 | smell: 4 | taste: 4 | feel: 4 | overall: 3.5
345 ML bottle poured into a tulip
A-- Poured a dark reddish black, settling to and opaque jet black with touches of ruby. Just about a one finger head that is mocha colored. Some decent head retention and a little bit of shown carbonation.
S-- Smells like what it is named. A long shot. Coffee, more coffee, chocolate and roasted malts. Pretty straight forward and good nose.
T-- Coffee and chocolate. The chocolate is bitter and there is also a bit of coco in this and a little bit of spice from the hops.
M-- Higher than normal carbonation but still reasonably heavy. Lots of coffee and good touches of bitter chocolate to cut through the coffee. Tastes like a strong iced coffee without the ice cream. Hop bitterness distracts you from the coffee for a moment.
D-- Well done. May be a touch over carbonated but then the beer might be just tar like and hard to drink. More carbonation does make this more lively. ABV is well hidden and rare to see a mainstream craft brewery in Australia do something at 6%. This works quite well. One in a sitting is enough but would come back for more of this. Solid beer from Matilda. Also did Alpha King well so this could be a trend.
1,178 characters
3.85
/5
rDev
+1.3%
look: 3.5 | smell: 3.5 | taste: 4 | feel: 4 | overall: 4
Pours a reasonably thick black-brown, quite viscous out of the bottle. Head is filmy, just a collar of espresso-crema lacing around the edge of the glass. Looks pleasantly heavy at least, and there's some nice static carbonation when it's swirled, implying some excellent body.
Nose is pleasantly sweet, but robustly roasted, giving a hint of depth and darkness. Even just a whiff of something smoky coming through, which just emphasises the darkness nicely.
Nice entry, smooth on the body and pleasantly roasted. Sweetness wells mid-palate, giving a pleasant impression of chocolate and vanilla, before it dries out a little, leaving some dark bitterness on the back. A well developed and very flavoursome palate, without being overwhelming. Nicely done.
A very nice beer - lots of complexity for its size, but staying pleasant and approachable. Out of interest, I drizzled a little on some cookies and cream ice cream and it made quite a tasty addition.
959 characters

4.17
/5
rDev
+9.7%
look: 3.5 | smell: 4 | taste: 4.5 | feel: 4 | overall: 4
Matilda Bay - possibly one of the best Australian breweries. I will have more reviews of their fine brews to come, however I was eying off this fine beverage at the local Murphy's (Dan), and simply had to try it over it's fellow brethren.
Poured from 345ml bottle into a Guinness pint glass.
A: The brew (both head and body) had little fizz... in fact the tan head was almost non-existent... certainly not a bad thing by any stretch of margin though. The body is very deep ruby red presenting as obsidian in most lighting situations.
S: Roasted chicory, burnt coffee, and dark chocolate; very inviting indeed!
T: Nice! The coffee flavour gives this stoutish ale an espresso front that holds through the chicory mid-palate and finishes with bitter (oily) hops. As a balance it is well thought out and executed. Also no signs of common macro nastiness (metallic tastes, bad yeast characteristics, pride of ringwood hops...).
M: There's a creamy consistency that all good stouts deliver. Carbonation is balanced, and the quality of the hops brings an oily subtlety to town (and buys it drinks).
D: Quite a good drop if you have a comfortable wing-back chair and a toasty fire in the middle of winter, it's a quaffer in my books: suitable to be drunk in healthy gulps. It's very similar in taste profile to Sheaf Stout (which was my first BA review) without the macro nastiness (but slightly more expensive). Could I drink more than a single in one sitting? Hell yes! I do however like full flavoured ales - so fellow beer lovers who are intimidated by strong ales beware! (should such a creature exist).
Food match: Wood fried pizzas, roast beef/lamb, roast vegetables.
1,673 characters
3.83
/5
rDev
+0.8%
look: 4 | smell: 3.5 | taste: 4 | feel: 3.5 | overall: 4
First things first i cant believe that this brew is only available from Dan Murphy's especially considering how many other bottleshops stock the rest of their lineup i just think its not right anyway it pours a nice jet cola colour which lets no light in whatsoever with decent carbonation that leaves behind a creamy two finger cappicino laced head and sporadic lacing,the aroma is quite similar to a black coffee with some roasty malts and some dark chocolate on the nose,the mouthfeel is only just above average and to be honest i was expecting it to be abit thicker and creamier after reading the spiel on the label and i must admit i find the taste of this brew alot better than the mouthfeel with tastes of dark black coffee,dark chocolate,roasted malts and it finishes with a coffee/hop bitterness which beautifully evens out this drop to make it a nice companion on a cold winters night next to the fire and to be quite honest ive got two complaints about this brew abeit they be minor the first one is why not make this brew available to all the other bottleshops that support this brewery 365 days of the year and the second is that it could have a creamier/fuller mouthfeel which would put this brew right up there in my mind.
1,237 characters

4
/5
rDev
+5.3%
look: 4 | smell: 4 | taste: 4 | feel: 4 | overall: 4
Dark with mahogany red highlights. Thick tanned head and reasonable lacing.
Dark chocolate aroma with coffee and charcoal
Smoky, coffee taste, tobacco and chocolate.
Very drinkable yet quick flavorsome. A great balance with some moderate balanced hop bitterness. Probably one of the top beers form Matilda Bay.
313 characters

4.05
/5
rDev
+6.6%
look: 4 | smell: 4 | taste: 4 | feel: 4.5 | overall: 4
A: good head and good lacing actually 4
S: you definitely get that "coffee beer" smell- umami/feces and a sort of licoricey smell (I'm not sure if it's licorice but I can't really think of anything more appropriate to describe it). It's really not too far off something like Peche Mortel, I can't argue that they've captured what they would have set out to here. Also some lactic sweetness. The smell is very pleasant, actually. 4.5
T: Watery roast, some astringency and maybe a bit of sweetness. I like this, but it's not as strong as an English stout. I think this beer would better be classified under porter actually. 4
M: Seems a bit thin for an stout, but for a porter it's good. I also don't mind a bit of wateriness anyhow. 4.5
D: Considering you can't get any other coffee stouts for this price, a really good effort in my opinion. Definitely throws up some good flavour without sacrificing drinkability. While I personally might not be the biggest fan of stouts, I find this a peculiarly tasty and drinkable example and will probably buy some more. 4
Edit: I did buy some more and it's still a fine beer. Recommended.
Also, shouldn't this be a textbook American Stout seeing as it's brewed with coffee? What's with the tendency for every beer to come out of Australia automatically being classified under the English variant of the style?
1,355 characters
Long Shot from Matilda Bay Brewing Co.
Beer rating:
3.8
out of
5
with
9
ratings