Turbo Shandy
| Hoppin' Frog Brewery
BA SCORE
79
okay
55
Reviews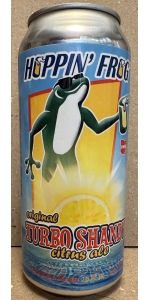 BEER INFO
Brewed by:
Hoppin' Frog Brewery
Ohio
,
United States
hoppinfrog.com
Style:
Fruit / Vegetable Beer
Alcohol by volume (ABV):
7.00%
Availability:
Summer
Notes / Commercial Description:
No notes at this time.
Added by Beejay on 06-26-2010
Reviews: 55 | Ratings: 176
2
/5
rDev
-41.7%
look: 2 | smell: 2 | taste: 2 | feel: 2 | overall: 2
Live review. Poured from the 22 oz. bomber that I bought at Save-On Tobacco & Beverage in Mentor, Ohio a few days ago for $6.99 into my Cooperstown Beverage Trail pint glass. No observed "best by" date but this was just released so I am sure that it is fine.
A Straw yellow, lemonade appearance with very little and short lived head with an initial effervensence of carbonation rising up and bursting at the surface. Not that impressive, even for the style since it looks like a soft drink. 2.0
S Smells a lot like that lemonade mixed with alka seltzer. I do not smell any alcohol, incidentally. I am not impressed with the smell of this beer, though. 2.0
T Well the taste springs right from the suggestion of the smell for me. It tastes like a mix of a strong (concentrated) lemonade, alka seltzer and Bartles & James cooler. I am really sorry but I do not like the taste of this beer. 2.0
M Really off putting. The effervesence noted in the smell and the active carbonation make the beer dance across your tongue but it reminds me too much of the alka seltzer and Bartles & James mentioned above. 2.0
D Good I guess on the hottest of days but then again I would really prefer a Country Time Lemonade over this. 2.0
Notes: A surprisingly dissapointing beer from a favorite local brewer who I really believe, outside of this particular beer, have created some excellent brews. I suppose I will simply have to purchase the other Hoppin Frog beers because this one I will likely avoid.
1,489 characters
3.84
/5
rDev
+12%
look: 3 | smell: 4 | taste: 3.5 | feel: 3 | overall: 5
Pours a clear light golden color with a tiny white head and very low carbonation.
Scent of fresh lemon juice, sharp, light malts, and a touch of grassy/leafy hops. I'm finding a trend with Hoppin' Frog's seasonal beers (Frog's Hollow and Frosted Frog) that they smell like the season or holiday they represent. While I would prefer more hoppiness I still enjoy this scent.
Taste of juicy lemons, light bitter hops, and finishing with crisp bready malts. It has a nice flavor, but it is slightly lacking, I think this is because the lemon is a bit overbearing. Even with that complaint, I can still say that this is a good beer.
Mouthfeel is light bodied and clean, the carbonation is a little lacking, though.
712 characters
3.47
/5
rDev
+1.2%
look: 2.5 | smell: 3 | taste: 3.5 | feel: 3 | overall: 4.5
Live review. Purchased for $6.99 at Save On in Mentor, OH. Served at fridge temp into my Sam Adams glass.
The pour produces a cloudy apricot colored brew, with a tiny white head which disappears almost instantly. No lacing .. nothing being generated by the neucleation site at the bottom of my glass.
The nose is very light, fruity, citric and sweet in nature.
Taste is a refreshing mix of lemon zest, orange zest and perhaps the flavor of "Sprite". Perhaps a little apple tartness in the finish. No alcohol presence at all ... one could pound these down and get hammered without knowing what hit them. Mouthfeel is medium light and crisp. Carbonation is way too low, imho. Seems to be around 1.5 volumes, and I think it should be double that at least.
Drinkability is a home run. I don't think anyone would turn this down on a hot Summer afternoon .. or any other time for that matter. As I said before, at 7% abv (still can't believe it), this is dangerously drinkable. You could probably chug this like pop, and just want another.
I've always enjoyed Hoppin Frog brews. While this particular style isn't exactly my "cup of tea", I recognize it for what it is .. a thirst quenching Summer beer. It would have scored much higher in my book had it had some decent head, head retention, lacing and carbonation. That said, I'm still enjoying this very much. You definitely owe it to yourself to pick up one of these and decide on it for yourself.
Na Zdravje!
1,462 characters
3.07
/5
rDev
-10.5%
look: 3.5 | smell: 4 | taste: 2.5 | feel: 3 | overall: 3
From what I've heard about this beer Fred Karm asked his wife what type of beer would you like me to brew you. Supposedly she's not into all of his big beers that we on this site have come to love. Anyways I guess she requested make a beer that tastes like I'm drinkin' Country Time lemonade....so here we have Turbo Shandy from Hoppin' Frog. Appears a golden hazed apricot tone with a bright white fizzy head, forms fine speckled lacing that is pretty minimal. Aroma is blasting with citrus peel and lemon house cleaning product phenolics, even a bit medicinal natural flavoring additions which I guess he contacted the supplier of Country Time lemonade to procure these additions. I've had other bottled versions of this but this hides the alcohol and gives a strong lemon/lime soda pop sensation, very sweet with upfront with rounded citrus peel harshness and mild spice additions (maybe?). As close to candied alcoholic lemonade I've ever had, mouthfeel is spritzy with ample carbonation body is in the light to medium range. Drinkability, well it's summer and it's hot as hell, I guess I'll try a seven percent lemonade alcopop. Not real beer like but not as bad as a Mike's Hard Lemonade, not my go to beer. I don't apologize for trying this is was easy to consume and pretty tasty I suggest splitting the 22 with your lady.
1,330 characters

3.94
/5
rDev
+14.9%
look: 3 | smell: 4 | taste: 4 | feel: 4 | overall: 4
A: Hazy pear in color, white head that dissipates very quickly.
S: A very bright beer. Citrus throughout. I can't help but thinking this smells like orange juice and sprite with a beer kicker. Very interesting indeed.
T: Very interesting indeed. The orange and sprite come through in the flavor a whole lot. Towards the end there is a little spice kick, perhaps clove like in flavor. There is just a hint of an almost belgian like flavor in the finish.
M: Clean, refreshing, and there is a certain sharpness in the citrus. Highly carbonated but it seems to work for the style.
D: Very drinkable, this could be dangerous.. You can taste a little booze, but not enough to send up warning flags. I think this beer could do some major damage on a hot day. Delicious, and perfect for the summer.
805 characters
Turbo Shandy from Hoppin' Frog Brewery
3.43
out of
5
based on
176
ratings.