Imperial American Porter (2010 Beer Week Collaboration With Rocky River)
| Hoppin' Frog Brewery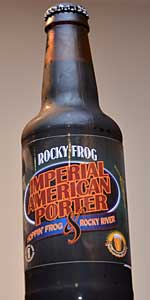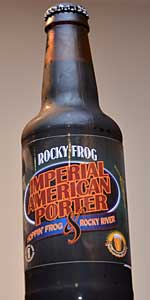 BEER INFO
Brewed by:
Hoppin' Frog Brewery
Ohio
,
United States
hoppinfrog.com
Style:
American Porter
Alcohol by volume (ABV):
6.90%
Availability:
Limited (brewed once)
Notes / Commercial Description:
No notes at this time.
Added by jampics2 on 10-26-2010
This beer is retired; no longer brewed.
Ratings: 11 | Reviews: 10
Reviews by aanakinskywalker:
More User Reviews:

4.39
/5
rDev
+6.6%
look: 4 | smell: 5 | taste: 4 | feel: 4.5 | overall: 4.5
Poured from 12oz bottle into snifter.
Barfwin graciously included this bottle in trade back in June.
Aroma: Fruity grape, and almost perfumy floral aroma hits you in the face initially. Earthy, roasted malt, surprising coconut, and sweet, sappy maple syrup.
Appearance: 1 finger light tan head all but disappears to a thin splotch of foam on the beer's surface. Dark brown, nearly opaque coffee color.
Flavor: Dark chocolate up front. Well-balanced hop bitterness, and a bit of a mineral character. Mildly bitter finish. Extremely smooth, dark malty flavor.
Mouthfeel: Medium-low creamy carbonation, medium-high, viscous body.
Overall: I really dug this one. From the complex, fragrant aroma, to the chocolaty, well-balanced flavor, to the smooth mouthfeel, I wish I could find this one again. If you're able to find a bottle of this, I highly recommend trying it!
869 characters
4.47
/5
rDev
+8.5%
look: 4 | smell: 4.5 | taste: 4.5 | feel: 4.5 | overall: 4.5
dark brown in color and nearly completely opaque. A huge brown head then rose up over the top of it and took forever to settle down, only actually fading depositing large amounts of side glass lacing.
Lots of wonderful coffee notes, fresh brewed coffee with that delicate sweetness added in that just made the whole thing really come together wonderfully. Smooth mellow taste here. Coffee right up in your face, smooth notes of sugar mixed in along with hints of light vanilla. Wonderful feel here with deleicate carbonation that avoided the too filling side of it
565 characters
4.2
/5
rDev
+1.9%
look: 4 | smell: 4 | taste: 4.5 | feel: 4 | overall: 4
12 oz bottle, 6.9% abv. Very close to black in color. Nice tan head, which holds together very well. Maybe some ruby highlights. Good looking porter.
Cocoa powder, caramelized sugar, sharp roasty feel. Some dark chocolate in there as well.
Roasty flavors up front, with caramel. Some sweetness. Dark chocolate, and some bitter cocoa. Nice balance.
Medium body, nice carbonation. Alcohol is hidden well. A very nice porter here.
433 characters

3.95
/5
rDev
-4.1%
look: 4 | smell: 4 | taste: 4 | feel: 3.5 | overall: 4
12oz bottle poured into a snifter. Pours pitch black, no light getting though; nice off white/tan head and decent lacing. Great aromas, lots of milk chocolate and roasted coffee. I'm picking up the slightest amount of black licorice, but I can't taste it (thankfully). The flavors are very toasty and kind of bitter as well. There's a fine stuggle between the sweet milk chocolate and the bitter roasted dark chocolate, which is pretty enjoyable. Maybe some vanilla as well? Very sharp and bold! Medium-bodied and smooth, slightly fizzy. Alcohol goes unnoticed. Bottle reads 6.9% ABV, which makes for good drinking. It's still drinking fine with some time on it.
This beer isn't super complex, just straight forward and very enjoyable. Great collaboration, I wouldn't mind seeing more of this. I really like it.
812 characters
4
/5
rDev
-2.9%
look: 4 | smell: 4 | taste: 4 | feel: 4 | overall: 4
12 ounce bottle. Pours dark brown color with a very dense 2 finger tan head with amazing retention that reduces to a fairly thick lacing cap. Some nice lacing is left on the glass. Aromas of tons of caramel, dark chocolate, and roasted malt; with some coffee and citrus as well. Nice balanced aromas here. Taste of caramel, roasted malt, and chocolate. Fairly spicy citrus hop notes show up on the finish and linger with a fairly strong bitterness. Some roasted flavor lingers as well. Very decent level of carbonation with medium body. Fairly creamy feel, but not as much as I was hoping for with the carbonation level. No alcohol noticed in the taste but a slight warming on the finish is present. Overall quite an enjoyable porter, a little hoppier than what I am used to, but still great stuff.
798 characters

4.05
/5
rDev
-1.7%
look: 4 | smell: 4 | taste: 4 | feel: 4.5 | overall: 4
Nearly black hard pour results in a small tan head leaving a thin film around the snifter.
Marshmallow, caramel, dark chocolate fudge, plum, licorice and anise at the forefront. Nice layers of dark fruit esters.
Rich and full bodied. Anise, and other black fruits dominate the palate, with a burnt caramel sweetness on the finish. Roasty in the middle and finish, dark chocolate, plum, raisin, black currant, tobacco, and some earthy herbal hops. Viscosity is large and long. Great beer.
489 characters

3.58
/5
rDev
-13.1%
look: 4 | smell: 3.5 | taste: 3.5 | feel: 4 | overall: 3.5
A Pours black with a nice 2 finger head that dissipated rather quickly. Some lacing.
S Sweet malt, Coffee, caramel and some chocolate
T Not as sweet as the smell, but still sweet. Some bitter chocolate. I'm getting some smokiness that lingers along with some bitterness.
M Medium with nice carbonation. Easy drinking beer.
O It's a good beer. Nothing spectacular. But I did enjoy it.
389 characters
4.05
/5
rDev
-1.7%
look: 4 | smell: 4 | taste: 4 | feel: 4.5 | overall: 4
This is for sure the first Hoppin Frog Brewery brew that I have tried (part of a local sampler). My first impression was of a decent all around smokey porter with a bit of bite. But that bite turns into a very nice aftertaste.
It's roasty, a bit flat (OK for the style, and I doubt that these were normal bottles), but I like this more than most porters. Well balanced. Tame, except for that nice bite.
I don't get to the west side of Clveland a lot, and when I do I love to go to Fat Dog, but perhaps I should make a trip to see the frog.
542 characters

3.88
/5
rDev
-5.8%
look: 4 | smell: 3.5 | taste: 4 | feel: 4 | overall: 4
This was the final beer in the collaboration pack that I have not tried yet and I'm glad I saved it for last. I poured the 12o bottle into a snifter glass to find a nice dark black body with a small brown head that disappeared quickly with no lacing.
The aroma had hints of coffee, chocolate, malts and a small hint of bitterness. The taste was very good, you noticed everything from the aroma and throw in hints of sweetness and some vanilla before the bitterness hits you at the end.
I enjoyed drinking the beer, i thought there was a good balance in the texture with the carbonation and alcohol. The beer itself was a tad on the heavy side but in a good way, more in a creamy way than syrup like.
Overall this was my favorite beer out of the collaboration pack and I would defiantly like to get my hands on a single bottle or two and sit on them and see how the age.
874 characters

3.96
/5
rDev
-3.9%
look: 4.5 | smell: 3.5 | taste: 4 | feel: 4.5 | overall: 4
On tap at the Buckeye Beer Engine. Served in a snifter. This beer was was a collaboration with Rocky River Brewing Company for the 2010 Cleveland Beer Week Collaboration 12 pack.
The Porter looks great in the snifter. It's pitch black with a two finger cappuccino colored head. When held up to the light, I notice just a hint of red at the bottom of the snifter. Wonderful lace is left behind. We're off to a great start here.
The smell is composed of some strong roasty malt which gives deep impressions of some chocolate and coffee. The beer also has just a bit of sweetness, likely a caramelized malt base, but it comes across almost like a hazelnut or some sort of creamy sweet liquor. The porter could be roaster and less sweet in the nose. It almost has a touch of brown sugar and vanilla as well, adding a bit of spice. Just not as roasty and expressive as I'd like, and there's little to no expressive hoppiness.
The beer tastes moderately bitter and doesn't hide its alcohol bite as well as I'd like. But, on the positive side, there is some nice milk chocolate and coffee roast. A touch of brown sugar and caramel make an appearance, plus some earthiness reminiscent of licorice root. There may be a hint of vanilla as well. The reason the beer doesn't score higher is I noticed a touch of DMS "cooked veggie" notes as it warmed, which threw me for a loop. When the roasted and sweet malt flavors subside, some booze is noted in the aftertaste.
This porter is very creamy with a medium body and low carbonation. That makes the mouthfeel up there with the appearance for the most desirable, well-scoring aspect of this collaboration. Overall, this is very drinkable but the touches of booze when the roast drops off make this difficult to throw down. But it's still a nice beer, and I'm looking forward to trying the bottles.
1,848 characters
Imperial American Porter (2010 Beer Week Collaboration With Rocky River) from Hoppin' Frog Brewery
Beer rating:
90.9%
out of
100
with
11
ratings