Barrel Aged Frosted Frog Christmas Ale
| Hoppin' Frog Brewery
BA SCORE
84
good
34
Reviews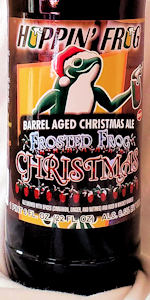 BEER INFO
Brewed by:
Hoppin' Frog Brewery
Ohio
,
United States
hoppinfrog.com
Style:
Winter Warmer
Alcohol by volume (ABV):
8.60%
Availability:
Winter
Notes / Commercial Description:
Spiced Ale aged in Kentucky bourbon barrels.
Added by jampics2 on 12-04-2010
Reviews: 34 | Ratings: 155
3.55
/5
rDev
-4.8%
look: 3.5 | smell: 3.5 | taste: 3.5 | feel: 4 | overall: 3.5
Big thanks to Renee and Bill for this.
A: Pours a light brown with only a dime of tan head.
S: Allspice, cinnamon and light clove aroma.
T: Allspice upfront followed by clove and a hint of cinnamon. Some oakiness in the middle. Slight pepper and small amount of hop bitterness at the finish.
M; Medium body with decent carbonation.
O: Would like to have tasted more malt upfront to balance the spices.
406 characters
3.67
/5
rDev
-1.6%
look: 3.5 | smell: 4 | taste: 3.5 | feel: 4 | overall: 3.5
Poured from a 22 oz bomber into a pint glass. Pour a mahogany-rub color, with minimal head quickly disappears until this has the look of flat soda.
Has a very spiced smell, similar to HF's regular Christmas Ale. Plenty of cinnamon, clove, allspice, and apple flavors.
Tastes peppery, and not as sweet as HF's regular Christmas Ale. Definitely hoppier and more bitter than the other. Plenty of spice in this, cinnamon, clove, and a "spiced" apple, like a wassail or spiced cider. Plenty of winter warmer in this one. Ends with definite pepper-bitterness.
Medium to full bodied, like a typical winter warmer.
Fairly drinkable, though I find the spiciness to pretty intense and almost overpowering. Unless you're looking for intense spice, I'd choose another Christmas ale.
774 characters

3.31
/5
rDev
-11.3%
look: 3 | smell: 4.5 | taste: 3 | feel: 3.5 | overall: 2.5
This was a Christmas gift from my wife. Shared with MbpBugeye and Ryan011235.
The beer was mostly clear; a deep gilded ruby color. There was a very small cap of cinnamon cream colored head. There was no lace. Mild visible carbonation.
My first impression upon smelling this beer was that I had walked up to a Cinnabon stand at the mall. Lots of spicing - not much different than in the non-BA version. Nutmeg and cinnamon play the dominant role. There was also a mild minty aroma that some of us detected and I even picked up on a little chocolate. I got very little evidence of the barrel aging/whiskey in the aroma apart from meager traces of vanilla.
The flavor was much less pleasing than the aroma was. Certainly, the barrel did manage to smooth out the harsh spiciness of the base beer (though it is still much stronger than in many warmers), but once again, the whiskey barrel aging seemed to have little other effect. I really believe that these were not fresh barrels.
There was still a ton of dryness from the spices. The beer was slightly hot but not really boozy. Sweet vanilla and cinnamon, and lots of dry oak.
Drinkability is low - this was an expensive brewery only release combined with insane amounts of holiday spicing; the beer just wasn't that amazing. I would rather have this over the non-BA version any day of the week, but there are much better winter warmers out there at a fraction of the price.
My final notes were that the smell was fantastic, but I would have preferred a MUCH larger barrel presence. It was worth a try if you have the disposable income, but I won't be seeking this out again unless I hear that the brewery makes some big changes.
1,684 characters
3.24
/5
rDev
-13.1%
look: 3 | smell: 4 | taste: 3 | feel: 3 | overall: 3
Big thanks to Spider889 for sharing this bottle.
The color of this one is somewhere in between cinnamon and cola brown. Nary a head is formed as spotty lacing is left behind. The smell is undoubtedly big on cinnamon with nutmeg vying for attention. Combining the cinnamon and the barrels creates a cinnamon roll with vanilla-sugar icing type smell. Whiskey booze is perceivable, but kinda buried. The barreling is very, very light. Strong cinnamon, light vanilla. This is a pretty straight forward beer. I bet the barrels were already used for beer, perhaps second use after BA BORIS.
586 characters

3.64
/5
rDev
-2.4%
look: 3.5 | smell: 4.5 | taste: 3 | feel: 3.5 | overall: 4
Poured into a snifter on 1/7/11
Shared by Spider889
Coppery, amber-brown color; pretty clear. Minimal head retention; just a filmy layer & a small ring around the inside of the glass. A few drippy splotches of lace.
Smells like Christmas retail season; a mish-mash of candle shop aromas & holiday potpourri. Crisp whiskey overtones & hints of vanilla. Lots of cinnamon & spice. Nutmeg & ginger. Hints of toastiness with a faint yeast notion in the back, when swirled.
While the whiskey is strong in the nose, it doesn't taste so strong. More like dull, warmed, watery whiskey with a mild charred character. Moderate spice notes aren't too biting. Toasted cinnamon bread. Hints of earthy hops. Slight mustiness as it warms.
Medium body with reasonably low carbonation. Said carbonation become appreciably lower throughout. Nips of whiskey & spice on the finish.
Not bad by any means but the taste doesn't live up to the aroma.
931 characters
3.67
/5
rDev
-1.6%
look: 3.5 | smell: 4 | taste: 3.5 | feel: 4 | overall: 3.5
Thanks to Cmurren25 for sharing a bomber on 12/26/10.
A - Poured a dark toffee brown liquid with a creamy tan head that diminished to a thin ring and flimsy patch, leaving benind a bit of spotty lacing.
S - Toffee, peppermint and cinnamon with a gingerbread cookie dough malt character. Aroma is intensely spicy and sweet.
T - Initial flavor is quite spicy with a definite cinnamon and peppermint character. Toffee and caramel notes add more sweetness to the mix. Reminds me of spicy gingersnaps or holiday cookies. Finishes with a tinge of earthy hop bitterness.
M - Medium bodied with a smooth, creamy texture and minimal carbonation. Finishes spicy on the palate with some mild hop bitterness and residual sweetness.
D - I didn't mind this one as much as everyone at the table. While I likely couldn't finish an entire bomber of this on my own, perhaps I was in the Christmas spirit on this particular day. Definitely an intense Winter Warmer for sure, but not bad.
974 characters
4.49
/5
rDev
+20.4%
look: 4 | smell: 5 | taste: 4.5 | feel: 4.5 | overall: 4
Bottle thanks to tapoutjoe.
Pours a dark burgundy color with a small off white head and an even ring of lacing.
Scent of sweet ginger, spicy nutmeg, sugar, caramel, earth, cinnamon, and mild whiskey. This is on par with or better than the base beer. I have never had a beer that has reminded me so much of Christmas, and the mild barrel characteristic adds to the depth. It smells like a craft store; it's unreal how perfectly this matches the holiday.
Taste of ginger and nutmeg initially, more dry spices and faint bourbon come in towards the finish. As with BORIS, the base beer is excellent and the short aging in a barrel makes it even better. The finish is dry with strong hints of wood and a touch of caramel. This beer tastes like Christmas cheer and nostalgia, and the touch of Bourbon is great.
Mouthfeel is medium heavy bodied with a fairly strong carbonation.
875 characters

3.9
/5
rDev
+4.6%
look: 4 | smell: 4 | taste: 4 | feel: 4 | overall: 3.5
A- Pours a murky reddish color with a very thin off white head. Head has pretty much no lacing and leaves no lacing.
S- Quite a bit of spices here. Cinnamon ginger, and nutmeg are front and center. Just a tiny bit of wood and bourbon.
T- Pretty spicey beer here. Follows the nose well. A bit of a malt base in bready and caramel, but no hops at all. Again just a tiny bit of bourbon and wood. Not much different at all over the regular version.
M- Medium in body and carbonation.
D- Again not much different than the regular version. I'm not really sure I'd grab this one again.
585 characters

4.55
/5
rDev
+22%
look: 4 | smell: 4 | taste: 5 | feel: 4.5 | overall: 4.5
22oz bomber into a stemmed Christmas glass. Purchased at Hoppin' Frog earlier today!
The beer is a dark color, somewhere between brown and mahogany with some ruby highlights and a touch of gold on the bottom. I initially thought the beer was opaque, as it was sitting on the table in-front of me, but I quickly learned it is not when I held it to the light and a bright scarlet and plum colored liquid was observed. A nice one-finger white head crowned the beautiful body, but quickly slipped away. Little lacing is left behind. There's some active carbonation noted towards the top. Overall, this is much better looking than the average Winter Warmer.
The first smell scared me. The initial combination of bourbon and cinnamon reminded me of one of two things: red hots or Goldschläger. Upon closer examination, more intricate notes start to emerge. Some ginger and nutmeg start to play more of a role, with the former almost dominating as the beer warms. There is some sweet brown sugar qualities from the malt that leave a gingerbread impression. The typical oak, vanilla and bourbon smells of the barrel are lost to some extent, but the expression from the spice is remarkable albeit slightly one-dimensional.
Frosted Frog is one of the most original and multifaceted tasting holiday beers I've ever had. The dominant cinnamon in the nose somehow takes a backseat to the nutmeg in the taste, which allows the barrel to shine through. Once the initial rush of spices and bourbon dissipates, some sweet malt peaks then the nutmeg serves as the rails on the sleigh, landing this into a snowdrift of oak, vanilla and coconut. Some booze is noted as well, but it's buried in an avalanche of flavor. The beer has to earn a 5 for taste because it's the definition of exceptional.
There's a medium bodied beer with some notable viscosity here, but the carbonation both allows the beer to feel creamy and lightly accentuates the flavors with a mild zing. The duality of the carbonation is something rarely seen, and it allows this beer to feel lighter than it should. Lingering notes of oak, vanilla and toasted coconut make this aftertaste a winner. As for drinkability, I'm making an assumption; this beer is meant to be shared with friends. Finishing a whole bottle by oneself wouldn't be impossible but the spices may go to your head and cause rosiness of the cheeks and a jovial disposition.
2,396 characters
Barrel Aged Frosted Frog Christmas Ale from Hoppin' Frog Brewery
3.73
out of
5
based on
155
ratings.