Hopped-Up Goose Juice
| Hoppin' Frog Brewery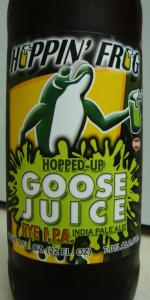 BEER INFO
Brewed by:
Hoppin' Frog Brewery
Ohio
,
United States
hoppinfrog.com
Style:
American IPA
Alcohol by volume (ABV):
7.00%
Availability:
Rotating
Notes / Commercial Description:
American hops dominate this Rye I.P.A, creating an assertive citrus and passion fruit character. An old-world flavor from rye malt adds the perfect compliment to Goose Juice's big, satisfying hop flavor and aroma. Originally home-brewed by our beloved brewer Goose, its wonderful combination of flavors inspired us to brew this specialty I.P.A.
60 IBU
Added by Greencoat on 06-15-2012
Reviews: 62 | Ratings: 267

4.27
/5
rDev
+10.6%
look: 4 | smell: 4.5 | taste: 4 | feel: 4.5 | overall: 4.5
Bottle purchased at my local Binny's. Served in an Alchemist pint glass.
A - A gentle pour yields a finger-plus of creamy white foam that settles to a thin cap and splotchy lace. Mostly transparent copper-orange body.
S - Great aroma of rye and citrus hops, with a hint of burnt sugar, onion, and crystal malt.
T - Taste has a nice blend of bready malt, rye, and citrus hop flavors. There's a bit of earthy dankness in onion, but this is fairly fruity, with perhaps a touch of tropical flavors as well. Bitterness is low-to-moderate.
M - Medium body, with pleasant moderate carbonation. Dry, tannic texture from the rye malts, and only light residual hop oils and stickiness in the finish. Minimal alcohol presence.
D - I enjoyed this quite a bit, and it was less 'heavy' than the Mikkeller Invasion IPA I had yesterday even though they both have the same ABV.
865 characters
3.6
/5
rDev
-6.7%
look: 4 | smell: 4 | taste: 3 | feel: 4 | overall: 4
thanks to egrace84 for sharing this beer! Thanks elliot.
poured into duvel tulip glass.
Appearance: yellow orange bodied beer with 1 finger of off white head.
Smell: Really spicy with rye malts. Pine and grapefruit hops. This one smells a touch chalky.
Taste: Big oniony hops. Big rye notes. Finishes a touch sweet with lingering notes of pine, orange, grapefruit hops.
Mouthfeel: medium bodied beer with moderate carbonation. The ABV is noted and adds a touch of astringency to the beer profile.
Overall: Its okay. Its a bit rough around the egdes, but nothing to drain pour. Tame down the onions and rye; hide the ABV better and that beer would be insane. Not sure where they got the name goose juice from either...
725 characters
3.5
/5
rDev
-9.3%
look: 3.5 | smell: 3.5 | taste: 3.5 | feel: 3.5 | overall: 3.5
A - Pours hazy with an orange tan hue, gentle carbonation, and a light lacing ring.
S - The grapefruit aroma has an acidic pungency, there's in the spiciness from the rye, and some earthy quality the nose with light pine and caramel.
T - Grapefruit, pine, lightly bready caramel, spicy rye, and a light alcohol presence. Everything blends together for a balanced taste with nothing outshining the other. There's also some hints of orange and lemon zest buried deep below.
M - Medium body and gentle carbonation.
O - A decent IPA but nothing memorable. Had I tried this when it was younger I suspect my score would be higher.
629 characters

4.05
/5
rDev
+4.9%
look: 4 | smell: 4 | taste: 4 | feel: 4.5 | overall: 4
Thanks to Wes for this one!
A: Pours a hazy copper/amber color with a small white head on top, not much retention, leaving a thin white cap on top. Nice sheets of white lacing all around the glass.
S: Nice and piney with a little bit of citrus in the background. There is a bit of rye spice and a very resiny/dank aroma as well.
T: Piney upfront with a little bit of grapefruit underneath. There is a good bit of bready and caramel malt to balance the hops in this one. Slight spice presence, but not really heavy on the rye.
M: Medium bodied with moderate carbonation, surprisingly smooth and creamy.
O: Liked this one, its not out of this world, but it was easy drinking. Not sure I would have guessed that it had rye in it, but a solid IPA.
752 characters
2.48
/5
rDev
-35.8%
look: 4 | smell: 3.5 | taste: 2 | feel: 2 | overall: 2
Picked this up at the brewery during my stop over for the BA Naked Evil release...
A: Pours a nice orange with hues of reds around the edges. There is about one full finger of tan head that takes a while to settle. Some lacing as it drinks.
S: This beer smells like light citrus, onion, garlic, sweet malt, and added spice. It doesn't smell good, but it's not terrible.
T: Onions, garlic, lemons, and turpentine. It's nasty. It reminds me of Founders Devil Dancer, and I hated that beer.
M: Medium bodied beer. It hits hard and lingers forever. The Onion and sweet combine into a terrible funk that I just hate.
O: Terrible beer. I had three sips just to make sure before I poured the rest of the bomber down the drain. Never again.
737 characters

4.42
/5
rDev
+14.5%
look: 4 | smell: 4.5 | taste: 4.5 | feel: 4 | overall: 4.5
Hopped-Up Goose Juice is an attractive gold color. It's a tad hazy. Backlighting gives it a slight orange look. It's capped with an off-white head that rises to nearly two fingers in height. It's rather quick to dissipate to a surface covering and holds there for a few. Lacing was sticky, but on the lighter side. Good lookin' stuff.
The nose is extremely impressive. The hop scent is nothing short of fantastic. It's chock full of grapefruit, orange, and mango scents. Smells delicious! There are some light piney notes lingering, as well. The malt base features some light caramel scents. Smells a tad sweet, but it seems to be rather restrained. I like that. Rye is very subtle, but is noted. That's a good sign. I was hopeful it wouldn't be lost in the hops. Alcohol is masked very well and isn't all that noticeable. Smells excellent!
The flavor is every bit as good. It does have a slightly sweet caramel malt flavor, but it's subtle and restrained. Hops are very flavorful and are obviously the focal point. Citrus grapefruit, orange, mango, and pine flavors are all noted. It's a delicious flavor that really packs a punch! It's bitter, but not palate wrecking. Spicy rye is noted, but plays its complementary role very well. It doesn't interfere with the hop flavor, but is just strong enough to make its presence known. The hops and rye play very well together! Alcohol isn't much of a factor. Finishes hoppy, spicy, and a bit bitter. Great stuff!
The body is best described as medium. Carbonation is moderate, but never feels buzzy. It definitely is soft and goes down easy. It's damn tasty and is difficult not to chug. This bomber = not even a challenge.
Hoppin' Frog has quite the creation with Hopped-Up Goose Juice. It really is one of the best beers on the roster, and I don't say that lightly. They brew quite a few excellent beers. I'm really taken with the interplay of the hops and rye in this one. Well…there's that…and the hop flavor itself is tremendous. If you can find a bottle of this, I'd highly recommend it. It's the goods!
2,102 characters
4.59
/5
rDev
+18.9%
look: 3.5 | smell: 4.5 | taste: 4.5 | feel: 5 | overall: 5
A huge thanks to my buddy Aw Yeh for picking this up and bringing it over to my place for another awesome, much anticipated tasting session.
Appearance - Poured into an Arrogant Bastard pint glass. A nice, luscious pour with a half-finger of head that quickly fades. A half-opaque half-transparent rye, wheat/orange color. Looks like it has light consistency.
Smell - A deliciously skanky-hopped beer. An interesting combination of rye, malt, and hops. Citrusy and bready. Grapefruit and a bit of bubblegum.
Taste - Huge hints of bubblegum hit me straight up first. Smooth, delicious. Roasty spices of rye and bready gum. Well-balanced wheat and a grassy malt backing. Tastes of strong barley and lemon zest. Interesting and scrumptious choice in hops. Lightly bitter with a nice light burn.
Mouthfeel and Drinkability - Light to medium bodied and light onthe carbonation as well.The rye is deliciously sweet and brings out bubblegum qualities, which is odd for an IPA such as this. A bit peppery and bitter as well.
1,021 characters
4.42
/5
rDev
+14.5%
look: 4 | smell: 4.5 | taste: 4.5 | feel: 4 | overall: 4.5
22 ounce bottle. Served in a pint glass, the beer pours a hazy orange/amber color with about an inch off-white head. The head stays around a while, and there's also a good amount of lacing. The aroma is pretty nice, the brew smells like citrusy (orange, tropical fruit, grapefruit) hops and spicy rye. The rye aroma seems to get stronger the longer the beer sits. Taste is pretty much the same as the aroma, it tastes like citrusy hops (grapefruit, mango, tropical fruit) and spicy rye. Mouthfeel/body is medium, it's a bit slick and coating with moderate carbonation. I think this is a very good overall brew, I'd certainly buy it again! $7.99 a bomber.
654 characters
4.79
/5
rDev
+24.1%
look: 4 | smell: 5 | taste: 5 | feel: 4.5 | overall: 4.5
Was lucky enough to get this at the brewery the day it was launched. Poured from a bomber into a pint glass. Appearance was a deep burnt orange that had a lingering head. The hop aroma was abundant and sweet. The taste is just outstanding with Hoppy notes and somewhat of a spicy rye backbone but seems like the hops are more prevalent. Mouthfeel is perfect and kept me coming back for more. This is a home run from the folks in Akron. Hoppin Frog nailed this one. Goose took his own home brew recipe and put it out here for all of us to enjoy. Highly recommended.
564 characters
4.25
/5
rDev
+10.1%
look: 4 | smell: 4 | taste: 4.5 | feel: 4.5 | overall: 4
Showed up at my local, a nearly opaque deep orange copper body with a thicket of flowing off white tan head. Beautiful head retention, fine speckled lacing left behind. Aroma is dank, citrus, spicy garlic/onion, with spicy rye, tropical fruit/mango and pineapple. Big layers of complex hops, breaded malts, spicy rye additions to bring it together. Flavors blend nicely with a big hoppy blend bringing out tropical fruit, spicy vegetables notes of garlice or onion, with peppery spicy rye character coming through. This beer reminds me of the Gubna from Oskar Blues d/t to the spicy Summit hops in there. Biting bitterness warming alcohol, spicy rye keeps tipping it's spiced peppery tones. Sugar coated malts with mango/ripe pineapple, and citrus notes also ease their way into the mix, quite complex offering. Goes down smooth on the palate, intense hoppiness, extra slick with hop oils medium bodied with moderate carbonation...really works well on the palate. Overall an enjoyable hoppy IPA really stands out amongst recent Rye IPA style brews out there, I hop to get more Goose Juice.
1,089 characters

4.5
/5
rDev
+16.6%
look: 4.5 | smell: 4.5 | taste: 4.5 | feel: 4.5 | overall: 4.5
Serving Type - 22oz bottle
Appearance - Burnt orange/tan, monster thick foamy 3 inch head with tons of lacing.
Smell - Rye, hops, orange, pine, grapefruit, some sugars and spices and a little malt.
Taste - Much like the smell, very hoppy with a nice rye and malt backbone. The bitterness is tamed alot from the rye. The hops are sweet, yet bitter and citric. The mix if sugars and spices add balance and break up some of the hop kick. Theres a little alcohol warth at the finish.
Mouthfeel - Hops coat, bitter and numb the tounge then leaves it dry. Palate gets remaining hops and some sugars and spices. Finish is hoppy, dry and bitter.
Overall - Awesome, very hoppy, rye is present, and the beer is balanced quite well. Its balance along with the sweet and bitterness really makes it fun to drink. A real winner and one of the best new beers ive had so far this year.
874 characters
4.34
/5
rDev
+12.4%
look: 3.5 | smell: 4.5 | taste: 4.5 | feel: 4.5 | overall: 4
A: Extremely hazy, bold orange color with a very nice head that eventually thinned out to a half finger. Gorgeous lacing.
S: A hop bomb. Tons of dank citrus notes with a nice bit of malt sweetness - not too much mind you- but enough to really showcase the hops. Very fruity.
T: Much like the nose, it's a full parade of all things "hop". There's just enough bitterness to get you where you're going, but the hop flavors are the star of this show.
M: A particularly smooth texture with a more than medium, but not quite medium-heavy body. Really, it's borderline perfect. The flavor isn't too sweet, but they achieved this perfect body for the hops.
O: I hope they keep this beer in their regular rotation, because I'm a big fan. Another excellent beer by the folks at Hoppin' Frog!
793 characters
Hopped-Up Goose Juice from Hoppin' Frog Brewery
3.86
out of
5
based on
267
ratings.