Barrel Aged Frog's Hollow Double Pumpkin Ale
| Hoppin' Frog Brewery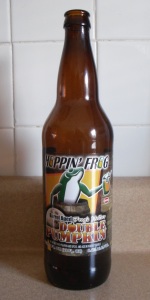 BEER INFO
Brewed by:
Hoppin' Frog Brewery
Ohio
,
United States
hoppinfrog.com
Style:
Pumpkin Ale
Alcohol by volume (ABV):
8.40%
Availability:
Fall
Notes / Commercial Description:
Aged in Kentucky bourbon barrels.
Added by trxxpaxxs on 09-23-2012
Reviews: 39 | Ratings: 197
3.67
/5
rDev
-4.2%
look: 3.5 | smell: 4 | taste: 3.5 | feel: 4 | overall: 3.5
22 oz bottle courtesy of radio2525 in the Barrel Aged BIF. It was poured into my Dogfish Head signature glass.
Barrel Aged Frog's Hollow pours a nearly opaque orange, it's really the perfect hue for a pumpkin ale. There's just shy of two fingers in white head, and it sticks around for a quick minute before fading. Not much lacing is left in its wake. I get more straight oak than whiskey from the barrels in the nose, and it blends nicely with the pumpkin pie spices almost present. The resulting spicy, woodsy aroma is very evocative of the fall. The flavor profile, while complex, just isn't quite as enjoyable. The barrels yield more whiskey than wood here, and the cinnamon, nutmeg, and other spices are just a bit more muted. The finish is caramel, but it borders on being buttery/diacetyl. The body is nice, not as heavy as a barleywine or imperial stout, but certainly not dry either. The carbonation could stand to sparkle just a touch more though. BA Frog's Hollow is a decent beer, but it's a bit overshadowed both by the other barrel aged Hoppin Frog offerings and the oak aged Uinta pumpkin beer I received.
1,122 characters

3.84
/5
rDev
+0.3%
look: 3.25 | smell: 3.5 | taste: 4 | feel: 4 | overall: 4
Pours hazy orange with one finger head. Smell of rotten pumpkin at first, that mellows into heavy nutmeg and connamon flavors. Don't pick up much barrel aging in the smell. Flavor is effervescent with cinnamon shining through. Only slight pumpkin flavors. A little whiskey burn on the finish that lingers a bit. As it warms the bourbon and vanilla comes through. The vanilla really accents the pumpkin well. Lighter mouthfeel than expected, but pretty slick. A nice beer, coming from someone who isn't a huge fan of the overspiced pumpkin style.
545 characters
3.73
/5
rDev
-2.6%
look: 4 | smell: 3.5 | taste: 4 | feel: 3.5 | overall: 3.5
22 oz bottle, 8.4% abv. Cloudy orange color. White head disappears almost immediately, leaving no lace at all.
Pumpkin pie spices, cinnamon, nutmeg up front. Hints of bourbon, oak and vanilla. A few other earthy notes.
A bit of sweetness first before the spices are noticed. Again, cinnamon, nutmeg and other earthy flavors. Barrel flavor is a bit muted, except for some drying tannins and a flash of vanilla.
Medium body, carbonation is light making it seem a bit thin. A bit of warmth felt after a few minutes. Not bad, but not as much character as I expected.
566 characters

3.79
/5
rDev
-1%
look: 3 | smell: 4 | taste: 4 | feel: 3.5 | overall: 3.5
A - Pours a golden amber color with pretty much no head at all. Fairly clear brew. A few bubbles and that's about it. The bubbles that are left leave a bit of spotty lacing.
S- Smells like just about every other pumpkin ale, except that the spices aren't so over the top and pretty mellow. A bit of wood, vanilla and the whiskey adds a nice element to this one.
T- Follows the nose really well. A pumpkin ale that is tamed down. The whiskey is really nice to this one and checks the spices.
M- Medium in body and lighter side of medium in carbonation.
O- One of the few pumpkins ale that is not over the top. The barrel helps this brew out a lot. Fairly easy to drink, but not something I'd seek out.
705 characters

4.17
/5
rDev
+8.9%
look: 4 | smell: 4.5 | taste: 4 | feel: 4.5 | overall: 4
22oz. bottle poured into a pint glass.
(A)- Pours an orange amber color. Some good white froth and lace.
(S)- A really nice deep pumpkin pie-like aroma. The graham cracker crust, pumpkin, and nutmeg and cinnamon-like spice. Really nice.
(T)- Very similar to the smell. All the same great pumpkin pie spice, but a nice subtle dry oaky finish.
(M)- A really nice carbonation level. Superb pumpkin profile. A nice smooth oaky sweetness to it.
(O)- One of the better pumpkin beers I have had in quite awhile. The subtle barrel aging just blends so well with the pumpkin and spice profile of the beer. My only issue is how expensive a bottle is.
645 characters

3.5
/5
rDev
-8.6%
look: 3.5 | smell: 3.5 | taste: 3.5 | feel: 3.5 | overall: 3.5
A - Golden orange beer with no head. Some bubbling from the bottom. Decent looking, about what you would expect.
S - Smells of pumpkin beer with traditional pumpkin spices. The smell is a bit muted by the whiskey. The whiskey itself smells a little sour and sweet, but not bad. Bit of barrel.
T - Taste is a lot like the smell. A bit of a muted spice and pumpkin compared to your Pumpkings and others. Whiskey smooths out and some of the barrel becomes more evident as it warms.
M - Smooth, moderate carbonation. Medium bodied.
O - Not a bad beer, actually became a really easy drinker as it warmed. Didn't care for the price tag, and it's nothing spectacular, but I enjoyed this one decently enough and didn't have any trouble getting through the bottle.
759 characters

3.57
/5
rDev
-6.8%
look: 3.5 | smell: 4 | taste: 3.5 | feel: 4 | overall: 3
The color is a golden pumpkin, with no head at all. Barely any head at first, and completely dissipated within seconds.
I can taste pumpkin, but the extra spices don't stand out. It has more of a citrus and floral taste than nutmeg, allspice, etc.
I had higher hopes for this because it was expensive, and the name. Why is it called Double Pumpkin? Because it does not have twice the pumpkin flavor.
401 characters
3.84
/5
rDev
+0.3%
look: 5 | smell: 3.5 | taste: 4 | feel: 4 | overall: 3.5
A-very rich golden amber pour with a thick one finger white head. Lots of body on this one.
S-nutmeg, allspice, a dash of pumpkin and a hint of whiskey.
T-there is a strong caramel apple taste to this one that is quite dominating. Compared to the normal version there is much less clove coming through but there is also less pumpkin. A little oak shines through but not much else.
M-thick and chewy with a slight burn, medium carbonation.
O-nothing speciali from hoppin frog nor really worth seeking out for the price. I am still yet to find a barrel aged pumpkin beer that can really accentuate the flavors without losing the pumpkin.
639 characters
3.98
/5
rDev
+3.9%
look: 4.5 | smell: 4 | taste: 4 | feel: 3.5 | overall: 4
Bottle (2012)
Thanks for the gift, MarkIntihar!
Barely hazed burnt orange with a fairly large off-white, persisent head, leaving irregular ribbons and spots of stick down the glass. Very pretty pumpkin beer.
Wonderful aroma for a spiced pumpkin beer, though I do wish there was more bourbon/barrel character--it's very minimal. Good amounts of pumpkin, all-spice, nutmeg, and some cinnamon. This is a great Fall aroma, though more bourbon character would really help improve it even more.
The flavor is similarly good as the aroma, though again, I was hoping for more barrel character. Good amounts of pumpkin pie filling and crust, all-spice, nutmeg, and some cinnamon, burnt sugars, and toffee. Unfortunately, I really can't detect much barrel at all.
Medium bodied with high carbonation. This perhaps would be even better with less carbonation?
Great pumpkin beer.
873 characters

4
/5
rDev
+4.4%
look: 4 | smell: 4 | taste: 4 | feel: 4 | overall: 4
Served in a tumbler.
What better to follow a glass of Rum Chata than a barrel-aged pumpkin beer? Especially when the original version is so damn good? Let's dance: It pours a clear dark orange-brown topped by a finger of tan foam. The nose comprises the usual pumpkin pie spice array (you know: cinnamon, brown sugar, mace, clove, etc), some light maple syrup, some light oak, and a peck-on-the-cheek-from-your-friend-who-you-may-or-may-not-have-feelings-for-and-right-now-she's-just-thanking-you-in-her-own-affectionate-way-which-is-just-making-things-all-the-worse-in-your-head-now of whiskey. The barrel seems to keep the spices in check, ensuring that they don't go all batty and whatnot, but they're still pretty friggin' strong, as is to be expected. The taste mirrors things, with the barrel doing an even better job of balancing things out. A stronger vein of maple syrup climbs through as well, and the barrel comes across as a touch charred. The body is a straight medium, with a light moderate carbonation and a generally smooth feel. Overall, a damn tasty pumpkin beer, though, despite the balance and complexity added by the barrel, I think I still prefer the power of the naked version, personally.
1,213 characters

3.65
/5
rDev
-4.7%
look: 4 | smell: 4 | taste: 3.5 | feel: 3.5 | overall: 3.5
22oz bottle into a tulip
A: Pours hazy orange with a white head that fades to a ring leaving some lacing on the glass.
S: The nose is full of cinnamon, nutmeg, pumpkin, vanilla, and some barrel aromas.
T: The taste is not much different from the regular version. There's more pumpkin than spice and a small hint of vanilla in the background that I assume is the barrel.
M: The feel is creamy but on the lighter side of medium.
O: This isn't different enough to be rated above the regular version. Probably needs more time in the barrel.
541 characters
3.97
/5
rDev
+3.7%
look: 3.5 | smell: 4 | taste: 4 | feel: 4 | overall: 4
Thanks to AndresR for sharing this one at jmgrub's tasting.
Pours a clear orange with a foamy tan head that settles to wisps of film on top of the beer. Small dots of lace form around the glass on the drink down. Smell is of malt, pumpkin pie spices, wood, and whisky. Taste is much the same with an alcohol kick and a mild amount of spice bitterness on the palate with each sip. This beer has a good level of carbonation with a crisp mouthfeel. Overall, this is a good beer and one of the better pumpkin beers I have had so far.
531 characters
3.62
/5
rDev
-5.5%
look: 3.5 | smell: 4 | taste: 3.5 | feel: 3.5 | overall: 3.5
22 ounce bottle. Served in a nonic pint glass, the beer pours a slightly hazy golden/orange color with about an inch off-white head that didn't stay around for very long. There's a good amount of lacing. Aroma is nice and spicy, it smells like cinnamon, nutmeg, cloves, pumpkin, and a little bit of whiskey. The taste is pretty much just like the aroma, but the flavor doesn't seem quite as strong in comparison. The whiskey isn't strong in either the aroma or flavor, I would be surprised if this was barrel aged for very long. Mouthfeel/body is medium, it's a bit coating with moderate carbonation. I think it's a solid pumpkin ale, but it's nowhere near worth the price at all. $14.99 a bottle.
697 characters
3.35
/5
rDev
-12.5%
look: 4 | smell: 4 | taste: 3 | feel: 2.5 | overall: 3.5
A: Pours a translucent orange gold with about a half finger of pure white head. The foam settles in a decent amount of time and there is some solid lacing as it drinks.
S: The nose is nutmeg, cinnamon, pumpkin, and barrel aged goodness. The heat from the barrel is there, but it doesn't impart much other sensory difference. It's mainly just heat.
T: This beer starts out sweet, but has quite a bit of boozy alcohol mixed in. I get pumpkin pie right away, but then the alcohol takes over. The finish is hot and astringent. The booze lightens up a bit as it warms, and the sweetness returns to the finish a bit, but it's still super boozy.
M: Medium bodied beer. It's sweet to start but finishes with massive alcohol.
O: I don't know what to think of this beer. It's so hot right now. This beer could use a good 6-12 months before being opened again. I don't know whether the brewers just decided to shove the Frog's Hollow into a barrel and straight bottle it, or whether they really think this beer is worth drinking right now. Sit on this beer if you have a bottle. That is my recommendation.
1,098 characters
Barrel Aged Frog's Hollow Double Pumpkin Ale from Hoppin' Frog Brewery
3.83
out of
5
based on
197
ratings.