Göller Brotzeit Seidla
| Brauerei Göller Zur Alten Freyung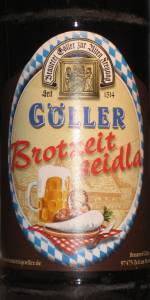 BEER INFO
Brewed by:
Brauerei Göller Zur Alten Freyung
Germany
brauerei-goeller.de
Style:
Munich Helles Lager
Alcohol by volume (ABV):
4.30%
Availability:
Year-round
Notes / Commercial Description:
No notes at this time.
Added by HappyHourHero on 03-17-2007
Ratings: 6 | Reviews: 5
3.53
/5
rDev
+11.7%
look: 4 | smell: 3.5 | taste: 3.5 | feel: 3.5 | overall: 3.5
From the website...
Dieses Bier passt zu jeder echt fränkischen Brotzeit, z.B. mit deftigem "Gelegten" oder mit schmackhaftem "Gerupftem"!
,which says something about this beer being brewed to enjoy during the typical Franconian bread time, and should be enjoyed with Gelegten or Geruptfem.
Flavors of bitter grassy hops and lightly sweet grainy malt. it's tied together with a lightly bitter finish. Tall off-white head left some thick strands of lace as it settled back into the glowing golden beer. Pungent herbal hop aroma has hints of skunk. Clean mouthfeel holds a decent amount of carbonation, moderately full body.
634 characters


3.31
/5
rDev
+4.7%
look: 3.75 | smell: 3.25 | taste: 3.25 | feel: 3.5 | overall: 3.25
Half litre bottle, poured into pint shaker.
A: Pale golden, clear, large thin head, some lacing, looked quite lively.
S: Faint grass and noble hop.
T: Grass, malt, slight charcoal, a bit watery.
M: Light body, moderate carbonation.
O: The name suggests you drink it while eating German bread with German sausage, it served that purpose pretty well.
357 characters

3.18
/5
rDev
+0.6%
look: 4 | smell: 3.5 | taste: 2.5 | feel: 4 | overall: 3.5
.5L, best by June 2011.
Impressive, frothy head atop a crystal-clear pale gold body. Some lacing.
Aroma is grassy-hoppy with the subtlest citrus character and the customary sulfuric lager notes.
Chalky, grainy, biscuity. Mineral cleanliness to it, despite a few off vegetal flavors. Grassy hops. Pretty decent flavor in such a light package (4.3 percent ABV), yet there's this vegetable thing (again) in the finish that I just cannot subscribe to. The mouthfeel is a bit thin, though very soft and effervescent.
Drinkable, but I'm not hugely impressed with this "helles, süffiges Landbier," as the brewery describes it. And by the way, it's not retired: Göller still makes this brew.
Here's to my snack pint (the actual meaning of Brotzeit Seidla)! Prost!
763 characters
2.69
/5
rDev
-14.9%
look: 2 | smell: 3 | taste: 2.5 | feel: 2.5 | overall: 3
Poured from a 500ml bottle into a pint glass.
Pours a faint yellow colour, immediately reminded of a light macrolager.
Smell is mostly faint hops.
Taste is weak, a very small bit of malts and hops but not much going on unfortunately. Not really very refreshing either.
Overall a pour show, too much carbonation too little flavour, reminding me more of fizzy water.
370 characters
2.67
/5
rDev
-15.5%
look: 2.75 | smell: 2.5 | taste: 2.75 | feel: 2.5 | overall: 2.75
From2 012. Part of mixed case from Edeka markt. Overall, this has a flat, metallic taste to it. Very dry also. Aroma is a little off from a helles with a sour slant. Taste is like saltine crackers, plus aforementioned flatness.
227 characters
Göller Brotzeit Seidla from Brauerei Göller Zur Alten Freyung
3.16
out of
5
based on
6
ratings.