Krušovice Mušketýr
| Královský Pivovar Krušovice a.s.
BA SCORE
83
good
10
Reviews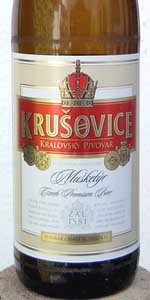 BEER INFO
Brewed by:
Královský Pivovar Krušovice a.s.
Czech Republic
krusovice.cz
Style:
Czech Pilsener
Alcohol by volume (ABV):
4.50%
Availability:
Year-round
Notes / Commercial Description:
No notes at this time.
Added by bark on 06-23-2008
Reviews: 10 | Ratings: 18
3.75
/5
rDev
+3.6%
look: 3.5 | smell: 3.5 | taste: 4 | feel: 4 | overall: 3.5
A: The beer is cloudy golden yellow in color and poured with a two finger high creamy white head that slowly dissipated and left lacy bubbles around the edge of the glass.
S: There are light aromas of floral and grassy hops in the nose along with some notes of grainy malts.
T: The overall taste is quite malty but is dominated by a moderate amount of bitterness from the hops, which stands out in the finish.
M: It feels medium-bodied and very smooth on the palate and has a light amount of carbonation.
D: The beer is quite drinkable but I don't think I could keep drinking these all night because it is somewhat filling.
623 characters
3.09
/5
rDev
-14.6%
look: 4 | smell: 2.5 | taste: 3 | feel: 3.5 | overall: 3.5
Whoever added this beer spelled it wrong...its Muskety'r. Anyway...the beer pours a golden clear with a good head that was very white. Overtime the head faded and there was very little lace. In typical fashion, the smell had grain and slight hop. The taste did not veer much from the smell although there was some bitterness from teh hop The mouthfeel was fine, medium bodied pilsner that was easy to drink. Overall a decent beer.
430 characters
3.3
/5
rDev
-8.8%
look: 3.5 | smell: 3.5 | taste: 3 | feel: 3.5 | overall: 3.5
Poured from a brown 16.9 oz. bottle. Has a golden color with a small head. Smells a bit on the sweet side. Taste is malty with some bitterness, not overly flavorful. Feels medium bodied in the mouth and has good drinkability. Overall a pretty good choice.
255 characters
3.65
/5
rDev
+0.8%
look: 3 | smell: 3 | taste: 4 | feel: 3.5 | overall: 4
The colour is deep medium gold; the white finger thick head leaves some lacing while slowly sinking.
The smell got mild notes of bread, some sweet notes and lots of butter/toffee. Maybe a little mushy flavours?
The taste is sweet and fresh in a pleasant way: Notes of French roll, some sour-bitter flavours and lots of butter and caramel. Overall, the flavours are very Czech. The aftertaste is fresh with a hint of mint, lots of butter, some bread and a lightly metallic generous bitterness.
The carbonation is powerful: the liquid is a little creamy.
A quite good Czech pilsner.
594 characters
3.73
/5
rDev
+3%
look: 3.75 | smell: 3.75 | taste: 3.75 | feel: 4 | overall: 3.5
So Alewife and I are at the Prague airport on 05OCT13, waiting for our flight home. I have 50CZK in coins left and take a walk. I found a 0.5l can of this to try, costing me all of 50CZK! Ok.... back to the gate area and had one for the road...
It was a light-to-medium golden color, and clear. Head was thin, white, and faded quickly, with ok stick left behind. Aroma was a touch crackery and a little grassy. It had a medium body, and felt decent on the tongue.
Crackery flavor was noted as well, with a hint of malty sweetness. A typical pils, it was a little earthy, with some herbal, spicy hopping, though not overly strong. Dry in the finish, with some lingering hopping. Ok for 1, maybe 2 rounds, but no more.
3.73/5 rDev -0.8%
look: 3.75 | smell: 3.75 | taste: 3.75 | feel: 4 | overall: 3.5
1609
807 characters

4.1
/5
rDev
+13.3%
look: 4 | smell: 4 | taste: 4 | feel: 4 | overall: 4.5
My favorite czech pilsner so far. More flavorful with better bitterness and carbonation than the others. Had this with dinner in a large half-liter glass and it was the perfect accompanyment with goulash, dumplings and mixed grill. If you can find this beer, grab it.
Update:
Just had this on the upper west side of new your at George Keeleys and it was not as good. Not much better than an american pilsner this was lighter, let bity and less flavorful than the czech counterpart. Still a good one to try but not the same thing.
530 characters

3.75
/5
rDev
+3.6%
look: 4 | smell: 4 | taste: 3.5 | feel: 3.5 | overall: 4
Pours deep crystal golden in color with decent white head. Bread and hops in aroma. Taste slightly disappointed me for it was too malty. Firstly, I had a big gulp of good Czech brand, then I felt bready maltiness and but a hint of Bohemian Hops. However, I awaited for other impressions. I shouldn't neither nag nor praise this beer, it is worthy anyway, but wasn't brewed for me
379 characters
4.26
/5
rDev
+17.7%
look: 5 | smell: 4 | taste: 4 | feel: 4 | overall: 5
Mušketýr was my lunch beer of choice in the Czech republic. It's exceptionally drinkable, and paired nicely with garlic soup. I always enjoyed it on draft from a little hostenec in Kourim. It pours golden yellow with a white frothy head, and has a hint of turbidity. The aroma is dominated by grains and malt body with a hint of floral hops. It is slightly sweet, and moderately bodied. (Czech beers aren't renowned for attenuation) The beer presents pilsner malt flavors with mild and smooth hop notes. The hoping is sufficient to keep the beer from being cloying. I prefer it to the stronger Krušovice Imperial, and the other mass market Czech Pilsners. It tastes Czech, not german.
687 characters

3.23
/5
rDev
-10.8%
look: 3.5 | smell: 3 | taste: 3.5 | feel: 3 | overall: 3
One bottle purchased in Prague.
.5L bottle served in a lager glass.
A- Clear, Deep Gold, small head with little retention, non existant lacing.
S-Malty, slightly sweet with a touch of hops.
T- lightly toasted / Caramelized cereal malts, some hops, touches of honey.
M- Medium body, light carbonation.
D- Decent beer, stands out slightly above other Czech lagers.
369 characters
3.91
/5
rDev
+8%
look: 4.5 | smell: 3.5 | taste: 4 | feel: 4 | overall: 4
Served on tap in a tall, slender mug at a restaurant/bar in Prague.
Poured a briallantly clear golden with a tall white head of tight bubbles that was slow to go away. Grainy, bready, but somewhat sweet aroma. Taste followed the aroma, light amount of hop bitterness; well-balanced. Lively mouthfeel and carbonation, light body with a somewhat sweet finish. Overall, I liked this beer - not overly harsh like some German versions of Pils that I've had. Czech examples define the style - smooth, well-balanced, flavorful, and easy to drink.
540 characters
Krušovice Mušketýr from Královský Pivovar Krušovice a.s.
3.62
out of
5
based on
18
ratings.