Lefebvre Belgian Kriek
| Brasserie Lefèbvre SA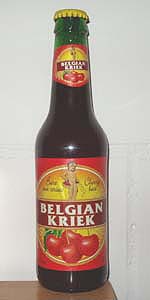 BEER INFO
Brewed by:
Brasserie Lefèbvre SA
Belgium
brasserielefebvre.be
Style:
Fruit / Vegetable Beer
Alcohol by volume (ABV):
3.50%
Availability:
Year-round
Notes / Commercial Description:
No notes at this time.
Added by Phyl21ca on 11-14-2006
Reviews: 9 | Ratings: 36
1.31
/5
rDev
-57.2%
look: 2.5 | smell: 1.5 | taste: 1 | feel: 1 | overall: 1.5
This beer is pink, with a pink tanned head.
Smells of cherries, nothing else but cherries, and it tastes like cherries, way to sweet. A littlebit of "beertaste" in it, but i really don't get much past the cherries. It tastes pretty good, kind of like cherry coke, but after a few sips, no matter how good i think it is, it makes me feel like throwing up, and i have a hard time swallowing it.
392 characters
3
/5
rDev
-2%
look: 3 | smell: 3 | taste: 3 | feel: 3 | overall: 3
Bottle: Poured a deep pink color beer with a medium bubbly pink head with average retention. Aroma of cheery syrup is totally dominating but not overly gross and doesn't have any of the cough medicine flavour that I really hate. Taste is also dominated by the sweetness of the cherry syrup but again doesn't get to gross and is actually refreshing. While this beer is closer to an alcohol pop then anything else, it is still better then many other gross fruit beer form Belgium.
480 characters
3.03
/5
rDev
-1%
look: 3.5 | smell: 3 | taste: 3 | feel: 3 | overall: 3
On-tap served in a Belgian Kriek chalice at Wine Connection, Bangkok.
The showcase is good by a deep ruby purple hue with decent slight pinkish head crowning enduringly before leaving plenty of splendid lacing patch and spot along the way down. Cherries are all the way round in both aroma and flavor, syrupy sweet, tartly sourish yet same time with some hint of malt. The body is medium and the carbonation is crisp enough to carry all the things well.
454 characters
3.06
/5
rDev 0%
look: 4 | smell: 3 | taste: 3 | feel: 3 | overall: 3
Thanks to bu11zeye for sharing this bottle.
The beer pours an orange color with a white head. The aroma is very sweet and has a ton of syrupy cherry notes. The flavor is more of the same. I get a lot of sweet cherries with no real other notes coming through. Very straight forward, but not too bad. Medium mouthfeel and low carbonation. If you like cherries, you may like this beer. If you don't, you won't.
408 characters

3.11
/5
rDev
+1.6%
look: 4 | smell: 3 | taste: 3 | feel: 3.5 | overall: 3
330ml Bottle
Appearance - The beer pours a hazy burgundy/purple colour with a large frothy pink coloured head. I can't tell how much carbonation there is and there is some good lacing running in stages down the sides of the glass. The head lasted for around 5 minutes before it began to dissipate.
Smell - Cherries, breads/grains, wheat
Taste & Mouth - The beer has an above average amount of carbonation and it has a slightly syrupy feel to it. It is very sweet tasting and there is a lot of cherry flavour. There are also notes of breads/grains and a bit of a clove flavour. It finishes with a very sweet and tart cherry aftertaste.
Drink - It was worth a try; but it's not my type of thing. I don't think many people would want more than one of these at a sitting, they are very sweet.
792 characters

3.13
/5
rDev
+2.3%
look: 3.75 | smell: 2.5 | taste: 3.5 | feel: 3 | overall: 3
Hazy ruby red color with dense activity. Foamy pinkish 3 finger head, lasting around 10 minutes, with moderate lacing. Flavors of cherries, candy, medicinal, cranberries, and roasted grains. Tons of sugars, but quite pleasant, with low sharpness. Slick and smooth almost full body with prickly carbonation. Light finish, lingering sweet fruits with very faint roasted malts. Feels more like a cooler than a beer. For what it is supposed to be, the quality is decent. Good for sessions and very accessible for those who doesn't like beer. Better than the Newton, but very similar. Very tasty, with decent freshness. Overall average quality.
639 characters
3.41
/5
rDev
+11.4%
look: 4 | smell: 3.5 | taste: 3.25 | feel: 3.75 | overall: 3.25
330ml bottle, from the 1/2 Meter of Beer (clever, that) mixed pack this appears in, here in Alberta.
This beer pours a clear, medium pink-tinged reddish amber hue, with three fingers of puffy, cushy, and frothy pale pink head, which leaves some decent wide-spread spectral lace around the glass as it slowly abates.
It smells of semi-sweet candied cherry, gritty pale malt, a touch of sweet caramel, mild earthy yeast, and tame leafy, weedy hops. The taste is sugary cherry compote, grainy pale malt, subtle, yet indistinct savoury spice, more cherry in the form of children's cough syrup, faint mineral water, and weak earthy, leafy hops.
The carbonation is pretty low-key, barely producing any sort of edge whatsoever, the body a particular sort of medium weight, the kind where the fruity sugars duly dominate, with an attendant reserved smoothness. It finishes on the sweet side, the cherry candy essence still rather large and in charge, with a meek lingering graininess to keep it company.
A plain, if at the same time inoffensive version of the style, the cherry guest ingredient sort of becoming a sugary signpost to be avoided, to a certain degree. Anyways, drinkable enough, if you're ok with the sweeter side of Belgian fruit beer offerings.
1,256 characters
3.56
/5
rDev
+16.3%
look: 3.25 | smell: 3.5 | taste: 3.75 | feel: 3.25 | overall: 3.5
I am not a kriek expert by any stretch of the imagination. I've only tried a few, but I did enjoy this one. It tastes like cherry soda with a hint of beer, but it was a yummy cherry soda with a hint of beer. :-) I would drink it again when I specifically feel like a fruity beverage (ie. Summer patio day). I didn't find it too sweet personally, but I opened it knowing it would be slightly sweet and that was what I was in the mood for. It seemed pretty well balanced and better/less sweet than the other krieks I have tried.
528 characters
3.84
/5
rDev
+25.5%
look: 3.5 | smell: 3.75 | taste: 4 | feel: 3.75 | overall: 3.75
Very pleasant kriek. I've has some that have been too sweet, thiis is right on the money. Nice cherry aroma from the get-go, followed by a sweet flavor, almost like a cherry soda. Tingles on the palate, and nice body. A very delicious dessert beer.
250 characters
Lefebvre Belgian Kriek from Brasserie Lefèbvre SA
3.06
out of
5
based on
36
ratings.