Abbaye De Oudkerken
| Brasserie Lefèbvre SA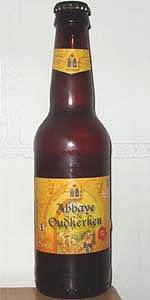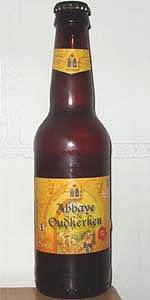 BEER INFO
Brewed by:
Brasserie Lefèbvre SA
Belgium
brasserielefebvre.be
Style:
Belgian Pale Ale
Alcohol by volume (ABV):
6.20%
Availability:
Year-round
Notes / Commercial Description:
No notes at this time.
Added by thierrynantes on 04-15-2008
HISTOGRAM
Ratings: 11 | Reviews: 7
Reviews by sfprint:
3.13
/5
rDev
+1.6%
look: 4 | smell: 3.5 | taste: 3 | feel: 2.5 | overall: 3
A: Bright amber, lively carbonation, shrinking head of medium bubbles.
S: Lemon malt, well blended, heavy, apparent alcohol.
T: Tartness connected with the alcohol, more bitter than sweet, touch of honey, ordinary malt.
M: Light carbonation, medium body.
O: Decent but not particularly interesting.
300 characters
More User Reviews:

1.48
/5
rDev
-51.9%
look: 2.75 | smell: 1.5 | taste: 1.5 | feel: 1.5 | overall: 1
Brewed for Lidl apparently, though I found it in my local Paris beer shop. Probably for about 4 times the price :)
Fairly nice colour, head goes down fast.
Aroma is very malty, not the best.
Taste is quite unique. Nothing like a Belgian, German, Dutch or French beer. It tastes flat. The aftertaste simply is not there.
Where has the aftertaste gone..?
The taste experience is strange...flat...dead. The address on the bottle seems to be Germany, though it implies to be a Belgian beer.
To be honest, I do not believe this was made by anyone Belgian. It is probably made by Lidl's work experience interns.
For sure, I have had worse. Though the overall fakeness of this "beer" is immense.
Ok, next one
711 characters
3
/5
rDev
-2.6%
look: 3 | smell: 3 | taste: 3 | feel: 3 | overall: 3
Cheap abbaye beer bought from Lidl supermarket. Little 25 cl. bottle. Not sure this is authentic beer brewed and sold for the benifit of monks' works, though.
Smells very much like a macro pilsner/lager, like Heineken or Grolsch, but with a hint of roasted malts too.
Grassy hops, orange golden colour. Taste is flat of malts, a bit of bitterness from the hops. Watery mouthfeel. Decently drinkable, but very boring overall. Seems like a macro abbaye beer... how can that be?
Nice label, but that's about it.
508 characters
3.46
/5
rDev
+12.3%
look: 3 | smell: 4.5 | taste: 2.5 | feel: 4 | overall: 4
Review: Bottle of Abbaye de Oudkerken Pale Ale: ABV: 6.2%
Bought a six pack of these beers in my nearest Lidl in France. Couldn't pass by, noticing that they were so cheap (As far as I remember about 50c for a bottle). I like beer, but I love cheap beer! It also had a very distinctive packaging which caught the eye
Appearance: On pour there was a clear golden colour with a nice white head appearing, which doesn't last, and some lacing.
Phew, what a smell, hitting immediately on the nose. Hints of lemon, roasted malts and yeast, a very strong alcohol smell. Like it a lot, rustic, a killer smell, like a fire burning on the nose, and very sweet.
A very deep taste of sweet syrupy malts, a slight hoppy aftertaste.
Overall I liked this beer, not going to set the world alight, but for the price it was decent, and was easy to drink and enjoy. Didnt quite feel the 6.2% ABV.
A good beer considering the price and value you are getting.
948 characters
3.16
/5
rDev
+2.6%
look: 4 | smell: 3 | taste: 3 | feel: 3 | overall: 3.5
Poured from 25 cl bottle into pilsner glass. Deep gold, small firm head and good lacing. Hints of carmel and pepper up front, malty with no hint of hops in middle, slightly sweet and decent finish with a burst of sweetness that is not cloying, yet present. It reminds me a bit of Pelforth Blonde with less character. The ingredients list glucose syrup which must be a preservative of some sort. This may add to the sweetness, not sure. Very cheap at Lidl and not the worst thing I have had in awhile.
500 characters



3.48
/5
rDev
+13%
look: 4 | smell: 3.5 | taste: 3 | feel: 4 | overall: 4
Got this beer in a sixpack from my brother in law. This beer is sold in the Lidl shops in Holland and they cost almost nothing.
Poured in my Struise glass the beer has a very nice broken white head and a somewhat darkyellow fluid.
The smell is OK, nothing spectacular. Taste is normal some hidden fruits in it.
Not bad for a reasonable priced beer!
351 characters

3.38
/5
rDev
+9.7%
look: 3.5 | smell: 3.5 | taste: 3.25 | feel: 3.25 | overall: 3.5

3.03
/5
rDev
-1.6%
look: 3.5 | smell: 3 | taste: 3 | feel: 3 | overall: 3
Beer bottle (25cl), tasted in 2006.
Appearance : golden amber color, with white foam head (not persistent, but lacing).
Smell : spicy, caramel aroma.
Taste and mouthfeel : sweet, fruity, lightly bitter finish.
Drinkability : an average beer in Belgian pale ale brewered by Lefèbvre for LIDL distribution (oud Kerken = old church).
337 characters
Abbaye De Oudkerken from Brasserie Lefèbvre SA
Beer rating:
3.08
out of
5
with
11
ratings