Imperial Silver
| Cerveceria Costa Rica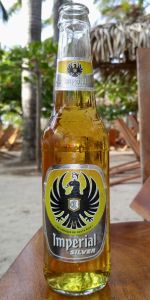 BEER INFO
Brewed by:
Cerveceria Costa Rica
Costa Rica
florida.co.cr
Style:
American Adjunct Lager
Alcohol by volume (ABV):
4.50%
Availability:
Year-round
Notes / Commercial Description:
No notes at this time.
Added by wagenvolks on 01-09-2009
Reviews: 6 | Ratings: 24

1.86
/5
rDev
-6.5%
look: 2.25 | smell: 1.75 | taste: 1.75 | feel: 2 | overall: 2
Slightly lighter, crisper version of the ubiquitous Imperial lager that dominates Costa Rica. Fizzy yellow beer, bright white head fizzes up and settles quickly. Slight scent of generic hop and grainy corn sweetness. Taste is much the same, nothing remarkable or surprising. A decent macrobrew to chug on a hot day.
319 characters

1.97
/5
rDev
-1%
look: 1.5 | smell: 2 | taste: 2 | feel: 2 | overall: 2
350 ml can poured into a tumbler.
A- Straw, slightly darker than the regular Imperial. Head white, retention poor.
S- Sweeter aroma than regular. Maybe a little yeasty. Still really grainy.
T- A little sweeter, maltier. But still mostly grainy in flavor.
M- This one is a little more crisp, but still wet. Clean.
O- Subtly different than normal Imperial. Maybe a little more flavor, sweeter.
396 characters

1.1
/5
rDev
-44.7%
look: 1 | smell: 1 | taste: 1 | feel: 2 | overall: 1
12 oz clear bottle in San Jose, CR. Pours pale straw with tall, long lasting, fluffy, white head and lively carbonation. Nose is of slight hops and pale malt. Body is light and smooth. Taste is barely noticeable. Finish is short, barely noticeable. Beer to avoid.
268 characters
3.18
/5
rDev
+59.8%
look: 3 | smell: 3 | taste: 3.25 | feel: 3.25 | overall: 3.25
Nothing special that stands out about this beer. It's just a rather plain tasting, if not kind of boring, brew that goes down easy and leaves little to no aftertaste....perfect for a hot and humid day in its home country.
222 characters
1.56
/5
rDev
-21.6%
look: 2.5 | smell: 1.5 | taste: 1.5 | feel: 1.5 | overall: 1.5
Bottle: Poured a clear light yellow color lager with a small bubbly head with minimal retention. Aroma consists of light corn adjunct taste with no aftertaste. Very bland overall without much characteristics and almost undistinguishable form the other beer form this brewery.
275 characters

1.71
/5
rDev
-14.1%
look: 2.5 | smell: 1.5 | taste: 1.5 | feel: 2 | overall: 2
330ml bottle poured into abbey glass july18 2010
A very pale straw yellow with little carbonation and no head or lace
S skunky corn not so great
T just more sour corn and skunk quite unpleasant when all's said and done
M not as flat as it appears but I'm willing to guess there's water thicker then this in Costa Rica
D no flavor wouldn't have been a bad thing in this beers case
why brewers use clear bottles I'll never understand, one way to knock a country off the list
479 characters
Imperial Silver from Cerveceria Costa Rica
1.99
out of
5
based on
24
ratings.