Compasses Inn, The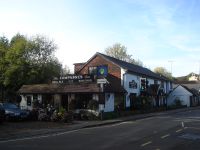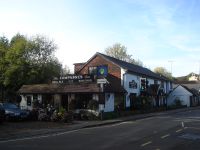 Bar
50 Station Road (on A25)
Gomshall
,
England
, GU5 9LA
United Kingdom
+44 (0)1483 202506 |
map
Notes:
TheLongBeachBum from California
4
/5
rDev 0%
vibe: 4 | quality: 4 | service: 4 | selection: 4
The nearby Station was once known, at least in its beautified Steam driven pre- Dr. Richard Beeching heyday, as 'Gomshall and Shere' - these days, the soulless electrified line and its new operators First Great Western, simply refer to this country stop as Gomshall; though even the stark modern sign slips its corporate face and hints at the wonders to be had here with a little appendage underneath which simply states; "Surrey Hills, an area of outstanding natural beauty". How self effacing.
So it was that BA RichLightWeight and I alighted from the rapid transit World into one that suddenly seemed much slower and more rewarding. The pedantry pace of the Surrey Hills raced inwards and immediately rewarded us both as it filled a void with its 'quality of life' country pace. The feint tones of the Train as it sped away into the distant future, the high rise peaking twitters of singing birds, the quiet yet punctuating sound of Autumnal foliage bristling in the warm yet mild breeze immediately calmed one stressed out Ex-Pat and I suspect one of his best mates. The harsh rasps of the brazen dark green deciduous leaves that were fighting their eventual death, thanks to global warming, seemed to oversee their gentle fading counterparts that were slowly falling to the ground with a cocky impudence – oh my, how all of this invoked a sense of England lost, a time forgotten, and a place so dearly missed.
A short walk west down Station Road, through a few gentle tarmac twists and turns soon bought us out onto Goose Green; it was hard to disassociate the Falklands War from the simple black & white sign that sat there, neatly nestled close to the Post Office Red K6 Phone Box and a rather traditional wooden Village Sign for Gomshall, promoting the Wheel from the nearby picturesque Mill and its 16th Century Packhorse Bridge.
The Compasses is set here in this idyllic English landscape. Bothered and flustered by the modern day automobile, but seemingly juxtaposed on a love/hate basis by its needy patronage on said voiture for survival. What was once called "God Encompasses" is now simply a reference to the directional lodestone. Originating from the 1830's, the Compasses' has a rather envious locale. Set against the A25, it is flanked on its far side by some high hedges and a lovely wooden bus stop which will drop passers by who are canny enough to take the 21, 25 or 32 bus. Set against the green grassy banks of the Tillingbourne, a small babbling brook that gently sweeps past an Old Mill and then the exterior of the Compasses, the clear water is often laden with Ducks and Geese which calm the visitors. A small foot bridge over the Tillingbourne offers access to the gorgeously attractive Beer Garden which has a locked gate and offers seating for many.
A low slung two storey building with an added sympathetic extension at the east end, the Compasses has a rather attractive classic appearance. Dark red tiles and a white washed exterior extol virtuous charms but lay capture to interior sins.
Inside the décor is country laden, lots of agricultural implements line the ceiling, old artifacts litter the walls and some old pictures hark to a time long forgotten. The bar is set against the old exterior back wall once you get inside the extension. Littered with a myriad of Pumpclips, the collage is a testament to the Compasses' continuing commitment to serving fine Real Ales.
Four Wickets serve Cask; on our visit one Handpump was dormant whilst the other three laid play to three Surrey Hills Brewery Beers; Ranmore Ale (3.8%), Shere Drop (4.2%) and Aldbury Ruby (4.6%) - I sampled the latter, which was utterly superb, a perfectly conditioned, very smooth, very tasty offering! So rare to see a country Pub have such a dedication to Independent beers.
The Food Menu is all natural home-made fare, and the chalkboard description clearly tells potential diners that there is a "no fast food" policy here – such that they may have to wait for their order; the impudence of that, I love it!!! Even so, that did not seem to stop the steady stream of punters heading in here on an unusually warm first Sunday of Winter though to partake in the fare. A large Restaurant which heads back into the original part of the building has an "Abandon Ciggies All Ye Who Enter Here" sign and seems set up for the Evening crowd.
Service was quick and attentive, and I noted that many newbies, often walkers, headed into here, and they all got the same courteous treatment as the many locals, so nice to see that.
Stop #1 on an absolutely wonderful Surrey Hills Pub Crawl with my good old mate and BA, Sir RichLightWeight. A long overdue and rather emotional return to Surrey, and yes, this *IS* an area of *outstanding* natural beauty, and not just in the natural sense. England at its best - if you are in London, pack your backpack, take the short train ride here and see the real deal, you will not regret it. Recommended.
Last Visit: Sunday 29th October, 2006.
Nov 07, 2006
Compasses Inn, The in Gomshall, GB2, United Kingdom
Place rating:
4
out of
5
with
1
ratings