The Beer Store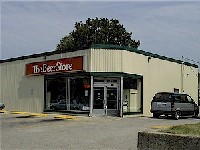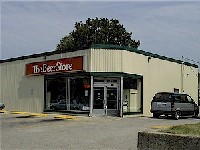 Store
427 Broadway St
Kincardine
,
Ontario
, N2Z 2G5
Canada
(519) 396-2782 |
map
thebeerstore.ca
Notes:
Reviews by TheLongBeachBum:
TheLongBeachBum from California
3.65
/5
rDev
+5.5%
During a recent week long business trip to Kincardine in Ontario, the lack of any decent Beer Bars for well over a hundred miles around had me resorting to the decision to visit a nearby Supermarket and pick up one or two Six-Packs for my Hotel room fridge to see me through a couple of nights……erm, or at least I thought so, for once I visited two local Supermarkets and found no beer whatsoever I started to panic. At the last Supermarket there I was told by the lovely young girl that I actually needed to visit "The Beer Store" to pick up off-sale beer in Ontario.
"The Beer Store" is Plural not Singular; it is a chain of outlets that is the primary distribution and sales outlets for beer in the Ontario province. However, it is not a Government liquor store but a privately owned business jointly owned by Sleeman, Labatt and Molson that does work very closely with the Government of Ontario through the Alcohol and Gaming Commission of Ontario (AGCO).
I managed to actually locate* one of the aforementioned "The Beer Stores" in Kincardine (Store #4103 as it happened) and which was thankfully literally yards down the road from where I was staying.
Housed in a cream colored corrugated steel paneled one storey building, the very plain exterior has a large "The Beer Store" sign and is easily identified. Plenty of parking outside. The entrance is on the corner of the building. Up to press it was all rather straight forward, but once I was inside it all changed. The interior just felt plain cold and desolate. None of the actual beers on sale are even on display here, it all reminded me of one of those Catalogue Only stores where all the goods are hidden in the Warehouse and you select your purchase from the printed pages of table mounted Store Catalogues. The windows on either side of the corner door light up the interior, but the absence of any furniture, stacked cases, packed shelves or even coolers makes it all feel very cold and deserted. The counter area formed one side of the solid L-shaped back walls, and this was to the left as I entered. To the right against the back wall several shelves had row after row of empty bottles of each of the brews on offer neatly lined up. The principle is that you select your beer from the stores listed range – and they will head into the back room to get it for you. The range was around 200 or so, each bottle had a small price placard below and displayed prices for 4, 6, 9 & 12 Packs as well as larger Cases and Kegs. Below the bottle range a steel roller table was located against the back wall which ran up to the counter area. I noticed that this eased the handling of Cases, they would be gently pushed down this roller table from behind the counter, this all made it easier for those collecting their bigger orders. Nevertheless, the range was primarily composed of many brews from the Big Boys, often with many versions of the same Macro brand and with lots of Big Boy Imports too. There were a handful of beers from some of the local brewers but it was hard to differentiate them in and amongst the Macro brews on offer, and without any description it was harder to really narrow down the better quality craft beers.
The most impressive part of my visit was the Service I received. The chap behind the counter was extremely helpful. I explained that I fancied just picking up a couple of Six-Packs. He also took time to explain in detail how things worked in Ontario, The Beer Store and even recommended a couple of local brews to try. Though the J.R.Brickman Pilsner and Neustadt Lager I selected turned out to be just average, it was nice to be pointed away from the Macro selection.
In addition to the great Service, The Beer Stores Environmental policy is second to none that I have seen before. The Beer Store quite literally Recycle or Reuse everything that they sell. Glass bottles, PET bottles, cans, cardboard, paper and even the bottle caps and those stretchy plastic multi-can rings too – a very impressive aspect I have to say.
All in all an interesting and very different way to sell alcohol, but call me old-fashioned, I like to wonder around the Coolers and Shelves and finger my purchases. It is hard to specifically "recommend" The Beer Store, let alone the one outlet in Kincardine - but unfortunately if you want some 'take-home' beer in Ontario, you may not be able to avoid them.
Last Visit: Tuesday 19th September 2006.
* [TBS Website is very helpful an informative in locating your nearest outlet when traveling as well as including a list of beers for each Store].
Nov 01, 2006
More User Reviews:
BrewNoob1 from Minnesota
3.26
/5
rDev
-5.8%
vibe: 3 | quality: 2.75 | service: 4.25 | selection: 3
Sep 17, 2017
The Beer Store in Kincardine, ON, Canada
Place rating:
3.46
out of
5
with
2
ratings