Messagère Red Ale
| Microbrasserie Nouvelle-France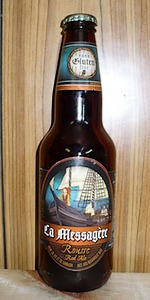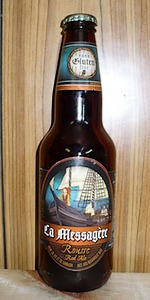 BEER INFO
Brewed by:
Microbrasserie Nouvelle-France
Quebec
,
Canada
lesbieresnouvellefrance.com
Style:
American Amber / Red Ale
Alcohol by volume (ABV):
5.00%
Availability:
Year-round
Notes / Commercial Description:
No notes at this time.
Added by JOaikido on 07-23-2009
HISTOGRAM
Ratings: 7 | Reviews: 6
Reviews by JOaikido:
3.15
/5
rDev
+42.5%
look: 3 | smell: 3 | taste: 3.5 | feel: 2.5 | overall: 3
341 ml bottle. A gluten free red ale. Ingredients include rice, buckwheat and millet.
A- Very little head. Just a ring of of bubbles and a touch of lace. Dark red/brown colour with amber highlights.
S- Sugary dried fruit. Alcohol. Molasses.
T- Sour middle. Faint molasses. Grain husk in the finish. In keeping with the other beers fronm this brewery.
MF- Light and drying. A little harshness from carbonation and sourness.
D- Not great but has some character which makes it interesting for those who can't handle gluten. Refreshing but a little harsh.
566 characters
More User Reviews:
2.18
/5
rDev
-1.4%
look: 3 | smell: 2.5 | taste: 2 | feel: 2 | overall: 2
341ml bottle. Some old ship's maidenhead imagery prominent on the label, where rousse = redhead, beyond the specified style of this gluten-free offering.
This beer pours a clear, medium bright reddish amber hue, with two fingers of thinly foamy, and mostly fizzy off-white head, which doesn't stick around to make introductions, and leaves a bit of tacky snow rime lace around the glass.
It smells of sweet, stale vegetal grain, fruity rice pudding, weak brown sugar syrup, and faint generic earthy hops. The taste is semi-sweet, in an off-world sort of way - rice grain - an earthy, musty edginess that must be the buckwheat, some dryness extracted from the same, metallic medicinal notes, sour overripe dark orchard fruit, and bland weedy, leafy, well, hops.
The carbonation is on the low side, just sort of moping about, the body a pithy medium-light weight, I suppose, and hardly what one might deem smooth. It finishes off-dry, that notion coming from a still weird place - vegetal, musty, fruity, and earthy - and altogether none too appealing.
A little while ago, while at a friend's party, said friend and I had just cracked a bottle of Alley Kat's Olde Deuteronomy to share, when his other friend, within earshot, asked if he could at least have a whiff of the pour. This friend is celiac, and a drinker of the beer I am currently slogging my way through. I almost cracked up, in the tear-shedding sense, at the idea - that just adds to the all around unsettling feeling I get around La Messagere Rousse.
1,518 characters
1.91
/5
rDev
-13.6%
look: 3.5 | smell: 2.5 | taste: 1.5 | feel: 2 | overall: 1.5
341 ml bottle poured into Kilkenny pilsner pint hybrid (not sure what kind of glass this is)
A- aggressive pour gives nice head which settles down to about a millimeter. Liquid is like a reddish cola, bubbles stick to the glass and rise just like cola.
S- floral hops, rice pudding.
T- taste like body lotion, blu-tack, sour malt.
M- low to medium carbonation, tart, a little watery.
D- if I had no sense of smell or taste buds, it would feel like beer, but I do have those. It doesn't taste like beer, it tastes terrible. I'm sure a better gluten-free beer is possible.
576 characters
2.28
/5
rDev
+3.2%
look: 3 | smell: 2.5 | taste: 2 | feel: 2 | overall: 2.5
Bottle: Poured a clear light brown color ale with a small foamy head with light retention and lacing. Aroma of light cereal notes with unrefined grain. Taste is not the greatest with unrefined grain and light cereal notes with residual sugar notes. Body is light with good carbonation. Only to be consumed by those allergic to gluten.
334 characters

1.97
/5
rDev
-10.9%
look: 4 | smell: 2 | taste: 2 | feel: 2.5 | overall: 1
12oz bottle poured into a pint glass
Appearance - The beer pours an amber/red colour with a medium size frothy beige head. Actually looks like a red beer should look. I can see a large amount of carbonation. There is also some good lacing and the head lasted for a minute and then it was gone.
Smell - well.. there is a potent smell here - I'm starting to get a little leery about drinking this beer. I can smell roasted nuts, a skunkiness, and... buckwheat?
Taste & Mouth - alright, this is not for me. I'm having a hard time keeping the beer in my mouth long enough to differentiate the flavours. Mouth feel is okay, perhaps under carbonated. The beer tastes metallic, has a roasted/smoky taste, and a few flavours that I can't identify - and don't enjoy. I guess I like my gluten.
Drink - I had to dump this one - not good at all. It reminded me of a really bad/cheap bottle of wine.
890 characters

1.69
/5
rDev
-23.5%
look: 3 | smell: 1.5 | taste: 1.5 | feel: 2.5 | overall: 1.5
341 ml bottle poured into 400ml dab glass oct5 2009
A clear reddish copper with no head and no lace
S almost a rotten fruit and medicine smell not very nice at all
T sour and tart but not in a good way, I'm so stoked I can drink real beer because this is just nasty
M good carbonation but very thin
D this is just plain bad, I just don't like it
the sad thing is I'm marking this for its style, this really is a bad beer I just couldn't finish it. I've had better gluten free beers but that's not saying much
The more I think about it the happier I am that I can have gluten in my beer
592 characters
Messagère Red Ale from Microbrasserie Nouvelle-France
Beer rating:
2.21
out of
5
with
7
ratings