West 50 Pourhouse & Grille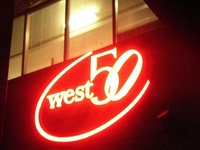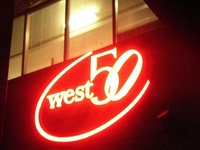 PLACE INFO
Type:
Bar, Eatery
50 Burnhamthorpe Rd W
Mississauga
,
Ontario
, L5B 3C2
Canada
(905) 949-9378
// CLOSED //
Notes:
No notes at this time.
Added by Popsinc on 11-01-2006
PLACE STATS
Reviews:

8

Ratings:

pDev:

14.55%
HISTOGRAM
View: Place Reviews
Ratings: 10 | Reviews: 8
Reviews by crwills:
3.48
/5
rDev
+5.5%
vibe: 3 | quality: 3 | service: 4 | selection: 3.5 | food: 4
Headed here for dinner with three others. This place is very... "Mississauga". Huge space inside an office building, lots of artificial touches and (sometimes misguided) attempts to be trendy. West 50 is actually part of a chain of similar restaurants in the area, catering to the boom of yuppies buying condos around Square One. Not terrible, but not a lot of character.
On to the beer...
A massive selection of taps (~100), but sadly little you can't find in a more interesting location. The big deal, I guess, is having them all in one place. Many dull Canadian lagers and macros in among a few decent micro selections from Ontario locals. I only had two pints here -- a Church Key Holy Smoke and something English -- and the Holy Smoke was definitely starting to go stale. Understandable given the amount of taps; I really don't think quality is maintainable with so many taps and the crowd this place invites. Anyway, it's nice to have the selection, but be wary of ordering something off the beaten path.
The food was surprisingly good, given the location and atmosphere, but seriously overpriced for what you get. Some interesting burger variations, although some of the toppings are a little on the ridiculous side... pulled pork or grilled sausage on a burger? Mmmm, meat as a condiment. (OK, I did get the pulled pork burger, I'll admit -- and it wasn't half bad).
Summation: Large selection with limited range, very friendly and attentive service, decent but overpriced food. I'd go back, but wouldn't go out of my way for it.
1,550 characters
More User Reviews:

3.79
/5
rDev
+14.8%
vibe: 2.5 | quality: 4 | service: 4 | selection: 3.75 | food: 4
Lots and lots of taps, but not a huge great selection of craft beer. Prices are ridiculous (not in the good way), and I don't get how they price their beers (some pretty poor beers are rated four stars). We knew the people there when we visited, and this is the place that got me in to craft beer (via Delirium Tremens). It's a fancy place, but not a craft beer drinking place.
381 characters
3.38
/5
rDev
+2.4%
vibe: 3 | quality: 3 | service: 4 | selection: 3.5 | food: 3
I came here in search for craft brews in the Oakville, Missassauga area. I know there are better places in Toronto and possibly Hamilton, but I am not from the area.
I tried some pulled pork poutine and sampled the Spearhead Hawaiian ale. The servers were decently aware of styles of beer, however didn't know what they were talking about with respect to flavors and comparisons. No matter, that shouldn't be their job, it should be the patron's.
Atmosphere was decent, location is OK. Parking isn't free, at least for me it wasn't.
Lots of European 'big name' beers on tap. I was a bit disappointed that I didn't see any more local brews on tap. That was my motivation to venture out to this place. I'm glad I stopped by. I may try it out again on a week day with some coworkers.
783 characters

3.15
/5
rDev
-4.5%
vibe: 2.5 | quality: 3.5 | service: 2 | selection: 4 | food: 3.5
I came here with my girlfriend and parents for dinner and drinks in May of this year. At first we couldn't find the entrance so we snuck in through the patio door, which we then realized was the front entrance. Weird set-up.
Atmosphere wants to be upscale yuppy but falls short, with mostly young couples eating dinner and large groups of drunks getting hammered in the dining section of the restaurant. At around 8pm, loud music was blaring from the speakers and we all had to yell at each other even though we were sitting close together. Two people fell on the floor while we were eating and the place seems to get 'clubbish' in the evening. Not my type of hangout.
The obvious strength of this bar is the absolutely gargantuan tap list, which the owners claim is the largest in Canada. I went with the Church Key Black IPA and Paulaner Original Munchner. However, I had to get both of the beers myself because our waitress didn't know anything about beer. When I ordered the Paulaner, she said they didn't sell it. I then went to the bar to ask for it and sure enough the bartender poured me a pint. To avoid being told they were out of the Church Key, I did the same thing for my second pint. So the beer selection is good if you can access it. If not, I guess you'll have to settle for a pint of Bud.
Food is above average, maybe slightly better than what you'd get at Boston Pizza or Montana's. I ordered the Bourbon Street Jambalaya and it tasted fine, no complaints on that front. Seems like you're in the clear if you're a meat eater, as there are no vegetarian entrees, but my girlfriend and parents weren't overly impressed with their pizzas and salads.
Overall, we were pretty underwhelmed with our experience here but there's no denying that the tap list is monstrous and worthy of respect. Also, I'm told that it's not as loud in the daytime, so visiting in the afternoon or before the late dinner rush is probably advisable. West 50 is worth checking out if you happen to be in Mississauga or the west end of Toronto (we were staying overnight at the airport), but if you have the time and interest, you're better off heading to the top-notch bars further east.
2,184 characters
3.45
/5
rDev
+4.5%
vibe: 3.5 | quality: 3.5 | service: 3.5 | selection: 3.5 | food: 3
** REVIEW EDITED ON 9/24/11
West 50 is getting much better. Still a lot of macro taps but more more selection and quality of craft beer. In a recent visit I had Spearhead Hawaiian Style Pale Ale which was a shock to see on the menu. They also had FM Netherworld and a number of other Ontario craft beers. There were also 5 rotating seasonal taps from breweries such as Black Oak, Amsterdam and Great Lakes. Still a lot of room to get better but definitely improving.
One of the most vast selections of beer on tap that I have ever seen. There is a lot of variety, but they need to pay a little more attention to the quality of the beer. Yes, there are over 100 beers on tap, but for the most part all you find here is almost every macro that you could want plus a bunch of local Ontario craft beer.
I am disappointed in their lack of Mill Street beer - all they have is the standard Organic, Coffee Porter, etc. No Cobblestone Stout, no seasonals. They seem to like sticking to the basics.
Would be nice to see some craft beer from other provinces in Canada too, perhaps some Half Pints or Central City. And even more shocking to me was the complete lack of Unibroue.
The American craft selection basically consists of Sam Adams lager. Nothing else.
If you like European macro beer, this is the place for you - their selection is pretty huge.
But if you are like me and you like craft beer, this place will be a big let down. Sure, the number of taps is amazing, and because of that the selection is better than most bars in the Toronto area, but they could do so much better.
Re-reviewed after another disappointing visit, for the reasons mentioned above.
1,672 characters

2.18
/5
rDev
-33.9%
vibe: 2 | quality: 2.5 | service: 1 | selection: 3.5 | food: 1
This place left me pretty much underwhelmed. And annoyed to boot. It's a one trick pony whose gimmick is that they have more beers on tap than just about anyone else in the GTA.
That said, they're all commons with nothing really special available. You should be able to find something you like, but you won't find anything that'll blow you away. It's like a beer buffet - you're goggled by just how much there is, but when it comes right down to it is it really worth the bother if the quality isn't there? The shock and awe approach of it all wears pretty thin, pretty fast. The extent of the staff's knowledge of beer extends to knowing that they sure have a lot of taps. No kidding.
Couple that with serving staff and managers that are polite in a superficial, corporately programmed way and absolutely brutal food, and it really doesn't add up to much. I sent back a "crab tower" that even the cat would have turned his nose up at and had to endure an empty, scripted apology from a clueless aparatchik that had to be reminded to remove the wretched thing from the bill. Spare me.
If mindless beer commercials piss you off, then this place is a little like being sent to hell. It's some marketing guy's concept of beer Nirvana, but there's not that much behind the glitzy labels, fancy beer pulls, and mannikin-like staff. An utterly vacuous place.
You're further ahead to make your way another 30 minutes down the road to something interesting in the big city. Even if it doesn't have a zillion taps. Go somewhere else.
*** UPDATE ***
Well, since being so royally p.o.'d by what was a pretty soulless place in the early going, I have to concede that they have managed to improve markedly both in their beer selection, quality of food, and level of service. To the point that I would go 2-3 times a year. But ...
*** PENDING UPDATE ***
... it appears that they may be transitioning into a martini joint. At least that's how they're now profiling themselves on their website. They don't proudly wave that 50 taps flag anymore, but do say they have a very large selection of bottles and cans. Hmm. This will need some work on the ground. Stay tuned -- unless anybody else already knows better?
2,202 characters
4.14
/5
rDev
+25.5%
vibe: 4 | quality: 4 | service: 4.5 | selection: 4
A- amazing. The place was suggested by a friend that lived in Brampton. We were in a group of about 40 or so, and we didn't have a reservation for their private room, but because nobody was using it, they gave it to us with our own waitress for the night *i know she was happy, we left a tip of probably $1000* Place looked very upscale, and the prices showed it. All in all, would go back alone just to see the Keg room, and the beer tap line.
Q- was good, but nothing OVER special.
S- Phenominal. I went in there looking for a few different beers that they did not have *including a hometown favorite of Killians :)*, and the lady behind the bar was VERY helpful in getting me a beer. They didn't do any samplers, other than a sampler thing they had on the menu, which wasn't bad itself. Split a 6er with a friend to try a few different ones.
S- 105 beers. There is a very good selection. Maybe not for the connessieurs looking for a specific brand, but they have everything from domestic *labatt, coors, miller* to foriegn macro *leffe*, to just about any type of beer out there. I went in February, so i do not know if they switch out beers seasonlly *wheat, pumpkin, etc.*
F- Food was for okay for other people. Hit or miss on the quality there. I didn't have any so I can not say anything myself.
V- Fairly pricey to say the least. It's nice for like a, once a year thing to do, but other than that, I wouldn't drive out the 3 hours on more than 1 occasion to go there.
All in all, it's a must see. Friendly staff, 105 beers on tap, can't go wrong with that. Check it out, enjoy a brew. Their list of beers is actually on their website with prices if you guys check it out anytime.
1,697 characters
3.35
/5
rDev
+1.5%
vibe: 2.5 | quality: 3.5 | service: 2.5 | selection: 4.5 | food: 3
The largest selection of taps in Canada, every Guiness, British, German tap around Ontario. No experiments, no casks. Cheap parking but far from the roar of the city, out of the way for just about anybody. A large place, pretentious, with unknowledgeable downtown disco type staff-for them its a place to work closer to home. Dark and old music way too loud. Vast majority were at the bar, where conversation could be had. Worth seeing, but will only come out here again when exceptional different beer to be had.
513 characters
West 50 Pourhouse & Grille in Mississauga, ON, Canada
Place rating:
3.3
out of
5
with
10
ratings