Imperial Eclipse Stout - Buffalo Trace Barrel Blend
| FiftyFifty Brewing Co.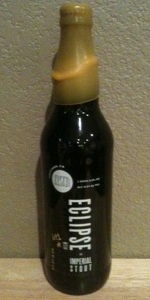 BEER INFO
Brewed by:
FiftyFifty Brewing Co.
California
,
United States
fiftyfiftybrewing.com
Style:
American Double / Imperial Stout
Alcohol by volume (ABV):
9.50%
Availability:
Fall
Notes / Commercial Description:
Yellow wax.
Added by MasterSki on 12-08-2011
Reviews: 62 | Ratings: 243
4.31
/5
rDev
+6.7%
look: 4.25 | smell: 4.5 | taste: 4.5 | feel: 3.25 | overall: 4.25
A great Christmas Eve tradition! A bottle of Eclipse courtesy of one of the best BAs out there, maximum12. Thanks again my man!
Pours a flat and sludge black color, with a pretty nice tan color head.
Aromas are of very prominent roasted nuts. Some coconuts, oak, and of course, bourbon.
Tasted is very nutty up front. Very pronounced oak, some toasted coconut, and dark bakers cocoa. Finish is warm from the alcohol, but it's cut the sweetness nicely, also notes of bourbon.
Mouthfeel is smooth, but thin for the style.
Overall, this is another winner from 50/50. Flavors and aromas are spot on, it's just the thinner body that hold this back a bit.
655 characters

4.32
/5
rDev
+6.9%
look: 4 | smell: 4.5 | taste: 4.5 | feel: 4 | overall: 4
A - Dark black with a touch of brown and a finger of frothy khaki-chocolate head. Fades normal.
S - Chocolate and dark caramel malts, molasses, Bourbon, vanilla, oak, black licorice, dark cocoa, coffee, booze.
T - Sweet chocolate and caramel malts, Bourbon, vanilla, oak, molasses, coffee, black licorice, bitter dark cocoa, touch of dark fruit, and some booze.
M - Full bodied with moderate carbonation. Smooth and a bit syrupy with a warming, sweet, and lightly spicy finish.
D - Great barrel aged stout. The bourbon is a bit more subtle here.
549 characters
4.33
/5
rDev
+7.2%
look: 4.5 | smell: 4 | taste: 4.5 | feel: 4 | overall: 4.5
On tap at Capone's during Philly beer week.
The beer pours a blackish brown color with good head retention and considerable sticky lacing all around. The nose is impressive as well, as I pick up considerable bourbon, milk chocolate, vanilla and light coffee. The flavor profile replicates the nose, dominated by the bourbon and milk chocolate (which works just fine for me, thank you very much). There's a hint of bitterness on the finish as well, which helps to dry out some of the sweetness. Mouthfeel is medium boided, with a long, somewhat boozy finish. Still, the alcohol is pretty well integrated into the flavor profile, and so drinkability is actually pretty good. The mouthfeel is a bit thin, in comparison to some of the other Eclipse beers I've had, but it's a minor thing, and is the only criticism I can think of.
A very nice beer from the folks at 50/50.
871 characters

4.33
/5
rDev
+7.2%
look: 4.5 | smell: 4 | taste: 4.5 | feel: 4 | overall: 4.5
From 11/17/12 notes at our big Eclipse tasting. Big thanks to Thorpe429 for bringing this one; thanks Mike! 2011 vintage bottle #643.
a - Pours a deep dark brown, almost black color, with an inch of two of dark tan head and moderate carbonation evident. Looks great, like the others.
s - Smells of bourbon, roasted malts, chocolate, vanilla, toasted malts, light coffee, cream, and a little bit sweet. Lots of roasted notes and the sweet bourbon is wonderful in the taste, as is the mix of chocolate and vanilla. Awesome nose.
t - Tastes of sweet bourbon, swete chocolate, roasted malts, vanilla, sweet dark fruits, burnt malts, cream, earthy notes. A little sweeter than the nose; still quite nice.
m - Medium body and low carbonation. Body is similar to all the others, though a bit sweeter. No heat.
o - Overall a really great variation of Eclipse; one of my favorites of the tasting behind 18 year EC. Awesome nose, one of the sweeter ones in my opinion. Would love to have it again.
992 characters

4.35
/5
rDev
+7.7%
look: 4.25 | smell: 4.25 | taste: 4.5 | feel: 4.25 | overall: 4.25
Thanks KimboSlobGob. Had a bunch of these last year and they fell flat due to lack of stout base and body. Bring it 2014.
A- Pours to my snifter with a black hue like the background of a moonlight eclipse. A thick and super bubbly frothy head rises to a finger with decent retention. Small sheets and webs of lace.
S- Old Buffalo Trace wood and barrel slightly at the forefront with aged whiskey and vanilla on top of the oak. Deep chocolate base, roast malts and a cherry truffle-like fruit feel.
T- Compared to last year, the non-barrel portion of the beer is miles ahead with a rich, semi-sweet cocoa feel like a fudgey milk shake. Vanilla is huge with the chocolate, like a milk shake dessert at times. Super aged whiskey and old sweet oak. Charred grains balance it out.
MF- Massive body with a creamy and oily consistency. Carbonation is on the low side and in this case it really suits the big dessert flavors.
Miles away from the 2014 besides perhaps the Elijah Craig. The stout base is delicious and the barrel seems pumped up too. A dessert treat.
1,063 characters
4.35
/5
rDev
+7.7%
look: 4.25 | smell: 4.25 | taste: 4.5 | feel: 4.25 | overall: 4.25
22oz, 2013
Mini snifter
A: Pitch black in the glass. Thin layer of light tan head. Alcohol feet. Not really any lacing.
S: Boozy bourbon. Dark chocolate. Vanilla. Oak dryness.
T: very similar to the MM batch. Good amount of bourbon flavor here. Roast malt. Charred oak. Dark chocolate. Vanilla. Dry tannic wood. Bitter chocolate and lingering booze heat at the close.
M: Full bodied.
388 characters

4.36
/5
rDev
+7.9%
look: 4 | smell: 4.25 | taste: 4.5 | feel: 4.5 | overall: 4.25
So originally when this came out, they poured it at the party on tap and it was dead flat. Thankfully, every tap and bottle I've come across since, this has done so much better on the carbonation tip.
You know the appearance, black with brown edge, 1/2" of tan head. Aroma was chocolate, moreso than your average Eclipse beer, more than all of them save maybe the EC barrels, and of course, bourbon and oak.
This one keeps dropping chocolate all over you. Plenty of bourbon, good BT kind. This is one of my more favorite Eclipse beers.
543 characters
4.42
/5
rDev
+9.4%
look: 4 | smell: 4.5 | taste: 4.5 | feel: 4 | overall: 4.5
I had this on-tap at Capone's during Philly beer week. Poured into a 5 oz. snifter.
Appearance: The beer pours almost black with some red light coming through at the edges. There is a layer of off white head that goes away but leaves some lacing.
Smell: Sweet and smooth dark chocolate roast. Along with the chocolate notes, I'm getting some coconut, dark fruit, and bourbon.
Taste: Just as smooth as the smell. Chocolate and coconut with a slight roasty bitterness. The bourbon and coconut flavors are nice together. I thought this tasted almost as good as the 18 year version.
Mouthfeel: The body is thick, but less so than the 18 year. The carbonation is tingly and the finish is dry.
Overall: This is a very good and complex imperial stout. I liked the coconut note along with the bourbon and roast. I would have this one again.
837 characters

4.47
/5
rDev
+10.6%
look: 4 | smell: 4.5 | taste: 4.5 | feel: 4.5 | overall: 4.5
2011, bottle #650. Warmed up significantly before reviewing.
Pours with a big cocoa head which settles into a thin film. Black with clear redwood edges.
Very dark fruity chocolate, dried dark fruit, sweet alcoholic esters, Vanilla-y milk chocolate, toasty and dark roasted grain. Smells delicious, on point.
Milk chocolate, damp oak, chocolate covered raisins. Pretty simple, but easy to drink and very nice. -bals are restrained, but are a pleasant as a nice background note. Nothing wrong with that.
Silky and rich. The effort to amend the mouthfeel (which wasn't necessarily a problem to me) shows.
A nice iteration of this beer. No over the top char or booze to be found. A nice change of pace and highly enjoyable.
725 characters
4.49
/5
rDev
+11.1%
look: 4.75 | smell: 4.5 | taste: 4.5 | feel: 4.25 | overall: 4.5
22oz bottle purchased as a single from Beverage Warehouse, Winooski, VT. Gold wax, Bottle 1/2013.
Poured into DFH snifter, formed a 1/2" purpley dark brown head over the opaque dark brown/black brew. Frothy head holds nicely, with thick coating lace. Aroma is dark, sweet, and boozy.
Taste starts with rich and dark malts, dark fruit in the middle, and closes with tannins and tons of alcohol character, which mellows through with come vanilla barrel character. Mouthfeel is slickery smooth, and drinkability is good, as in I look forward to finishing the bottle. Glad I had the opportunity to have this, even if the price point is somewhat prohibitive. A Christmas gift to myself.
683 characters

4.5
/5
rDev
+11.4%
look: 4.5 | smell: 4.5 | taste: 4.5 | feel: 4.5 | overall: 4.5
Poured from a wax-coated bomber into a goblet. 2014 edition, hand labeled. Fancy stuff.
L: Inky black pour... 1 finger of tannish head. Spotty lacing.
S: Rich and boozy... lots of bourbon, coffee, vanilla, and cocoa.
T/F: Follows the smell... deliciously decadent. Roasted sugars/grains, espresso, and cocoa nibs. Some oak presence and vanilla... the bourbon really shines through. A bit of char. Complex and luscious. Thick and creamy in mouthfeel. Gets boozier as it warms.... and it warms you as well.
O: A fantastic bourbon aged stout. Big and bold... lots of flavor... and one of the best representations of the style I've had. For $40 a bomber it had damned well better be. Worth the splurge.
721 characters
4.6
/5
rDev
+13.9%
look: 4.5 | smell: 4.5 | taste: 4.75 | feel: 4.5 | overall: 4.5
you guys are high! Sammy gave it a 2.93? oh please...
same recipe as the others, just a different barrel. great aroma in the glass, bourbon and oak, roasted malts.... vanilla. chocolate. yummmm...
taste is a lot like the others, except for a small difference which I assume is from the different barrels(?). I love this stuff and place it highly on my all-time list of favorites. it's a little expensive but it's a great treat when in the right frame of mind. warming and sweet on a cold December afternoon...
this may not be as good as the others I have tried, and i'm trying to decide if maybe because it was just bottled as opposed to sitting a bit, but I am truly entranced with this brew.
695 characters
Imperial Eclipse Stout - Buffalo Trace Barrel Blend from FiftyFifty Brewing Co.
4.04
out of
5
based on
243
ratings.