Iced BART
| FiftyFifty Brewing Co.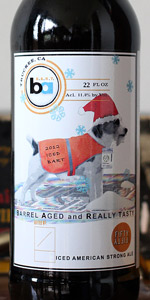 BEER INFO
Brewed by:
FiftyFifty Brewing Co.
California
,
United States
fiftyfiftybrewing.com
Style:
American Strong Ale
Alcohol by volume (ABV):
11.00%
Availability:
Limited (brewed once)
Notes / Commercial Description:
No notes at this time.
Added by largadeer on 12-23-2012
This beer is retired; no longer brewed.
Reviews: 12 | Ratings: 40

2.95
/5
rDev
-25.1%
look: 3 | smell: 3 | taste: 3 | feel: 2.5 | overall: 3
Thanks to Analogchainsaw for this bottle, which I'd been coveting ever since having the 'regular' BART a while back. Plus, I want to drink anything FiftyFifty makes. 22 oz. bottle #90, dated 2012, little over a year old. Split with my wife.
The pour sloshes out like liquid chocolate, with roughly the same amount of carbonation, though there was a decent hiss when the cap came loose. Aroma is cut from the same brew kettle, mild alcohol, sweet malts, vanilla, but the sum of them all is tame.
Iced BART suffers from a lack of bubbles. Immediately one gets a heavy, sloshing feel in the stomach as the first sip goes down & begins to roll around like half-melted marbles; way, way too dense. Taste is interesting. Brown leather jacket that's been scraped across a brick roadway in the rain (man, I didn't need that memory), then scrubbed gently with bourbon, burnt caramel, & black licorice. Prunes, alcohol rub up against my palate suggestively as the beer warms. 11 ounces isn't going to be as bad a raking the lawn, but I'm glad I put the other half on my wife's to-do list.
The lack of any semblance of carbonation dooms this into being a marginal beer. Only the second FiftyFifty beer I've tasted that wasn't excellent, but this isn't even close. Sub-par & a big disappointment.
1,290 characters
3.47
/5
rDev
-11.9%
look: 3 | smell: 3.5 | taste: 3.5 | feel: 3.5 | overall: 3.5
650 mL bottle poured into a snifter. Bottle #126. 2012 bottle.
Appearance - Black with a lot of transparency. Almost brown. Wispy surface and some chunky foam in the collar.
Smell - Some barrel character but otherwise very sweet. Chocolatey, not quite a stout.
Taste - Sweet caramel. Lots of chocolate, bourbon sweetness. Slight bitterness in the back end.
Mouthfeel - Halfway to a stout. Very sweet. Not a ton of booze.
Overall - Tasty, but not "Really Tasty." Pales next to the Eclipse variants.
503 characters

3.81
/5
rDev
-3.3%
look: 4 | smell: 4.25 | taste: 3.5 | feel: 4 | overall: 3.75
01/20/2013
Bomber into a snifter.
A: Very dark brown with an inch of light brown froth.
S: Prune, plum, leather, a little brown sugar. Lots of licorice with vanilla and bourbon. Some oak and coconut.
T: Rich bittersweet dark chocolate with notes of bourbon, roast, and licorice. Light caramel with prune, leather, oak, and a touch of vanilla. Finishes dry and tannic with some alcohol heat and flavor. Quite boozy with somewhat harsh barrel phenolics near the end.
M: Full body with medium carbonation. Lots of alcohol warming.
Overall: Pretty good overall. Some nice flavors and aromas are evident but it's a touch harsh if it's actually under 12%.
657 characters
3.84
/5
rDev
-2.5%
look: 4 | smell: 3.75 | taste: 3.75 | feel: 4 | overall: 4
Bomber #131 poured into an Eclipse snifter. The brew appears a dark brown color with a khaki colored head that starts off with a big bubble composition and falls back to a fine penline of bubbles around the perimeter of the glass. When held to the light, some cola clarity is seen around the edges.
The aroma includes notes of raisony alcohol tang, minor citrus and fruity hop elements mixed in with solvent alcohol. It smells strangely inviting and fruity sweet at the tip of the nose but as you breath in deeper, the alcohol becomes alarmingly solvent and burning to the nostrils. A hint of chocolate and caramel malt are also present.
A strong taste of solvent alcohol starte things off that is initially sweet and fruity like plum/raison that fades to more earth and roast character as more sips are taken. A bit of caramel comes out before the solvent alcohol burn reverts and overtakes the profile.
This is a medium bodied brew with a modest amount of carbonation. This probably sounds like a dumb/obvious statement but this really is a souped up, bigger version of bart. It feels thicker and smoother with a bigger alcohol bite and even more fruity elements. Yet it still remains aa not nexessarily a better iteration of its original base unless you love booziness. I never felt like I was drinking a stout or barleywine...ok maybe a barleywine.
1,355 characters
3.87
/5
rDev
-1.8%
look: 4 | smell: 3.75 | taste: 4 | feel: 3.75 | overall: 3.75
2012 Bottle #144 opened on 10.2.13
A - Pours a very dark brown with a small light brown head with decent retention.
S - Booze, coffee, roasted malt, pretty mild.
T - Strong bourbon, chocolate and roasted malts in the finish.
D - Lower carbonation with a heavy body.
O - Very boozy and big. Silk smooth and still hot.
321 characters

3.89
/5
rDev
-1.3%
look: 3 | smell: 4.5 | taste: 4 | feel: 2.75 | overall: 3.75
Poured into a snifter. 2012 vintage, bottle #71.
3.0 A: Deep brown color. Aggressive pour yielded just a wisp of head that fell quickly.
4.5 S: I had another BART variant a while ago, but I don't remember much about it. However, I don't think it smelled much like this. This American strong ale smells like equal parts imperial stout and barleywine. Moderate roastiness, milk chocolate, layers of caramel, and hints of toffee. Dark fruits including dates, figs, prunes, and light raisin. As per usual, the barrel aging is done really well. Smooth leather with earthiness and light, supple tannins. Lots of vanilla and a mild oakiness.
4.0 T: Taste is like the nose, but it less powerful. It's also a bit more tilted toward barleywine. Light roast and chocolate. Layers and layers of caramel, some toffee, fruits mentioned in nose. Light booziness that fits in well with the beer as a whole. Again a good bit of vanilla, leather, earthiness, and oak.
2.75 M: Just like the Eclipse line, this is desperately in need of some body. It's a light to lighter medium body. It lacks creaminess and is also a bit low on carbonation. Get a higher mash temp up in this bitch.
3.75 D: Again the thing that holds a 50/50 brew from being stellar is the mouthfeel. More body would fix the mouthfeel and would add some more flavor to the taste. Still, it's a good beer, so feel free to give it a try.
1,388 characters
3.89
/5
rDev
-1.3%
look: 3 | smell: 4 | taste: 4 | feel: 3.5 | overall: 4
Bottle pour at the 2013 Firestone Walker Invitational held at the Paso Robles Event Center in Paso Robles, CA.
Pours a murky brown with a foamy bone head that fades to nothing. No lacing on the drink down. Smell is of malt, caramel, toffee, and alcohol aromas. Taste is much the same with caramel and toffee flavors on the finish. There is a mild alcohol kick after each sip. This beer has a lower level of carbonation with a slightly crisp mouthfeel. Overall, this is a good beer with some solid aromas and flavors.
518 characters

3.95
/5
rDev
+0.3%
look: 4 | smell: 4 | taste: 4 | feel: 3.5 | overall: 4
Eclipse release party, 2012. Reviewed from notes.
Pours a few shades browner than black with a thin dark tan head that faded into a lasting collar. The nose is boozy and full of dark fruits, vanilla, and leather. Taste follows suit with notes of warming booze, sweet fruits, raisins, prunes, vanilla, leather and wooden barrel. The finish contains notes of chocolate and wood, and the aftertaste has some lingering alcohol. The mouth is on the thin side but has a good chew to it, medium-full body. Overall a sweet beer and a bit hot, but the flavors are awesome and I would not pass up a chance to try this again.
616 characters

4.14
/5
rDev
+5.1%
look: 3.5 | smell: 4.5 | taste: 4.25 | feel: 3.5 | overall: 4
A-Clear ruby when pouring, not much carbonation at all, what head that was barely there was tan.
S-Good deal of bourbon, vanilla, roasted malt and chocolate.
T-Starts with nice bourbon and oak flavors. Some vanilla and roasted malt. Tad bit of chocolate.
M-Not much carbonation, watery because of lack of carbonation. Really needs more carbonation.
O-More carbonation would make this beer wonderful.
403 characters

4.27
/5
rDev
+8.4%
look: 3.5 | smell: 4.5 | taste: 4.25 | feel: 4.25 | overall: 4.25
A notch below your average appearance from these guys (and girls). Ruddy brown and minor black. Almost no head.
Aroma was complex and had a bunch going on: oak, chocolate, bourbon, vanilla, roast, leather, snow (psych!).
Residual sweetness kept it from ever drinking hot. All the aroma came through on the palate. I'd bang this over and over, pretty underrated if you ask me.
386 characters

4.37
/5
rDev
+10.9%
look: 4 | smell: 4.5 | taste: 4.5 | feel: 4.5 | overall: 4
Dark amber-brown in the glass. A thin but lasting head forms from a gentle pour. The nose is nice, big on sweet caramel and vanilla notes. There's a solid oak backbone, a touch of chocolate and cola, caramel and leather. A lot of depth to the aroma. Palate is sweet with notes of caramel, oak, vanilla, leather and anise. There's a tannic bite from the oak, but restrained booziness. Full rich body with a drying oaky finish. Very solid stuff.
443 characters
4.44
/5
rDev
+12.7%
look: 3.25 | smell: 4.75 | taste: 4.5 | feel: 4.5 | overall: 4.25
On tap at the 3rd Eclipse party. How the heck did I miss there were bottles of this, I only found it on tap?
Poured out a dark brown liquid, wasn't necessarily the most attractive looking thing I've ever seen, swamp water was something that came to mind. Decadent aroma of wood, vanilla, booze, roasted malt, caramel, chocolate, leather. Complex and deep, like becoming an international expert in intellectual property law.
Taste, had enough sweetness come through to keep this one from tasting hot. Who knows what fiftyfifty's actual abv's are, if this one is 'only' 11% I'd be surprised, but even at that number, there is significant complexities in this to keep it from burning your mouth, throat, stomach, ear nose throat pavillion, whatevers. You can taste everything you smelled, which is a huge plus being how good it smelled. The mouthfeel was pretty coating, yet kept dry and largely uneventful as it warmed. Overall it was a definite winner in my book, and would love to get my hands on some bottles. I thought Iced Eclipse was great, this too. FiftyFifty knows what they're doing with iced barrels, be it Eclipse or BART.
It was one of the first beers I had in the evening. Towards the end, I was in kind of a quandry. Old lady and redhead with fakies were down to go back to the room if you follow what I'm getting at, but rather than jump on that opportunity, I went back for another iced eclipse. I missed the boat on the other thing that night, but there's a plethora of opportunities and happenings regarding that stuff on any other night, Iced Eclipse was one night only (as far as I knew, who knows about these dudes with bottles, but if largadeer said he drank from one, I'm pretty inclined to believe it happened).
1,740 characters
Iced BART from FiftyFifty Brewing Co.
3.94
out of
5
based on
40
ratings.