Glacier Pilot Winter Warmer
| Lang Creek Brewery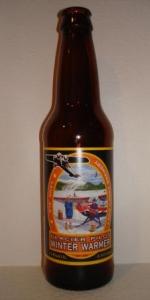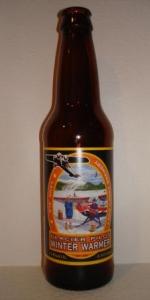 BEER INFO
Brewed by:
Lang Creek Brewery
Montana
,
United States
Style:
Winter Warmer
Alcohol by volume (ABV):
6.60%
Availability:
Fall
Notes / Commercial Description:
No notes at this time.
Added by woemad on 08-08-2005
This beer is retired; no longer brewed.
Ratings: 8 | Reviews: 8
Reviews by rkuhnel:
3.88
/5
rDev
+18.3%
look: 4 | smell: 3.5 | taste: 4 | feel: 4 | overall: 4
This one was interesting. Poured a dark brown with a fat tan head and good lacing. Nose of roasted malts with some chocolate. Rich moufhteel. Lots of flavor with again good roasted malts. Very smooth drinking and quite enjoyable. This is a good beer for a winter night.
269 characters
More User Reviews:
3.26
/5
rDev
-0.6%
look: 4 | smell: 3 | taste: 3 | feel: 3 | overall: 4
Well .... This is my first review ... I get tired of not being able to add new beers, so I decided to start reviewing tonight. I (tenatively) will be adding reviews from my many notebooks in coming weeks and months depending on how lazy I am feeling.
Acquired at the Boise Coop for ~$1.50/bottle. Purchase by February on the label .... This has to be this years bottling, because it tastes very fresh ... Enjoyed from an oversized wine glass.
Dark chesnut with amber red highlites, very clear, not alot of lacing.
Caramel and roasty malts dominate the nose ... maybe a little raisin ... no hop smell to really note.
Taste is the same as the smell ... but with enough bitterness to nicely balance ... again, no real hop flavor.
mouthfeel is expected, smooth and slightly watery .... not a whole lot going on.
Despite my review of giving this beer an average rating, this winter brew actually ranks near the top of the seasonals I have tried this year. As far as the brewery goes, I've had nearly all of Lang Creek's bottled brews and this one is my favorite so far ... by a long shot. Good beer from a descent Montana brewery. I would buy it again, IF I was going to try winter brews in a comparison setting.
1,213 characters
1.73
/5
rDev
-47.3%
look: 3.5 | smell: 3 | taste: 1 | feel: 2 | overall: 1
Serving Type: 12 oz bottle
Appearance: Pours a very dark ruby red. A light 1 finger head w/ plenty of lacing
Smell: Pretty decent smell of caramel, spice and hops. I'm getting a touch of pine in the background
Taste: Taste of molasses, dark toffee...and pepper. Strong overwhelming pepper. Maybe I just had a bad bottle(God I hope so) but the pepper was so overwhelming that I could not finish my glass. It overshadowed any good points the beer had going in terms of flavour
Mouthfeel: Medium bodied beer that left a dry and bitter taste in the mouth. not enjoyable
Drinkability: I will not be trying this again...the pepper overpowers any other flavour and there is no smell of the pepper.
695 characters

3.35
/5
rDev
+2.1%
look: 3.5 | smell: 3.5 | taste: 3.5 | feel: 3 | overall: 3
12 oz bottle best consumed by May. I'm guess that is 2006 since I bought this in December of 2005 in Bozeman. This managed to stay in the fridge during my current expanding of horizons phase. After reading some about cellaring, I figured this one would still be good to go.
Pours a deep brown with ruby hues like a true winter warmer should. 1 1/2 light brown foamy head that retained well.
Smell is of caramel and syrup. Slight alcohol in the background. No hop smell to speak of.
Tastes of coffee and dark chocolate. Slight alcohol again as the beer warms.
A little too much carbonation for this type of beer and a not so pleasant bitter ending. This one bottle was enough. I'm guessing the ABV was in the 8% range, and with proper cellaring, this might turn out to be a much better beer.
803 characters
3.06
/5
rDev
-6.7%
look: 4 | smell: 3 | taste: 3 | feel: 3 | overall: 3
12oz bottle acquired in trade with jake65 (thanks!).
Poured a medium and cloudy brownish color with an averaged sized off white head. Aromas of caramel, toasted malts, and some citrus. Tastes of caramel, toasted malts, a trace of dark fruitiness, and toffee. Body a tad on the thinner side. Lacing left on the glass.
318 characters
3.85
/5
rDev
+17.4%
look: 3.5 | smell: 3.5 | taste: 4 | feel: 4 | overall: 4
Poured a dark reddish brown, a touch of light shown through. It thin white head developed and stayed about the same throughout. Good aroma of hops, malts, and a touch of cereal grains. Flavor was good, some hops and malted sugars. A little bitterness in the aftertaste. Texture was good. I could put away a six pack with no problems, not very heavy.
349 characters
3.78
/5
rDev
+15.2%
look: 4 | smell: 3.5 | taste: 4 | feel: 4 | overall: 3.5
Big-ass 650ml bottle purchased at the Rocket Market in Spokane for something around $3. I bought it in mid-June. According to the label it was best by March. Oops.
Poured a very dark brown. Only when held directly up to the light can it be seen to actually be a very dark, hazy ruby color. There was a big, light tan head that hung around for a while. Moderate amount of lace.
Smell is a bit more malty than most winter beers of my acquaintance. The piney hoppiness that often seems to come to the fore in this style is there, but it's way in the background.
The taste is a little more balanced. While the maltiness is more dominant than the hops here as well, the latter are a little more firm in their appearance. The maltiness is not sweet, but rather mildly bitter, kind of like some candied fruit one would encounter in a fruitcake. The hops are very piney, reminding the drinker of the old Tannenbaum. The taste ends with a mild dryness at the swallow.
This is a medium bodied beer, with not too much carbonation. Not a terribly heavy beer, but with enough substance to make you know it's there.
This is a halfway decent beer. I'd like to try a fresher example. As a beer it's okay, but I don't think it will make the drinker forget their favorite winter beers anytime soon.
1,297 characters
3.3
/5
rDev
+0.6%
look: 3 | smell: 3 | taste: 3.5 | feel: 3 | overall: 3.5
The Winter warmer was brewed in Feb of this year. It poured a dark brown color with little or no foam head. Very little lacing was to be found.
The aroma was spicy and malty. The taste remained along the same lines. It was a pretty strong malt taste most the drink thru. In the mouth it left a good mark on the tongue and was semi chewy. Overall it was middle of the road. I don't know if I got it past its prime but I would be willing the give the winter one more shot.
471 characters
Glacier Pilot Winter Warmer from Lang Creek Brewery
Beer rating:
0
out of
100
with
8
ratings