Royal Standard, The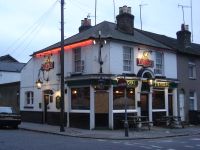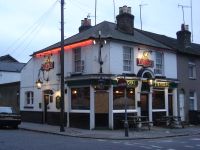 Bar
1 Sheldon Street
Croydon
,
England
, CR0 1SS
United Kingdom
+44 (0)20 8688 9749 |
map
Notes:
Reviews by TheLongBeachBum:
TheLongBeachBum from California
3.86
/5
rDev
+2.1%
vibe: 4 | quality: 4 | service: 4 | selection: 3.5
The Bier Circus in Croydon had fulfilled a deep seated need for traditional lambics most adequately, but I secretly yearned for a pint of Fullers Chiswick Bitter, one of my favorite London Session Bitters, and during my short stay in the Capital I was determined to sample some.
So my good mate BA RichLightWeight suggested that we stop in the CAMRA GBG listed Royal Standard which was only a short walk from the more famous Bier Circus and even on the way back to the Tram, and eventually London. It all sounded great to me, but not the others, so we left BA's RobBeer and Mr & MrsBeeryMatt in order to make for a "quick pit stop for a Dust-Buster" at the Royal Standard, agreeing to meet the other BA's at the Rake later on.
It seems like Chavdon has concreted over almost anything that was cultured, useful and/or good looking. Somehow, the Royal Standard survived this uncouth rampage. Yet sadly it seems held down by the forceful shadow of the A232 Croydon Flyover and suppressed further by the imposing multi-storey FritzLang-like Wandle Road Car Park. It is all rather depressing I have to say, but I was determined to overcome the 1970's carnage and oppressive Chav Blitzkrieg to sample one of my favorite brews.
As we drew closer, the Royal Standard came into view. Like a shining jewel, the polished gem atop a pile of detritus, it was hard to miss the influence that this old boozer still imparts, despite its suppressed surroundings. A two storey white washed brick exterior wraps around the epoch of the two one-way traffic directors called Wandle Road and Sheldon Street. Only two of the three doors work, the entrance on Wandle Road is firmly bolted, and the corner door is now permanently retired, sadly sporting a panel which boards a broken window. The entrance on Sheldon Street is the one to use, look for the outside Picnic Benches if you are not sure. Old style gas lamps hang from both facets of the Pub, yet only the Sheldon Street frontage sports a traditional gold lettered Fullers sign against a dark green boarded background.
It was still light, despite the fact that the Clocks were to turn back in only a few hours from our visit. The nights would be drawing in, along with Winter, but the whole evening feel was one of the final throws of Summer. Opposite the entrance on the Sheldon Road side and literally right underneath the Chavdon Flyover is the Beer Garden; surrounded by a small fence and covered in dark green foliage - even in late October – this area is a delightful oasis and even has waitress service in the Summer and warmer nights.
But we headed inside, immediately greeted by the Landlord and warmly bosomed amongst several locals, none of which had a Burberry Cap or fake Yardie accent. This is a true local for those that enjoy a decent pint. The décor is traditional and in places it has seen better days, but somehow it retains a lovable well-worn feel. Double wooden shelves cling to the exterior corner walls complete with brass rings and horse-saddle style stools. The L-shaped interior offered a busy and quiet corner it seems, the noisy one dominated by a Dartboard. Some Rugby and Cricket sporting attire decorates the walls and back bar and hints at the tastes of the core of many of the Pubs users.
The beer range was rather good. It hosts a full range of what I refer to as the Fuller's traditional brews; ESB, London Pride and the rare Chiswick Bitter. In addition it always has a Seasonal from Fuller's; on our visit it was the ruby delights of the Red Fox. But I was here for one thing and one thing only - the Chiswick Bitter. And boy was it worth it. Pulled to perfection, the carbonation was optimal and the refreshing thirst quenching dry yet mild bitterness slaked my thirst perfectly, so much so that I drank my Pint of Chiswick in the same time that RichLightWeight sunk a half of the Red Fox.
A lovable rogue of a Pub, which raises its fist high to the Chavdon Metropolis with its repressive uncultured concrete manifestation and soulless raping. The Royal Standard, like the Royal Family itself, seems to fight its corner and argue that it still has something to offer, and I could not agree more. This is a classic corner street local that retains charm and purpose. A much vaunted and well used Fuller's local far removed from the awful surroundings.
A real Back-Street London Local, with a solid range of top quality Fuller's brews that should not be missed if opportunity knocks. A Highly Recommended escape from the depressing Chavdon surroundings, and a great place to sink a few Chiswick Bitters whilst mingling with the real Burberry-free locals. A rather sneaky, relatively unknown stop off, but it is on the way back from the Bier Circus to the Tram stop for London, so don't miss this one, or the Chiswick Bitter!!
Last Visit: Saturday 28th October, 2006.
Nov 02, 2006
More User Reviews:
morimech from Minnesota
3.33
/5
rDev
-11.9%
vibe: 3 | quality: 4 | service: 2.75 | selection: 3.25
A Fuller's tied pub so the selection will be limited. Old building with a lot of character. Inside it smells like old men. Did not feel especially welcomed as a tourist. You can tell the bartenders are thinking "Ah, a fucking American" as soon as I opened my mouth. It seems to cater more towards its regulars as I was completely ignored. The beer tasted good though. There was no soap in the lavatory, so I assume no one washes their hands in the place.
May 01, 2018
beer_bottle from Colorado
4.14
/5
rDev
+9.5%
vibe: 4 | quality: 4 | service: 4.25 | selection: 4.25
This pub has always been a personal favourite, when possible I've gone for a drink here at least once or twice a month for a good few years.
Old meets new, the pub is full of old world charm, brick, wood and brass juxtaposed against its urban location among the concrete platforms and columns rising all around. There is a beer garden on the opposite side of the road underneath the flyover. Inside you'll find an L shaped bar with a few smaller areas tucked around the back.
The landlord is understandably proud of the beer and periodically they get in racks of cask beer. Mounted on two racks behind the bar at the side, the casks are wrapped in jackets to keep them cool. All the Fullers classics can be found, London Pride, Bengal Lancer, ESB, Chicwick and Front Row etc.
This is a great pub to go and enjoy many a beer. The beer selection always has a good number from the current Fullers portfolio. Check for casks, if your lucky they could be on. Check the taps for seasonal releases, also check for bottles in the fridges behind the bar. It's in the fridges where you'll find Fullers 1845, Past Masters, Porter, Imperial stout etc.
If you find yourself at East Croydon Station with time on your hands wander over to the sanctuary of the Evening Standard for a drink, you can do none better in this neck of the woods.
Apr 22, 2014
Royal Standard, The in Croydon, GB2, United Kingdom
Place rating:
3.78
out of
5
with
3
ratings