Kronenbourg 1664 Blanc
| Brasseries Kronenbourg
BA SCORE
79
okay
107
Reviews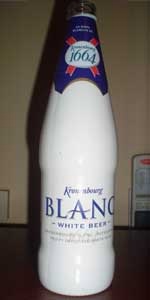 BEER INFO
Brewed by:
Brasseries Kronenbourg
France
|
website
Style:
Witbier
Alcohol by volume (ABV):
5.00%
Availability:
Year-round
Notes / Commercial Description:
No notes at this time.
Added by wl0307 on 09-03-2005
Reviews: 107 | Ratings: 448
2.82
/5
rDev
-18.7%
look: 3 | smell: 3.5 | taste: 2.5 | feel: 2 | overall: 3
A: Light straw, hazy with a white head.
S: Yeast, grapefruit, coriander, raincoat fabric, citrus, marmelade.
T: Grapefruit, yeast, coriander. A bit watered down. Syntetic pineapple flavor in the aftertaste.
M: Very little carboration. Light in body. Tends to give the brew a watered down quality.
D: Ok. No unpleasant taste, maybe a bit syntetic. Will go down quite easily, but certainly not a great beer.
★
409 characters
3.85
/5
rDev
+11%
look: 4 | smell: 4 | taste: 3.5 | feel: 3.5 | overall: 4.5
This beer comes in a bright clear blue profile bottle. Have I seen a blue beer bottle before? Don't think so…
The colour is pale yellow, the liquid is very cloudy. The two finger white firm head sinks very slowly leaving some massive lacing.
The smell is very fruity with sweet notes of bananas, apricot jam, gooseberries, lemonade, fruit drops. There are some sour notes too.
The taste is sweet-sourish with lots of lemonade-like flavours. Citric flavours are mixed with herbs, sour wheat, some yeast, and fruit candy. The aftertaste is refreshingly sour with notes of sweets, lime coordinal, green apples and passion fruits.
The carbonation is very strong; the small bubbles creates a foamy mouthfeel.
A very lemonade-like beer with lots of artificial flavours. Probably a perfect thirst drencher on a hot summer afternoon.
★
844 characters

2.53
/5
rDev
-27.1%
look: 3.5 | smell: 3 | taste: 2 | feel: 3 | overall: 2.5
I do not particularly like to give bad reviews, but this one was reviled by all in our group. The aroma is nice, slightly sweet with nothing really standing out. The color is distinctly yellow and cloudy - reminds me of lemonade. The taste, however, is much to be desired. It is much more bitter than expected with a lasting taste of lemons. For a Witbier, it is not particularly strong - I wouldn't go out of my way for this one.
★
430 characters
3.26
/5
rDev
-6.1%
look: 2 | smell: 3.5 | taste: 3.5 | feel: 3 | overall: 3
Appearance: Extremely light and thin. Translucent lemonade yellow. Thin, snowy white head. Poor retention.
Smell: Massively fruity, with notes of lemon, papaya, pineapple, and grapefruit. It's good in its way, but not really in a witbier way. Coriander is quite light. The whole thing is anchored by just a trace of wheat. This reminds me of Sunny D.
Taste: Does anybody remember that juice drink Five Alive? Yeah... it's like that, but with carbonation and a handful of floral hops. Dry finish.
Mouthfeel: Sticky, syrupy. Not too fizzy, but not exactly the smoothest beer to drink. Puckering at times.
Drinkability: Hmm... I don't know. This isn't bad, it's just kind of odd. Maybe this is the beer to reach for if I'm ever in the mood for a wine cooler.
★
767 characters

3.1
/5
rDev
-10.7%
look: 3 | smell: 3 | taste: 3.5 | feel: 3 | overall: 2.5
The newest offering from Brasseries Kronenbourg is a witbier. It seemed to be popping up a bit over Paris and was the best beer offered at one particular nightclub that I ended up in a couple of times.
It comes in bright celyon bottle. "Ceylon" is fancy color printing for "blue". The aroma is very fruity: peach, cinnamon and clover dominate. It's light and whitish. Initially, it's quite refreshing. The yeast is balanced with the sweetness of the fruit flavors. This balance dissipates after a bit and the fruit really takes over. Have one, not many.
★
556 characters
2.17
/5
rDev
-37.5%
look: 4 | smell: 2 | taste: 2 | feel: 2.5 | overall: 2
Having read the other reviews, I can't help suspecting if my first disastrous encounter with this beer (on tap) was due to having tried much better real ales right before this beer (although I do remember vividly a rather flat body and infection-like flavour that half-pint showed)? To prove that I AM capable of appreciating a good beer so highly regarded by other experienced drinkers, I grabbed a bottle at the Sainsbury's yesterday (since it also happed to be on sale~~), and here comes my second encounter with this witbier (bottled-version this time).
BB 30/04/2007, served lightly-chilled in a slim goblet.
A: pours a fresh lemonade like murky, pale yellowish hue; a nice, thick and creamy foamy beer head sustains on top of abundant fizziness. Looking very nice indeed.
S: a very faint wheat-beer base has huge troubles to pierce through an almost overly sour-sweet fruity aroma, like ripe mangos, articial orange flavouring, and an assertive smell of Japanese yeast drink: Yakult/Calpis... Overall, just like my last encounter, the smell is one-dimensional, artificially sweet (almost like that of tropical fruit flavoured bubble-gums!!), and rather unbalanced without necessary spices and wheat/malt entry in the mix. For sweet-toothed beer lovers it might appeal to their senses big time, but not for me.
T: a slightly sour-sweet lemon+mango fruitiness rinses the tongue with a fluffy texture of Witbier but without enough wheatish or malty flavour true to the style... turning slightly dryish with a touch of neutral wheatish touch in the end, but I can't find traces of spice anywhere on the palate, apart from but a little coriander at the very end of the tongue; the finish is short and tasteless, albeit clean.
M&D: the soft fizziness is probably the only positive point worth mentioning in the mediocre performance, making it taste refreshing at least. Thin-bodied and lacking essential elements of taste as of Witbier, the experience with this bottled version in the end only contradicts the self-assigned mission set out in the beginning, and reinforces my deep disappointment at this brew. The beer label mentions that this bottle is "brewed by Scottish&Newcastle under agreement with Kronenbourg Brewery"--I only wish the "original" Kronenbourg product wouldn't taste like this, and all the fault actually fell on Newcastle's lack of brewing capabilities in re-producing a foreign beer... But since Kronenbourg IS part of the Newcastle empire now, this must be THE original version eh? Oh well... I could only say it's not my cup of tea then.
★
2,571 characters
4.55
/5
rDev
+31.1%
look: 4.5 | smell: 4.5 | taste: 4.5 | feel: 4 | overall: 5
An excellent beer! Golden cloudy appearance with a thick frothy head. I couldn't really distinguish what was the dominant fruit composing the beer but it felt like a blend of tropical fruits giving it a very pleasent smell and smooth taste. Light mouthfeel with sweet and very moderate sour hints so one can easily enjoy 3-4 pints. It's a shame that this beer is not found in pubs very often. If you can get it... Try it!
★
421 characters
Kronenbourg 1664 Blanc from Brasseries Kronenbourg
79
out of
100
based on
107
ratings.