Kronenbourg 1664 Gold
| Brasseries Kronenbourg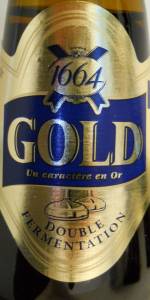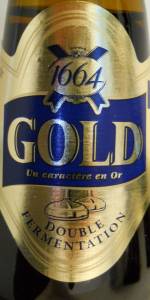 BEER INFO
Brewed by:
Brasseries Kronenbourg
France
kronenbourg.com
Style:
Euro Pale Lager
Alcohol by volume (ABV):
6.10%
Availability:
Year-round
Notes / Commercial Description:
1664 Gold est une bière de dégustation traditionnelle au goût unique, résultat d'une double fermentation qui permet à ses ingrédients de révéler pleinement leurs arômes.
Elle s'apprécie pour sa robe dorée aux reflets cuivrés, sa rondeur en bouche et ses arômes de fruits jaunes et de rhum brun.
Added by BoitSansSoif on 11-28-2009
HISTOGRAM
Ratings: 12 | Reviews: 5
Reviews by BoitSansSoif:

3.82
/5
rDev
+43.6%
look: 3 | smell: 3.5 | taste: 4 | feel: 4 | overall: 4
Hard to classify this offering from Kronenbourg. Carlsberg group calls it a "strong lager." Best by September 2010. Edit: Did some research after this posting on the Strisselspalt hop, which is used in this brew. It's from Alsace, and imparts noble characters, as well as notes of red currant.
Pours a clear light golden w/modest head and brief retention.
Nose is slightly sweet pale malt, red wildberry notes, pear, bits of noble hops.
Taste is pleasant, w/sweet pale malt, bits of red wildberry, and a dry finish. Aftertaste is pleasant blend of noble hops, pale malt, touch of spice, and faint fruit.
Mouthfeel is light-to-moderate, w/good balance, moderate carbonation.
Very drinkable. This one was a pleasant surprise. It's interesting and good enough to come back to, and simple enough to be inoffensive for non-BA types. A good-12 pack to keep in the fridge.
872 characters
More User Reviews:

2.5
/5
rDev
-6%
look: 3 | smell: 3 | taste: 2 | feel: 3 | overall: 2.5
Another beer I bought in France (in a pack) for my son and his mates over Christmas 2010. I borrowed one to review.
Poured into my 'La Chouffe' stemmed tulip.
Mid-range to lighter lager golden in colour, thin white head on top.
Almost odourless, hints of grain and hop if you sniff hard enough.
Not a lot to say about the taste really, typical cheap lager/pilsner nothingness. Just a wet liquid with hints of hops and alcohol to keep you going. It did however get a little bitter towards the end of each sip, not that it is a sweet tasting beer to start with.
Just a regular supermarket lager in my eyes and one I'll not be buying again.
642 characters
2.54
/5
rDev
-4.5%
look: 2.5 | smell: 2.75 | taste: 2.5 | feel: 2.25 | overall: 2.5
3.5
/5
rDev
+31.6%
look: 3.5 | smell: 3.5 | taste: 3.5 | feel: 3.5 | overall: 3.5
Copper filtered with lots of carbonation, and finger of yellowish head. Soda like.
Smells of metallic gold, toasted malts, light fruitiness, and cardboard.
Tastes of toasted malts, reminds me of a Dortmunder, German style brew. Balance of sweetness and hops.
Light body, dry and crisp finish, with moderate carbonation.
Got in Kunming, China, drinking in Chiang Mai, Thailand April 19th, 2017.
399 characters
2.54
/5
rDev
-4.5%
look: 2.5 | smell: 2.25 | taste: 2.75 | feel: 2.5 | overall: 2.5
2.79
/5
rDev
+4.9%
look: 3.5 | smell: 2 | taste: 3 | feel: 3 | overall: 3
We pour a translucent, golden brew. It holds a one finger head of chunky white bubbles. This retains nicely, leaving a thick sheet of lacing around the glass. Carbonation appears very light, and no sediment is noted. The nose is chemically and adjuncty. There is plenty of raw flour and barley, with some metallic bite on the back. Booze comes through more with warmth. That's about it. As we sip, crisp malts come through. These are pale, with notes of lemon and orange flesh. There is also some booze, right off the front, but everything surprisingly lacks that adjuncty bite expected after the nose. The middle shows more of the flour, but it is clean and not really offensive. The booze continues to show, with a flash of sweetness that is reminiscent of esters. Through the finish there is more of the same, with malts that, here, seem more adjuncty. The final notes are souring, of more malty mash, and puckering citrus. The aftertaste breathes of flour, mineral, and slightly toasty malts. The body is lighter, and the carbonation is medium to high. There is a quick coating to the mouth, but this puckers more than cools. There is okay slurp and smack, but little finishing pop. The bubbles prick the tongue a bit, as well. The abv is appropriate, and the beer drinks fairly well.
Overall, what we enjoyed most about this brew was the beginning taste. The front was crisp and clean, but through the progression it became boggy, boozy, and harder to handle. The nose really didn't set up for anything special, so it was hard to get excited about this one. This seems a bit heavier and fuller than their original 1664, but it is nothing to write home about.
1,668 characters
2.53
/5
rDev
-4.9%
look: 3 | smell: 2.5 | taste: 2.5 | feel: 2.5 | overall: 2.5
Pours bright gold, with plenty of fizz and a thin head, a nice creamy white color, with a persistent lacing. Light body, watered down, oily texture and average carbonation. Palate is light bodied and watery soft. Taste is more sweet than bitter. Nothing remarkable.
265 characters

2.5
/5
rDev
-6%
look: 2.5 | smell: 2.5 | taste: 2.5 | feel: 2.5 | overall: 2.5

2.73
/5
rDev
+2.6%
look: 2.5 | smell: 2.5 | taste: 3 | feel: 2.25 | overall: 2.75
Kronenbourg 1664 Gold from Brasseries Kronenbourg
Beer rating:
2.66
out of
5
with
12
ratings