Liebotschaner Cream Ale
| Lion Brewery, Inc.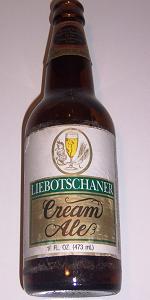 BEER INFO
Brewed by:
Lion Brewery, Inc.
Pennsylvania
,
United States
lionbrewery.com
Style:
Cream Ale
Alcohol by volume (ABV):
not listed
Availability:
Year-round
Notes / Commercial Description:
No notes at this time.
Added by BeerAdvocate on 07-09-2002
Reviews: 9 | Ratings: 17
3.06
/5
rDev
-24.8%
look: 4 | smell: 3 | taste: 3 | feel: 3 | overall: 3
On tap in a stein.
It had a big bold golden look with a thin whit head. Lots of bubbles and some lacing. The color and the stein made it look very German, ya know.
It has the pitfalls of an AAL in smell and taste. Grainy, wet grass, sweet corn syrup, etc.
There is some malt body and it's carbonated ok. Otherwise, it has an unpleasant aftertaste and finishes rough.
Not a craft ale to me, all AAL-like.
408 characters
4.62
/5
rDev
+13.5%
look: 4.75 | smell: 4.5 | taste: 4.5 | feel: 5 | overall: 4.75
I've only had this at Chownings Tavern in Colonial Williamsburg. Delicious flavor - very flavorful but not overly filling. Smooth from start to finish and a wonderful, creamy mouthfeel.
I've never had it from the bottle - in fact, I've never seen it anywhere else but would love to have it again - even if it means dealing with tourists to get it
348 characters
4.3
/5
rDev
+5.7%
look: 4 | smell: 4 | taste: 4.5 | feel: 4 | overall: 4.5
I bought a case of this to get the 16 oz returnable bottles to use for home brew. I figured I was getting an inexpensive case of beer and I would get the bottles as well. What a deal.
Fills the glass with a beautiful golden colored beer. Good aroma.
Smooth from the first sip to aftertaste.
Man was I surprised how good this beer was. This is an excellent beer. I love drinking this beer outside on a warm summer night. When I drink this I feel a bond with the generations of Pennsylvania's before me.
I now buy a case every now and then.
Cheers.
562 characters
3.45
/5
rDev
-15.2%
look: 3 | smell: 3 | taste: 3.5 | feel: 3.5 | overall: 4
My dad bought me a case of this because it was 16oz returnable bottles and I was starting down a path of homebrewing and wanted some bottles larger then 12oz to re-use. My first complaint about this beer is the bottles are so re-used by the brewery that I really have to wonder how safe they are to drink out of anymore. There is literally an very etched and pitted band around the entire bottle from being washed so many times, and many of the bottles had minor pitting around the lip of the bottle. To add insult to injury on this, it appears the labels aren't even taken off when they are re-used and are washed with the label on and then repackaged.
This beer pours a bright clear yellow with very white head that dissipates quickly. It had a faint musty, somewhat sweet aroma. Taste was pretty good, lightly hopped and a little bit on the sweeter side. Very easy drinking beer. Definitely on the lighter body side, but a decent "swill" beer.
949 characters
4.12
/5
rDev
+1.2%
look: 3.5 | smell: 4 | taste: 4 | feel: 4.5 | overall: 4.5
Poured a crystal clear golden color with initial massive creamy white head that quickly fell to a thick ring and thin coating. Smell is malty and summer fruity and very enjoyable. Taste is strongly malt, with some sweet fruits present. A mild hop bitterness lingers at the finish to give a nice ending to the beer. Very creamy mouthfeel. Very easy to drink. Will make a nice summer beer.
387 characters
4.97
/5
rDev
+22.1%
look: 4.5 | smell: 5 | taste: 5 | feel: 5 | overall: 5
Sampled a 16 oz returnable bottle (probably the best you can do to get this beer at it's freshest, short of getting it on tap).
Interesting yeast notes (both spice and citrus) contribute to the ale's unique flavor profile, and pull together an exceptional balance of flavors. Nothing really pronounced in the profile, it just all hangs together really well.
Many thanks to long-time Dock Street brewer, Lou Farrell for introducing me to this beer. Behind the stodgy, 1960s era packaging is an authentic old-time Pennsylvania gem that beer fans have enjoyed for generations.
581 characters
4.1
/5
rDev
+0.7%
look: 4 | smell: 4 | taste: 4 | feel: 4 | overall: 4.5
served in 12 oz. brown bottle.
i found this at the bottom of the liquor store shelf. the bottles were dusty (and no born-on date made me a bit worried), but at 3.99 a sixer i had to try it.
i sure as hell am glad i did.
appearance is a beautiful pale cloudy color, lots of nice head. smell is sweet, with a touch of coriandar or orange peel flavors. taste is just amazing. not a hoppy beer, but the malts are very refined and subtle and the aftertaste is very akin to belgian ale. i think they must use some very high quality yeast to get this great of a taste. i detected some coriandar and orange peel in the taste -- sort of that belgiany spice that you might find in a beer like Leffe.
mouthfeel is nice. thick, but not chewy. very creamy.
drinkability: i'd give it a 10 in this category if i could. i could have drank a case of these in one sitting. one of the best beers i've had lately. buy it if you see it.
924 characters
3.97
/5
rDev
-2.5%
look: 3.5 | smell: 4 | taste: 4 | feel: 4 | overall: 4
My favorite beer from the Lion, Inc. Bright, clear, pale golden color with a bright white head that subsides fairly quickly but leaves a little something behind. The aroma is sweetly malty. Light to medium bodied with a moderate carbonation, giving a really creamy mouthfeel. The flavor is sweetly malty with just a touch of hops. The finish is quick and refreshing. A very nice, and somewhat unique beer. Definitely a step above most American "premium" lagers. Highly drinkable.
479 characters
4.97
/5
rDev
+22.1%
look: 4.5 | smell: 5 | taste: 5 | feel: 5 | overall: 5
Pale golden color with a creamy white head. Malty sweet nose. Slighty grainy, snappy hops taste, with a little fruitiness. Creamy, smooth, and delicious. Nice light hops finish, the overall taste is sweet, but not too sweet. Finishes dry with a slightly sweet aftertaste.
My experience with this beer is a very good one. I had this beer while at Chowning's Tavern in Colonial Williamsburg Virginia. It was a night of drinking and merriment, colonial style. This ale is way too easy to drink, I was on my fourth pint before I knew it. But then with the pretty bar maids, musicians and everyone in the tavern singing drinking songs, who wouldn't have a good time... PROSIT!
685 characters
Liebotschaner Cream Ale from Lion Brewery, Inc.
4.07
out of
5
based on
17
ratings.