Stegmaier IPA
| Lion Brewery, Inc.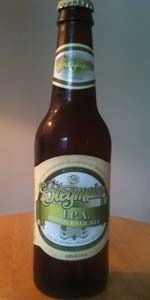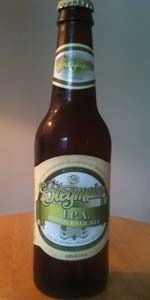 BEER INFO
Brewed by:
Lion Brewery, Inc.
Pennsylvania
,
United States
lionbrewery.com
Style:
American IPA
Alcohol by volume (ABV):
6.70%
Availability:
Year-round
Notes / Commercial Description:
Stegmaier India Pale Ale is an American IPA with an attitude! It is brewed with American malts and aggressively hopped with three varieties of American hops – Centennial, Cascade, and Nugget. This IPA has an assertive hop presence and a strong malt backbone. Stegmaier IPA uses a quarter ton of hops, which balance the malt sweetness and make this brew a hop lover's delight!
Added by ClassicBrad on 05-13-2010
HISTOGRAM
Ratings: 134 | Reviews: 60
3.68
/5
rDev
+7.9%
look: 4 | smell: 3.5 | taste: 3.5 | feel: 4 | overall: 4
A 12 oz bottle from Al's.
A: The IPA is an amber caramel color, opaque in my glass. A two finger head leaves decent lacing behind, especially near the mouth of my tumbler.
S: The nose is piquant, hoppy upfront. As the warms, the aromas evolve, releasing more caramel malts. Those malts are syrupy and sweet, more than able to stand up against the hops. The hoppiness is impressive for a Stegmaier ale, pleasantly citrusy.
T: My first sip floored me, heavy with citrus bite. Far more hoppy flavor than I expected. My second sip brought me back down to earth a bit, showing off more caramel malt flavors that overpower the hops at times. The sweetness of the malts lingers, with fruity flavors following. A nice bite of citrus hangs around throughout, not intense just there.
M: The syrupy flavors dictate the mouthfeel, paving over the sharper citrus notes and evening the flavors out. The mouthfeel is nothing special until you realize that it came from the Lion!?!
D: Not bad, not bad at all. An IPA that could fill that low cost niche, especially with its bright start.
1,076 characters
3.23
/5
rDev
-5.3%
look: 4 | smell: 3.5 | taste: 3 | feel: 3.5 | overall: 3
Poured from a brown 12 oz. bottle. Has a pretty amber color with a 1/2 inch head. Smell is overwhelmingly of hops. Taste is like the smell, very hoppy, considerably bitter. Feels medium bodied in the mouth and is not a beer I could drink many of. Overall a decent brew but a bit hop heavy for my liking.
303 characters
4.1
/5
rDev
+20.2%
look: 4 | smell: 4 | taste: 4 | feel: 4 | overall: 4.5
A big thanks to Corey for giving me a bottle of this beer!
A - Pours a clear amber color with a nice two fingered head to start with, dies down to an even foam covering and moderate carbonation.
S - Smells of citrus with caramel and biscuit-like malt and perhaps a little bit of spice intermingled. Also has some pine in the nose, but is minor compared to the citric aroma.
T - Has a very nice balance between the malt and the hops. During the sip, as the last drops go down the throat the tongue is met with bitter pine resin along with citric notes, and a little bit of caramel. The malt lays nicely down while bitter grapefruit and pine flow over the top. Did I mention really nice balance!?!
M - Smooth, light medium body, and crisp.
D - Very much so!
This was a very nice discovery and one I would purchase a few six packs for a hot day. It would make a very nice "go to" beer also. Definitely worth a try. It's nothing fancy, complex or off the wall, just a straight forward, well brewed IPA that's bang on. Nice job.
1,029 characters
4
/5
rDev
+17.3%
look: 4 | smell: 4 | taste: 4 | feel: 4 | overall: 4
With the disappointment of the Goose Island IPA I couldn't wait to get home and drink this one from my variety case.
A - I wonderful mid amber color with an inch of head. Poured into my flute.
S - The citrus and grapefruits smells were very strong pushing up my nose from the glassware. Hops are the star on this brew.
T - Ow wow. Prefect representation of an IPA. First hit of the IBU's are strong and not off putting. Second comes in with the citrus and grapefruit like hop flavor. Then it finishes with a malt to balance the whole brew. Nice very nice.
M - The brew had the prefect balance of bitter and sweet. Loved it.
D - I could easily succession (and did) a couple of these. I loved the brew I would consider picking up another variety case immediately.
766 characters

4.5
/5
rDev
+32%
look: 4.5 | smell: 4.5 | taste: 4.5 | feel: 4.5 | overall: 4.5
I have been waiting for this one for a while. Stegmaiers will always pique my interest...
Poured from the bottle a nice clean translucent amber, just a shade dark on the good side. Decent head settles on the top with good lacing. Pretty solid appearance.
Smell is full of hints of roasted malts and a nice component of citrusy spicy hops. again solid, nothing overpowering but really well done.
Taste is a hint of roasted carmely malt quickly covered by the citrusy close to piney hops. Very good.
Mouthfeel is probably one of the better balanced IPAs, flavors hit well everywhere and carbonation is spot on. Very easy drinking.
Extremely drinkable, I can't wait for cases of this. This is probably the best beer per $ you can get, at least in PA.
752 characters

4.1
/5
rDev
+20.2%
look: 4 | smell: 4 | taste: 4 | feel: 4 | overall: 4.5
Poured from a 12oz bottle into a Perfect Pint glass. A nice, 2 fingers of white foam formed on top of the golden/amber body. The head stuck around for a while and left some nice lacing behind upon dissipation.
The nose has lots of citrus hops up front, specifically lemon. You can also detect some malts and a graininess in the background.
The taste is right where the nose indicates...hops at the beginning and end with a bready sweet center. The bitterness of the hops is subtle though...nicely balanced with the malts.
The mouth feel is lighter, a little oily and well carbonated.
This is very drinkable and refreshing. I opened this beer with low expectations and was pleasantly surprised. Worth a try for sure!
720 characters

4
/5
rDev
+17.3%
look: 4 | smell: 4 | taste: 4 | feel: 4 | overall: 4
Stegmaier IPA pours a beautiful amber body with an egg white head.
It smells of hops, cascade being one variety I found distinguishable, and unsurprisingly so.
The brew carries a big bite, several steps up from the junior Pale Ale, appropriately. The hoppy-kick is paired with a nice malt level, just enough to balance the beer out.
I can't say much more or offer any more analysis than that. It's a solid IPA.
413 characters
4
/5
rDev
+17.3%
look: 4 | smell: 4 | taste: 4 | feel: 4 | overall: 4
Brand new IPA, from the also new Stegmaier Variety Pack.
Pours a clear amber color with about an inch of tan head. Retains a patchy lace and leaves a good amount of webbing on the sides.
Smell has a nice amount of hops going on, with aromas of grapefruit and pine resin. Caramel malt as well. Pretty standard IPA nose here but well done.
Likewise with the taste, which is even more citrusy than the nose was, with a good amount of grapefruit in particular. Also some sweet caramel that has a buttery quality to it. Nice punch of hop bitterness in the finish, as well as more grapefruit flavor, this time the bitter pith. Again, pretty standard for an IPA, but that's just fine because it is quite nice.
Mouthfeel is medium bodied, appropriately carbonated and quite smooth. Decent slickness to it, although perhaps it could be a touch creamier.
Like their new Pale Ale this is another job well done by the Lion. This is a well balanced IPA that has enough hops to satisfy most any hophead but also isn't overblown. Assuming that straight cases of the IPA run about the same as the Variety Pack, $26 or so, I will definitely be buying more of this. An excellent value and a very solid beer.
1,195 characters

4.72
/5
rDev
+38.4%
look: 4.5 | smell: 5 | taste: 4.5 | feel: 4.5 | overall: 5
Bottle label is a weathered-looking, off-white with a green scroll that encases the "Stegmaier IPA" label that us NEPA beer lovers have been waiting for-- Classic-looking label. No 'born on' or 'best by' date to be seen. "Brewed in the honor of Charles Stegmaier" graces the top arc of the label with 6.8% Alc/Vol clearly marked on the bottom.
Pours a clear bronze with an off-white head that fizzles down to a sparing layer that leaves itself behind to lace the glass beautifully.
Spicy, herbal and citrusy hops compose the nose of this beer. Very excited that they went with Cascade and Nugget (the two varieties that I chose to grow) as the primary hop for this beer. It gets me riled up to just smell how beautifully it balances, yet takes over, this beer.
This beer just screams nice weather. It tastes so refreshing, but still remains a complex and palatable beer. Obviously, the style calls for hops to take the spotlight for this beer and it really does. I have to give the brewers credit to pair these two varieties together because they works so well coupled with the backbone of the caramel malt.
Mouthfeel is more than adequate. The carbonation does a great job of titillating the palate during the sip and leave it cleaned off waiting for the next gulp.
Drinkability is a great question with this beer. As a 6.8% beer, its hard to call it a session beer; however, I have a harder time not calling this sessionable. It's almost on the fence. I know that this is my new go-to for the Spring/Summer season. You can beat the refreshment it provides yet it still keeps your interested.
Huge sign of life to the Northeast Pennsylvania craft beer scene! The Lion Brewery is truly listening to its community of excitable and eager craft beer advocates. This is more than I could have asked for when I heard almost a year ago that we had a regional IPA in the works. Hopefully this is just the beginning of what's to come from the Lion and Stegmaier line of brews.
1,975 characters
Stegmaier IPA from Lion Brewery, Inc.
Beer rating:
3.41
out of
5
with
134
ratings