Powerhouse Restaurant And Brewery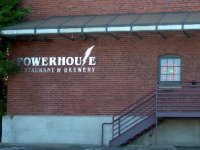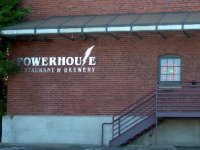 PLACE INFO
Type:
Brewery, Bar, Eatery, Beer-to-go
454 E Main St
Puyallup
,
Washington
, 98372-3258
United States
(253) 845-1370 |
map
powerhousebrewpub.com
Notes:
No notes at this time.
Added by RedDiamond on 11-14-2006
Ratings: 13 | Reviews: 8
Reviews by youradhere:

4
/5
rDev
+3.4%
vibe: 4 | quality: 4.5 | service: 3 | selection: 4 | food: 5
Pretty good atmosphere, albeit a bit on the cramped side. If this place looks busy good luck getting a seat, as there are only about 14 four-person tables and outside seating is only a "go" during the summer months IMHO. Beer selections are good as there is something for everyone, and most all styles. The scotch style ale was pretty good as well as the IPA (as opposed to the very weak Ram IPA down the road). My wife loved the blond and wit, and we both liked the amber. Food was good, although on a few occasions I would say they went a lil overboard on the garlic, but that is only a bad thing depending on how one is feeling that day I suppose. A mighty fine establishment, and as a bonus it is not a franchise (so far as I can tell).
740 characters
More User Reviews:
2.14
/5
rDev
-44.7%
vibe: 2.5 | quality: 2 | service: 3 | selection: 1.75 | food: 1

4.34
/5
rDev
+12.1%
vibe: 4.25 | quality: 4.25 | service: 4.5 | selection: 4.25 | food: 4.5

3.94
/5
rDev
+1.8%
vibe: 3.75 | quality: 3.75 | service: 4 | selection: 4.25 | food: 3.75
Lots of electricity-themed things all over the place. Demographic seems to skew slightly older, at least on a Sunday afternoon. Not a bad thing necessarily.
I got a flight and had the sour, coco nitro stout, barley wine, pilsner, and pumpkin latte beer. They were all quite good, but with the exception of the pilsener and sour, quite sweet.
Food was good. We had a pretzel, powerhouse salad, so cal street tacos, and broccoli chowder soup. No complaints at all.
Overall I was glad I finally got to check this place out. Will definitely be back with a growler!
563 characters

3.55
/5
rDev
-8.3%
vibe: 3.5 | quality: 3.5 | service: 3.5 | selection: 3.5 | food: 4

3.88
/5
rDev
+0.3%
vibe: 3.75 | quality: 3.75 | service: 3.75 | selection: 4.25 | food: 3.75
Been here quite a few times over the years. Building is an old electric station right next to the railroad tracks. Believe they give tours of the building upon request. Food is decent, apps are a little pricey to me, about the same price as the entrees. Menu is on small side so it doesn't take forever to pick out food. Beer is opposite. They have a regular list of their own 7 or 8 beers, and an additional rotating bottle list of 15 or 20. Bottled beers are all craft and can be pricey. Some you would save $5 or 7$ just getting at the groc. store. Additional info for their beers is wrote on a big mirror but that also makes it hard to read. Their is a small 'bar' area with 5 stools and the rest is all restaurant. Bar being so small, I've never had a chance to sit at it yet. Overall a cool place to hit once in a while as they have hard to find beers at times. Love when the train whizzes by too.
903 characters
3.6
/5
rDev
-7%
vibe: 3 | quality: 3 | service: 4 | selection: 4 | food: 4
11/2007
This place a small parking lot and its small downstairs but upstairs is usually open on weekends. The bar is pretty small, about 8 spots and thats it and very little seating around the bar. It is located in old Puyallup several blocks fromthe fairgrounds and sits on a RR track which you can vividly here at times. When the train rolls by the place lights up, hence Powerhouse. Foodis good, beer is decent, staff is friendly. They often have seasonals which are better than standard brews and the smoked salmon pizza is really good!
///
5/2010
Its been about 3 years + since I was last here so I decided to drop in once again for a pint or two. Sat at the bar and served promptly. Ordered food which was still pretty good. Prices were ok but I felt the beer had dropped in quality. Most of the beers here previously had ranged from ok, average to good. On this visit beers were from almost poor quality to average. The cask engine which is not in use really bugs me.
///
3/2012
Powerhouse is dabbling in barrel aged beers. The standard lineup remains, the eye candy is at an all time high. Not much of a change in the business in itself. They do have a rather good and well priced bottle list now. I grabbed a 375mL of Supplication for $7!
1,247 characters
3.93
/5
rDev
+1.6%
vibe: 4.5 | quality: 4 | service: 3.5 | selection: 4 | food: 4
Went here for dinner, the place was fairly crowded and this place is fairly small so getting a table took a bit of time as I was with a large group. However once we were seated the service was pretty good despite the place being packed.
The atmosphere of the place is pretty relaxed and the electric themed decor is pretty cool looking.
The selection of beer was decent with the majority of the taps being their own brews and having some other nice micros in bottles. I ended up selecting a pint of their Scottish which was alright.
The food was good but nothing spectacular, and I thought it was a little on the pricey side.
Overall this is a pretty good place to eat and get a beer. Their house beer is alright, but nothing that really stands out. The major downside is the size of the place which makes it difficult to get a table during busy hours. But if you are in Puyallup its worth stopping in.
907 characters
4.47
/5
rDev
+15.5%
vibe: 4.5 | quality: 4 | service: 4.5 | selection: 5 | food: 4.5
Originally built in 1907 for the Puget Sound Electric Railway, this towering red brick building provides the perfect backdrop for excellent beer and great food. The decor holds true to the building's history of an electric company, and is the only restaurant I've been in that has a functioning Jacob's Ladder on the wall. Yes it is right next to a rail line, but in my view the train passing only serves to represent the history of the building.
I've eaten at the Powerhouse several times. While I would categorize the food selection as "pub fare" I've always been very pleased with everything I've had. They have a nice selection of pasta's and pizza on top of the usual collection of burgers and other sandwiches. The environment is child-friendly and the portions off the kids menu are huge. We ordered "Wiggle Wires" (Spaghetti) for our two kids and they easily could have split one order.
I especially recommend the Mediterranean Plate. It's listed under Salad's but it's an excellent sample platter of various veggies along with grilled gyro meat. It would make a nice light meal for two as well.
Beer at the Powerhouse doesn't disappoint. If you're on this website you take your beer as seriously as I do. While I have yet to try everything on tap, I'm close. Their beers deliver as excellent examples of each respective style. While you won't find anything that will be over the top, you won't find a beer brewed at Powerhouse that sacrifices flavor for mass appeal either. Powerhouse brews full-flavored ales each of which can be savored and enjoyed. Their Summer Ale weighs in at 7.3% ABV and packs more malt sweetness and citrus hop spice than any other Summer seasonal I've had. The IPA at Powerhouse is a very quaffable hop forward beer and the Scottish Ale makes you fully aware of the Peated malt.
Two things I would like to see at Powerhouse would be standard Growlers for sale. They sell two liter plastic bottles to go, just like what you'd buy two liters of soda in, for the same price as a growler. These two liter bottles are a cheap container for excellent beer. They do however sell very unique Medicine Bottles of various ales. I would also like to see them put that Beer Engine to work at the bar. One bar tender told me on my last visit that they haven't had a beer on cask in "about 3 years". Powerhouse if you're interested in selling that beer engine send me a message, if not put it to good use!
2,432 characters

3.73
/5
rDev
-3.6%
vibe: 3 | quality: 4 | service: 3.5 | selection: 4 | food: 3.5
This unassuming establishment was near main street. It would appear to be an historic site, however I don't remember the details. When entering the brewpub it would appear that they forgot about the bar. A small 6 stool bar sits 10 feet from the main door. The rest of the place looked the part of a normal dining area in a brewpub. Being alone, I pulled up to the bar. It would seem to be a high traffic area and the lone 13" TV was not on. Long story short, sit at a both as the bar offers nothing. Perhaps the only highlight is you can review the large asortment of beers. I believe they had 11 beers on tap that day. Sadly, the beer engine did not seem to be working. Overall the beer was good. The Pale Ale stood above the rest. The Brewmaster obviously knows what he is doing! The staff was nice, youthful, and seemed happy to help.
Overall, I would reccomend this brewpub to a friend. I usually travel by myself and almost always sit at the bar. So it is difficult to think I will be back soon as the Seatac area is full of great BrewPubs that are calling my name. So if you live in the area and have a group of BBF's. Head down and enjoy the good brew!
1,164 characters
4
/5
rDev
+3.4%
vibe: 4.5 | quality: 3 | service: 5 | selection: 4 | food: 4
The owner of both Engine House No.9 in Tacoma and Powerhouse in Puyallup is a retired architect with a flare for the imaginative conversion of landmark buildings into fun brewpubs. Both locations began as proud civic buildings in 1907. EH9 was a working fire station, Powerhouse a redbrick electric power plant. It is refreshing in both instances to see these picturesque historic buildings preserved and revived.
Powerhouse is more restaurant than brewery. The full service bar only seats six and business slows down appreciably an hour before their 11PM weekend closure. Food runs along the lines of casual northwest bistro. Think: pizza, pasta, burgers, seafood, salads. It is tasty, informal, and very popular. Expect a 15-20 minute wait to be seated during peak hours. Décor is consistent with the building's electrical past. Insulators, meters, and conduits are abundant as are historic artifacts. Just a word of advice: although I'm sure it's safe, I wouldn't reach for those copper circuit breakers while using the urinal.
The brewery fills the former dynamo behind and above the kitchen and appears to occupy more space than the two-leveled dining area itself. Twelve taps support seven house beers, three sister beers from Engine House, a root beer, and a lambic. Without exception, house beers remain in the range of session beers with representations from a variety of British, German, and Belgian styles. Quality is mid-range though the pale and Amperage Amber are worth the trip. Powerhouse's lone beer engine is unused.
In place of growlers, Powerhouse sells 32-ounce "limited edition medicine bottles" at the distorted price of $16 per. You can also pick up 64-ounce plastic pop bottles for a more accommodating ten bucks though the bottles in the refrigerated case near the front door look like they've been there awhile. No one purchased any during my two Friday night visits and the clear plastic somehow lacks appeal.
The bartender, Rusty, is one of the best booze slingers you'll ever meet and very popular with the ladies. The remaining staff is abundant, youthful, and responsive. Everyone has glowingly flawless complexions and service is excellent.
Note: parking is fairly limited. Expect to park across the street during dinner hours.
2,289 characters
Powerhouse Restaurant And Brewery in Puyallup, WA
Brewery rating:
44.2%
out of
100
with
52
ratings