Korova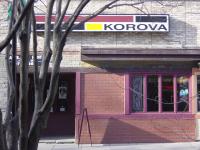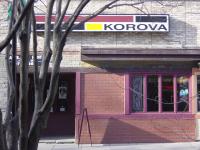 PLACE INFO
Type:
Bar, Beer-to-go
214 E. State St.
Ithaca
,
New York
, 14850
United States
(607) 277-7215
// CLOSED //
Notes:
No notes at this time.
Added by charlesw on 11-16-2006
PLACE STATS
Reviews:

6

Ratings:

pDev:

2.27%
HISTOGRAM
Ratings: 6 | Reviews: 6
Reviews by charlesw:

4.4
/5
rDev
-0.2%
vibe: 3.5 | quality: 5 | service: 4.5 | selection: 4
Korova:
- small bar on the Commons in Ithaca
- around 15 beers on tap and 20+ in bottles
- new management (or just a new direction?)
- the worst and most commercial beer on tap is (was? They rotate VERY quickly) Blue Moon
- the best last Tuesday was The Reverend. Wow. I mean, wow.
- they typically have an Avery, a Rogue, um, and a bunch of other beers on tap. Ha!
- soon to have Oak Aged Yeti. Yum!
- the owner is a cool guy. I only know of the place because our brewers' club was having troubles with the owner of [some bar]. This guy offered to let us use his bar and to buy us pizza and other stuff. [Some bar] obviously didn't want us and he obviously did (if I didn't make that clear enough with the example, there). This week he gave us a tour and sat and drank some of our beer with us. Very cool. Very nice. Gave all kinds of suggestions on great places to visit that are fairly close in.
- fairly small - two rooms. Front is bar then a little divider and maybe 5 tables. Back is now 4 booths (was terrible before), 2 pinball machines and 2 dart boards (real ones). There's a disco booth (weird). Maybe they use that on weekends, or something. Not on a Tuesday!
- the owner is working to get (will surely have soon) a hand pump (yeah for real ale!) Can't get Old Thumper around here (sad face!) but I'm sure that whatever it gets will be freaging awesome!
- I'm sure that if its distributed in the area and you ask in the right way then they'll get it in for you... Nice people all around. Seen 4 bartenders, the owner and a dj or two and they've all been very friendly and helpful with beer selection (well, obviously not the djs) and in general.
So... Um. Now I have to justify my scoring, I guess. It doesn't really seem like there's an atmosphere. This could be because I only ever go on a Tuesday. I just don't know! It's fine! It's a fine place! I'd probably go with a friend and have an awesome beer or two and call it a night. Hmm. Yeah, not bad.
Never had a bad beer there. Always served in an appropriate vessel (the brand is often wrong, but, hey, I guess that's ok).
Service is fine! Never been there when it's hoppin' - but when it calm they're great!
The selection is varied and of good quality. Sorry if I can only name a few beers! There's good stuff! It's all available in growlers and bla bla bla (you know?).
Different beers have different prices. Like you'd think they would!
2,425 characters
More User Reviews:
4.34
/5
rDev
-1.6%
vibe: 4.5 | quality: 4 | service: 4.5 | selection: 4.5
My wife and I stopped by this place because of Beerfly. One of the best things about Ithaca is the fact that there are so many bars close to each other. You can literally park your car and hit probably 8-15 (if not more) within a few hours, many which have great brews.
Korova reminds me of a few divey bars I've been to, though this is one of the dive bars that doesn't serve food. Though I found that a bit weird, we didn't go there to eat. We went there because they said, on a little sign outside of the front door, that they had 17 rotating taps.
I counted 15 when I went in, but the selection was still pretty top-notch. Though I paid $8 for it, I got a Weyerbacher Insanity, which is one of my favorite beers. Honestly, it felt a bit like Blithering Idiot to me; the vanilla and oak flavors weren't as dominant as I'd hoped. But it was still tasty, worth it, and a great sipper in the warmer weather before we went on our way. I'm not exactly sure how Happy Hour works, but my wife was able to get a North Coast PranQster for $3, which is definitely a steal.
The lights are dim, and though it looks dingy, it was definitely a clean bar. The bar is long enough, with probably around 12-15 stools, and on the opposite wall are big booths. I was expecting pool tables in the back, and though they weren't there, there were two dart boards and a pinball machine.
This is a bar for people to check out who like beers. That seems to be the bottom line. I feel like the taps rotate a lot, and I love the darker atmosphere, which also seems to welcome anyone from hipster nerds to people with jeans and sweatshirts on.
With Mission of Burma playing on the stereo, and a bartender that knows her stuff, why wouldn't you want to check this place out?
1,757 characters
4.5
/5
rDev
+2%
vibe: 4.5 | quality: 4.5 | service: 5 | selection: 4
I really enjoy Korova. The atmosphere is comfortable. Nice bar to sit at. No food at Korova, but being right on the Commons you can get any food you might need with-in a few hundred feet.
Good selection of rotating beers, from Porters to Belgiums, Pale Ales to IPA's. You never know what's going to be on tap--I mean that in a good way. They also have a nice bottle selection, if you can't find what you're looking for on tap.
The bartenders are helpful and friendly. Willing to help you find a good beer in either samples or suggestions.
When you go just remember it is a CASH ONLY bar, luckily there's an ATM and bank near-by in case you forget.
652 characters
4.3
/5
rDev
-2.5%
vibe: 4 | quality: 4.5 | service: 4.5 | selection: 4
4 hours down and still another 2 to go, Ithaca was a good halfway and then some for a stopover. All supped up and ready for misadventure about town. I've got a place in mind I aint seen yet but hear was pretty good. It's called Kosovo or something, or maybe not exactly 'cause Ben looks at me funny every time I say it. And I think it's a soccer bar, although I don't know why I think that or even what it even means to be a soccer bar. I get things confuseded all the time...
I got me a real good parking spot. An "L'ish" shaped wood bar with a lip sits off to the right with seating for a dozen. The bar back is coolerish counter tops with tiered booze and more shelved above, over mirrored backing with a mosaic tile trim. Glassware racks dangling overhead and a single flatscreen on the corner of the bar not showing any soccer. A matching mosaic tile topped divider sits adjacent to the bar, separating off 3 booths on the other side.
4 tall windows over bench seating in the front corner and a mural of a cow on the wall there. Apparently, the owner's girl is a large animal vet, thus the cow, which by the way, in Russian, is pronounced Korova, just like the bar. The guy sitting next to me thought it was a Clockwork Orange Korova Milk Bar reference, which like war torn Kosovo, wouldn't hold such a good name for your bar. Brown painted walls over wood slat lowers, decorated with crazy bright vibrant paintings. 2 big boards on the back wall; 1 listing draft selections, and the other wines. Pressed tin ceiling over the bar, spots and track lighting, and glow rope running above the wall trim. Room to the rear holds 3 booths, a pinball machine, a video game, darts, a DJ booth, and one of them photo booths, just in case you need to have your passport done up in a jif.
12 taps on a tower row on the bar, and another 5 down on the end. About 2/3 of them good micros (Bear Republic Racer 5 IPA & Pete's Tribute Ale, Bar Harbor Real Ale, Six Point Sweet Action, Omme Hennepin, Brooklyn Lager, Magic Hat Circus Boy, Stone Old Guardian, Rogue Dead Guy, DogFishHead Aprihop, Sam Adams Winter Lager), the rest imports (Chimay Tripel, Peroni, Stella, Guinness, Newcastle), and a Finger Lakes hard cider (Bellwether). The Pete's Tribute Ale was damn tasty, I had one and then I gone had another one, it was so nice.
And 2 dozen bottles listed, about ½ of them micros (Ithaca Cascazilla & Apricot Wheat, Brooklyn Brown & Lager, Wachusett Blueberry Ale, Lagunitas Pils, Sam Adams Cherry Wheat, Bear Republic Red Rocket Ale, Dales Pale Ale, Weyerbacher Hops Infusion, Greenflash IPA, Sierra Nevada Pale Ale), the rest are a mix of big brewery and imports blah. Also, a bottle fridge back there with mostly 22's and 750's, some decent stuff there (Chimay, Delirium, Lagunitas Lumpy Gravy & Cappuccino Stout, Stone Old Guardian & Ruination IPA, Omme Hennepin, Bear Republic Racer 5, Rogue Dead Guy, Middle Ages Wailing Wench, Harpoon Firth of Forth, and more).
Service was good, I caught it on a light night so I got to talk beer with the folks here, which was cool. Solid selection and they rotate 'em often. Good cow in town.
3,135 characters
4.36
/5
rDev
-1.1%
vibe: 4.5 | quality: 4.5 | service: 4.5 | selection: 4
Went here with 3 others before a show on a Thursday. You walk in, bar is to the right, seating to the left and to the back. The interior is cool and dimly lit, red walls with dark wood trim, a variety of seating options..the bar (obviously), high tables, leather couches and booths. Two bristle dart boards(ID for darts), a golden tee machine and pinball in the back. Nice. By the sinage there is acoustic Sundays and Monday quiz nights, perfect for a college town. Music was good and not too loud. Didn't have to yell to talk while playing darts.
About 15-20 draft options, no BMC, Rogue, Avery, Great Divide, Ithaca and many others. Beers are 4 bucks and served in the proper glassware. There is a daily special that is 3 bucks. While we were there it was Yeti Imperial Stout(that is what the tap and sign said) that I swear(99.9% positive) was Oaked Yeti for 3 bucks! Either way that was super rad. Bartender was nice and let me sample the Avery Karma, which is always appreciated.
I live in Rochester and this was one of the better beer bars I've been to recently. It was a good mixture of a beer bar and a lounge. If I were in Ithaca I would be here often. I look forward to going back again. If it weren't for beer advocate we never would have found this place. Cheers!
1,281 characters
4.58
/5
rDev
+3.9%
vibe: 4 | quality: 4.5 | service: 5 | selection: 4.5
Four of us went here before a show, we arrived around 7pm on a Thursday night. There were about 10 people in the bar and 1 or 2 bartenders.
The bar is small but cozy andis furnished with tables wooden chairs and a couple leather couches. In the back there were two real dart boards. Real darts at a bar is a refreshing pace from shoveling quaters into a machine and it's always nice to be able to play darts for free.
Music was a Sirius radio station and could be classified as collegetown. They might have live bands in there sometimes but the size of the bar would really prohibit any band from sounding good.
The selection of drafts was excellent, and the use of proper glasses was a plesent surprise. I had a couple Scrimshaw Pilsners, and the rest of the group had a variety of drafts. They have the Oak Aged Yeti now. The bartender was very friendly and was willing to let us sample before we bought.
I enjoyed my time at Korova and look foward to coming back.
979 characters
Korova in Ithaca, NY
Place rating:
4.41
out of
5
with
6
ratings